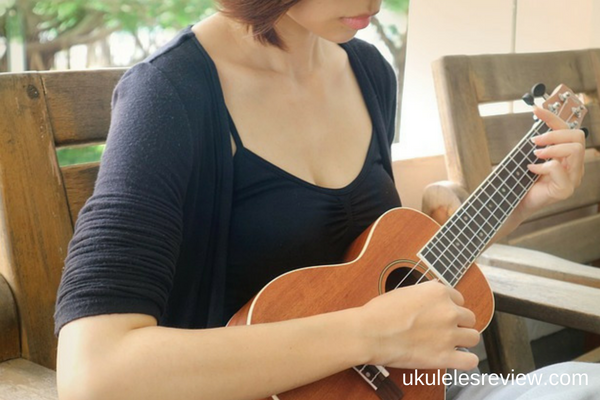 Ukulele Tutorials
You already know how to play the ukulele if you know how to play the guitar. They are pretty much the same thing except the ukulele is much easier with a smaller size and only four strings. But, if you do not know how to play the guitar, a ukulele can seem a bit difficult to learn just like a guitar. So, here is a mini ukulele tutorial that will tell you about the basic threes and a few ukulele tutorials on YouTube channels that may help you.
After that, we take it that you already have a ukulele since you are here. The most basic things to do when you want to start are:
• Hold the ukulele right
Holding it right might not seem like an issue given its size but it will make you feel that something's not right constantly. With you or the sound. So, for right-handed players, the right way would be to first hold the fretboard (where you finger), with your left hand. Then, keep the body of the ukulele pressed against your chest and your right hand on the strings over the sound hole, close to the neck. Replace right with the left and you have it the lefty's way.
• Keep the ukulele tuned
No matter how hard you try you will not get the perfect tone if you do not have the ukulele tuned. Tuning is a challenge for beginners but can be done easily with the help of a tuner. Or, you can just do the relative tuning where you tighten or loosen the string by comparing it with the pitch of the other strings. Apart from that, with apps or 'listening' tuners you will get a notification when your ukulele is tuned by the app that's listening.
• Learn the basic chords of uke
If you know your strings, you will be able to play the chords soon with practice. So, we will only be introducing the strings to help you understand the chord diagrams better. The string closest to your nose is the G string (aka 4th string) which is also the thickest one. As you may have already guessed, with the thickest tone as well. Following it is the C (3rd string) string, then the E (2nd string), and lastly the A (1st string). Their thickness decreases in this order so do their tone's depth. However, not all ukuleles are tuned this way. Now that you know the strings, reading the chords will be easy and eventually, practice will perfect it.
Ukulele Tutorials YouTube Channels For beginners
That was what you basically have to do to start with a ukulele and find out if it's for you. Now, to get you to start on the chords, you need a guide. You can take help from a person or numerous YouTube channels, of your choice. We can't say about people but we can about channels. So, here are a few Ukulele tutorials on YouTube channels that will help you:
With an experienced Terry Carter as the leading instructor, this channel offers learning and mini-courses for beginners. So, if you are looking for a channel to give you a solid ukulele base then this is the one. Visit this site in order to create the best out of your ukulele.
Not tired of learning the ukulele past the beginner level? Then, this channel is here to teach you as an advanced beginner. Not only does it provide you with tutorials for playing the latest releases but also tells you tricks to play and take care of your ukulele better. To clarify, the formal but friendly teacher. Katie Denure explains everything clearly and simply for you to grasp it easily.
Bored with what you already know and want to try something harder, wilder, and unique? Certainly, Ten Thumbs Productions would be the perfect intermediate ukulele tutor for you to visit every day. Apparently, given your base is strong, you will be learning loads of tricks and difficult chords in short periods. With their crash courses for all kinds of songs including the ones that are yet to come out of you, you will become a ukulele maestro in no time!
With everything you need to know already on your mind, the only thing left to do is learn and practice. So, know your ukulele first, keep it right then focus on ukulele tutorials to guide you down this difficult road. Because, without guidance, no matter how talented you are, your skills are sure to go to waste.
The Ukulele Teacher is one of the most popular YouTube channels for making ukulele tutorials. Most importantly, this channel makes tutorials for all level ukulele players. John Atkins who is the founder of this channel very careful to make videos so that no video does not seem too formal. Both popular old and new songs have been used to create tutorials. There are a lot of tutorials on this channel for beginners and other ukulele-related tutorials.
Ukulele Underground is a perfect YouTube channel for ukulele lessons. This channel's webcam session series are very helpful for beginners to learn to play ukuleles. This channel also arranges jamming sessions. A ukulele player can watch the jamming sessions and play along. Besides, anybody can visit this YouTube channel freely to enjoy ukulele-playing songs.
Cynthia Lin is familiar with her impressive ukulele tutorials on YouTube. Already, her channel has earned popularity among ukulele lovers. There are a lot of ukulele tutorials on her channel that help beginners to learn how to play the ukulele. Cynthia also provides monthly live jam sessions. Downloadable PDF chord charts are provided by Cynthia so that the ukulele players can practice and sing along with her.
If you want to learn how to play the ukulele and start from the ukulele basics, Learn To Uke is the perfect YouTube channel for you. There are many tutorials on chord changes, strumming, and fingerpicking on this channel. Besides, you can get ukulele Christmas songs. To know more you visit the channel.
Bernadette Teaches Music is the best YouTube channel for beginners and intermediate ukulele players. The founder of Bernadette Teaches Music offers video tutorials categorized into different playlists which are suitable for beginners and intermediate ukulele players. Moreover, this channel also shows ukulele product reviews. Besides, there are a lot of tutorials for kids on this channel.
Ukulele Cheats is ideal for ukulele players who wish to learn modern alternative and rock uke songs. Vasco, the founder of Ukulele Cheats, has made the tutorials carefully for ukulele lovers. The songs of various decades are found on this channel. Ukulele cheats propose beginner lessons that are perfect for beginners. That is to say, the videos on this channel are very easy to learn.
Michael Lynch is the perfect YouTube channel if you want to learn how to play the ukulele. The songs on this channel are very easy but if anybody wants to follow this channel's videos, he has to have a solid foundation of playing chords and reading tabs. This channel's videos have been made in such a way that the viewers can easily understand.
Elise Ecklund is a YouTube channel that is made up of ukulele and guitar tutorials. There are also a lot of reaction videos on this channel. Elise Ecklund, the founder of this channel, has made ukulele beginner tutorials with popular uke songs. She shows ukulele chords playing and strumming patterns in ukulele beginner tutorials. The "four chords" series made by Elise Ecklund has become very popular.  If anybody wants to know more, he can visit the channel.
DrJillReese is an appropriate YouTube channel for ukulele learners who want to learn to play the ukulele by watching video tutorials. DrJillReese, the founder of the channel, is a professor of music education at the State University of New York at Fredonia. He has organized playlists according to chords so that the learners can learn easily. Almost, all kinds of tunes are found on this channel.
U CAN UKE is a YouTube channel where all level ukulele players can learn to play the ukulele within a short time. The tutorials on the channel include the chords, chord progression, strumming patterns, chucking, tuning, and lyrics for songs. If anybody wants to learn to play Christmas songs, this channel is the best one for him. The tutorials on this channel have been made in such a way that the viewers can learn easily and play along.
Ukulele Zen is an excellent YouTube channel for ukulele lessons, hints, and tips. This channel uploads new videos every Monday and Friday. The questions of viewers are given answers on Monday's videos. Besides, various concert videos are found on this channel. If you want to learn to play the ukulele, you can visit the channel.
James Hill is one of the most popular YouTube channels for ukulele learners and ukulele song lovers. There are many ukulele video tutorials on this channel for ukulele players who want to learn how to play the ukulele. There are also many popular songs on the channel for song lovers. If you want to know more, you can visit this YouTube Channel.