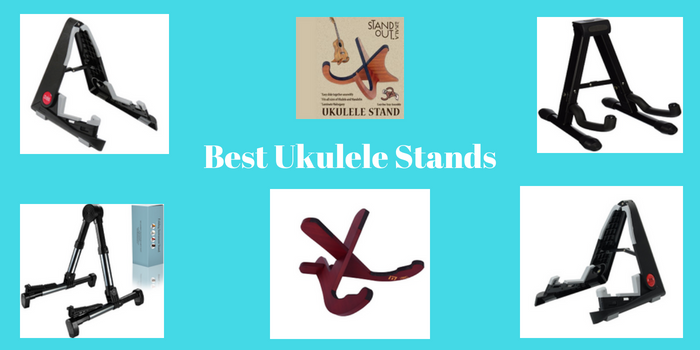 Best Ukulele Stands
Ukuleles are a treat for the eyes, aren't they? Apparently, it's a shame they need to be carried around in bags or cases that do not show it off. However, you have the option to keep these beautiful instruments on display at home. For this, you need ukulele accessories. Then, the ukulele won't only please your soul with its warm, sweet sound but also please your eyes. Therefore, with the best ukulele stands, you can easily keep your put you ukulele back after use without any hassle.
You must choose the right ukulele stand to keep your ukulele in place. We will be telling you everything you need to know about a ukulele stand in order to help you find a good ukulele stand for your ukulele. So, keep reading to be enlightened.
Our Selected 7 Best Ukulele Stands
Buying Guide for the best ukulele stands
Here are a few things you must keep in mind while looking for the best ukulele stand:
Your ukulele: Or, at least be adjustable to fit the ukulele. You definitely do not want a stand to keep it empty because the ukulele won't sit on it. In fact, the stand should fit the size of your ukulele and its design.
Portability: Maybe you travel a lot with your ukulele. But, you shouldn't have to leave its stand behind. So, choose a stand that is either foldable or so compact in size that you can easily take it with you.
Build: You really do not want the stand to wear or break anytime soon. Therefore, it should be constructed of a material that makes it sturdy and high-quality.
Stability: It should be able to hold the weight of your ukulele without being wobbly. Unless you want it to fall over and break your ukulele.
Style: No matter how sturdy, a ukulele that does not please with its design would forever be an ugly addition to your home. So, choose one that is appealing to you.
7 Best ukulele stands Review

It's time for you to meet the best ukulele stands of its kind.
1. Stagg SUVM-A100BK Foldable "A" Stand.
Shaped like an "A", this ukulele stand is one of the best stands particularly for soprano ukuleles. Apparently, it has a steel construction which makes it quite durable and high-quality. Moreover, featuring two cradling hooks and a locking mechanism it promises a stand that won't wobble under the ukulele. Apart from that, the backrest is covered with a soft rubber that protects your ukulele from scratches and harm. Lastly, you can fold it to make it flat for easy storage and carrying.
2. Hoke Sapele Wood Musical Instrument Stand.
As a matter of fact, you can fit any ukulele from 21 inches to 30 inches in this stand. In fact, the sapele wood construction makes it quite sturdy. Moreover, it features thick anti-slip padding to hold your ukulele in place and protect it from scratches. Moreover, the two flat Y shaped pieces can be converted to one X shaped stand to provide the stability you require for the ukulele. Lastly, it is quite lightweight to carry and store. This is the best wooden ukulele stand.
3. Portable Folding Ukulele Stand by Hola! Music – Black.
So, it's the second time Hola! Music is on our list. In fact, that speaks for the quality build and materials used itself. Also, it is adjustable to fit all the ukuleles. Moreover, it keeps your ukulele protected with its soft silicone cushion on all contact points. Lastly, it is not just foldable but extremely lightweight for you to carry and store.
4. Nordic Essentials™ – Premium folding stand.
This is a stand that has such a great quality and durability that it offers you a lifetime warranty. With an aircraft grade aluminum build it has all the strength you could ever want. Also, the extra stabilized industrial features keep it stable under your ukuleles pressure. Moreover, the protective silicone pads make it safe for your ukulele. Lastly, it's foldable and very lightweight to carry.
5. Kala Mahogany Ukulele Stand Out.
We are talking about Kala ukulele stand. Apparently, this mahogany stand from Kala builds the stand as it should be built with good quality mahogany. It can not only hold all types of ukuleles but any size of it also. Moreover, the padded foam inlay makes it safe for the ukuleles. Lastly, it folds to fit anywhere with its sleek design.
6. Lily's Amigo Professional Adjustable Folding Ukulele Stand-Black.
This is definitely one stand to consider among the best ukuleles stand. In fact, It features a durable ABS build which makes it really sturdy. Moreover, it bears silicone padding to keep your ukulele free from scratches. Apart from that, he anti-skidding base design with the rubber caps on foot protects your floor beside providing stability. On top of it all, it's foldable to easy storage and movement.
7. Universal Guitar Stand by Hola! Music.
Don't let the word guitar fool you, the stand is one of the best concert and tenor ukulele stands with its adjustable height. Moreover, it assures the safety of the ukulele with its padded yoke and neck rest. Also, the non-slip feet keep it from wobbling. The legs have reinforced housing which makes them automatically lock when opened. Moreover, it features a foldable neck for easy transport.
Ukulele accessories are very essential for ukulele lovers and players. Ukulele stand is one of the most important accessories. But the wrong ukulele stand will take your faith in the stand kind away forever. You might start preferring to keep your ukulele locked away in a bag. However, the right ukulele stand will not only make your room/studio look better but ease the use of ukulele for you. Apparently, with our best ukulele stand guide, you should be able to choose the best ukulele stands for yourself and live a happy life with your ukulele on display.