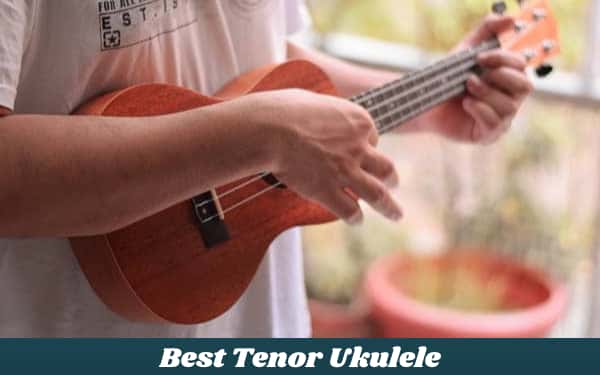 Do you sometimes feel that you have no talent and cannot even do half the things other people can? So, if you want to get something to be good at and show it off to your friends, starting to play the best tenor ukulele is a great option. To clarify, don't let the toy-like appearance fool you. The ukulele sounds so good and is so easy to master. As a result, your friends will be requesting you to play at their events.
Now, if you do not like the traditional small-sized ukuleles, you can always go to the tenor ukulele that is double the size. However, choosing the best tenor ukes from such a wide variety available in the market is both stressful and exhausting. But, if you know the key things to check and a few of the best features in the industry, you will get it done in no time. Most importantly, keep reading and, you will know where to start and how to end.
Look At Our Top Choice:
Editor's Pick
Lanikai Tenor Ukulele (ACST)
Top 9 Rated Tenor Ukuleles: Our Picks
| Product Name | Price |
| --- | --- |
| 1. Luna Tattoo Mahogany Tenor Ukulele | Check Price |
| 2. Oscar Schmidt 4-String Tenor Ukulele | Check Price |
| 3. Ukulele Tenor Size Bundle from Lohanu (LU-T) | Check Price |
| 4. Donner Tenor Ukulele DUT-1 26-inch Ukulele Kit | Check Price |
| 5. Lanikai Tenor Ukulele (ACST) | Check Price |
| 6. Kala KA-RES-BRS Tenor Resonator Ukulele | Check Price |
| 7. Kala KA-TG Glossed Tenor Ukulele Bundle | Check Price |
| 8. Enya EUT-M6 Cutaway Tenor Ukulele | Check Price |
| 9. Martin Smith Tenor Ukulele Starter Kit | Check Price |
After that, reviews of the nine best tenor ukuleles and the best ukulele brands given below will help you know about the features you need.
1. Luna Tattoo Mahogany Tenor Ukulele

The Luna Tattoo Series of tenor ukuleles is a product to pay tribute to Hawaiian musicians. With a conventional uke sound, it features a classic look.
According to its name, the uke design depends on popular Hawaiian uke body tattoos, particularly the Hawaiian turtle design, which becomes representative of durability and endeavor.
It's reflected in the high quality of its construction too. This Luna Tenor Uke brings a high-quality mahogany body and neck, including a satin finish.
The fretboard and bridge come from walnut, delivering a bright and airy tonal sound. This model has the capability of producing clear and warm resonant sounds.
Apart from unique ornamentation and long-lasting durability, this premium tenor ukulele gives a vibe of the Ocean. It's the right option for musicians who require fantastic sound quality in a reasonably-priced tenor ukulele.
Pros:
Mahogany construction
A symbol of longevity and endurance
Boasting a clear and resonant sound
Budget-priced
Cons:
Some say it has sharp edges
2. Oscar Schmidt 4-String Tenor Ukulele.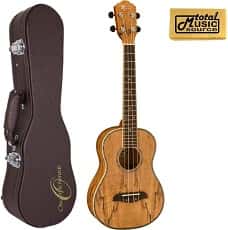 Do your friends ask about a unique-looking ukulele? Of course, Oscar Schmidt should help you gain fame. After that, it is also a good tenor ukulele for under 300 dollars that you will get. Built with mahogany or Koya, this ukulele stereotype breaks down and excels with its splattered mango on top, back, and sides.
It will amaze you with the sound quality it provides with the material it uses. Moreover, synthetic bone nuts and saddle accompany it to keep the Aquila Nylgut strings in place. Besides, Deluxe Grover Chrome Tuners with ebony buttons keep it tuned as well.
Pros:
Spalted mango build delights the customers with its sound quality
Precise build
Great tone
Best tenor ukulele under 300 dollars
Robust tuning features
It comes with a nice case
Cons:
It does not include enough accessories for the price
3. Ukulele Tenor Size Bundle from Lohanu (LU-T).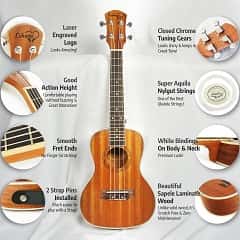 If you are just a beginner and want a ukulele that can stand your rough, inexperienced hands, then this would be a great choice. Made of Sapele/mahogany top, back, and sides, this ukulele gives you a sound that you don't expect at such a price. On the other hand, the sound is not just loud, but the space is generous for big hands as well. It even features an arched-back design to enhance sound quality.
The rosewood fingerboard also gives you an easier beginner time. It comes with pre-installed Aquila strings and chrome die-cast tuners to save you from the worry of tuning. Moreover, the handmade ABS binding gives it a great look. In addition to these, it offers you everything you can ask for as a beginner at a price you won't regret paying.
Pros:
Design (arched back) that enhances sound quality
Pre-installed strap buttons
Free accessories- Accurate tuner with battery, padded bag, polyester strap, two picks, pick holder with a sticker, extra set of strings included
Appealing look
Reasonable price
Cons:
Not the best build quality
4. Donner Tenor Ukulele Mahogany Body DUT-1 26-inch Ukulele Kit.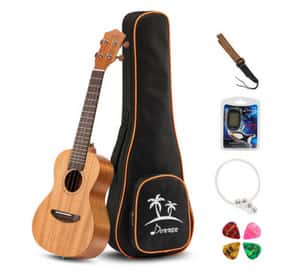 Many people want to choose the Tenor Ukulele. However, they feel worried about purchasing due to the high prices. That's to say that the Donner DUT-1 Tenor Ukulele Kit eliminates all worries by providing an affordable and high-quality ukulele. With a mahogany body, it does not provide the best quality sound but a loud and okay sound for the price. However, the Rosewood Bridge and fingerboard should make playing as comfortable as it can get.
The Carbon Nylon strings that come with it assure you of the string quality. Moreover, the Donner Patented chrome-plated guitar-style tuner makes your tuning smooth, easy, and compatible. The 18 marked brass frets make playing easier for beginners.
Pros:
Great quality strings
Accurate and efficient tuner
Polished, spacious, and marked frets
Well-built with traditional materials
Includes lots of accessories like a bag, ukulele strap, an extra set of carbon nylon strings, and a digital clip-on tuner
Cons:
The sound quality could be better

5. Lanikai Tenor Ukulele (ACST)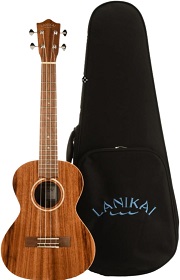 The ACST-T will help you take the next level of ukulele playing experience. It brags about a wider nut for enhanced player comfort. Indeed, it contains such features, enhancing your playing experience.
The ACST-T comes from a solid acacia top that provides a full and enriched tenor uke sound. Allow your melodies to resonate with warmth and clarity when you play lead on this exquisite.
You can enjoy comfy play with the wide nut and slightly wider neck profile of this model. The stylish walnut fingerboard confirms fantastic response and an enjoyable playing experience, whether you play or show your skills.
The ACST-T includes chrome strap buttons that offer safety and comfort during your performance. As a result, you can move freely and confidently, knowing that your uke is securely connected.
Pros:
Crafted from acacia wood.
Visually stunning look.
Stunning sound.
Excellent playing experience.
Cons:
A bit expensive for many.
6. Kala KA-RES-BRS Tenor Resonator Ukulele – Brass Cover.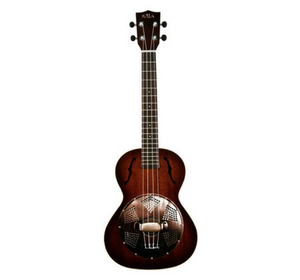 Want to get yourself seen and your ukulele heard? After that, the Kala tenor resonator ukulele should make the job easier for you. Whether you are a terrific musician or a great one, this ukulele will turn your head around with its loud and high-quality sound. The Kala Resonator Uke includes a lightweight aluminum resonator cone crafted into a figure that enhances sound volume.
Besides, its mahogany body makes it a natural ukulele. So, as much as the sound resonates, it creates a distinctive voice. Moreover, the rosewood fingerboard also allows easy playability. In short, it is a tenor ukulele under $500 that you are finding.
Pros:
A good-quality resonator attached
Great intonation
Decent build quality
The best tenor ukulele under $500
Great design and look
Cons:
It does not include accessories
7. Kala KA-TG Glossed Mahogany Tenor Ukulele Bundle.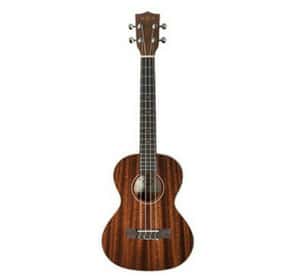 It is the second time Kala has made it to our list, and this time we've included a tenor ukulele for under $200. The Kala KA-TG is a ukulele that will provide you with not only entry-level quality but the many accessories you need to assist. Moreover, you won't regret the price you pay for the accessories as it's quite negligible, and there will be no guilt for not being the best musician with such a great ukulele.
The ukulele features a traditional mahogany body and neck that assures you of the best intonation in this price range. Moreover, a walnut fingerboard should make things smooth for you. Likewise, the high-gloss finish with the cream binding gives this ukulele an elegant look that will make people stare at it a little longer.
Pros:
The best tenor ukulele under $200
Around 27-inch length can accommodate bigger hands comfortably
The bundle includes useful accessories like- a gig bag, tuner, Austin Bazaar Instructional DVD, and polishing cloth
Great intonation
Traditional, high-quality build.
Great looks
Aquila Nylgut strings included
Stays in tune
Cons:
Needs some set-up
Lots of complaints about the case quality
8. Enya EUT-M6 Cutaway Tenor Ukulele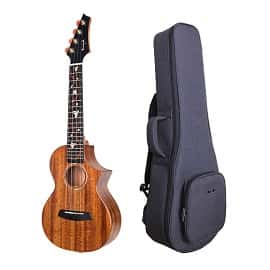 For the perfect structure and great appearance among the tenor ukuleles, we add the Enya EUT-M6 Cutaway Uke to the list. Due to its easy carrying and high-quality strings, you can play it whenever and wherever you want. In short, it is suitable for beginners, professionals, and all ukulele lovers.
The Enya uke includes a pearl shell and mahogany design on the top of the fingerboard. Besides, its 3A solid mahogany top, back, and sides with a high gloss finish make for a clean and harmonious sound. As a result, this model has gained popularity among a large number of players.
Moreover, this uke provides a gig bag for transportation at the time of purchase. This 26-inch ukulele brings a brighter sound. Consequently, it is perfect for solo playing. That's to say, suitable for players who find the best ukulele under $300.
Pros:
Stay tuned for a long time
A full-body sound
Suitable for live performances
Cons:
9. Martin Smith Tenor Ukulele Starter Kit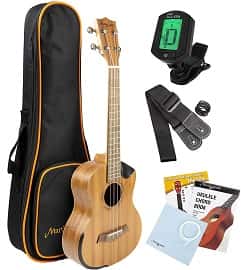 As a result of Martin Smith's many years of experiment and hard labor, the Martin Smith Ukulele Starter Kit comprises everything you need to go from being an educator to becoming a professional. Martin Smith has manufactured this instrument without compromising on quality so that the journey of a musician lasts for a long time. Besides, furnished with Aquila strings, this instrument produces a warm and soft sound and further lengthens its melody.
Typically, this uke of Martin delivers a superb sound because it includes quality strings, a Sapele wood body, and metal gear heads. It is very vital to stay in tune, irrespective of your playing skills. Therefore, the craftsmen have included a great tuner that pays a straightforward, quick, exact, and handy tuning method out of the box.
Moreover, the kit offers a padded gig bag, strap, spare strings, cleaning cloth, and online lessons.
Pros:
Built with high-quality materials
Offers an excellent tuner
Delivers a warm and soft sound
Free online lessons
Cons:
Why choose a tenor ukulele?
The scale length of a tenor is about 2 inches, and its neck is a bit wide. Due to the extra length, it has ample space between the frets. So, fingerpicking for the tenor becomes easier. As a result, players with big hands and fingers mostly prefer tenor sizes.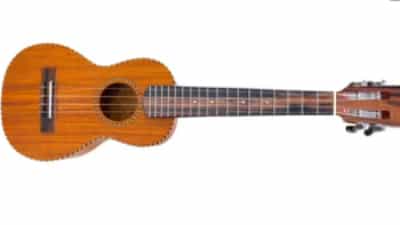 The tenor size produces a deep, full sound with a resonant, almost bass tone. It creates a better projection that makes the volume a bit louder. So, the player who prefers a higher volume chooses it.
Best Tenor Ukulele Buying Guide
Above all, tenor ukuleles are the third largest among the concert, soprano, and baritone ukuleles based on their size. The larger size gives your fingers ample space to maneuver. However, the off-road size from the traditional size does not mean the sound will change too. It delivers the same sweet, traditional sound at a louder volume thanks to its size. So, here are some of the things you should keep in mind while buying one: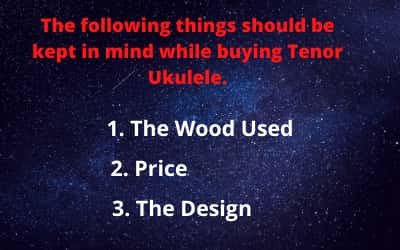 Wood Type: Laminate vs. Solid in Tenor Ukulele
Whether the ukulele is made of solid or laminated wood, what about it? Both of them contain advantages and disadvantages:
Solid woods make ukuleles expensive compared to laminated ukes. So, laminated ukes are cheap, but solid tenor ukuleles are costly.
The tops of the laminate ukulele seem to be stiff, hindering them from vibrating freely.
The lamination procedure can reduce the tonal qualities of the wood. Laminate mahogany tops can't generate the same rich sound as solid mahogany tops.
Laminated wood becomes less sensitive to mutations in weather conditions. It offers more benefits than laminated ukes for durability and travels in comparison with those made of solid wood.
More care is needed to maintain solid wood ukes. You have to ensure that you have kept them in a place with proper humidity and temperature so that the wood does not get damaged.
Solid hardwood body ukulele often contains high-quality material (saddle, bridge, tuners).
Solid wood delivers a more advanced sound with age. You can play the hardwood ukulele for hours effortlessly with comfort.
Price:
Whatever your budget, make sure you get the right ukulele accessories and the right quality ukulele. However, you will get higher-quality and advanced-level ukuleles at higher prices.
The Design:
Laminated ukuleles are cheaper but provide better protection against humidity and temperature, whereas solid ukuleles focus more on a sturdy and efficient build. Therefore, find out the type you need before buying. Moreover, the ukulele style should fit your style.
FAQ
Q: Who is best suited for use in Tenor Ukulele?
Tenor ukuleles are elongated in size. So, large-handed players use these as they feel comfortable. Besides, they become popular among people who sometimes prefer to play or perform solo because it provides more frequency and makes listening more satisfying. However, in general, it is a personal choice.
Q: Is a tenor ukulele best for beginners?
Since the same technique is applied to play the tenor, soprano, and concert ukulele, then there is not much difficulty in learning to play the ukulele in the tenor model. Most importantly, the fretboard of the Tenor Ukulele is more spacious, providing more comfort and ease of movement. Tenor ukuleles may be excellent for beginners who desire to play the ukulele primarily and go to the next higher level.
Q: How is the sound of the tenor ukulele different from other types?
The tenor uke is a comparatively large size, producing a full and enriched sound with almost a bassy tone. Moreover, the sound projection is better than other types, which delivers a louder volume.
Q: Which is better the Soprano or the Tenor ukulele?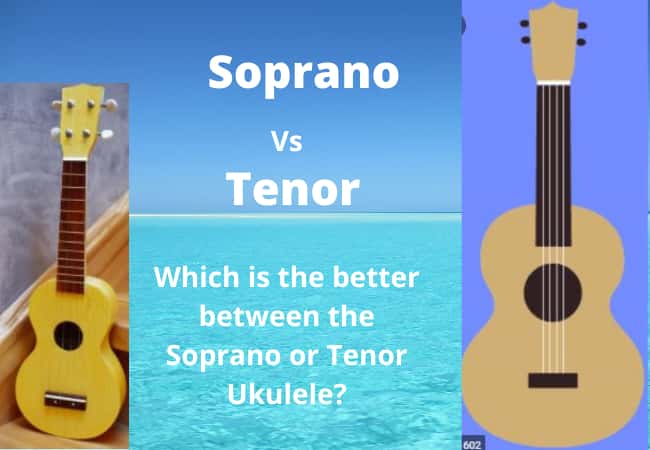 In general, it can be said that Soprano Ukes are suitable for casual play, as well as most people who come to the beach with a ukulele use Soprano Uke due to their portability. On the other hand, there is a large factor for tenor ukes that are well-suited for organized play on stage or at home.
Conclusion
With the wrong ukulele, no matter how strategically hard you try, you will not get the desired melody. However, with the perfect one, you will be getting invitations to play soon after you start. Our best tenor ukulele guide should help you find that perfect one, which will not only soothe your soul but that of others around you. Therefore, know the features that suit you best and also the cons that you want to avoid. Consequently, after this careful purchase, you will surely have the best ukulele in your hand.