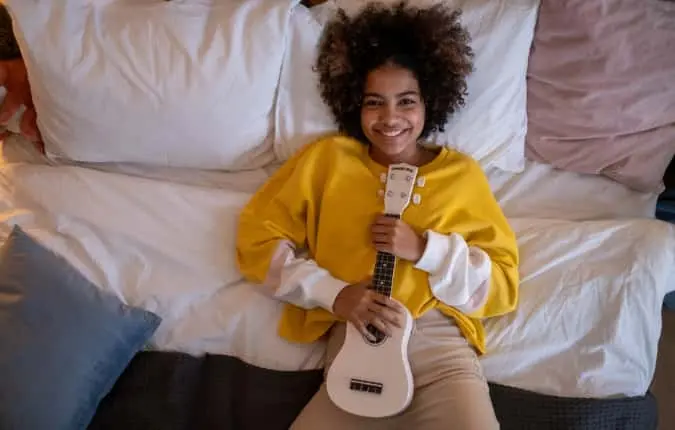 You often travel to different places. Want to keep your travel musical instrument with you when traveling? But due to the large size, it is very troublesome to take. So you are looking for a pocket-sized ukulele. After plenty of research, we have appeared with this article on the best pocket ukulele for you.
In addition to the four conventional sizes, there are two more sizes. They are Sopranino and Sopranissimo. Indeed, both are smaller than the usual soprano size, but the Sopranissimo is much smaller.
Honestly, the two are like keeping both in the pocket. We will talk about both types in the next part of the guide. For now, take a look at the choice list of the best pocket ukuleles that you are expecting.
Our Recommendation:
Editor's Choice
Ortega Guitars Keiki Series Sopranino Ukulele
Top 6 Best Sopranino/Sopranissimo Ukulele Reviews for kids and small hand players
1. ULTNICE Mini Pocket Ukelele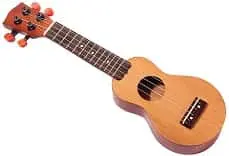 This item is one of the tiny ukulele types. Many players have little hands and are exploring small-handed ukuleles. Also, kids and many backpackers want this kind of one. ULTNICE has brought it to market with their demands in mind.
This Sopranissimo ukulele holds a solid construction 17-inch body. The brand has set spruce on the top, laminate on the front, and sturdy mahogany wood on the back and side. In other words, their efforts have turned it into a sustainable and eye-catching device, no doubt.
Okay, it's a stiff build, but how excellent strings will be? Let me tell you – they used Aquila strings that promise good tunes and sounds. Maybe, its size is small but produces a full-bodied sound. Besides, its appearance is so funny too.
If it's just over 16 inches, this will fit in any carry-on bag. This type becomes suitable for younger children to start developing their musical aptitude. So how much will the price be? No matter, it is within your reach.
Key features:
Fit for any carry-on bag
Proper for kids and small hands
9-ounces weight, extremely light
Mini shape but works as a big one
2. Enya KUM 17-inch Mini Pocket Ukulele

You require an instrument that is small in size, easy to carry in a bag, abrasion-resistant, and weatherproof. Well, this 17-inch uke from Enya has all the features that you crave. We are telling you below how it is.
The body structure is very unwavering. The carbon fiber on the back guarantees longevity, and the spruce on the top makes it good-looking. Moreover, the attachment of a rosewood fretboard is another addition in the case of sustainability.
How is the playing experience? When you move your finger across the frets, it will be cozy for you. While playing, the soundboard generates a crisp, warm sound and tone. Above all, this Enya uke will create a new vibe, of course.
One of the notable aspects is that three soundhole designs are available to pick from. These are coffee, squirrel, and horse. The design and color combination makes it unparalleled compared to others in this price range.
The tuners are proper enough to keep in tune. Besides, the resonance will be much better than your expectation. All in all, this model provides the best performance for kids, travelers, and small-hand players.
Key features:
Stable body, compatible with any weather
Polymer carbon fiber Enya string is better for a sleek playing experience
Three varied designs to choose
Alterable or refundable within 30 days for non-human quality problems
3. Ortega Guitars Keiki Series Sopranino Ukulele

This time we are reviewing a Sopranino ukulele from Ortega Guitars, a renowned German brand. This item likes many backpackers and somewhat small handers more than other models. Indeed, the reason is that it features a dazzling look, glossy design, and lightweight-stiff build.
This ukulele structure consists of Okoume wood. Also, it comprises the walnut fretboard & bridge. The Okoume neck & headstock veneer with satin finish has made it a different mold, absolutely a praiseworthy innovation.
In the case of ease, the Keiki Series will become a superb option because it comes as lightweight. What happens if adults use it? Okay, it will be comfy for them while traveling or realizing hand pain from using a heavy ukulele for a long time.
Ortega utilizes the Laser-etched sea turtle design to make it attractive. Further, the Okoume wood's natural pinkish color exaggerates its beauty. In addition to these, its open-gear tuning machines work well to stay in tune completely.
Key features:
0.29 Kilograms, super for portability
Cozy to hold while playing
Easy to put in the bag
4. Kala KA-ASAC-PU Pocket Ukulele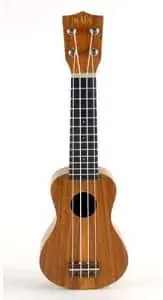 We have nothing to say new about the Kala instrument. The brand has added a new item to its product line with innovations as always. Anyway, it is the Kala Pocket Ukulele for sale, measuring 16 inches from top to bottom and entirely portable.
Acacia wood is almost similar to the Koa wood of other ukuleles, and it is very stunning in a word. Remember that Kala evermore sets Aquila Strings to the instrument, going to expand for a while when new. The sound may be flimsy, but it is playable based on the size.
The body remains completely attached inside, shaping very stiffly assembled with a small size. Additionally, friction tuners need to be tightened occasionally. It allows the tuners to be placed wherever you want to put them. One of the extra benefits is that it offers a deluxe padded carry bag.
The other properties are the silk-screened Kala logo, mahogany top, back, sides, neck, rosewood fingerboard, and bridge. Everything will seem to be premium, of course.
Key features:
16-inch long from top to bottom
Playable on a Sopranissimo scale
Fitting for young children, small-handers, and backpackers
Easy to go with it everywhere
5. IRIN 17-inch Mini Ukulele

IRON has introduced an instrument, characterized as small and durable. Essentially, it measures 17 inches from top to bottom, called a mini device. It is suitable for children and travel lovers due to its lightweight and easy-to-carry.
IRIN has utilized the mild wood Sapele and Spruce to incorporate the body. Also, the well-shaped soundhole produces a balanced sound and tone with a decent appearance. All things indicate that it is
competent enough to choose for kids.
The company has installed nylon-made strings. In truth, it may appear to be enough average. But it is okay considering the price. However, there's an opportunity to change them for the users.
Furthermore, this mini-musical instrument includes a thickened cotton bag. Consequently, it will be helpful to store and carry it while touring effortlessly. Apart from those, this bag will lessen the risk of damage from collisions.
Key features:
Mild weight, proper to reduce fatigue during the play
Kid-friendly design and look
Appropriate for little handers
Containing only 12 frets
6. Caramel CP200 17″ Sopranino Pocket Ukulele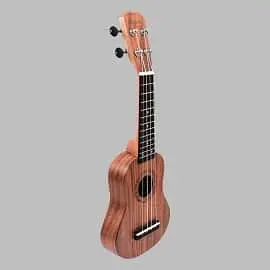 We will speak about another Sopranino model, called the best pocket ukulele for beginners of a reputed brand. There is no hesitation in saying that this item will become a thorough fit for newcomers to the music world.
The Caramel has assimilated the solid acacia for the top and laminate for the back and sides. Also, it becomes pretty striking with an even smooth natural feeling finish and a darkly etched rosette around the soundhole.
The fretboard with rosewood looks like a usual uke, flat. Again, the fret finish is sleek, and there is no trace of sharp edges anywhere. That means you feel comfortable when playing.
The CP200 gives the sound better than you hope, for sure. Seeing its structure, many may think it is a toy. But in reality, it is not. It can remain in tune and ring music like a large instrument. Further, it offers less string tension and makes it easier to squeeze strings down.
Key features:
Simple to learn how to play for young kids
11-inch scale length and 17-inch size in total
1.1 pounds weight, mild to hold
Well-performance and easy playability
Sopranissimo
The Sopranissimo is a commercially made smallest-size uke, often called the pocket uke. Typically, it is 16-17 inches long from top to bottom, 10-12 frets, and 11 inches in scale length.
This tiny uke becomes so little that you can carry it in a handbag, tote, or backpack (or can put it in pockets, presumed). That means it is effortlessly portable. Some call it the mini, pocket, or tiny ukulele because of the subtraction degree.
Several manufacturers named it Sopranissimo-size, but the names changed. Again, sometimes it implies the ukulele by one of the nicknames mentioned earlier.
How is the tuning? Some players say that the smallest ones should tune a little higher compared to standard tuning to gain more volume and projection. But, opinions may be different. Theoretically, tuning depends on the players. Indeed, the most commonly used tunings are G-C-E-A (standard), A-D-F#-B, Bb-Eb-G-C, and D-G-B-E.
Sopranino
Sopranino is somewhat bigger than Sopranissimo and remains a 12-inch scale length and an overall length of around 18-19 inches. In truth, both make players confused through slight differences.
The tuning for this instrument is controversial and relies on the player. The standard soprano tuning of the G-C-E-A becomes the choice of some players. However, there are other options for tuning the Sopranino as well.
Many respect the Sopranino ukulele to be the predecessor of the Soprano ukulele. The reason is that the first soprano ukes were slightly small compared to the current soprano version.
Sopranissimo or sopranino: Which is the best pocket ukulele for you
Of course, it will depend on your choice. Both are effortlessly portable, and there is a slight difference between the two. We have presented both types above and choose the one that goes with you.
The Bottom Lines
We have attempted our best to present the best pocket ukulele for you. Honestly, both are not available on the market in the usual sizes. So, pick one based on your demand.