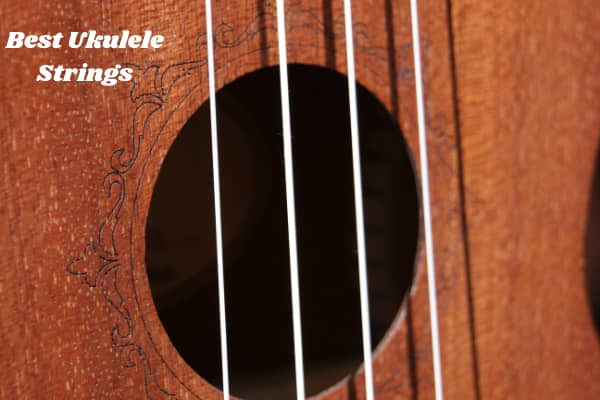 Ukulele is an amusing and easy instrument for playing. Soon after its origins in Hawaii, it swiftly became more popular than a conventional instrument. So, currently, many renowned musicians prefer to choose the ukulele in their songs. Like a guitar, a ukulele requires new strings from time to time. Therefore, musicians look for the best ukulele strings. But, picking the right one can become troublesome, especially for a variety of types on the market. That's why we desire to help you. Let's take a look at our reviews and choose the right one for you.
Our Top Selection
Editor's Choice
D'Addario EJ53C Pro-Arté Rectified Concert Ukulele Strings
Top 9 Best Ukulele Strings
| Product Name | Price |
| --- | --- |
| 1. D'Addario EJ53C Pro-Arté Concert Ukulele Strings | Check Price |
| 2. Aquila New Nylgut AQ-4 Soprano Ukulele Strings | Check Price |
| 3. Martin M600 Standard Concert Ukulele Strings | Check Price |
| 4. D'Addario EJ87S Titanium Ukulele Strings | Check Price |
| 5. Aquila Soprano Regular Ukulele Strings | Check Price |
| 6. GHS H-10 Hawaiian Ukulele Nylon Strings | Check Price |
| 7. D'Addario EJ65TLG Tenor Ukulele Strings | Check Price |
| 8. Aquila Red Series AQ-86 Concert Ukulele Strings | Check Price |
| 9. D'Addario EJ65B Baritone Ukulele Strings | Check Price |
1. D'Addario EJ53C Pro-Arté Rectified Concert Ukulele Strings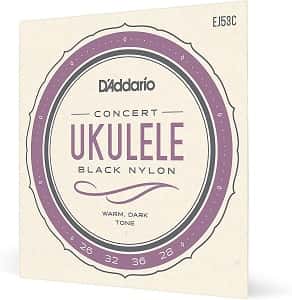 When it comes to Strings for instruments, D'Addario is one of the most popular brands of strings, especially ukuleles. The D'Addario EJ53C Pro-Arté Rectified is another model that has already gained popularity among musicians.
D'Addario EJ53C sets consist of the warmest-sounding black nylon to use with Concert ukuleles. It comes at standard GCEA tuning to accomplish all of your songs with great accuracy and tune. These types of strings will deliver a warm and long-lasting acoustic tone.
Each black nylon string is grounded from the center of a super-smooth, ultra-accurate final diameter for a lovely feel and a unique intonation. These best concert ukulele strings are available at a low price.
Pros:
Designed for the standard GCEA tuning
Warm, enriched, and long-lasting tone
Excellent strings for proper play style
Cons:
Some users say these are less responsive
2. Aquila New Nylgut AQ-4 Soprano Ukulele Strings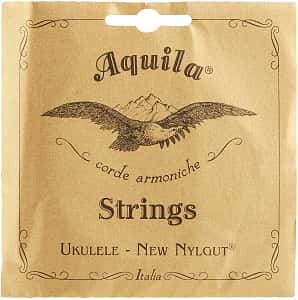 Aquila is a renowned brand, which is famous for making strings for various musical instruments as well as making very high-quality strings for ukes.
The AQ-4 soprano strings give a more pronounced sound compared to regular Nylon or fluorocarbon strings. The reason is that it is fabricated from Nylgut which is a particular type of polymer that mimics the properties of old-school gut strings.
The AQ-4 was made by mixing three synthetic components to make a material. They take up less moisture to assure tuning stability. Since they are accurately produced, they offer increased accuracy of fret-intonation and ensure durability.
It is a high G set, and Aquila gives the AQ-5 as their low G option. If you explore a pair of excellent-sounding and durable strings, these Aquila Nylgut Ukulele Strings can be a superb choice.
Pros:
Sweet sound and tone
Quick settling
Cons:
Some players dislike the sound of the C string
3. Martin M600 Standard Concert Ukulele Strings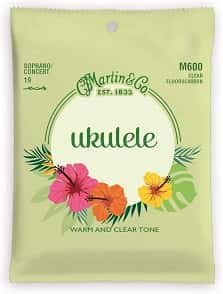 If you opt for Fluorocarbon Ukulele Strings, the Martin M600 is a superb choice for your instrument. It will help you experience the real tone with Martin Ukulele Strings.
The manufacturing process of Martin Ukulele Strings makes sure to give an easy playing feel and a warm and clear tone. Also, crafted from high-tensile fluorocarbon, this accessory sustains tuning longer and enhances harmonic output for a consistent tone.
To get the best sound, this pack of ukulele strings aid every ukulele player, including beginner or professional players. The pack fully reveals the benefits that fluorocarbon strings can offer.
If you search for the best concert uke strings that retain the tuning surprisingly, then select the M600.
Pros:
Surprising build quality
High harmonic output
The tuning holds up quite nicely
Cons:
These are prone to be slightly thinner than other strings
4. D'Addario EJ87S Titanium Ukulele Strings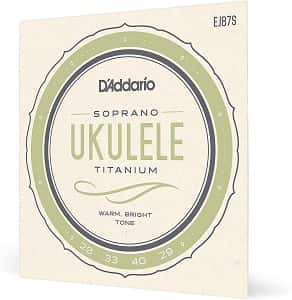 After the high appreciation of the previous D'Addario ukulele strings, a question arises as to why another packet of the D'Addario has entered our list. These Titanium Ukulele Strings are not only proud of the 5-star reviews from almost every customer but, when it comes to customizing ukulele strings just for your needs, you find many different types.
These are available in four sizes: Baritone, Soprano, Hawaiian-Concert, Concert, Hawaiian-Tenor, and Tenor. It lets you blend and match and look for something that adjusts your style of play precisely.
Made in the USA, the D'Addario EJ87S gives appeasement performance and quality. Also, it provides a modern, powerful, and projecting tone. Many players see that these strings make their uke sound even better, especially when compared to stock strings that include most ukulele builders.
Pros:
The quick, bright, and appealing tone
Enriched in volume and very dynamic
Cons:
They may experience a bit of sharp
5. Aquila Soprano Regular Ukulele Strings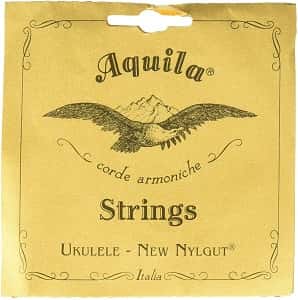 These Aquila Ukulele Strings are one of the number one best-selling strings on Amazon. Indeed, they have gained such a reputation because they have already done plenty of a good job.
These GCEA strings are made to go together with Soprano Ukulele as it comes to the key of C once again. They feature a smooth and polished surface that does not hinder your fingers' movement or hurt your fingers, whereas some ukulele strings have this tendency.
The New Nylgut precisely offers these qualities, which allow you to guarantee the stability of tuning higher even than the best gut and nylon strings. They can stay in tune even after a week of regular use.
Pros:
Complete upgrade
Stay in tune without any problem
High resistance to the tribulations
Cons:
Strings play a bit tighter than others
6. GHS H-10 Hawaiian Ukulele Nylon Strings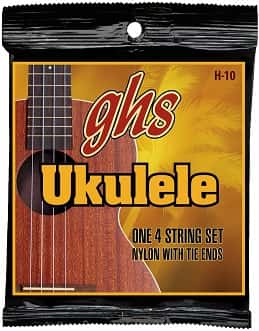 GHS has moved one step forward with its ukulele strings and has determined to move away from the generic structure that other brands have created. These are not bound by the common transparent or metallic materials prevalent in the market. Instead, they fix a unique, black cover that can adjust with the imagination of many people who were praying for a break in the mold.
The ukulele strings are suitable for a standard and concert ukulele and stay as versatile as ever. These bring a standard C tuning that makes sure a crisp and mellow tone. Many people admire them not only for their looks but also for their work.
These strings have a sleek and classy finish and will never depress you. They quickly accommodate after setting them up and don't take a long time for the tuning after the set-up.
Pros:
Fair-price string with quality sound
The crisp and mellow sound
They quickly adjust to ukulele
Cons:
Some users don't like the sound and tone
7. D'Addario EJ65TLG Tenor Ukulele Strings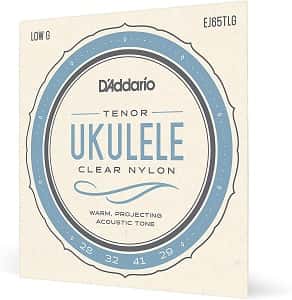 Not surprisingly, we have not yet ended reviewing the various types of Ukulele Strings of the D'Addario. Their variety ranges from their predecessors, and there is a choice for you to play any style that you like, which will satisfy your needs.
These strings come in tenor low-G tuning, which produces a deep and crisp sound from your ukulele that you have never heard before. Here, D'Addario modifies the nylon to have highly accurate and sensitive treble strings. They are made in a way that is environmentally friendly and allows packaging corrosion resistance.
If you desire to get a pair of standard and sturdy ukulele strings for your tenor uke, these Nylon Ukulele Strings are worthy enough to do their job precisely.
Pros:
Optimized for Tenor Ukuleles
Custom Extruded clear Nylon Strings
Warm, sweet, and projecting tone
Cons:
Some people feel loud in the G-string
8. Aquila Red Series AQ-86 Concert Ukulele Strings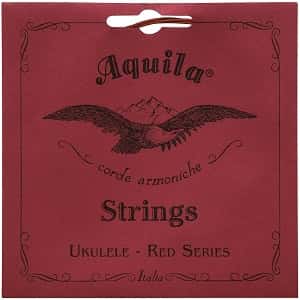 The Aquila Red Series AQ-86 Strings give a very comfortable playing experience and also have a greater volume than standard strings. They include an improved composite material and proprietary design that makes the tone brighter and more responsive across the fretboard.
The proprietary composite material ensures tuning stability because it absorbs less moisture compared to other synthetic strings. The same diameter is shared by each string, and each String provides an equal feeling compared to the density of the elements and enhances intonation.
If you are a more seasoned player or just wish to get a significant improvement when it arises to strings for your Concert Ukulele, the Aquila AQ-86 can be a better option.
Pros:
A unique feel and quality sound
High-quality materials used
More responsive
Cons:
9. D'Addario EJ65B Baritone Ukulele Strings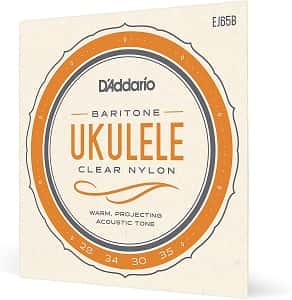 D'Addario always produces Ukulele strings to maintain the best quality and consistency standards that ensure the best tone and intonation for your instrument. You won't find any exception in the case of D'Addario EJ65B Nylon Baritone Ukulele Strings too.
These strings are designed for Baritone Ukuleles, especially for the standard DGBE tuning. The 1st and 2nd strings have Pro-Arté Custom Extruded Clear Nylon Strings, giving the uke a very crisp and balanced sound and entertaining highs. But the last two Strings use a silver-plated copper wound on nylon.
This set offers the properties of exclusive laser sorted Pro-Arté clear nylon trebles for a successful design with a warm and projecting acoustic tone.
You can certainly check the D'Addario EJ65B String out if you seek the best baritone ukulele strings, pretty affordable.
Pros:
Long-lasting and very durable
Balanced and clear tone, sound
Cons:
The wound strings can be louder than Nylon
Tips Before Buying the Best Ukulele Strings
We are going to talk about different types of strings. However, before that, it is necessary to mention that different string types are needed for different ukulele types.
While each ukulele type contains a different scale length, the original difference between the types of strings is the length.
There are four standard ukulele sizes. They are:
Soprano
It is the most popular and usual ukulele size. The body is 21 inches, and the scale measures 13 inches long. The tuning process of this size is G-C-E-A or ADF#B. These provide a bright sound. So, combining them with the appropriate strings will, of course, affect the sound they give.
Concert
The size has a 23-inch body and a 15-inch scale. It is slightly larger and sounds a bit deeper, louder than the soprano. Its sound becomes the pretty same. Therefore, its strings are the same tuning- G-C-E-A or ADF#B.
Tenor
This sized ukulele features a 26-inch body and a 17-inch scale. It is an excellent option for players who have slightly larger hands. The larger body can resonate as much as the sound goes. Its sound is remarkably more resonant and deep. It is tuned in G-C-E-A, ADF#B, or D-G-B-E.
Baritone
It is the largest size. Featuring a 30-inch body and a 19-inch scale, the sound and look of this uke are the same as an acoustic guitar. The most common tuning is D-G-B-E.
You need to know just what ukulele types you have chosen if you want to get the right strings.
What are ukulele strings made of?
The strings that come to your ukulele are likely to be nylon. Are all ukulele strings made of nylon?
Although nylon is the most common string type, you will find a few more types for your ukulele.
When you talk about the materials, then you see a few options. Let's see these ukulele string names and their comparison.
Nylon strings
Various types of different nylon polymers might be used to make nylon ukulele strings. As a result, it's not unusual for the Strings made by companies to produce slightly different sounds.
The process by which cheap nylon strings are made is called extrusion. A nylon filament is manufactured by pushing molten nylon polymer through a hole that changes size.
In this way, you will find different ukulele strings thickness, which eventually create different melodies.
Best ukulele strings, and somewhat more expensive strings, are produced by extruding the nylon polymer but are grounded appropriately for a precise diameter.
These strings also deliver some textured feeling that some players prefer and others don't like.
The benefits of nylon strings:
They don't wear your fingers like other types
The sound you gain may be narrated as warm, though still quite bright and quick.
Cons:
The temperature shift affects the nylon string. As a result, they will expand and shrink when they come in contact with hot and cold air.
Another significant thing you need to notice is that new strings require a bit of time to settle down.
It's a good idea to alter your strings before a show because you can enjoy a clear and better-sounding tune.
But, allow the strings some time to stretch and settle thoroughly, as these will not stay in tune for long.
Gut strings
Gut strings were first present to emerge along with acoustic instruments. As the name implies, they are built with the guts of various animals.
The benefits of gut strings:
Players like this material because it gives an enriched and complex sound compared to nylon or titanium.
Their feelings are a bit different under the fingers and become the slide better.
Cons:
Gut strings are not long-lasting like plastic or metal ones.
These become pretty costly.
As you can find, companies like Aquila have become able to mimic a certain amount of sound Gut Strings offered by treating them with plastic in a particular way.
Fluorocarbon (plastic) strings
Fluorocarbon or plastic ukulele strings are used as an alternative to nylons, preferred by many musicians.
Their produced sound is just the same as nylon ones, and they do not put too much pressure on your fingers.
Advantages:
Fluorocarbon strings are less influenced by temperature changes compared to nylon ones.
Another great thing is that you can easily cut both these string types and nylons as desired.
So, if you purchase longer strings unexpectedly, you can shorten them by cutting them into shapes with a pair of scissors. Only focus on what they mean for tuning.
Steel strings
Steel strings are usual for acoustic guitars, but they are not so common for use in ukuleles.
The Cons:
The pull that is employed to both the body and bridge of the instrument while using this type of string can be detrimental to the uke.
In general, steel Strings are utilized mostly in hybrid instruments like guitar/ukulele or banjolele. So, it is best not to use steel strings if you are not familiar with your ukuleles.
Titanium strings
Titanium strings are much lasting compared to nylon or fluorocarbon ones.
The Pros:
These also have strings of monofilament but are little possible to jolt under pressure because these are made of metal.
The sound that these strings give becomes slightly brighter and louder. If you desire to find more volume and projection from the ukulele, they will complete their job right.
Wound metal strings
Wound metal ukulele strings contain a metallic core and rotating material around them.
Pros:
These are mainly done for larger ukuleles when players feel to need an incentive at the lower end of the frequency range.
Cons:
These can be somewhat snappy, like wound nylon strings.
Wound nylon strings
Wound nylon strings have two parts. The nylon-made inner core is covered with curved material made of polymer.
Pros:
As the two lower strings, this string type is applied in the baritone or tenor ukes. They give a bit of deep sound.
Cons:
The only negative side of the wound nylon strings is that they make your fingers squeaky while fretting these strings.
---
So, which will be the best ukulele strings for me? Okay, it will rely on your choice.
The main factor is the sound that you wish for your instrument.
But, if you have a bit tight budget, durability and overall performance can become more vital than sound.
Tuning
While buying a new ukulele string, you need to keep in mind the ukulele tune you want to play.
Already, we've talked about the different tunes used in the soprano, concert, tenor, and baritone ukes.
The G-C-E-A is the most common tuning. But, one thing to be mentioned is that you will find two versions of this tuning.
The first tuning is mentioned as G-C-E-A, and that's exact.
The second tuning is g-C-E-A. That means the G string has been tuned 1 octave up.
There's an own story of alternate tuning or high tension sets, and they are utilized on special occasions.
Your better wager is that if you are an apprentice and not much familiar with this instrument, these should be avoided for now.
Can you utilize guitar strings on a ukulele?
After getting through this article, you may think it is pretty hassle to shop strings for the ukulele. So, you can become allured to using guitar strings on your ukulele. Never do it. The sizes of ukuleles and guitars are different. Therefore, you need to use different strings.
After getting through this article, you may think it is pretty hassle to shop strings for the ukulele. So, you can become allured to using guitar strings on your ukulele. Never do it. The sizes of ukuleles and guitars are different. Therefore, you need to use different strings.
Conclusion
Hopefully, you have been able to learn something new from this article, and likely, you have even chosen a set of the best ukulele strings.
Additionally, if you mind, this article is worthy enough to share. We will be happy if you press the Sharing Button. After all, your feedback will increase our passion for writing.