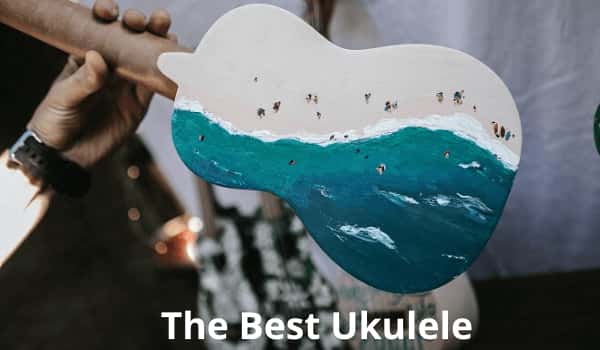 Notice all the talented artists, musicians, or mathematicians around you? Are you looking for something to show off your talent? Nothing found? Are you looking for an ability to turn into a talent? The uke will be a great option to try! Unlike the guitar, it's neither big nor consists of six strings to master. The ukulele is quite easy to learn and also does not break the bank for beginners!
However, to get the maximum value for the price you pay, you have to be very careful to buy a uke. There are so many ways you could be disappointed with the wrong ukulele. Therefore, our guide with seven reviews shall help you find a proper uke to accompany you on your road to fame.
Take a Look at Our Top Pick:
Editor's Choice
Oscar Schmidt OU2 Concert Ukulele Bundle
7 Top Rated ukulele reviews
| Product Name | Price |
| --- | --- |
| 1. Aklot Solid Mahogany Soprano Ukulele Starter Kit | Check Price |
| 2. Oscar Schmidt OU2 Concert Ukulele Bundle | Check Price |
| 3. Hola! Music HM-21BU Soprano Ukulele Bundle | Check Price |
| 4. Kala MK-T Makala Tenor Ukulele Bundle | Check Price |
| 5. Kala MK-B Makala Baritone Ukulele Bundle | Check Price |
| 6. HANKEY KUT-70 EQ Acoustic-Electric Tenor Ukulele | Check Price |
| 7. ADM Koa Plywood Concert Ukulele Bundle | Check Price |
After that, here is a list of 7 of the best ukuleles of the best ukulele brands, which will help you how to choose a ukulele.
1. Aklot Solid Mahogany Soprano Starter Kit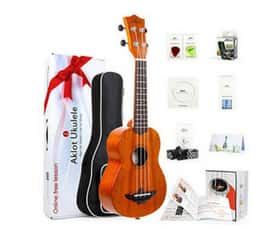 Do you begin to learn this Hawaiian instrument for peace and look for a cheap uke to experiment with? The Aklot is one of the most popular ukulele brands for beginners coming at a low price and offering a durable build to withstand your inexperienced hands. This best soprano ukulele features all the traditional uke points that you will find.
This Aklot Uke has a mahogany top, side, and back to provide you with the traditional mid-range ukulele tone. Although the neck uses Okoume wood, the fingerboard features a rosewood construction, which makes it smooth under your fingers. Apart from coming with Aquila strings, it also comes with an advanced 1:18 Pure Copper tuning gear, which will make keeping the tune seem like a piece of cake to you. Further, this lower action uke gives you a buzz-free and smooth playing surface with a natural matte finish making it a good ukulele for beginners.
Pros:
Solid construction makes it better with time and practice
Traditional materials used in construction
Perfect ukulele for beginners
Includes all accessories like- A gig Bag, picks, tuner, strap, strings, cleaning cloth, and an instruction book gift box
Durable build with a strengthened rib
Safe for children with its protective design
Cons:
It does not include a case
2. Oscar Schmidt OU2 Mahogany Concert Uke Bundle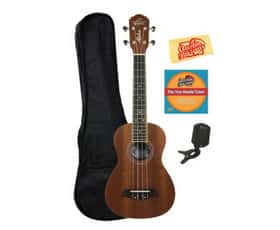 This Oscar Schmidt Uke is the best concert instrument to get you noticed at a get-together. It features traditional mahogany back, top, and sides to provide you with the usual high-quality tone. Moreover, the rosewood fingerboard makes the road even smoother for you if you are a beginner. Also, it comes with pre-installed high-quality strings with a geared tuner. So, that makes it even better to play on and keep it in tune. Apart from all that, the semi-stain finish gives it a look you will be proud of owning. The smooth fret ends, and precision action makes it more comfortable to use. That is to say, the resonance it provides to the sounds makes it the best concert ukulele.
Pros:
Great tone
Well-built with quality materials
Stays in tune
Resonant quality helps provide a super volume
Offers a lot- Gigbag, Tuner, Austin Bazaar Instructional DVD, and polishing cloth
Great value for the price
Best concert ukulele for beginners
Cons:
Many customers had issues with the strings
3. Hola! Music HM-21BU Soprano Bundle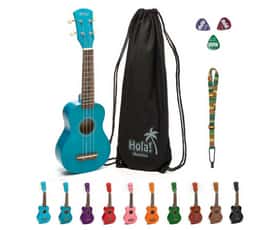 If you are looking to get started the traditional way, you should probably start with the best soprano ukulele that comes with everything you need! As you are just beginning, you prefer the lower price, don't you? So, this uke provides you exactly it and offers you a quality that you won't expect at this price. It has a 21-inch maple body to make the work easier.
Moreover, it produces a sound that is quite satisfying as well. Fortunately, the walnut bridge and fingerboard with a Nato neck make it easy for beginners to tune the Aquila Nylgut strings that this model comes with. Besides, the most attractive feature is the thin layer of vibrant color on it. It is available in 10 different colors. In short, the amount of accessories it includes makes it the best soprano ukulele for beginners.
Pros:
Quality sound
Superb build with sturdy materials
Offers everything necessary from a tote bag, and strap, to three picks
Inexpensive
Easy playability
Vibrant look
Best soprano ukulele entry-level at the price
Cons:
4. Kala MK-T Makala Tenor Ukulele Bundle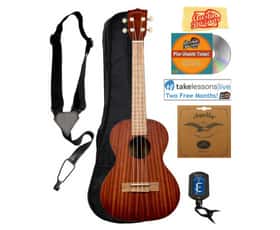 The Kala MK-T Tenor ukulele offers you a quality that you find in no other beginner ukulele at the price. With a price somewhere in the middle of too cheap and too expensive, this best tenor ukulele for beginners offers you everything you can ask of a ukulele. You won't even need to worry about the rainy season affecting it because of its Agathis laminated top, back, and sides.
Besides, the Agathis partnered with a mahogany neck, and a satin finish provides you with a tone that most ukuleles fail to deliver. You might even be hitting the wrong notes and still falling in love with the sound. Also, the rosewood fingerboard backed by the lightweight construction makes it easy to hold and smooth to play with. Moreover, the high-quality strings paired with geared tuners make tuning a negligible hazard. Most importantly, this is the best ukulele for under 100 dollars.
Pros:
Lightweight but sturdy construction
Agathis Laminated build makes it durable
Excellent sound quality
Easy playability
Buzz-free and consistently tuned
Includes extras like- a gig bag, a chromatic tuner, Austin Bazaar Instructional DVD, and a polishing cloth
Unbelievable overall quality for the price
Cons:
Not the best-looking ukulele
5. Kala MK-B Makala Baritone Ukulele Bundle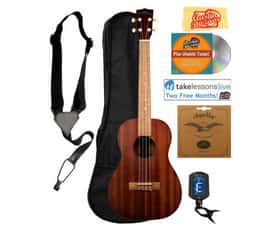 Looking for a high-quality uke that provides you with a standard level for beginning at a price that won't hurt you if you give it up? The Kala MK-B baritone ukulele is a popular ukulele for under 100 dollars to fill the air around you. Above all, coming at such an affordable price provides you with an experience that will ultimately make you more efficient at the professional level.
However, it features an Agathis body with a mahogany neck and rosewood fingerboard. It is a fantastic combination for delivering the best sound if you already put the best voice together perfectly. In this case, they are. Moreover, its silver nickel fret wires on the walnut fingerboard to separate the 18 frets give you a smooth surface to move your fingers on. Besides, the Aquila Strings and other accessories the spacious ukulele comes with easily make it the best uke.
Pros:
Excellent Build
High-quality materials used in construction
Appealing and enriched sound quality
Gigbag, Tuner, Austin Bazaar Instructional DVD, and polishing cloth included with it
Best baritone ukulele under 100
Spacious yet lightweight
Easy to play without any required adjustment
Cons:
Case quality could be improved
6. HANKEY KUC70-1 Acoustic-Electric Concert Ukulele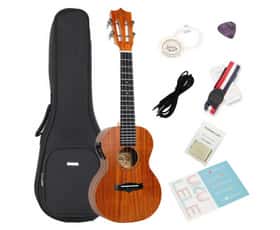 In case the best acoustic ukuleles haven't satisfied you, and you are looking for the best electric ukulele at an affordable price, the Hankey KUC70-1 should delight you! As you already know, the main difference from others is the inclusion of a three-band equalizer. So, if you are somewhere between being a beginner and an intermediate player, this uke will get you an audience with its loud, rich sound. Although electric, it has a superb traditional laminated body of Koa wood with a green shell inlaid top, which promises quality and beauty. Moreover, it has a mahogany neck with a brown hi-gloss finish making it look gorgeous. Apart from that, it arrives with strings installed and a lot of other accessories for you to begin with.
Pros:
Great tone
Adequate volume
Two strap buttons for stability
Great for beginners for their emergence to the next level
A bag, strap, extra Aquila Strings, polishing cloth, 2 Pins Installed, and Instructional Book included
Traditional, sleek design
Great buy for the price
Cons:
Many had issues with the installed strings
7. ADM Koa Plywood Concert 23 Inch Intermediate Professional Ukulele Bundle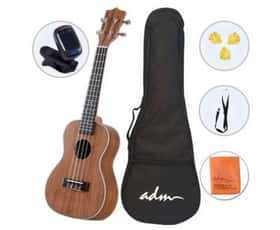 So, you are past the beginner level and need a uke that fits your level but at a low price? This concert ukulele by ADM provides you with both- a low price and an intermediate quality. Most importantly, ADM is one of the most suitable ukulele brands for intermediate and professional players. Besides, this model by ADM has a Koa plywood body and neck that makes the tone richer and brighter sounding. Moreover, the rosewood fingerboard and bridge make your slightly harder notes easy to play with their smoothness. The inclusion of the Aquila strings with dies cast tuners keeps your ukulele in tune. Apart from all that, its brown color body with laser-etched rosette design is a stunning treat to the eyes. Lastly, it assures you to give your money back if you want it within one month.
Pros:
Stylish build with quality materials
Rich and bright sound quality
Includes a Gig Bag, Tuner, strap, and polishing cloth
Loud.
Great buy for the price
Cons:
There were complaints about edges being too sharp
Tips to Choose for the Best Ukulele
Before talking about the complexities of construction and pricing, first, introduce you to the four types of ukuleles. The four kinds of ukuleles are classified based on their size.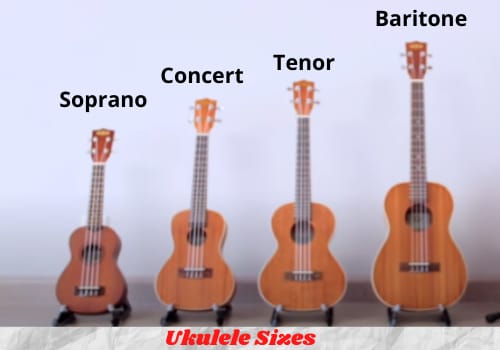 The Soprano is the smallest one around 20 inches in length with a classic traditional sound.
Next comes Concert with its 23-inch length and a louder, rich sound.
The Tenor ukulele with a 26-inch length comes next with a deeper tone.
Finally, the mighty baritone ukulele of 30-inch length with the loudest tone is the fourth kind.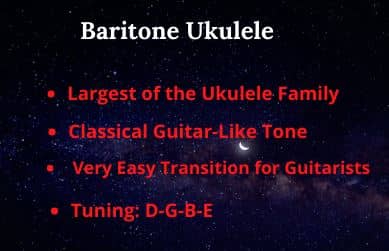 Might you be big or small, you will find the right size and the best brands of ukuleles for yourself among these. However, the other factors of consideration are: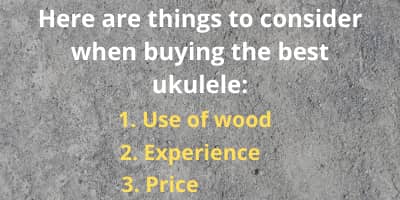 The wood used for the build:
The wood does not just give the uke a material existence but also influences its sound. There are many kinds of woods used, such as monkeypod, mahogany, mango, koa, rosewood, cedar, acacia, etc. But Koa is the most traditional one, and Mahogany is the most commonly used. Both of them contribute to a high-quality build and unique mid-range tones of their own. So, choose whichever wood makes the tone you prefer.
Experience:
With lesser experience, you should probably go for cheaper, entry-level ukuleles that provide the highest quality and necessary accessories for the price. If you have enough experience, you can always go for expensive ones that suit your level.
Price:
Not all expensive ukuleles have the best quality, and not all cheap ones are sloppy. So, know your level and look for one that provides your needs at a low price. Because there is the best for every range.
Final Note
In conclusion, you should have nothing to worry about but only the notes on your finger while learning to play the ukulele. That's to say your ukulele should pose no trouble for you on your road to glory but aid you. Therefore, you have to choose what is the best ukulele for yourself, considering it fits your style, and tone, and is of high quality. Our ukulele reviews and buying guide should have given you a clearer idea about these peaceful delights. Above all, we believe you can barely go wrong now, so make that purchase!