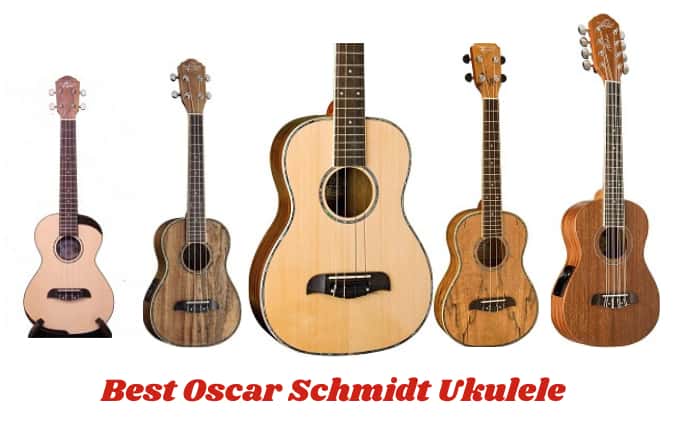 You might ponder the best Oscar Schmidt ukulele while inserting new instruments into your assortment. The fact is that ignoring the ukulele offerings from the brand is too hard.
The company devises a blend of stringed instruments such as banjos, acoustic and electric guitars, basses, mandolins, autoharps, and for sure, ukuleles. Most importantly, the brand's outlook is to ensure that everyone can use quality stringed instruments without incurring additional costs.
In this article, we'll show some of the top Oscar Schmidt ukuleles to indicate which one is right and best for you.
Top 10 Best Oscar Schmidt Ukulele for sale
1. Oscar Schmidt OU5 Koa Concert Ukulele Bundle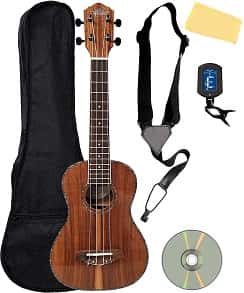 This Oscar Schmidt ukulele ou5 is one of the favorite ones of many music lovers. But why? It arrives with the necessary accessories along with quality properties.
The top, back, and sides are the Hawaiian Koa, famous for the best tonewood with rigidity. More, this Hawaiian Koa instrument with the abalone binding and rosette has a proper shape to catch your eye.
Further, the 16-fret Nyatoh neck and Grover chrome tuners are excellent layouts to make your playing activities easy and smooth. Then, standard accessories coming with the bundle will work like a helping hand.
Pros:
Solid-body of Hawaiian Koa
Enriched sound and tone with
conspicuous intonation
Free from the hassle of buying accessories
Cons:
Some have mentioned the string-buzzing issues
2. Oscar Schmidt OU11TE tenor ukulele

The company has used two types of wood to build this tenor uke. They consolidate Koa and spalted mango wood on the top, back, and sides to create an unparalleled melody and appearance.
This model has a mahogany neck, 19 frets with dot inlays, abalone purfling and rosette, chrome tuners, gloss finish, rosewood fingerboard and bridge, built-in preamp, and Aquila strings. In reality, everything seems to be better.
Some customers have mentioned that it fancies somewhat heavy in proportion to expected due to the internal electronics and high gloss. Anyway, they are happy with the shopping all in all, particularly after altering the strings.
At times, alternating the strings might affect the tone and playability of instruments. So, you should check it with different Strings before returning it if you feel discomfort with any uke.
Pros:
An instrument with a mix of two wood types
Resonant sound quality
Built-in preamp
Cons:
Strings may need to change
3. Oscar Schmidt OU500T Comfort Series Tenor Ukulele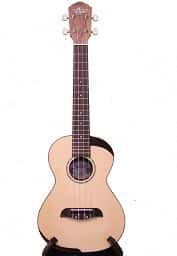 This OU500T will arrive with a Koa body and spruce top. The Comfort Series features a comfort rest on the lower bout so that it can support your arm. Not only that, the manufacturer attaches a rosewood-partial cutaway with this uke for easy access to higher frets.
Further, the satin-finished spruce top with Koa body produces a full sound with a clear accent. Besides, its harmonious tone will inspire you to play the uke, for sure.
Other properties comprise a rosewood fingerboard and bridge, a mahogany neck, rosewood binding, Aquila strings, open-gear tuners, a satin finish, and 19 frets with dot inlays.
Customers have almost shown the same opinions in their appreciation for this uke. Honestly, one of its common viewpoints of it is the dense tone.
Pros:
Inexpensive ones to the mid-range
A superb combination of different wood
Holding the tune for the long-period
Cons:
It takes a while for the string to settle
4. Oscar Schmidt OU52E Baritone Acoustic-Electric Ukulele

The OU52E comprises a mahogany top, back & sides, offering a vigorous full-body and resonating a stunning sound with high volume.
This Acoustic-Electric Ukulele characterizes the handcrafted quality. Furthermore, the merger of a rosewood bridge, satin finish, and chrome tuners lets you play it readily.
Applause for adding electronics. You can connect it in a gig bag. Consequently, it becomes pretty multipurpose for practicing and jamming together.
Its tone and appearance are the most praised thing about this uke. However, some users ostensibly raise some issues about quality assurance but are very low in number.
Pros:
Volume control system
Perfect for electric and acoustic
Sounding beautifully mellow
Cons:
5. Oscar Schmidt OU53S Baritone Ukulele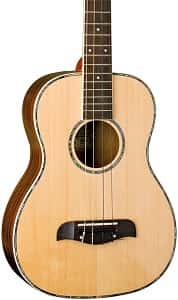 Many consider the OU53S superb for a deeper voice with a unique sound. Indeed, the brand incorporates a selected spruce top with gorgeous rosewood back and sides to enjoy exceptional resonance and tone.
The rosewood fingerboard and bridge, including abalone top inlays, have shaped its lusty structure with an eye-catching look.
Buyers have remarked that it might become a first pick for the cost, especially when anyone likens it to the higher-priced Kala. The reason they like it the most is its sound and playability.
Some have observed a few problems with standard commitments and the strings added to the uke. Already mentioned before, the commutation of Strings can sometimes aid you in enhancing the tone and feel of the instrument.
Pros:
Nicely bound fretboard
The bell-like tone with good projection
Affordable for all
Cons:
Problems with the placement of the strings
6. Oscar Schmidt OU28TE 8-String Tenor Ukulele

The double-course strings are one of the reasons to prefer this OU28TE. So to say, it will feel like you're playing an octave on two Strings while pulling or picking a String, producing a fuller sound enriched with warmth.
This 8-string uke brings the mahogany top, back, and sides, satin finish, pearl dot inlays, NuBone nut and saddle, chrome tuners, and Aquila strings.
As a whole, it's worth it for folk and bluegrass music. But, you can check it with all styles. Its tone is the most preferable for us, one of the most affordable 8-string models attainable, unquestionably.
One of the most challenging things about it's that the tuning and keeping in tune will not be as easier as the 4-string ones. So, if you select it for yourself, you need to stay careful, okay?
Pros:
Plenty of space for fingering
Customizable play facilities
Two octaves and two unison tuning
Cons:
Somewhat troublesome for new players
7. Oscar Schmidt OU7TK-A-U Spalted Mango Tenor Ukulele

The OU7TK will help you perform on the stage battle with a beautiful mind as a musician. Besides, its exceptional appearance will attract the audience incredibly.
Its symmetric and high-finished look makes it striking. Also, this tenor uke puts a spalted mango body with abalone binding and rosette, and so on. More, the wood grain is stylish.
As per the product description, it contains superior resonance. The sound is very balanced. You can go with it for a long time.
Above all, uke lovers like the instruments, having overall quality, appearance, and durability.
Pros:
Well-made and sturdy
Warm and bright sound
Eye Dazzling look
Cons:
8. Oscar Schmidt OU2T Mahogany Tenor Ukulele

The OU2T consists of a mahogany top, back & sides, appearing to be a stiff instrument. Besides, the Ivory body binding and satin finish ensure its catching design.
Oscar places chrome tuners, the ebony headstock, and the bridge, allowing your activities to accomplish precisely.
We've noticed that it holds a straight neck, level frets, and rattling and buzzing-free strings. Further, it measures 3 mm from the top of the 12th fret to the underside of the G string. All in all, it will get cozy while playing.
This Tenor Ukulele stays in tune pretty well. We think it will generate the sound you like. If you buy it, your cost will not be in vain, on the whole.
Pros:
Worthy for all level players
Finely finished
Effortlessly playable
Cons:
Some say the frets are not smooth
9. Oscar Schmidt OU2-A-U Concert Ukulele

This concert-style ukulele will become exactly the same as what you're exploring. It delivers full-bodied sound, and the price won't be defeated you. Wonderfully, Oscar has done what you expect from them.
The Oscar Schmidt OU2 ukulele confirms its firmness using the eminent mahogany body. Plus, the company combines a bound mahogany neck, meaning it provides a brilliant sound with high volume.
The manufacturer assures smooth fret ends, precision-low action, and resonant sound quality inspected and adjusted by a skilled technician. Honestly, we have not found anything mistaken with it.
Above all, it will not be worse if you keep it in your choice list, at least thinking of the price range.
Pros:
Super easy to use and learn
Price within the reach
Holding it in tune properly
Cons:
10. Oscar Schmidt Baritone Ukulele (OU52-A-U)

To wrap up our choice list, let's talk about the brand's series that maintains each uke a relatively standard look and feel. These are elegant and low-priced but honestly look similar.
The OU52-A-U has assembled a mahogany body, including a satin finish. It might be reasonably a likable instrument for a beginner or intermediate player, unquestionably.
Maybe, it's one type of laminated wood-made uke, yet it works better than pricier ones in some cases. If you consider its price point, it'll be the best one for you.
Nothing wrong has been heard from the users about it, but some have said about somewhat buzzing.
Pros:
Good fit and finish
Top-quality laminated woods used
Fantastic considering the price
Cons:
Strings require to stretch out for a few days
About Oscar Schmidt
Essentially established in 187, Washburn is the owner of Oscar Schmidt, possibly best familiar for its Nuno Bettencourt signature model electric guitars (though they manufacture almost all types of musical instruments).
Acoustic guitars, banjos, autoharps, electric guitars, basses, ukuleles, mandolins, and cases/bags are the main product range of Oscar Schmidt.
They carry a heritage of manufacturing musical instruments with surprising tone and volume considering the price range in particular. That's why the brand still holds its name and fame today equally.
What should I check out in an Oscar Schmidt ukulele?
Therefore, you are eager about Oscar Schmidt Uke but don't have a clear concept about which will be perfect for you.
By and large, you require to reckon a few factors before shopping for a uke. These might aid you in shrinking your options and pick it the right instrument for you.
Some general considering things are here:
What does the instrument sound like
Whether it's worth playing well
Four or eight strings
The appearance of the ukulele
How quality is
What is the price is
Let's get to know each one briefly.
Sound & Tone
In general, it is difficult for beginners to distinguish between the sound of an apprentice instrument and an advanced instrument. But, it is not hard for seasoned players. The reason is that experience teaches everything step-by-step.
This brand's ukes are pretty good. However, based on the materials they're crafted from, they become somewhat different.
The ideal way to find which one functions well is to attempt the instruments. Besides, other paths are watching reviews on YouTube, reading some written articles, or sharing Oscar Schmidt users' experiences.
Feel & Playability
Feelings and playability require to consider essential factors too. When an instrument remains in balance well, players feel relaxed on their hands and against their bodies play.
Further, if the setup action stays properly, the ukulele becomes effortless to play. Consequently, you don't need to press sharply with your fingers to derive the desired sound from the instrument.
Generally, a pricey instrument is suitable enough to balance tone and playability. In reality, it's not always true. Playability carries significance for players of all levels but is more vital for beginners, in particular.
4 Strings or 8 strings
There are both types of 4-string or 8-string instruments of Oscar Schmidt. Now, the question comes which one you crave to have.
Okay, you'll possibly keep your eyes on the four-stringed ones in most cases. No doubt, these are standard. You might likely not intend to leap to specialized instruments like 8-strings unless you have many musical instruments in your assortment.
Instrument's look
How much does the look of a uke become significant? In effect, it relies on the individual.
The company's instruments remain stylish at every level, irrespective of the price. But, the images don't pretty come them justice in some cases.
In most cases, choice based on how the uke sounds and plays should be the considering point. But when the look or the color is more vital for you, it will be better to pick based on the materials used in this case.
Quality
There's needless to say that everyone desires quality instruments at a reasonable price. Rightly, every brand does not supply that, but fortunately, Oscar does. They boast of developing quality ukuleles, which are the best value for the price. As a whole, the users' feelings appear to glean this truth.
For sure, if any item arrives with any defect, you can exchange or refund it.
Price range
We ponder that it is not auspicious to get off going into debt to purchase a musical instrument for a long time.
It is to say that their ukuleles are available in the range of about $60 to $230. So, we can't think you will fall into trouble with such type of shopping for instruments.
Honestly, a lot of options are attainable for you. It might become the ultimate determining factor if you are unsuccessful elsewhere.
Final Verdict
Lastly, you'll find the products at reasonable price ranges from beginners to advanced levels. Usually, you can reckon on this company's instruments to be fantastic value for the cost, making them an expectation for numerous players.