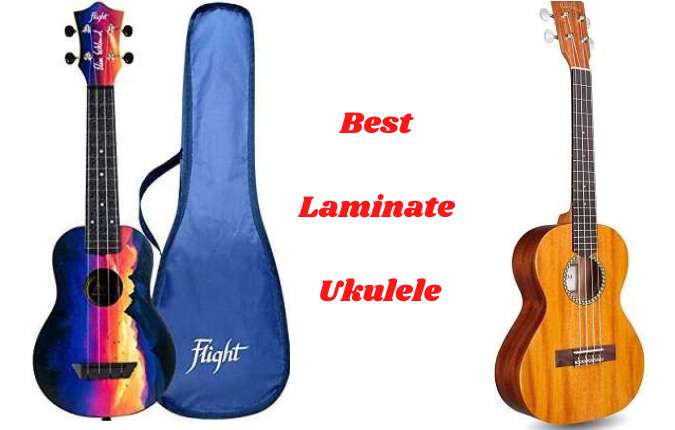 Today we are about to review the best laminate ukulele. The reason is that many people want to buy a quality instrument but sometimes not due to their limited budget. Hopefully, this article will help them choose an affordable ukulele.
What is a laminate ukulele?
A laminate ukulele refers to the body is not crafted from a solid piece of wood but from thin timber pieces sandwiched together from many thin slices
Although solid wood ukulele is regarded as the preferred tone choice in many cases, laminate instruments can still produce absolutely brilliant sound. Laminate ones often look very captivating because the most attractive part of the wood gets chosen as the outer layer.
Top 6 Best Laminate Ukuleles
| Product Name | Price |
| --- | --- |
| 1. Flight Elise Ecklund Sunset Soprano Laminate Uke (TUS EE) | Check Price |
| 2. Cordoba 20TM Laminate Tenor Uke | Check Price |
| 3. Luna Maluhia Laminate Concert Uke | Check Price |
| 4. Oscar Schmidt OU52 Laminate Baritone Uke | Check Price |
| 5. Lanikai Tenor Laminate Uke (ACST) | Check Price |
| 6. Cordoba 15CM Concert Uke | Check Price |
1. Flight Elise Ecklund Sunset Soprano Laminate Ukulele (TUS EE)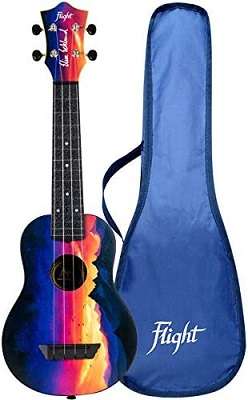 If you explore a larger arched ABS back instrument, it is the Flight Laminate Uke. It contains a high volume in the midrange compared to the average soprano. Also, it features a sounding better resonant and brighter.
The Flight Uke TUS-EE utilizes laminate linden wood to make the soundboard. Indeed, the Linden wood features a bright sound and sleek texture. It lets you print this colorful mountain sunset design on the soundboard without sacrificing the instrument's sound quality.
ABS plastic neck and fingerboard become an accurate solution for the entry-class ukulele because it does not tend to change in any weather. It has no edgy neck or crooked neck. Besides, the neck surface imitates the wood pattern to avoid a cheap plastic feel.
This Elise Ecklund uke has Zero frets combined with unique bridge construction, keeping the string action low and intonation on point. Further, its rounded-back construction with a strap button keeps it from sliding against your chest.
An integral part of the brand's identity is the headstock design. The headstock is constructed from linden to coincide with the veneer top and has Elise Ecklund's signature with a sunset color gradient to bind the design together.
Features:
Durable and resistant to humidity change.
A fantastic gig bag.
The strap button.
Suitable for travel.
2. Cordoba 20TM Laminate Tenor Ukulele

In the music world, Cordoba ukes are called one of the respected industries. The brand's devotion to manufacturing exceptional guitars utilizing time-tested techniques and quality components expands to ukuleles like the Cordoba 20TM.
The 20TM characterizes a robust mahogany top, terminated with laminate Mahogany back and sides, including a natural satin polyurethane finish.
Its solid top offers the Cordoba 20TM a loud and lively tone. As a tenor size, it contains a greater emphasis on bass and treble compared to smaller ukes, nevertheless having an excellent high-end reaction.
This model brings a rosette with a dual herringbone pattern and a rosewood bridge apart from an 18-fret rosewood fingerboard with Pearloid dot inlays. Above all, this tenor's sound is something you'll expect to listen to over and over again.
The Cordoba 20TM is perfectly matched with Cordoba nickel tuning machines with pearl buttons and Aquila Nylgut Tenor strings. Moreover, its length measures overall 26-inch.
All in all, it'll become a handy investment for all-level players. The 20TM will sound better the more you will play. Besides, it gives a fantastic play feel with better sound and sustainability.
Features:
Pau Ferro fretboard.
Beautiful design with an eye-catching finish.
Natural wood pattern rosette.
Brilliant tenor-sized sound.
3. Luna Maluhia Laminate Concert Ukulele

Luna Guitars is a well-known stringed instrument manufacturer that produces affordable instruments with original designs.
The Maluhia concert uke features a stylish peace symbol layout around the soundhole alongside a laser etching of different language sounds across the instrument top.
The Luna uke brings an all-laminated mahogany body that delivers a warm tone. Instead of a bone nut, it has a graphite nut, and that's only our concern.
This Luna Maluhia is better enough to serve its purpose. Also, it looks gorgeous in this price range. Its sound quality is beautiful. Also, the tuning pegs seem to be of lower quality but still have their tune most of the time.
Luna incorporates a gig bag to protect your uke and carry when you go outside. We can say that this instrument will not be a worse choice to carry on your musical activities.
Features:
Laminated mahogany body and top.
Mahogany neck.
Rosewood fretboard.
20-frets.
4. Oscar Schmidt OU52 Laminate Baritone Ukulele

The OU52 comes at a low price. Therefore, if you hope for powerful tonewoods with real bone nuts and all the standard ones like expensive ukes, you may be disappointed.
Anyway, it could become a smart option for you when you can be capable of adjusting to your expectations, and you might look for a first uke, which is not one of the best ones.
Oscar Schmidt Uke includes a laminated mahogany body with a mahogany neck and rosewood fingerboard. Although laminated wood might not be superior, it does not positively work a fewer in this case.
The biggest concern might be the fretboard. The fret edges are pretty sharp, which makes it difficult for the players to slide a hand up and down the board.
This defect can be rectified by simply sanding down the dull edges. Alternatively, you might be capable of taking it to a shop, and they will accomplish it for you.
Of course, it means extra costs, but you always need to have a budget for maintenance with cheap instruments and things like that.
Indeed, you'll still cost a lot less on this instrument than getting an over $100 ukulele, including sanding and any other issues you might require.
Features:
Nice and simple for a beginner to an intermediate.
Dimensions: 24 x 2.75 x 8 inches.
Weight: One pound.
Higher performance considering prices.
5. Lanikai Tenor Laminate Ukulele (ACST)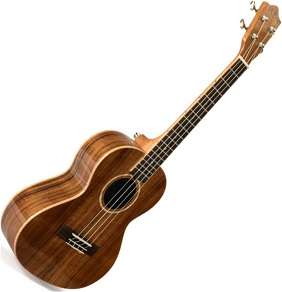 The Lanikai ACST Tenor holds a solid acacia top but laminate acacia back and sides. Actually, it means you are about to have an incredible-sounding instrument for half the price.
Perhaps, you'll become somewhat confused why there isn't a uke stiff wood at this price point if you research the tenor world.
The ACST uses a glossy finish that makes it more captivating to musicians. Also, one of the remarkable things is that it puts Chrome strap buttons, standard for safety and comfort.
If you hope for a wide neck to ensure your play comfort, it's best for you. The reason is that Lanikai Uke has placed a wide Neck in this model.
That being said, this is the best-sounding tenor ukulele under $500. In truth, Acacia wood naturally produces a traditional sound with somewhat of a twist. The ACST Tenor receives that classic ukulele sound but turns it enriched and smooth.
What more might you have a craving? It also adds NuBone XB nut and saddle for the highest durability. Honestly, this ACST contains it all.
Features:
Deluxe Grover Chrome open-back tuners.
A wide-comfortable neck profile.
A warm well-balanced tone with fantastic sustain.
Natural color with a glossy finish.
6. Cordoba 15CM Concert Ukulele

The 15CM Concert uke features an upgrade from your elementary and reasonably-priced ukulele. Although there isn't plenty of difference between this uke and your super-budget options, this model is manufactured by a well-established company like Cordoba.
The reason is that well-established brands like Cordoba attain a better perception of what an instrument sounds good by playing with different quality woods and ingredients and building instruments for different types of users.
After playing with this 15CM for a while, we don't suggest this uke if you are a player who wishes to play in a group or live performance without an amplifier. But except for those situations, it is excellent.
Because of the laminate used to make this instrument, you're not about to enjoy the amount of volume or tone you expect in situations like this.
There's no hesitation to say if you explore a concert size to get started, the Cordoba 15CM is compatible with your needs.
Features:
Laminate mahogany body and top.
Enriched and bright sound.
Easy tuning.
Satin finish with classic aesthetics.
Laminate vs Solid Wood Ukulele
In case you are hesitant to find out which instrument type you should buy, we've mentioned a few advantages and disadvantages of solid wood and laminate ukuleles below. Now, it's up to you to decide which type of ukulele is right for you.
Laminate Ukulele
Advantages
(i) More Affordable: The best portion of buying a laminate ukulele is that it comes with less money. This ukulele type becomes the best option for those playing occasionally. Therefore, there's no requirement to cost a lot for something only used at times.
Overall, Laminate ukuleles provide excellent value but are affordable options for those wishing to play.
(ii) Easy to care for: This ukulele type does not need much care as it is stable compared to solid wood instruments. Besides, changes in temperature and humidity levels do not affect them, so it becomes simple to care for one of these.
It does not imply that you can throw them off, and it does not matter. You still have to show some respect for them and stay careful about them if you wish them to last.
Disadvantages
(i) Cheaply made: Laminate ukuleles are manufactured in a factory utilizing pressed wood. In effect, manufacturers often include low-quality parts in comparison to top-shelf materials. You'll usually hope for a laminate body to be cheaply made when you shop for it.
(ii) Lack of quality sound: The most negative side of a laminate ukulele is likely that it doesn't produce the quality sound like a solid wood ukulele.
Solid wood ones become more reactive to sound waves reverberant via the body. Also, it permits a more full-bodied sound that projects compared to a laminated ukulele.
Solid Wood Ukulele
Advantages
(i) Better tone: You'll listen to a better tone from a solid wood instrument. Besides, a solid uke will echo more and permit a fuller sound to enter the body. But you can sometimes listen to this difference or not.
(ii) Getting better with age: A solid wood uke gets excellent with age. The wood tone will alter over time and create a better sound the older it is. It occurs due to numerous reasons. One of the best advantages of a laminate uke may be that it often generates the same sound.
(iii) Durable: Typically, these types tend to be durable. A slight injury does not cause much damage to these. But laminate ukuleles are more brittle than solid wood ones.
Disadvantages
(i) Needs more care: It's better to have a solid wood instrument, but you'll have to be more careful about it. Generally, solid wood gets more responsive to the atmosphere, so you ensure that you've put it in proper moisture at all times.
(ii) More pricey: A solid wood uke to buy requires a lot of money. So, if you pick a handmade Hawaiian ukulele, you'll need to pay a hefty amount for this case.
Conclusion
Above is a list of the best laminate ukulele. Whether a beginner or a seasoned player, you can pick one that goes with you.