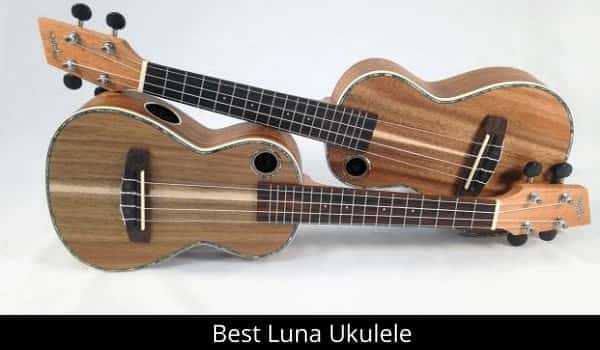 If you wish to have a beautiful and high-quality affordable instrument, you should have knowledge of the best Luna ukulele. To clarify, Luna has already been able to create an appeal among musicians worldwide because of its quality and construction style.
However, you need a surprising uke to conquer your heart, right? Because of this reason, you have come here to know if Luna's ukes are just too cute a face or worth the money. So, you need to read the article. But in truth, this brand will never disappoint anyone.
Now, stay with us while looking over the Luna brand.
Look At Our Top Pick
Editor's Choice
Luna Tattoo Concert Mahogany Ukulele
Top 10 Best Luna Ukulele Reviews
| Product Name | Price |
| --- | --- |
| 1. Luna Tattoo Concert Mahogany Ukulele | Check Price |
| 2. Luna Tattoo Acoustic-Electric Concert Ukulele Bundle | Check Price |
| 3. Luna Concert Ukulele Great Wave Graphic | Check Price |
| 4. Luna Soprano Pineapple Ukulele Pack | Check Price |
| 5. Luna Concert Acoustic/Electric Ukulele | Check Price |
| 6. Luna Vintage Soprano Ukulele | Check Price |
| 7. Luna UKEPEARL Seahorse Concert Ukulele | Check Price |
| 8. Luna Floral Flamed Maple Concert Ukulele | Check Price |
| 9. Luna Mo'o Acoustic/Electric Concert Ukulele | Check Price |
| 10. Luna Exotic Series Spalt Maple Concert Ukulele | Check Price |
1. Luna Tattoo Concert Ukulele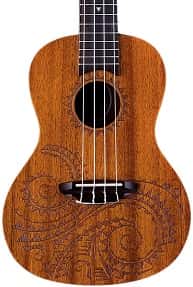 As a beginner, you are looking for a uke that comes with the design and the traditional stylized Hawaiian instrument body. Luna Tattoo Ukulele is a concert-sized uke that is affordable and high quality.
Besides, this uke has a monochromatic, tattooed in black against brown skin, geometric patterns and layout, and shark teeth stylized fret markers that make it amazing.
Moreover, constructed with mahogany, this uke delivers a resonating and superb sound. Also, its mahogany construction makes it smooth, beautiful, and of extraordinary value. If you choose, you need not think of its longevity and endurance.
Further, this brand has utilized quality Aquila strings to build the Tattoo Concert Uke. The Aquila strings make it easy to play the uke, especially for starters.
In addition to these, this bundle offers an excellent clip-on tuner and a gig bag. The excellent tuner functions well. Consequently, you can tune the instrument easily. The provided bag is also of high quality and padded. You can depend on the bag to protect the uke.
Pros:
Mahogany body and neck
Walnut Fretboard and Bridge
Satin Natural Finish
Inclusion of Padded Gig Bag
Easy to tune
Cons:
You might need to change these uke-tuning pegs
2. Luna Tattoo Acoustic-Electric Concert Uke Bundle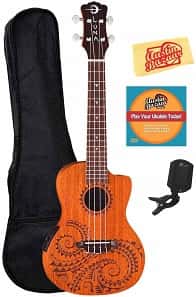 You're looking to get a uke with the necessary accessories. Don't worry. The Luna Tattoo Acoustic-Electric Concert Ukulele Bundle offers the opportunity that adds value to your purchase.
However, the brand designs this Acoustic-Electric Concert Uke like the traditional Hawaiian body. These designs are tattooed in black against brown skin with monochromatic, geometric patterns, and many shapes and marks.
Besides, this uke is constructed using mahogany. So, there is no question of its durability. Likewise, this instrument provides a great sound as the mahogany is of a quality tonewood. On the other hand, this Electric Concert Uke includes an onboard preamp that produces a clear and resonating sound.
Further, this Tattoo Uke features a mahogany neck, rosewood fretboard and bridge, and Satin Natural Finish. Also, it comes with a clip-on tuner that helps to keep the instrument in tune.
In addition to these, this bundle includes a gig bag for packing, an Austin Bazaar instructional DVD to pick up some tips while learning, and a polishing cloth to keep the new instrument in mint condition.
Pros:
Mahogany body and neck
Concert-Sized Uke
Necessary Accessories
Excellent Sound
Cons:
3. Luna Concert Uke Great Wave Graphic

You are a lover of art and the uke.  So, you are searching for a uke designed with an artistic touch. In this case, the Luna Concert Ukulele Great Wave Graphic is able to meet your needs. Inspired by The Great Wave off Kanagawa (1830 – 1833), Luna designed the Great Wave Graphic.
The Great Wave off Kanagawa (1830-1833) is also acquainted with The Great Wave, which is a woodblock print by the Japanese artist Hokusai. There are print copies in many collections, including the Metropolitan Museum of Art in New York City and The British Museum in London.
Moreover, this Wave Graphic features a solid mahogany construction. So, you are free of tension from its durability and sound quality. The fantastic design is full of beautiful walnut fretboard and chrome hardware.
Further, the cutaway shape lets you allow for easy access to the higher frets. This brand uses Aquila strings to make this uke. That means you won't have a problem tuning it. Also, it gives it a pretty good tune. But keep in mind that you have to stretch it perfectly well.
Furthermore, the Luna Concert Uke includes a gig bag to attract purchases. Above all, we assure you that it is a great instrument.
Pros:
Sturdy mahogany construction
Beautiful for tone and durability
Great Wave Graphic Finish
Cons:
Require to file the frets
4. Luna Soprano Pineapple Uke Pack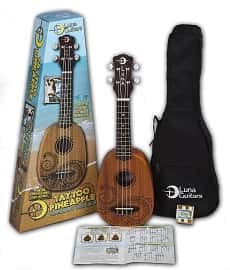 Does anyone want a pineapple-shaped uke? Then, see the Luna Tattoo Soprano Pineapple Ukulele Pack. To clarify, it is not a real pineapple. Indeed, it is a pineapple design ukulele.
However, this Soprano Uke offers a surprising Hawaiian tattoo design that will attract your attention. Hawaiian tattoos feature monochromatic black against brown skin. The pattern and layout also feature geometric, many shapes, and symbols.
Further, made of mahogany, the Luna Tattoo Uke delivers a super sound and resonates with a warm tone. Also, due to the construction with mahogany, it is durable and works for a long without any problem. Again, the fretboard is crafted using Walnut. Consequently, playing uke becomes easier for the players.
Most importantly, this uke offers a bundle. Therefore, when you buy it, you will get the necessary accessories. The accessories are a clip-on tuner, a gig bag, and a polishing cloth. They are comparatively valuable. They become a great gift, especially for players who are novices.
Pros:
Pineapple shape soprano uke
Free accessories included
High-quality Sound
Easy to tune
Perfect for starters
Cons:
Small for large-handed players
5. Luna Concert Acoustic/Electric Uke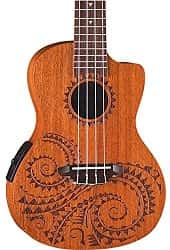 There are some great ukes on the market. No doubt, Luna Tattoo Concert Mahogany Acoustic/Electric Ukulele is one of them. There are two ways in this uke – one is acoustic, and the other is Electric.
However, this ukulele is comfortable to play with and looks beautiful. The large-handed players choose it because they feel comfortable holding and playing with this Luna's uke.
Most importantly, this uke is just as attractive as its name. With the construction quality, the tattoo design is fantastic, and it is very stable. One thing is for sure this model will last for a long time.
Further, this instrument is not like other ukes that come as strictly acoustic. It also features a preamp. That means that you can play it loudly. Also, it is superb for stage performances. This brand here utilizes the Luna UK-9000 preamp, which works great.
It is noteworthy that a few people often complain about the tune. But remember that it is common for fretted instruments. It is natural to give your strings a few weeks to stretch.
Pros:
Mahogany body and neck
Walnut Fretboard and Bridge
A good preamp included
Moderately affordable
Cons:
You can find some of the glue on the edges
6. Luna Vintage Soprano Ukulele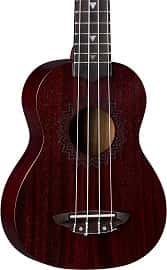 This time, we've included another soprano uke from Luna. In truth, Luna Vintage Mahogany Soprano Ukulele is an instrument that is a worthy pick for all types of uke players. Due to its small size and lightweight, practice and transportation become easy.
To clarify, we assure you that Luna utilizes super materials to create this uke. With mahogany construction, this Luna Vintage ensures a high-quality sound that is warm and bright. Also, its mahogany construction makes the Red Satin Uke more sustainable.
In addition to these, this soprano uke offers a walnut bridge and fretboard, 13 scale length, and beautiful Pearloid triangle inlays. This model includes a sturdy black open-gear tuner that helps to keep the rhythm in tune.
Moreover, if you don't like tattoo designs, you can choose them. Its Red Satin Finish makes it look different than other models that inspire someone to collect it for themselves.
In short, it is a stunning and high-quality instrument that comes at affordable prices.
Pros:
Excellent sound
Simple to tune
Superb looking instrument
Cheap at prices
Cons:
The frets are somewhat thin
7. Luna UKEPEARL Seahorse Concert Ukulele

The brand demands obviously that the Luna UKEPEARL Seahorse is one of its best ukuleles, even though they are saying so themselves. You can concentrate on proving such a bold claim by Luna because the brand has probably kept something new for the musicians.
However, Luna Uke Pearl offers seahorse etchings all over the body in a great design. The brand imagines that the seahorse symbolizes inspiration, creativity, good fortune, grace, vigilance, and confidence. Similarly, the pearl on the uke is a symbol of triumph over adversity, purity, and spiritual transformation. It also relates to water, the moon, and feminine energy.
We see the materials of choice for this ukulele. However, this brand utilizes mahogany to construct the body of this uke. Not surprisingly, most of Luna's ukes are made using mahogany. It is natural because mahogany has solid tonewood.
Further, the Seahorse Etched Pearl Concert Ukulele includes a walnut fretboard, a Satin natural finish, Rosewood Fingerboard, a set neck construction, and a distinctive Luna "Moon Phase" pearl dot inlays.
Furthermore, it is compact in size and lightweight uke. Consequently, it is comfortable, and the practice becomes easier for any player. In short, this uke is a standalone instrument compared to others.
Pros:
Sturdy mahogany construction
Quality craftsmanship
Lightweight and durable
Cons:
Some people have complained about the tune
8. Luna Floral Flamed Maple Concert Ukulele

This uke is a bit different than other ukes. But it is as pretty as others. It has the superb flapped maple design of anyone's favorite. Now, we see thoroughly Luna Concert Uke.
To clarify, this Uke has a hibiscus and plumeria inlays around the soundhole. Hibiscus is a symbol of delicate beauty. Likewise, Plumeria symbolizes spring and is, therefore, connected with birth and life.
This pretty Luna uke comes with a brilliant trans-purple flame maple top and a maple body. So, it produces a full, deeper sound along with the uke's concert body shape. Besides, the cutaway provides comfort while accessing the upper-register frets.
Also, its maple neck and rosewood bridge and fretboard enhance durability and precision to your tone. The open-style tuners will help you keep the instrument in precise tuning. On the other hand, the onboard preamp delivers easy amplification. As a result, you can dial it quickly.
Finally, we say Maple Concert Uke is a great uke that will last a long time.
Pros:
Delightful design
A preamp included
Made with quality components
Simple to hold and play
Cons:
Decent sound but is not amazing
9. Luna Mo'o Acoustic/Electric Concert Ukulele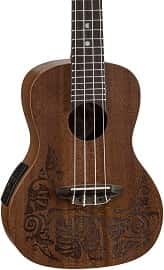 Luna Mo'o Acoustic/Electric Concert Uke comes with a richer sound than you expect from this price. The Luna Mo'o is so popular that it often goes out of stock.
The brand uses graceful lizards to intertwine amongst tropical Monstera leaves on this fanciful uke. It brings good mojo to your playing. Mo'o (lizards) were considered by the early Hawaiians as a symbol of spirituality and good fortune.
However, made of solid Mahogany, this instrument aids in keeping a full tone. It has the ability to stay in tune, even after a lengthy set. Also, its mahogany construction ensures longevity.
After that, this concert uke includes a built-in preamp/tuner that features the flexibility for choosing between acoustic and amplified play. It has standard-quality strings of Aquila Nylgut that don't need to be upgraded.
Furthermore, this Lizard Graphic Uke offers a gig bag that assures you to keep the instrument safe. Indeed, its unique design makes this uke stand out from other models.
Pros:
Comfortable instrument
Stunning design
Built-in preamp/tuner
Sweet sound
Super easy to play
Cons:
Some customers say there's a crack in the neck
10. Luna Exotic Series Spalt Maple Concert Ukulele

Luna Exotic Series Spalt Maple functions just as excellently as it also looks. It offers a unique Crescent moon-shaped soundhole that captivates anyone. This Uke invites balmy tropic nights with Luna's signature moon phase mother-of-pearl fret markers.
However, this brilliant instrument becomes well suited to the person who admires the beautiful wood with prominent graining. You can also choose from Olive Ash Burl, Spalt Maple, or Maple Burl top, back & sides.
It has no plastic laminate. That means the sound is warm and real. With a 23″ concert body and 15″ scale, the Luna Exotic uke features a nato neck and rosewood fingerboard.
Certainly, the uke provides a strong feeling in your hand that makes the playing experience more enjoyable. In addition to these, this Crescent Moon Soundhole comes with a gig bag.
Pros:
Excellent design
Chrome Hardware
A gig bag included
High-quality instrument
Cons:
Tips to Pick the Best Luna Ukulele
Luna Guitars is in Tampa, Florida, USA. Looking at the name, we understand that this brand produces not only ukuleles but also guitars too. In truth, the brand comes with a full range of instruments along with guitar and uke.
But why is Luna's guitar? Right, this brand emphasizes ukes and acoustic guitars. Anyway, it produces percussion instruments like a Cajon and Bluegrass.
To clarify, the business of Luna Guitars runs on the idea of innovation.
Now, we look at a few of Luna's leading uke designs.
Vintage Mahogany Ukulele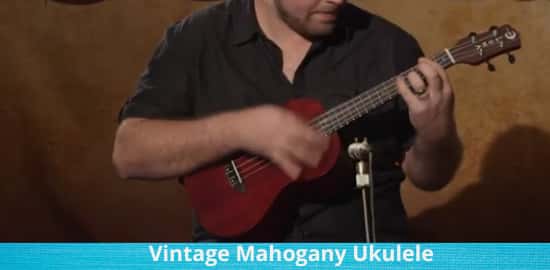 Truly, mahogany is a favorite tonewood pick when it comes to producing ukuleles. It's also a beautiful alternative to the high-end Hawaiian Koa.
Luna introduces its series of Vintage ukes in a satin finish in line with the design for creativity. There are all sizes of ukuleles in the series with the signature of Luna. Most importantly, the ukuleles of the series are proud of their vivid sound and easy playability.
Moreover, the prices of these ukes are very affordable too.
Tattoo Mahogany Ukulele
It is one of the most favorite series of Luna musicians. To date, many players pick Luna's uke as their first choice. The brand creates a fascination with tattoo designs by matching the traditional Hawaiian body.
The Tattoo designs remain monochromatic in classic black against a brown body with geometric designs and patterns. Often, the ukes' tattoos imitate the natural world inhabiting different forms, depicting the life, stones, sun, or birds of the water.
To buy these ukes, you need to spend some money. But, it always includes a valuable gig bag.
Starry Night Ukulele
Well, if you want anything that inspires you to learn, you will remember Luna's Starry Night Series. This design is good enough to encourage players to make something even better.
Above all, it is an attractive piece with a surprising design, super construction, and accurate sound. Artistic players should have this extraordinary design.
Luna's Other Designs
Luna manufactures other designs alongside the vintage, tattoo, and starry night series too. Now, we are going to say about another design that will go faster without going in-depth.
Crescent:
It brings out the cutest crescent cut-out around the soundhole. Also, it features Spalt maple wood and olive ash burl tonewood.
Flora:
It comes with captivating colors and floral designs.
Dolphin:
It offers a beautiful sea-blue color design.
Great Wave Concert:
The name of this design indicates something great here.
Coral:
The brand uses underwater designs.
Tribal:
Some parts are scary, some are charming, and this design is extraordinary too.
Bamboo:
Luna uses bamboo to build the uke of this series.
What has made Luna Brand So Great
This brand will be appreciated by players who are searching for unique, stylish, and great-sounding ukes. It has made its instruments using the finest materials, and each model has a particular trait. Most designs come in different sizes, and many are also available in acoustic-electric options to enjoy in different atmospheres.
High-quality materials
Unique craftsmanship
Fine, aesthetic designs
Good quality strings
Available in different body styles
Lots of options to choose from in different colors, finishes, and motifs
Available in various sizes
Many products come with accessories
Reasonable price range
Frequently Asked Questions:
Q: Where are Luna ukuleles made?
Luna is founded by Yvonne de Villiers and Alex Morgan of the United Kingdom and is situated in Florida. The production is made in China and Korea.
Q: Which Is Better: Luna VS Kala?
This a question that uke lovers always ask, but the thing is, no single correct answer can ever be found. If you ponder about it, it relies on all the models. Most importantly, some luna models are of a high standard compared to some Kala models and vice versa. All you need to do is go through the models and search for the specs of your choice.
Final Note
In conclusion, by analyzing features, performance, and prices, we can say that the brand's ukes are one of the best. It also offers free accessories. Now, check out the best Luna ukulele from the list above for learning to play the ukulele or improving your skills.