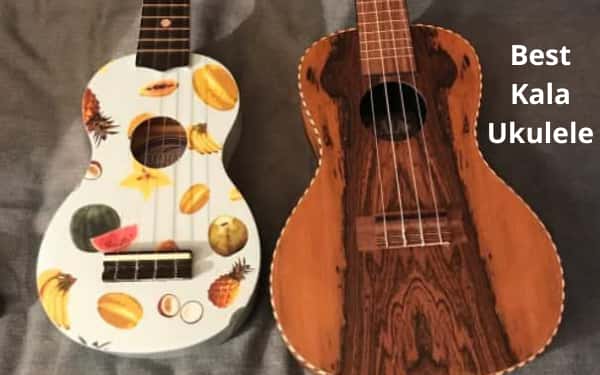 Do you want to play the high-quality and beautiful designed ukulele? Have you tried the best Kala ukulele brand? The Kala is a relatively new ukulele brand that features high-quality. It has had a great impression on the music industry.
After that, we can assure you that this ukulele brand is a superb choice for musicians who are interested in a well-designed, high-quality ukulele at a fair price. This ukulele purchase guide is specially designed for people who are interested in playing ukes with the best brands available in the market. So, come here and pick your Kala ukulele.
Take a Quick Look at Our Top Pick:
Editor's Choice
Official Kala Learn to Play Ukulele Soprano Starter Kit
Top 10 Best Kala Ukulele: Our Selection
1. Official Kala Ukulele Soprano Starter Kit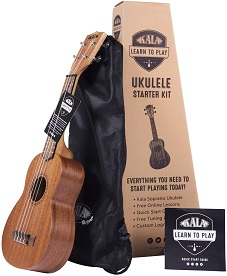 You want to start training right now. So, you require a ukulele that comes with everything you need. The Kala Ukulele Soprano Starter Kit is the perfect choice to meet your needs. To clarify, this kit is one of the most popular ukuleles for beginners.
However, this kit offers a logo tote bag, a 20-page quick start guide, and all the tips for getting started playing the ukulele. Through the Kala Brand Music website, you can learn to play the ukulele by following the online lessons. We can assure you that the learning process of this uke is easy and smooth.
The Starter Kit features a high-quality Mahogany Soprano Ukulele with traditional Polynesian Shark Teeth laser-etched rosette, quality open gear tuners, GraphTech NuBone nut, and saddle, and Aquila strings from Italy. All included materials are quality and therefore become easy to play the uke.
Kala is famous for its standard ukuleles. So, the school's boys and renowned players around the world choose this brand's ukulele. You can pick it up and enjoy playing Uke.
2. Kala MK-S Makala Soprano Ukulele Bundle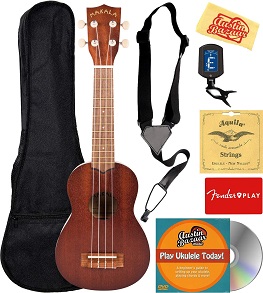 Kala MK-S Makala Soprano Ukulele gives quality sound and a vintage appearance that is extraordinary. This MK-S is the best entry-level ukulele that is very affordable.
This MK-S consists of numerous catching features that make the uke simple to learn. This bundle delivers a DVD that helps beginners learn the instrument. Besides, this soprano uke gives you a gig bag that saves your ukulele from the scratching and dust.
The gig bag also offers backpack straps and an exterior zippered pocket for smaller accessories. It includes a standard ukulele strap. You will also get an extra set of Aquila Nylgut Strings that is world-famous as one of the best strings for ukuleles. Also, this uke includes a clip-on chromatic tuner that works off vibrations. As a result, you can tune the instrument in any setting.
In addition to these, this soprano-sized uke has Mahogany casing and neck, walnut fingerboard, satin Finish, and geared tuner. Considering the features and functions, you can choose to buy it.
3. Kala KA-15T Satin Tenor Ukulele Bundle

The Kala KA-15T is ideal for people with larger hands as well as all ages. Besides, it is the preferred size for solo performers who look for a full and balanced tone. The KA-15 series will play a vital role in the coming generation as it is designed to stand the test of time.
Built with mahogany at the top, back, side, and neck, this tenor uke ensures durability. On the other hand, highlighted with a satin finish, the traditional design makes it more appealing. It has a Walnut fingerboard which assists the instrument to play comfortably. Also, this tenor-sized uke comprises the GraphTech NuBone Nut and Saddle, and Aquila Super Nylgut Strings.
Further, the bundle supplies the necessary accessories, which save you extra money. You don't need any electronics for this uke. Most importantly, this bundle comes with some captivating features that set it apart from other models. So, we can say that if you buy this bundle, you will use it for a long time without any hassle.
4. Kala KA-15S Satin Soprano Ukulele Bundle

If you want to add an affordable, high-quality, eye-catching soprano uke to your collection, you can choose the KA-15S. Not only does it come with quality, sound, and affordable, it also comes with great features compared to other models in the same price range.
Moreover, Kala gives you an opportunity for two months of live online ukulele lessons. Plus, the bundle offers an Austin Bazaar polishing cloth that works to keep the instrument in mint condition. It makes you happy that Kala provides a hard case. This hard case is necessary to keep your uke safe.
Further, it has Geared Tuners that make the tune easy. This soprano-sized uke also contains some superb features, which are a satin finish, cream binding, and the walnut fingerboard. On the body and neck of the mahogany, the ukulele provides a full and enriched tone.
Due to the standard Soprano size, this ukulele is proper for children and beginners. If you want to get their money in any instrument, you should begin with KA-15S.
5. Kala KA-15S Mahogany Soprano Ukulele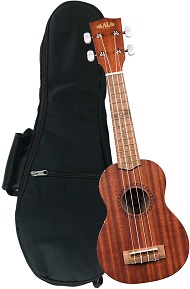 Are you searching for a quality instrument at a reasonable cost? The KA-15S is fit enough to meet your needs. This ukulele provides a full-bodied tone with plenty of Sweet Highs and Mellow Lows that come together for a full and enriched sound.
This ukulele brings a mahogany body that ensures its value. The all-mahogany construction provides a tone that is brilliant and warm, as well as enough volume. Besides, the Kala KA-15S comes with standard gear tuners that help you stay in tune.
Further, with a satin finish, this ukulele is designed to keep pace with the times. A significant feature of this instrument is the mahogany top, back, and sides. This soprano uke pumps a lot of sounds even after being a small size.
Furthermore, this package also comes with a gig bag to keep the instrument safe. Guitar players who are interested in playing similar instruments will appreciate the low performance and ease of playability. Also, beginners and students start their musical journey with this uke.
6. Kala Satin Soprano Ukulele (KA-S)

If you are looking for a ukulele that is cheap in price but of good quality, the Soprano Ukulele (KA-S) is the right choice for you. It is the most common size of ukulele and has the shortest scale length of the ukulele.
The ukulele is made of mahogany wood that ensures its durability. Also, the mahogany wood always promises good sound and tune. So, this gorgeous instrument delivers a warm, full-bodied, balanced tone. The satin finish and contrasting cream binding make it more captivating than other models.
It gives you the Chrome Die-Cast Tuners to keep the instrument tune. Moreover, the KA-S features the Graphtec NuBone nut and saddle, Silver Nickel Frets, and Aquila Super Nylgut strings.
This Classic Mahogany Soprano Ukulele comes at a lower price. So, all classes of players can purchase this uke. We think that this fantastic instrument doesn't get you frustrated. Therefore give it a try once.
7. Kala Exotic Concert – blue satin

You desire to get a ukulele that is well-known for its stunning quality. Regardless of the level of experience, whether you are a novice or an experienced player, Kala Exotic will provide you with an exciting and unique musical experience. Also, it will give you great value for your money.
However, this Blue Satin Ukulele includes an effective die-cast tuning machine that makes able the instrument create a perfect tune. When playing or streaming, you will be astonished at the unique melody and playability of this instrument. The neck of this instrument is designed for different sized hands with hard work. As a result, different classes of people can play the instrument.
Moreover, the Kala Exotic Concert uke has some features that have made it different from other ukuleles. This uke comes with the mahogany body and neck, and rosewood fingerboard. Most importantly, its blue color generates an extraordinary attraction to beauty lovers.
8. Kala KA-SMHT Tenor Ukulele

The Kala KA-SMHT is a tenor-sized ukulele that is purchased for outstanding tone and quality sound. The combination of all-mahogany construction and lovely tortoise binding gives it a marvelous sound as well as a cleansed look. If you seek a tenor ukulele that produces a warm and balanced melody, this model will be the best selection.
This tenor ukulele is built with the sturdy mahogany that is the most popular tonewood. Likewise, the smooth satin finish makes it an incredible look. On the other hand, the mahogany neck with laurel fingerboard aids you to play this uke easily.
In addition to these, this Solid Tenor Uke contains Graph Tech NuBone Nut and saddle. There are many features that you can find after buying this musical instrument. After all, it comes at a reasonable price.
9. Kala KA-SLNG Soprano Ukulele

The Kala KA-SLNG Soprano Ukulele is a worthy instrument for purchasing. This uke is an instrument shaped for experienced players as well as those who desire to start learning. The KA-SLNG is a fantastic tool, which plays and sounds like more expensive ukes. Besides, if you want to test this device, you will see that it is an all-mahogany body with a long neck soprano ukulele.
However, this Long Neck Uke is crafted to pay you an exciting experience, whether you are playing for enjoyment or at a bass concert. It offers excellent tone and high-level playable features that set this device apart from its equivalent.
Moreover, the KA-SLNG contains strong Aquila tuning strings that make able the ukulele to deliver the unrivaled tunes throughout the lifespan. It has some beautiful features that help you decide to buy one. Above all, this soprano ukulele offers a full-bodied tone, high quality, gloss finish, traditional white binding, and other functionalities.
10. Kala KA-SSTU-C Concert Travel Bundle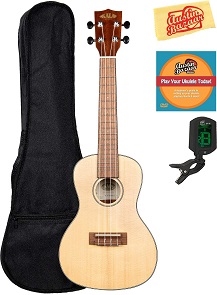 You are seeking for a concert Travel ukulele that is quality and affordable. No matter, the Kala KA-SSTU-C comes with the necessary accessories that increase the value of your purchase. This bundle gives you all the essential things so that you can start playing just now.
The gig bag is a great thing that assists you to pack your Kala ukulele safely while you walk. It is worth noting that another helpful thing is a click tuner that keeps the instrument in tune while you play.
Besides, you get the Austin Bazaar instructional DVD, where you can take a few useful tips while learning the new instrument. Likewise, this travel ukulele provides Austin Bazaar Polishing cloth that makes sure the instrument to keep in mint condition.
A great feature of the KA – C is the ultra-thin travel line that is crafted to travel anywhere. Moreover, the ultra-thin body is very light and portable. Finally, the other main features are stiff spruce top and mahogany back and sides, walnut fingerboard, and satin finish.
The Specialty of the Best Kala Ukuleles:
Kala supplies great musical instruments that are quality and affordable. Therefore, their instruments are proper for beginners or taken to the beach, perfectly designed, hardwood ukuleles to be manufactured with experts in mind. In short, if you're searching for a simple and harmonious sound soprano ukulele or acoustic-electric model, you're likely getting a Kala ukulele that's right for your needs.
Quality craftsmanship
Different models of perfect finish and color
Great materials
Acoustic-electric ukes are available
Superb sound with a transparent tone
Some Kala ukuleles offer necessary accessories
Conclusion
In conclusion, Kala is devoted to creating the best Kala ukulele, and any of these instruments is a grand choice. On the other hand, they sort all of their materials by the hand, and each ukulele has to pass the Hawaiian test market before being released to the rest of the world.
However, it confirms that their ukuleles fill up high Hawaiian standards that refer to quality types of equipment and a higher chance of success in the world market.
Whatever, you finish buying the best Kala Ukulele, we are sure you will enjoy both the quality and sound of the instrument.