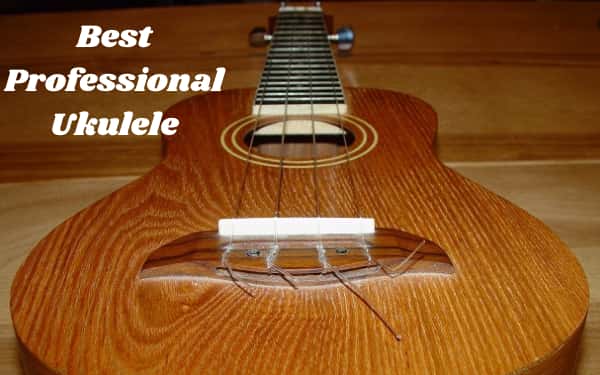 The ukulele is currently very popular as a musical instrument. Many play the ukulele as a profession. So, they look for the best professional ukulele to further enrich their profession. Also, many also like Banjo or Bass uke. We have compiled some ukuleles, which are highly playable, beautiful to look at, have quality construction, and have excellent action. Let's see the instruments.
Our Top Pick for the Best Professional Ukulele
Editor's Choice
Kala KA-15S Soprano Ukulele
8 Best Professional Ukuleles for Intermediate and Advanced Players
1. Cordoba 15TM – Professional Tenor Ukulele

Appearance: The Cordoba 15TM is a tenor-sized ukulele, which is altogether hand-made. Cordoba has launched this model inspired by the best-selling 15CM.
The body, including the top, back, and sides consist of mahogany wood to ensure an enriched and full sound. The Ivoroid body and abalone-style rosette and fingerboard binding make it unique compared to other models in this price range.
The other features are premium Aquila strings, a sleek satin finish, and silver tuners with pearl buttons. Also, it comes with a pickup and edge burst finish.
Sizes: This uke of Cordoba is found in concert (15CM) and soprano (15SM) sizes.
Weight: The Cordoba 15Tm weighs 1.15 pounds and measures 27.5 x 10.5 x 4 inches.
Portability: It is easy to transport and is comfortable to move around with it too.
Use: Both beginners and seasoned players feel it is easy to play.
2. Kala KA-15S Soprano Ukulele – Cheap Professional Uke

Appearance: The KA-15S is a soprano-sized uke from Kala, which is one of the well-known brands in the ukulele world. The KA-15S features the Polynesian-style shark teeth rosette and satin finish that provide a resonant tone.
It is a high-standard constructed Mahogany uke that is worthy enough to create a warm and full-bodied sound. It also includes a Mahogany Neck and a beautiful Walnut Fingerboard and Bridge.
Type: This Kala Ukulele has extended the 15 Series by adding the Soprano Long Neck (KA-15SLNG), the Soprano Black (KA-15S-BLK), and Soprano Spruce Top (KA-15S-S).
Tuning: The Kala KA-15S offers a high-quality tuning peg that aids in tuning to GCEA.
Sizes: The Concert and Tenor size ukulele is available in the KA-15 series.
Portability: It is handy to carry due to its lightweight.
Weight: Its dimensions are 21.06 x 7 x 2.37 inches, and it is 15.9 ounces in weight.
Use: The KA-15S is easily accessible to all classes of players such as beginners, professionals, or intermediate uke players.
3. Lohanu Concert Uke (LU-C) – professional concert ukulele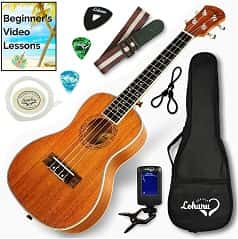 Appearance: This bundle of Lohanu brings a concert-sized ukulele. It uses Sapele laminate wood with a matte finish to design this uke. Besides, the Lohanu Ukulele (LU-C) has White Bindings all around the body and neck that enhance its beauty for viewing.
The LU-C features an arched back that produces full, deep, loud, and sustained sound in comparison to a flat back uke.
Sizes: This bundle is accessible in soprano (21 Inches), tenor (26 Inches), and concert (24 Inches) sizes.
Tuners: The LU-C includes chrome shiny tuning gears, which help you keep in perfect tuning.
Use: This Concert Ukulele has two strap pins below the bridge to play easier.
Weight: The product dimensions of this Lohanu uke are 24.4 x 8.3 x 2.8 inches and weigh 1.3 pounds.
Accessories:  The accessories included are 2-strap buttons installed, a tuner, padded case, picks, Aquila Nylgut strings, Leather Pick, and a Uke hanger.
Bonus: You will receive 15 more step-by-step lessons and digital songbooks as a bonus.
4. Kala KA-SMHT Tenor Ukulele

Check Pirce on Amazon
Appearance: The KA-SMHT comes in an outstanding design from Kala. This all-around mahogany ukulele provides a bright enriched tone, and the smooth satin finish presents an eye-catching look.
The Kala uke consists of a mahogany neck with a laurel fingerboard, which gives outstanding playability and response.
Size: This instrument is originally a tenor-sized ukulele, although it is slightly smaller than other tenor models.
Tuners: There are Grover geared tuners that are one of the tremendous tuners for any uke and ensure to stay in tune continuously.
Weight: The KA-SMHT Kala measures 27.01 x 10.98 x 4.02 inches, and its weight is 1.8 pounds.
Use: Professionals, as well as players of all classes, feel comfortable using it.
Accessories: The KA-SMHT does not offer accessories.
5. Enya EUC-M6 Concert Ukulele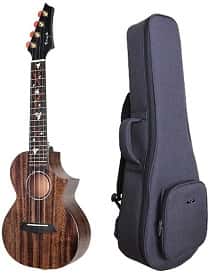 Appearance: The Enya EUC-M6 is a wonderful Concert Ukulele, which features a solid top, neck, back, and sides of Mahogany wood, including the rosewood fingerboard and bridge. The noticeable thing is that the high gloss Dark Brown COLOR finish and gorgeous inlay on the fingerboard add a new dimension to its look.
Strings: It includes high-quality Enya Strings to deliver a sustainable and stable sound. When you play the song, it allows you a full-bodied sound.
Durability: The EUC-M6 uses a Glossy finish on the whole instrument that makes it corrosion-resistant.
Use: This model comprises a 1:18 gold agate die-cast tuner that allows you stable tuning. The tuner guarantees the best Intonation and assists to stay in tune for a long time while playing.
Extra accessories: This Enya Ukulele offers a padded ukulele bag to do it more portable, and it becomes easier to carry and play wherever you go.
Weight: The EUC-M6 is an instrument of 4.91 pounds and contains a product dimension of 28.7 x 12.6 x 7.1 inches.
6. Hola! Music Professional Tenor Ukulele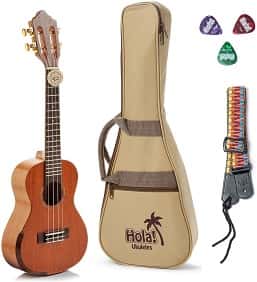 Appearance: The Hola! Music HM-427SMM+ comes with a Solid Mahogany top with a beveled armrest, Mahogany back, and sides. The exquisite satin finish design makes it even more attractive.
Strings: This professional ukulele has Premium Italian Aquila Strings, which generate a crisp, sweet, and clear sound.
Other features of this model are:
– This fascinating-looking 18 silver nickel frets ukulele has been enhanced with the help of its Nato neck, walnut fingerboard, and bridge.
– The classical guitar headstock with high-precision gold machine heads and tuning pegs are installed.
– Frets and fret binding are neatly filed to protect your fingers while playing.
– It has a built-in strap pin.
Accessories: This best professional ukulele offers a padded gig bag, picks, and a strap to enjoy a convenient playing experience.
Weight: The weight of this product is 1.9 pounds, and the dimensions measure 28 x 9.9 x 3.9 inches.
7. Luna Acoustic/Electric Professional Ukulele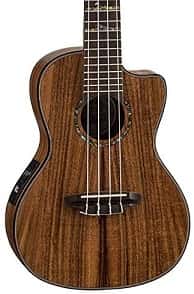 Appearance: This Luna uke brings a deep koa body, which is capable of delivering full, deep, enriched sound along with the concert body size. The satin finish, multi-ply maple, and walnut binding look it a natural instrument.
The other features of this electric model ukulele:
– This instrument is fabricated with exotic tropical hardwoods, and the Soundhole is framed by an abalone ring.
– It has the Cutaway, giving a comfortable feel for easy access to the upper frets.
– This High-Tide uke consists of the nato/mahogany neck and Rosewood Bridge and Fretboard that affix a lasting clarity to your tone.
– The open-style tuners allow you to keep it in a specific tone.
– To provide an easy amplification, it has the onboard preamp.
Accessories: It includes a branded travel bag to carry this Luna Ukulele conveniently.
Weight: The product dimensions are 24.25 x 8.25 x 2.75 inches, and it is a 2-pound ukulele.
8. Kmise Professional Baritone Ukulele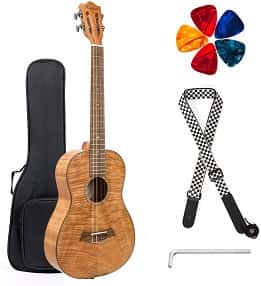 Appearance: This Classical Kit is a baritone-sized ukulele, which features the special tiger flame Okoume top, back, and sides. This baritone uke is part of the Kmise Okoume series which gives it a stunning look.
Strings: It is equipped with premium metallic and Nylon Strings that deliver a lush and warm sound.
Tuner: This Kmise ukulele offers a set of quality tuners, which works well to stay in a stable tuning.
Other Features:
– This uke comes with the installed adjustable truss rod for players to adjust the action to their needs.
– The Kmise has designed the smooth fretboard and neat Fretwire with more care so that the players can play it without buzzing.
Size: The Kmise Okoume Series is also available in Soprano (21 inches), Concert (23 inches), and Tenor (26 inches) sizes.
Additional Accessories: This professional baritone ukulele offers a gig bag, strap, wrench, and picks as accessories.
What are the things to consider when choosing the best professional ukulele?
Range of Notes
Clearly, all the ukuleles are not equally made at all. The reason is that ukuleles are available in various sizes. Depending on the type, the neck is short or long.
In general, the extent of a ukulele probably does not create much difference for beginners. But professionals or advanced players usually require a more range for developing musical talents.
So, find the number of frets that are in a ukulele. Some small ukuleles contain around 15 frets. On the other hand, some large ukes contain up to 20-frets or more. They are the type of ukulele. As a professional or advanced player, you have to make the right kind of choice.
Space among the Frets
As we mentioned earlier, some ukuleles may have large necks, or some may have small necks. The larger the neck, the larger the space between the frets.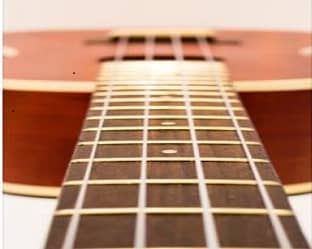 Usually, the apprentices are not able to distinguish between the wide space and the short space. Because they just concentrate on simple chords. But, professional players need a wide space for being capable of playing alternate and more complex chords. Therefore, they should search for a longer neck ukulele.
Type of Wood
We can straightly say that the quality of the ukulele depends on the type of wood used. If low-quality wood is used, the sound will not be the best quality.
So, what type of wood should professional or advanced players find?
Okay, the manufacturers use Koa wood, which is the most common wood used to make good quality ukuleles. Koa was the main ingredient used in ukuleles, and it generates one of the best sounds so far.
Another common wood used is Mahogany. This wood creates a sound that is a bit soft compared to the Koa wood uke. Mahogany ukuleles cost a bit less.
It should be remembered that your ukulele should be stiff without any laminate. The reason is that hardwood boasts better durability, richer sound, and tone.
Tone and sound
How excellent the melody and sound will be will depend on the combination of tonewoods and design. For good tone and sound, pieces of wood are the most important, although finishing plays a specific role to some extent.
It is needless to say that sound and tone are the most vital part of the performance of any ukulele. So, the tonewoods like mahogany, nato, or maple should be the first choice. But, if it is the ukulele of Koa-made, never ponder twice to take it.
Portability and Size
Professional or advanced players often have to go outside for playing ukuleles. So, you need to make sure that it is easy for you to carry what you are buying.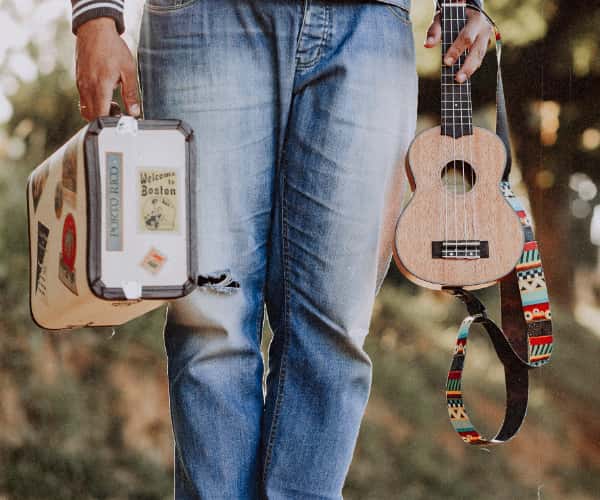 Clearly, smaller ukuleles are easy to carry. But, smaller ukes also have inconveniences, as we have seen. Choosing medium sizes may be the best option. Find a medium-sized ukulele, which lets it carry you easily. But never compromise on quality for size selection.
Type of Ukulele
You possibly know that there are 4 different types of ukuleles. From the largest to smallest, they are the Baritone, Tenor, Concert, and Soprano ukuleles.
For professional or advanced players, we have mentioned in this article above how significant the number of frets and the length of the neck can be. Thus, many recommend the two large-sized ukuleles like tenor and baritone for professional or advanced players.
However, many small-handed professionals or advanced players need small-sized ukuleles. They can choose the soprano and concert.
Obviously, your selection will rely on what you are personally exploring.
Some Additional Tips to Pick the Best Professional Ukuleles
You want to go to the advanced level of your ukulele skills. Hopefully, the following tips will help you make a more accurate decision.
Brand
There are a lot of the best ukulele brands on the market. Kala, Cordoba, Lanikai, Fender, Oscar Schmidt, Lohanu, Luna, Donner, etc. is one of the most popular brands. You can choose one of those brands for your ukulele.
Cost
As with everything else, the cost is also a thing of consideration when choosing a ukulele. Don't hesitate to spend a bit more money if it is possible. Because the instrument is going to be a delightful addition to your life for a few years. Although this is not always accurate, in most cases, the quality of the product depends largely on the price.
Accessories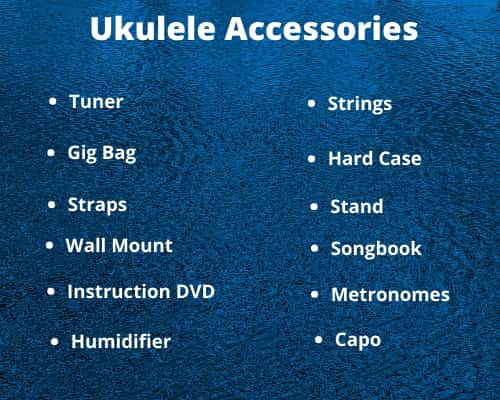 To save costs, you can consider accessories. Many ukuleles on the market come with accessories such as gig bags, tuners, strings, picks, and more. So when buying, you can consider the product that will come with the accessory. But remember not to compromise on quality.
Final Word
The best professional ukuleles we have reviewed above are capable of producing quality sound and tone and are durable and easy to use. From the list above, you can buy a ukulele for yourself. But if you are unable to make the right decision, you can search online or watch YouTube.