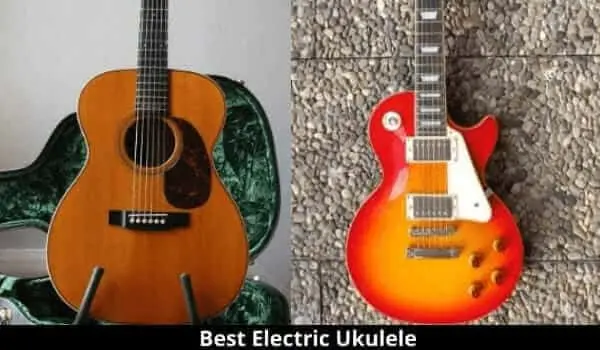 Nowadays, the popularity of the uke is skyrocketing. When we are going to review the best electric ukulele, we can see that there are a lot of electric ukes on the market. But some reviews of acoustic-electric uke are available on the internet. So, to make the right decision on buying a uke, we have written the article.
When it comes to stage performances, many people want a louder sound. Acoustic-electric uke is the best solution if you wish to share the streaming with your audience.
We've analyzed a lot of electric uke Amazon reviews and selected some of the best electric ukuleles for your consideration. So, read on and pick your favorite uke.
Top 12 Best Electric Ukuleles: Our Selection
1. Luna Tattoo Concert Acoustic/Electric Ukulele

Looking at the number of reviews on Amazon, we have decided to include the Luna Tattoo Concert Mahogany Acoustic/Electric Uke in our list as a first product. In truth, considering the quality and design, it is the best electric ukulele for under $200.
This concert-sized uke provides a resonant and clear sound with elaborate. Its body and neck are constructed using pure mahogany. Although the tone of mahogany is warm and full, it provides a clear tone.
Moreover, the body has a single cutaway that is not usually on the standard ukes. Yet, the cutaway uke permits easy access to the higher frets.  Made of Walnut, the bridge and fretboard deliver a more super tone. As a result, the overall tonal balance is magnificent. It has open-gear tuners that keep the string in tune.
Besides, this Luna electric ukulele includes the onboard preamp and piezo pickup that features graphic slide controls for volume, presence, and bass.
This Luna uke is lightweight and sturdy. It is perfect for beginners and professionals.
Pros:
Traditional Hawaiian body and neck of Mahogany
Walnut Bridge and fretboard
Lightweight and sturdy
Made with monochrome, tattooed in black against brown skin
High-quality and affordable
Cons:
Its action becomes too much for beginners
2. Cordoba 15CM-E Acoustic-Electric Concert Ukulele

The Cordoba 15 CM-E is a handmade uke and a perfect option for performers on stage. Also, it is a hard tight uke. So, travelers can travel with it without any damage.
Moreover, the top, back, and sides of this concert uke are made using mahogany. Mahogany wood provides a warm and enriched sound at the time of playing. The Cordoba Ukulele makes a unique look because of its modern Edge Burst Satin finish and Ivoroid binding.
The neck is constructed with mahogany. Besides, it has a rosewood fingerboard and bridge with 18 frets, and the body is an Ivoroid binding. But, the saddle and the nut are crafted of Plastic that is not so hard as bone or urea.
With silver pearl buttons, the tuners help to hold the strings in tune. Designed by Cordoba, this Acoustic-Electric Uke includes a preamp pickup. The pickup works well and gives a balanced amplification and enhanced stage presence. This uke also features soundhole controls.
In short, this Cordoba 15CM-E comes at an affordable price and could be a lovely selection for beginners and intermediate players.
Pros:
Handmade concert uke
Rosewood fingerboard and bridge and Mahogany body
Powerful pickup
Full, rich sound
Satin modern edge burst finish
Cons:
Nut and saddle of plastic
There's no truss rod
3. AKLOT Electric Acoustic Concert Ukulele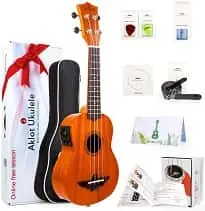 The AKLOT Electric Acoustic Concert Uke is a starter kit that comes at affordable prices and accessories, including free online courses. The online courses pave the right way to learn the UKE for beginners.
This concert-sized uke is large compared to standard ukes. Consequently, it makes uke learning easier for beginners. It includes a solid mahogany soundboard. That means, this uke offers a more durable, clean sound, and a pure tone and also gains better resonance.
Further, Mahogany does a great job of increasing age. So, the more you play, the more the sound and tone flourish. The rounded edges are another nice feature. They help beginner players to play the uke for a long.
Most importantly, this uke features a lower action that makes playing uke easier without buzzing. Moreover, it has a special fret wire that is very helpful in avoiding scratching.
Besides, this Aklot uke includes a bridge piezo pickup that features a 3-band EQ for bass, mid, and treble. Furthermore, its 1:18 pure copper gear ensures staying in tune for longer times.
In addition to these, the other accessories are a cleaning cloth, two extra picks, an extra set of strings, and a strap. With beginners, this uke is proper for expert players as well.
Pros:
Pretty low price
Free necessary accessories
High-quality tuner
Sturdy wood soundboard
Smooth frets and Rounded edge
Cons:
Utilizes 2032 button batteries
4. Cordoba 20TM-CE Acoustic-Electric Tenor Ukulele

We have included the Cordoba 20TM-CE Acoustic-Electric Tenor Uke in the list due to its quality, playability, and performance. In the meantime, it has gained popularity among professionals and amateurs.
The ukes of Cordoba hold the charm of traditional Portuguese ornamentation and exotic woods. This tenor-sized ukulele is thoroughly handmade with a solid mahogany top, back, and sides. In truth, it is the best solid-body electric ukulele. Besides, it has a soft cutaway and Córdoba electronics to plug and play.
This lightweight and stage-ready instrument helps uke enthusiasts who are willing to expand their musical horizons. Also, this versatile instrument is perfect for beginners and skilled players alike, with a rich and sweet sound.
Furthermore, built on solid tops, this tenor uke creates vibration and resonance freely compared to laminated tops. In truth, the Cordoba 20TM-CE is a beautiful instrument because it has an aesthetic touch like the conventional wood pattern rosette paired with the satin finish.
In addition to these, this Acoustic-Electric Tenor Uke features a rosewood fingerboard and bridge, Aquila Nylgut strings, satin-matte finish, 432mm scale length, 35mm nut width, 2Band EQ pickup, and an optional Gig Bag.
Pros:
Solid mahogany top, back, and sides
Tenor size with a soft cutaway and 2Band EQ Pickup
Aquila Nylgut string
An optional gig bag
Cons:
Pretty expensive
No extra accessories
5. Caramel CT103 Tenor Electric Ukulele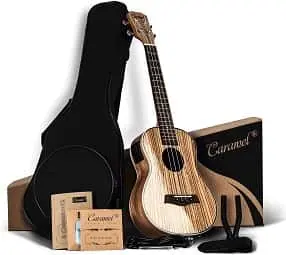 The Caramel CT103 Tenor Electric Ukulele is an instrument that fits learners and professionals. Besides, this uke of Caramel is a real instance of quality equipment that comes at a reasonable price.
To clarify, constructed with Zebrawoods and edge framed by Xylonite, the CT103 has become an appropriate choice for most ukulele lovers. Also, its mahogany neck guarantees durability and delivers a versatile playing experience for large-handed players.
Moreover, the 3-band EQ built-in tuner with LCD color display and acoustic-electric uke generates an enriched and natural sound. It has an adjustable truss rod inside the neck so players can adjust the action according to their needs. This model includes a built-in tuner that assists in making the tuning easier.
In addition to these, this starter uke kit offers an extra set of strings, a set of installed Aquila strings, a gig bag, a cleaning cloth, 3-picks, a strap, a wall hanger, an EQ cable, a nail drawer, and 2-bridge pins.
The Caramel 26-inch CT103 is better for learners who are willing to start to practice. Most importantly, if customers feel uncomfortable playing or dislike it for some reason, they have an opportunity to get their full money back within 30 days.
Pros:
Exotic High Gloss Zebra Wood Body
High quality at low prices
Opportunity for a full refund
All accessories to start playing
Cons:
Not pre-installed strap buttons
6. Epiphone Les Paul Acoustic/Electric Ukulele Outfit

The Epiphone has designed this uke with the outlook of a Les Paul electric guitar. The design is magnificent. That's to say that the Epiphone Les Paul Acoustic/Electronic Ukulele Outfit is one that doesn't disappoint anyone.
The top of this uke is a vintage sunburst finish, and the back, side, and neck are black. Besides, It has a cream pickguard. There is a cream-colored binding around the body.
Moreover, its top is laminated but not a solid piece of maple. Made from laminated mahogany on the back and sides, it still provides a thicker and warmer tone.
Further, constructed with mahogany, the neck offers a D-Shape neck profile. So, its action is quick and becomes easy to play. This feature is super for beginners. Also, the neck of this uke is bolted instead of set-in, which makes it even more distinct than other ukes. As a result, it allows you to change the neck before anything happens.
The fretboard and bridge are built using Rosewood.  On the other hand, it has the Nut and Saddle are made of plastic. This electric instrument includes a Piezo pickup that enhances the uke's natural volume.  The tuners feature open-gear chrome tuners. Most importantly, you have no need for batteries for the Pickup.
Pros:
Mahogany uke and Les Paul shape
Piezo pickup and high-quality construction
Affordable
Simple to play
Cons:
It has no onboard pickup controls
7. Kmise Electric Acoustic Concert Ukulele (UK-24)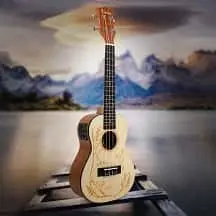 Are you exploring for an aesthetic uke that catches anyone's attention? Kmise Electric Acoustic Concert Ukulele is quite suited to your desire. Most importantly, it not only looks beautiful but its sound and action are even better.
The UK-24 features a solid spruce body. Therefore, it is to say that the uke will last for a long time. Moreover, in terms of resonance, performance, and sustainability, this model makes anyone surprised. With the bone nuts and saddle, the spruce body produces a very bright and full sound.
Further, at the top of this ukulele, you will get a volume knob as well as bass, medium, and treble controls. It has a small tuner to make the playing simple. Also, the instrument seems to be soft and smooth at the time of playing.
Furthermore, it has no sharp edges or unpolished surfaces. Consequently, playing this uke for long sessions makes it easy for the players. Above all, the strings are of high quality so that you can feel comfortable.
It might be a small detail. Nevertheless, we can say that this concert uke is very funny and cozy for playing.
Pros:
Solid Spruce
Rosewood Fret and Aquila String
Bone Nut & Saddle and Natural Matte Finish
No Scratch Hand
Well-constructed and balanced sound
Cons:
8. Vorson FSUK-1 S-Style Electric Ukulele

Are you eager to purchase the best electric ukulele that has the appearance of an electronic guitar? To clarify, the FSUK-1S-style Electric Uke looks like an electronic guitar, especially while amplifying.
However, this Vorson music instrument includes a double cutaway with a Stratocaster-like body shape and a white pickguard in a satin finish. It is proud of two single-coil pickups. The Two single-coil Pickups allow you to shape and hone different tones and sounds.
Moreover, it has a 3-way pickup switch, plus volume and tone control knobs. Using these, you can dial in some intense and subtle tones. Also, this uke features a chrome-plated ashtray bridge that is an over-the-saddle style bridge with four-barrel saddles.
Further, its sturdy body is fabricated with kukui wood. The kukui wood is similar to walnuts. So, the uke provides a bright and crispy tone. Likewise, made from kukui, the neck has a truss rod to adjust the intonation and give you better durability and strength.
Furthermore, its fretboard is built of maple which is another scream to electric guitars. It offers soft action and playability.
Finally, for real uke lovers, this instrument is a jewel on the way to becoming a skilled player.
Pros:
Dual single-coil pickups
No batteries needed
Simple to play and carry
Strong-body uke
Surprising tone
Cons:
A bit difficult to play acoustically
Pickups prone to echo
9. Hadean Acoustic Electric Bass Ukulele UKB-23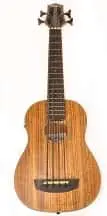 Many like to play a bass Ukulele. To meet their needs, Hadean has designed this Acoustic-Electric Bass Ukulele UKB-23, which is easily playable and portable. To clarify, the tuning of the strings is E A D G, which means low to high.
However, with a solid mahogany body, the UKB-23 is sustainable and provides delightful sound. Besides, the top, back, and sides are crafted using mahogany wood. The neck is of the same wood. So, the outcome is a unique tone and sound compared to other models. The neck has an adjustable truss to increase intonation and sustainability.
Further, the fingerboard is of rosewood. It includes the Aquila Nylgut strings to assure tuning stability and increase the accuracy of fret-intonation.
In addition to these, this Bass Uke UKB-23 comes with a preamp for amplified use with volume, bass, mid, and treble control. The preamp has a 3-band EQ. This uke includes the control knobs to increase and decrease frequencies.
Pros:
High-quality materials including a walnut body
Built-in tuner
A pleasure to use and sounds great
Extremely portable bass uke
3-band EQ
Cons:
Not perfect for beginners
Looks more like a guitar than a ukulele
10. Electric ukulele MAHALO EUK-200

The Mahlo is a brand that has already gained a reputation for producing acoustic ukuleles. It looks like they can manufacture the best electric ukulele as well. However, Electric Ukulele Euk-200 has become one of the best models.
This electric uke features a sturdy body. On the other hand, made with mahogany, the body is beautifully illustrated with two cutouts. It has a sound that does not match typical traditional ukes. Besides, with a rosewood fretboard, the neck is an oakum bolt-on.
Moreover, the MAHALO EUK-200 comes with an active preamp powered by a 9V battery that lets you control your tone mix. There is the volume and tone knob on the front side. After that, you will find an output jack at the bottom. Next to the output jack, it has a headphone jack that will let you practice without annoying anyone around.
Further, this instrument includes nylon Aquila strings with superb intonation. You will get a gig bag at the time of buying.
Above all, this Mahalo ukulele will not make you disappointed on the journey of becoming a skilled player.
Pros:
Concert-sized solid uke
Inclusion of a Headphone jack for playing privately
Keeps in tune
Fun to play, appealing design, and quality sound
Cons:
Something a little expensive for some people
11. Caramel CS419 Soprano Ukulele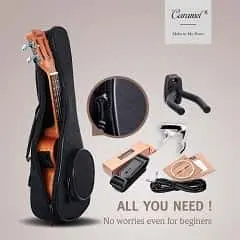 We have included another Caramel instrument due to its small size. The reason is that many small-handed players find the soprano size. That's to say that the Caramel CS419 Soprano Ukulele is the instrument that is the choice for beginners and professionals alike.
However, made of solid mahogany wood, this instrument features better durability, a more stable sound, and a pure tone. Besides, it also achieves better resonance. It has a Solid Walnut fretboard and bridge.
Further, the CS419 Soprano Uke uses Aquila Strings to produce the full sound. It includes a 3-band EQ built-in high-precision metal tuner with an LCD color display. To get the tone, you can adjust the EQ.
In addition to these, the CS419 uke comes with an extra set of nylon strings, a gig bag, 3-guitar picks, a cleaning cloth, a wall hanger, a strap, 2-bridge pins, a metal nail drawer, EQ cable, and instructions.
This best electric uke is of absolutely high quality. Likewise, it is affordable. Most importantly, you can buy this starter kit bundle risk-free with a 30-day money-back guarantee.
Pros:
High quality at low prices
Buffalo bone nut and saddle
21 inches overall long
Money-back guarantee
Free accessories included
Cons:
Not suitable for large hands
12. Ellen Electric Concert Ukulele with Amp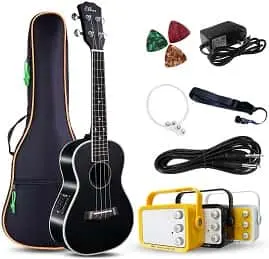 Ellen Electric Ukulele with Amp incorporating all the electric uke accessories and components needed to play both electronic and acoustic has become the best electric ukulele for beginners.
However, the body is crafted from Spruce Mahogany with accented overtones for longevity and a high-quality tone. On the other hand, constructed with rosewood, the fingerboard offers an enriched, bright, and warm sound.
Moreover, this Electric Concert Uke includes a built-in chromatic tuner with an LCD backlit display. Also, it has 5-band equalizer controls for bass, middle, and treble tones.
You press the tuner button on the Uke after connecting your Uke to the amplifier. After that, the LCD indicator will illuminate the tuning mode. Don't forget to press the tuner button again to use the amplifier.
Further, this Beginner Kit comes with an audio cable, pad case, strap, tuner, spare nylon strings, Hawaii uke picks, suitcase uke Amp, and AC Adapter + 9V Battery. Most importantly, uke lovers love the extra goodies that are the built-in tuner, the batteries, and the adapter so they can play the uke wherever they want.
Lastly, this 23-inch concert uke is a handy addition. As a result, it is fit for practice.
Pros:
Suitable for plugged and unplugged play
Free all accessories included
Built-in tuner
5 Band EQ controls
Cons:
Amp might be of quality more
Tips to Pick the Best Electric Ukulele
Since electric ukuleles are a comparatively new hype, we are going to write this guide considering our customers' new ones. It is altogether right that in recent times, the demand for electric ukes is increasing. So, when you are new, you need to consider what kind of electric uke is the best suited for you.
Different types of ukuleles
Usually, the kinds of ukes are classified by their sizes. According to their registrar, they have been named singers and other instrumentalists, respectively, from soprano to baritone.
Firstly, the early ukes were on the small, which we mention today as the soprano uke. We say the soprano is a standard ukulele. Sopranos are about 13″ in scale length and only 21″ in overall length. They are proper for the youngest learners and those who have small handers.
Secondly, the second-largest ukulele is a concert uke. They are usually about 13″ in scale length and around 23/24″ in overall length.
Thirdly, the tenor is about a 17″ scale in length and an overall length of 26″.  Besides, they have a wide fingerboard.
Fourthly, the largest uke is the baritone. Their scale is 19 inches in length and 30″ in overall length. They also have at least 19 frets. This size is what most large-handed players choose.
We see three types of electric uke.
Firstly, the Solid Body Electric is an electric guitar shrinking to the size of a uke.
Next, the Electric Acoustic is a hollow-body uke designed with the piezo pickup, intended for the best during amplification.
Lastly, the Acoustic w/ Pickup is also a hollow-body uke with an included piezo pickup, designed primarily for the high vocal tune.
Quality of Materials Used:
Electric uke manufacturers use Mahogany, Spruce, and Maple, the most popular wood. They are high-quality. The laminated wood used to make a uke affects its sound quality, performance, and lifetime durability. If you choose low-quality wood, laminated, or even plastic, which means you have to spend a little less, then you can get the problem in pitch, tone, and stability. Also, picking a cheap ukulele is not a good investment because it doesn't sound as fun as playing well-made versions.
Do electric ukuleles provide more advantages than traditional ukes?
The advantage of the electric uke is that its amplification capacity is higher than that of the traditional uke.  They allow you to amplify your stage performance. As a result, a stage musician can improve his performance by standing in front of the microphone.
Besides, electric ukes help music production and songwriters to record directly to a digital audio workstation. Moreover, if you have an electric uke, you can utilize a loop paddle and improvise over it immediately.  If you like traditional ukes, you can choose other advanced models than the ukes.
How do you pick the best and most appropriate electric ukulele?
You should consider the quality and budget before selecting the electric uke. So, from the above product review, you can choose the instrument that you want if they are compatible with your budget.
Can I play an electric ukulele without an amp?
Of course! For this reason, manufacturers emphasize more on tonewood choice in their amplifier-ready ukuleles. Since there is a soundhole in the electric uke, it is possible to play it in unplugged mode. You will find another type of ukulele that has no soundhole. As a result, it is impossible to play them without an amp because there is no room to reverberate the sound.
Are the electric ukuleles proper for the starters?
A uke has four strings. On the other hand, the guitar has six strings. As a result, learning to play the ukulele is easy compared to a guitar and ideal for beginners. So, no need to think about learning acoustic uke first.
Final Note
In conclusion, there are 12 quality and affordable product reviews above. So, if a product helps improve your ability to play in uke, you can choose any of them.