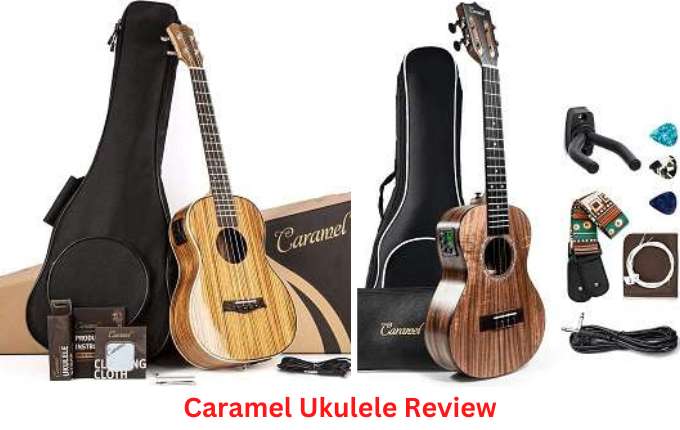 The Best Caramel Ukulele Review!
There's a musical instrument named the ukulele, synonymous with the gorgeous and relaxing vibes of Hawaii, and this instrument comes with a lot of delight and excitation wherever it's played.
Due to this truth, this instrument has become incredibly popular among musicians worldwide, like Eddie Vedder, Paul McCartney, Jason Mraz, Taylor Swift, and Pete Townshend. So, it's not surprising for someone to be interested in owning a uke.
If you are looking for a fantastic uke, you will need one made by a company known as Caramel. It is a company that already gain popularity among musicians, meaning they sure know something about manufacturing ukuleles that you're sure to love.
Caramel's instruments are sure sweet sounds. Those interested in actually taking the brand can try the delightful this brand's instruments.
The brand knows exactly what you're exploring as a player. We've put together a list of the best Caramel ukulele that is helpful enough to meet your needs. So, let's dive into this Caramel ukulele review now.
Top 7 Best Caramel Ukulele Review
| Product Name | Price |
| --- | --- |
| 1. Caramel CT103 Tenor Electric Uke Review | Check Price |
| 2. Caramel CB103 Baritone Uke | Check Price |
| 3. Caramel CT500 Tenor Electric Uke Review> | Check Price |
| 4. Caramel CC102A 23" Concert Acoustic Uke | Check Price |
| 5. Caramel CB500L Left-Handed Baritone Uke | Check Price |
| 6. Caramel CT204 Tenor Uke | Check Price |
| 7. Caramel CB500 Baritone Electro-Acoustic Uke Review | Check Price |
1. Caramel CT103 Tenor Electric Ukulele Review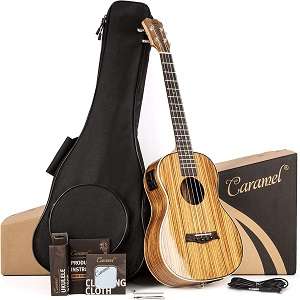 This CT103 Electric Uke attracts many with its aesthetic value of zebra wood design. But the things that make users most satisfied are their sound and playability. Considering its price, musicians become surprised due to its durability.
The CT103 consists of Zebrawoods, and the edge framed by Xylonite makes it suitable for any performance setting. On the outside, the mahogany neck is highly durable and offers a versatile playing experience for a wide range of hand sizes.
This 26-inch instrument has a 3-band EQ built-in tuner with an LCD color display, ready to produce one kind of acoustic-electric natural sound.
What distinguishes it from others is the adjustable truss rod inside the neck to adjust the action according to the needs of players.
For creating a full-volume tone, this instrument uses Caramel Technique carbon strings. According to our Caramel Ukulele review, it produces sounds almost like a costly professional ukulele.
Considering making it affordable, the company includes all the accessories you need. So, begin your musical journey with this uke, which brings authentic solid wood uke material.
Pros:
Solid build quality
Simple to fret for large hands
Astonishing sound and tone
Excellent value for money
Cons:
Complaints about tuners' quality
2. Caramel CB103 Baritone Ukulele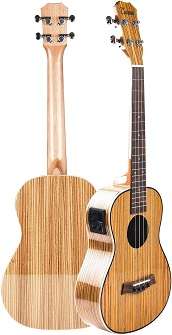 You have an enjoyable experience and are looking for a baritone uke. In this case, this Baritone Uke would be a superb option for you, no doubt.
Equipped with Zebrawood, the CB103 contains an excellent mirror polish. In truth, Zebrawood features a decent tonewood, which is exceptional even more with this gorgeous finish.
The brand boasts of its volume and melody. Also, its general performance is pretty much better because it has the capability of covering a wide range of frequencies and low ends.
The neck becomes pretty playable due to its unparalleled design. Besides, with the best frets and excellent playability, it incorporates a well-polished fingerboard.
Adorned with an active pickup 3-band equalizer handle for the bass, treble, and middle, this 30-inch model produces a boastful sound and tone. Apart from those, you will get a chromatic tuner with an LCD color display and a low battery indicator.
Probably, one of the most low-priced and best ukes on the market today is this baritone model. Its construction, sound, and all things about it will make you surprised why it is not much pricey.
Pros:
All Zebra Wood body
Stay in tune
Equipped with the supreme finish
Quality electronics for producing the best sound
Cons:
3. Caramel CT500 Tenor Electric Ukulele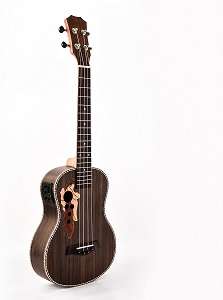 This CT500 Tenor Uke is a fantastic-looking instrument. We want to say that you keep your eyes on the dark rosewood body with a soothing and peculiar-looking rosette.
A very commonly used component for the uke is rosewood. In reality, it produces an excellent tone for the uke. Not only that, if the rosewood is a little standard, the instrument will sustain for a long and become better over time.
The neck remains sleek with no sharp frets with a rosewood fretboard, making sliding your fingers across it effortless and cozy. Also, the CT500 adds a truss rod to adjust the neck according to your necessities.
As a whole, the biggest deal about this CT500 is not its look. The sound and tone are balanced well with full sound and lovely resonance. Even though it needs time for the break-in period, it'll eventually finish with a compatible sound.
As an acoustic-electric, this model brings 3-band EQ with bass, middle, and treble controls with a chromatic tuner with an LDF color display. Moreover, the low battery indicator included will help your job make it much more effortless.
Finally, you attempt to find an instrument that contains all the basic features and becomes intuitive to use. In reality, this model comes with essential properties.
Pros:
Adjustable truss rod
Exceptional look
3-band EQ built-in tuner
Apprentice-friendly electronics
Cons:
Strings need to be changed for best results.
4. Caramel CC102A 23" Concert Acoustic Ukulele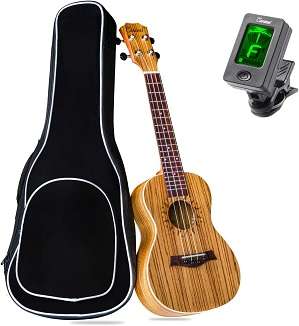 The CC102A features a concert-size uke, slightly larger than the soprano. Indeed, this body size has a bit louder and warmer tone.
The CC102A contains a very distinctive pattern, having liability to its zebra wood build. This instrument consists of laminated wood. Therefore, you won't find much distinction. This model characterizes an aesthetic discretion, striking for the price.
Impressively, this 23-in concert brings a bone nut and saddle. Bone, unlike plastic, aids in increasing the volume of vibration transmitted from the strings to the body. It provides the uke an enriched and complete feeling than instruments that utilize plastic for their nuts and saddles.
Praised for its Zebra wood pattern, many musicians are attracted by its visual appeal. But its sound and playability are the things that make the users happier. Many explain it as a positive side.
Many players are surprised by its reliability, especially considering its price. But, someone objected to the problem of tuning stability. They say that its sound, tone, and playability become enhanced after replacing the default strings.
Pros:
Simply stunning construction
Zebra wood body
Excellent for beginners
Easily playable
Cons:
A problem with tuning stability
5. Caramel CB500L Left-Handed Baritone Ukulele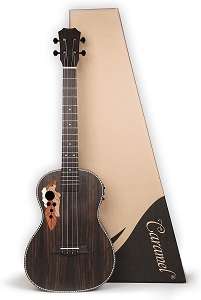 This time we've included a left-handed uke. It's the Caramel CB500L Baritone Uke, consisting of rosewood with dark, appealing color. Honestly, the rosewood body is pretty renowned for making a musical instrument.
Featuring an unparalleled series of sound holes on the top edge and a beautiful Hawaiian-inspired botanical shape, this fantastic model contains onboard electronics with a built-in tuner and 3-band EQ. As a result, you can strum it in plug-in or acoustically.
To ensure comfort for players, the CB500L adds an adjustable truss rod to this model. This truss rod provides extended support to the neck and offers a wrench for adaptations if required.
The fretboard and bridge are crafted from solid walnut. Besides, the nut and saddle have come from authentic buffalo bone. The perfect fret position markers and incomparable body binding add exceptionality to the beauty.
In terms of sound context, this uke will sound amazing best unplugged and plugged-in, with lots of supremacy and fantastic sustain. All in all, it's an excellent deal for lefty players.
Pros:
Boostable body appearance
The loud, resonant sound
Truss rod to adjust the playing
Best value for the price
Cons:
Electronics might not be the best
6. Caramel CT204 Tenor Ukulele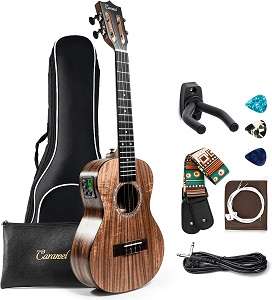 For players, it may cost a few hundred dollars to buy most solid wood acoustic instruments, including the ukulele. Also, some premium models made utilizing exotic tonewoods might need even a thousand dollars to buy.
It's the main argument why we highly advise this next uke and regard it as an absolute jewel of a search. Indeed, the instrument we are mentioning is the under $100 all-solid acacia wood body uke by Caramel.
The CT204 suits players' preferences and playing styles not only in the tenor scale but also in concert and baritone. Each ukulele model has a hardwood neck with an adjustable truss rod and a walnut fingerboard for providing excellent playability.
For other things to produce a sustained sound, this model has a set of closed-geared tuners, a built-in tuner, buffalo bone nut, a walnut bridge with buffalo bone saddle, and a preamp system controlled by a master volume and a 3-band EQ bass-mid- Treble.
Pros:
Solid wood ukulele
Unmatched instrument
High quality at a low price
Money back guarantee
Cons:
Creating buzzing sounds to increase the volume
7. Caramel CB500 Baritone Electro-Acoustic Ukulele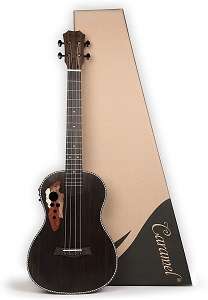 Caramel, a Chinese ukulele brand, supplies a widespread item of ukuleles, which cover all shapes and sizes, including this CB500. We've included it in our Caramel ukulele review lists for its high performance.
The first matter that strikes you is that this affordable uke contains a high-finish style that you can't just hope to look at on beginner-level instruments.
It characterizes a full-size, non-cutaway 30-inch baritone body, consisting entirely of a rosewood laminate – top, back, and sides with a satin finish.
It has no conventional soundhole on the top. Instead, the brand has placed a multi-soundhole on the side of the top bout with interesting blended wood patterning. You will find an attractive binding around the top and back, giving an additional touch of class.
The neck incorporates a rosewood fretboard, a truss rod, and 8- frets. As a whole, it becomes comfy enough to play with, particularly for larger hands.
Pros:
Robust construction with rosewood
Matured sound with good projection
Exceptional sound hole
Necessary electronics included
Cons:
Conclusion
In terms of an instrument with a great tone, reasonable price, and ability to be plugged into an amp, this manufacturer has everything you require.
They offer middle-priced ukes, including electronics, so you can utilize additional equipment like an amp to make your uke sound more.
We've made the Caramel ukulele review by playing them acoustically via Amp and headphones. So, we can utter that their instruments are better and it'll become a lovely purchase for each type of player.
Check Out Our Reviews