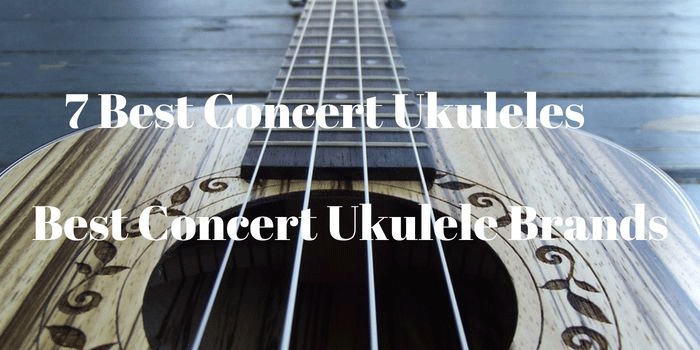 Best Concert Ukulele and Best Concert Ukulele Brands
You do not always have to go to Hawaii to enjoy peace in artistic ways. With the Hawaiian creation 'ukulele' you can create a Hawaiian atmosphere anywhere around you. However, you have to be good at playing it too. Ukulele itself means 'Jumping Flea' in Hawaii. Which basically refers to the fast feeling movement of fingers on it to produce a treat for the ears. Worried that you might never be able to master the ukulele? You can stop worrying because ukulele is not just easier than guitar to learn but also has a version that is easier to handle.
The Concert Ukulele, as you may have already guessed from the name, produces a louder sound than most other ukuleles. Moreover, its long scale length makes it easy to play and learn even for beginners. However, you must choose concert ukulele for yourself to sound the best as well. So, keep reading to find out the criteria for judging ukuleles and also the seven best concert ukulele reviews.
Best Concert Ukulele Buying Guide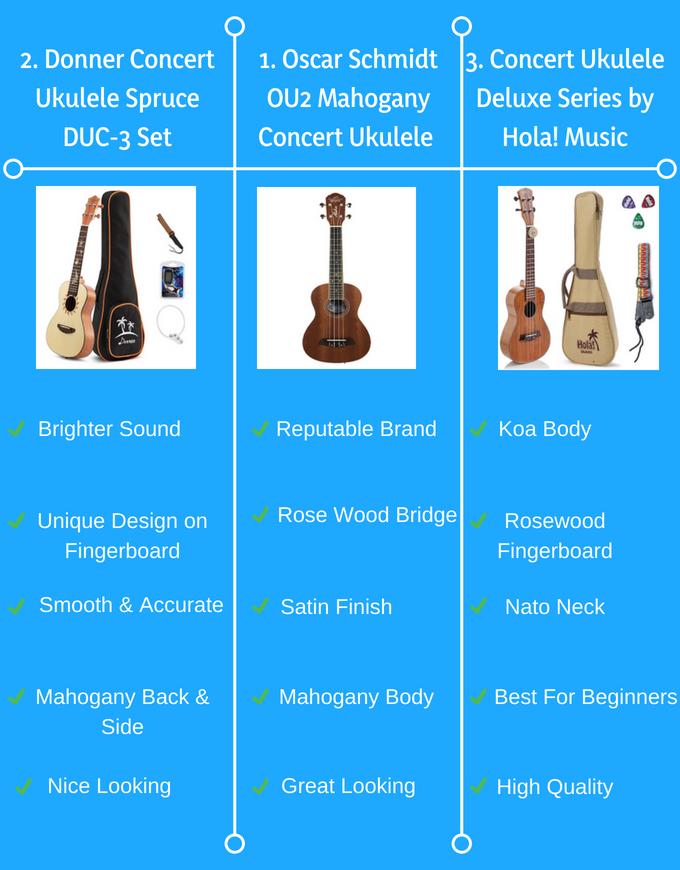 Among the soprano, tenor and baritone ukuleles, concert ukuleles are the second smallest one. As the name suggests, it's good for concerts because its construction allows it to produce a loud warm sound. Moreover, its generous scale length makes it easier to play. It's usually around 23 inches in length. When you want to buy a ukulele, certainly you have to find out the best ukulele brands and some basic things for consideration for a concert ukulele are:
Price: It is a daunting task to choose one ukulele out of the innumerable models available. The first thing to do for narrowing your choice down is knowing your budget and the optimum price for quality ukulele. Apparently, you can get good-quality concert ukuleles starting from $50. But, the more you pay, the better quality you get.
Level of Experience: If you are just a beginner, you probably do not want a pricier model with many features to ruin it. So, you can start with a low-cost but good one and later move on to the pricier ones as your level increases.
Construction: Most ukuleles use Koa wood from Hawaii or Mahogany wood. Among other kinds of wood, these are the best-quality with mahogany providing a sound softer than Koa.
Sound: You have to choose the ukulele that provides your soul sound. Most importantly, the tone depends largely on the wood used. Therefore, choose the ukulele with the wood that provides the sound your thirst.
7 Best Concert Ukuleles from the Best Concert ukulele Brands
1. Concert Ukulele Deluxe Series by Hola! Music (Model HM-124KA+)
2. Donner Concert Ukulele Spruce DUC-3 set
3. Oscar Schmidt OU5 Concert Ukulele
4. Oscar Schmidt OU2 Mahogany Concert Ukulele Bundle
5. Kala KA-KCG Koa Gloss Concert Ukulele
6. Luna Fauna Series Dolphin Concert Ukulele
7. Lanikai LU-21C Concert Ukulele Bundle
After that, let's get you introduced to the best concert ukulele brands for beginners, intermediate & professionals:
1. Concert Ukulele Deluxe Series by Hola! Music (Model HM-124KA+).
That is to say, this ukulele is the best concert ukulele under 100 dollars for beginners. It will amaze you with everything it provides at such a low price. If you are a beginner, it will make your stay and improve. To clarify, it's all Koa build with a Nato neck and rosewood fingerboard and the bridge provides a warm mellow sound. It has a tone anyone would love. In addition, it features 18 silver nickel frets that have an inlaid wooden rope binding to protect your fingers. Moreover, it helps you play beautifully as well. The bone nut and compensated saddle make the tone better by helping to micro-tune. To top it all, it has a thin lacquer layer to make it look like the traditional natural ukulele. In addition, this 24-inch ukulele comes with Aquila Nylgut strings to make things even better.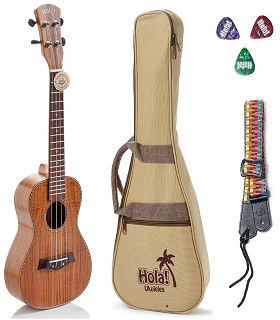 Pros:
Concert ukulele under 100 dollars.
Best ukulele for beginners.
Well-built with quality materials.
Fret binding style protecting fingers.
Lacquer coating making it look great.
The Bundle includes a padded gig bag, attached strings, picks and straps.
Cons:
Needs frequent tuning.
2. Donner Concert Ukulele Spruce DUC-3 set.
If you want a ukulele that will catch everyone's eyes besides ears, this is the one. You might not find its look traditional but it is unique. Because, it has a pale body with a bit darker colour on the sides. What will catch your eyes is the wooden cloud patterns on the fretboard. You don't usually see that, do you? However, the best part would be the rosewood bridge in a slotted style with a nice shape. It does not only look good but does its job of holding the strings in place really well. On the other hand, it also has a compensated saddle of bone. As for the build, it has a smooth mahogany back and size and a spruce top. As a result, the combination makes it sound quite warm to attract listeners like bees. Finally, it comes with Carbon Nylon strings attached to it.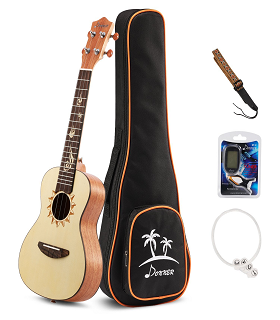 Pros:
Solid build and good company reputation.
The sound produced is rich, warm and melodious.
Design that makes it comfortable to play.
Comes with the tuner, battery, bag, strap, Carbon Nylon String.
Easy to tune.
Cons:
A bit heavy.
Not a good ukulele for recording.
3. Oscar Schmidt OU5 Concert Ukulele.
Looking for the concert ukulele under 200 dollars? You might have just hit the jackpot. This ukulele with a Hawaiian Koa body and a gloss finish is a treat to look at. I wonder how many aesthetic pictures users take with this masterpiece. Moreover, the Koa body also makes it sound great. So, it's a beauty that sounds great. Also, the abalone binding and rosette top add to its beauty. In addition, it features a rosewood fingerboard and bridge which come with Grover Chrome tuners. So, you cannot just tune perfectly but you have to stay in tune automatically thanks to the features. The Nyatok neck also enhances its quality. You will get 16 frets to excel on at anyplace, looking like a true musician with it and also sounding like one.
Above all, the company is so certain about the quality that it offers a lifetime warranty on this ukulele.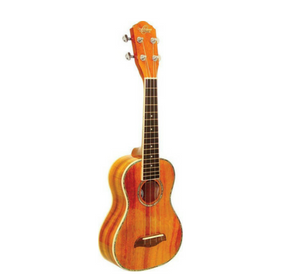 Pros:
The best concet ukulele under 200 dollars.
Solid and durable build.
Great look.
Sounds great.
Best ukulele for beginners and also people willing to go to the next level.
Cons:
No bag or case included.
4. Oscar Schmidt OU2 Mahogany Concert Ukulele Bundle.
Are you looking for a ukulele that can take your big hands without any trouble? So, this would be the best uke for you. Firstly because of its concert size, you will get ample space for your fingers to move around. Moreover, the sound it provides is soothing for the soul. You can even go to a beach and play this ukulele and people will hear you fine! It apparently has a mahogany top, back and sides with Rosewood Bridge which makes it sound warmer and mellower. Moreover, its satin finish assures you of both quality and taste. In addition, it also comes with chrome tuners to make tuning easier and keeping the best ukulele tuned. Apart from all that, the bundle offers you a gig bag, tuner, Austin Bazaar Instructional DVD, and a polishing cloth at an appealing price.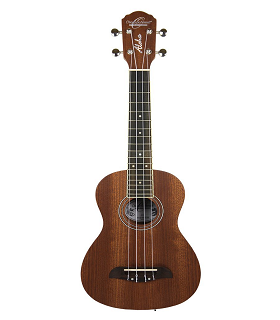 Pros:
Well-built.
Great looking.
Easy to tune and keep in tune.
Great value for the price.
Easy to play.
Cons:
Poor performance in higher frets.
5. Kala KA-KCG Koa Gloss Concert Ukulele.
If you are looking for the best concert ukulele under 300 dollars, look no further. Certainly, the Kala KA-KCG gives you a lot more quality in its price range for the extra amount you pay for it. As the name suggests, it had a top, back and sides made of Hawaiian Koa which is one of the best woods used for ukuleles. So, that assure you of the great, deep, sound the ukulele will be spreading around you. It features a mahogany neck with a rosewood fingerboard and bridge. Combination of the best for the best, isn't it? Moreover, its headstock is slotted with laser etched Mother of Pearl inlay and there are white marks as fingermarks. Apart from that, it comes with pre-installed D'Addario Titanium.Above all, it has a gloss finish that will make your audience look at least twice in its direction.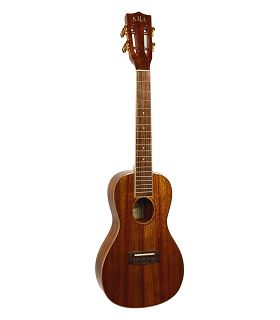 Pros:
Great quality build.
Quality sound.
User-friendly design.
Best ukulele under 300 dollars.
Traditional yet unique look.
Cons:
The strings may cause issues.
6. Luna Fauna Series Dolphin Concert Ukulele.
The moment you see this ukulele there should be two words on your mind- firstly fresh and secondly tranquil. If you think the great look will distract you from the sound quality, stay assured that this ukulele will grab both the eyes and the ears. Apparently, this is a good concert ukulele under 500 dollars of Luna. You spend that much on it and it will also give all the value back and more. With its solid spruce top and mahogany back and sides, it creates a sound as tranquil as the rejuvenating dolphins and water it has inlaid on it. However, it has a length of 23 inches and comes with Aquila strings providing you with the best accessories for the best concert ukulele under 500. Moreover, to help you spread your tranquil music everywhere around you, it comes with an onboard preamp with which you can easily amplify the sound.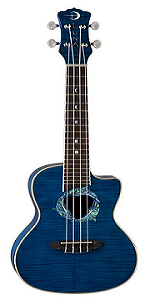 Pros:
Unique, fresh look with inlaid dolphins and purple maple waves.
Well-built.
Best ukulele under 500 dollars.
Comes with a Gigbag.
Spacious frets.
Cons:
Some customer faced string issues.
7. Lanikai LU-21C Concert Ukulele Bundle.
Certainly, this is another concert ukulele that offers you great value at a very low price. Apparently, it does not come alone with its quality build but also a hard case, clip-on tuner, Austin Bazaar Instructional DVD and a polishing cloth. It's more than you expect at its rice but no, it does not lack in quality. Apparently, it uses Nato wood for its top, back and sides. Before you panic, most ukuleles use Koa or mahogany, let us assure you that with Nato wood, this ukulele provides a great quality sound as well. Moreover, the fact that another name for Nato is Eastern Mahogany should relax you. The fretboard is made of rosewood with 18 frets. Moreover, to assure easy and constant tuning, the ukulele features chrome die-cast tuning machines. In short, the combination of redwood finish and white binding makes it even more appealing.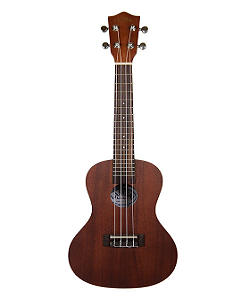 Pros:
Great design and colour combination.
Well-built with Nato.
Offers a lot for the price.
Comes with a clip-on gear tuner.
Pre-installed Aquila strings.
Cons:
Tuner instructions might be difficult to understand.
Most importantly, music is not just for developing skills but relaxing the soul. If the instrument you buy does not soothe your soul, it's quite useless. Moreover, the wrong ukulele might make you and others around you think of yourself as a bad musician. However, the perfect ukulele will save you from all the shame and the frustration. In order to choose the best concert ukulele for yourself, you have to know your own choice of sound and structure best. In conclusion, our guide should help you know the areas of consideration and with the reviews, it should help you find the right one when you are done knowing your type.