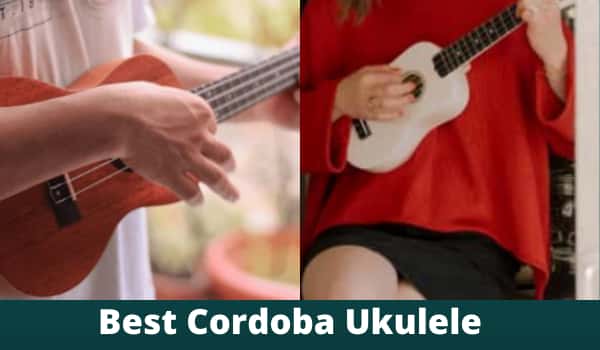 Cordoba's popularity is due to the high-quality ukuleles and classical nylon-string guitars. They become most popular due to the best Cordoba ukulele which is the most notable instrument. Most importantly, Cordoba-made ukes are renowned in the world of ukuleles. Therefore, famous musicians of different styles use Cordoba's uke.
However, Cordoba is an appealing brand all over the world because of its innovation, authenticity, quality, and design. By reading the review below, you can get the best Cordoba ukuleles that are well-suited for you. So, start reading.
Check out Our Top Selection:
Editor's Choice
Cordoba 15CM Concert Ukulele
Top 10 Best Cordoba Ukulele Reviews
1. Cordoba 15CM Concert Ukulele

Cordoba 15CM is a favorite for those who like concert-sized ukes the most. The reason is that the uke is gorgeous, simple to play with, and sturdy. Besides, its appearance is attractive to both beginners and uke enthusiasts.
However, the brand uses solid mahogany to build its top, back, and sides that give this small-bodied uke a full and rich sound. There is quality construction around it. Also, this completely handmade uke features an abalone-style rosette and an Ivoroid binding to the body and the fingerboard which makes it different compared to other models.
Further, the 15CM includes a silver tuner with pearl buttons, a sleek satin finish, and premium Aquila strings. It also comes in an edge burst finish with pickup, a stand, and a chrome cast gig bag. This instrument remains in tune during intense or constant playing.
After all, there is no question about its durability and functionality. We assure you that this instrument will never cheat if you decide to buy it.
2. Cordoba 20TM Tenor Ukulele

Are you searching for a uke that is handmade and has no question of the standard and the design? Well, the Cordoba 20TM is a tenor ukulele that consumers have already considered a great instrument. Also, due to its beautiful design and stunning performance, it has become an ideal instrument for both beginners and advanced uke players.
Most importantly, made of the solid mahogany construction of its top, back, and sides, this tenor uke provides a full-body sound and keeps the instrument in tune perfectly. Likewise, the sturdy construction ensures its durability and longevity.
Moreover, crafted with rosewood, the fingerboard and bridge make it easier to hold the uke. On the other hand, the natural wood pattern rosette and satin finish enhance its beauty which charms elegant players. It offers Aquila Nylgut strings that will last for a long.
Finally, an easy-to-use tuner and overall simple action help the novice learn the uke playing as well as improve the skills of experienced players.
3. Protege by Cordoba U100CM Bundle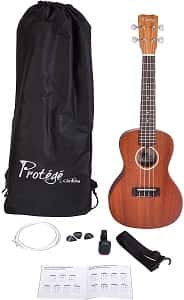 Cordoba supplies a variety of budget instruments. You will trace see several models of high prices. But Protege by Cordoba U100CM meets the needs of those who are exploring an inexpensive model for practice. The one described here is an affordable pick that offers a good-quality experience.
However, the new players who have just begun to learn the uke can start their journey with the U100CM concert size. It ensures long-lasting and easy tunes as well as enjoyable playability. To clarify, it is an extraordinary mix of simple, affordable, and high-action.
It measures 26.7 x 11.6 x 5.3 inches and weighs 2 pounds. As a result, carrying and holding, this model becomes easier. This uke is constructed with a mahogany top, back, and sides. On the other hand, the matte finish, and mother-of-pearl rosette makes it a unique-looking instrument. Again, the pack includes an electronic tuner that aids in tuning smoothly.
In addition to these, this pack comes with a gig bag, strap, instrument picks, and a set of spare strings.
4. Cordoba 15SM Soprano Ukulele Bundle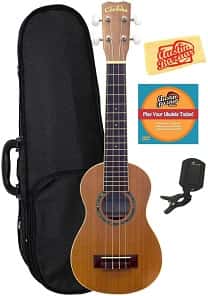 The Cordoba 15SM is a beautiful instrument that comes to you at a reasonable price. In terms of structure, appearance, tonal quality, and playability, it is a superb instrument, especially for musicians who are starting to play the uke.
The brand uses super-quality mahogany wood to build the top, back, and sides of this soprano ukulele. There is a majestic tonewood in Mahogany. Therefore, it delivers an elegant sound and a good-playing experience. It includes a clip-on tuner that makes it simple to tune and aids the players to accomplish their job.
Further, the construction of the neck is mahogany. On the other hand, the fingerboard and bridge are made of rosewood. A cream ABS body and fingerboard binding and an abalone rosette make it a different instrument than other models in this price range.
Moreover, the 15SM Soprano Uke features a sleek satin finish, silver tuners with pearl buttons, and premium Aquila string. The addition of an Austin Bazaar instructional DVD helps new learners to pick up some tips while learning.
In addition to these, this bundle gives you a hard case for packing and an Austin Bazaar polishing cloth for keeping the new instrument in mint condition.
5. Cordoba 15TM Tenor Ukulele

You desire to get a tenor-sized uke with a natural finish. Well, the Cordoba 15TM is in the market to meet your needs. This light design will become more appealing to you. After that, its solid construction increases longevity.
The 15TM is a stylish option for players who always wish to have a nice looking and quality uke. Most importantly, you don't have to expend your luck to buy it. Moreover, you will like the circular and harmonious tone.
It measures 27.5 x 10.5 x 4 inches and weighs 1.15 pounds. Being light in weight, this model is very comfortable to carry and handle. Consequently, it is more desirable to any player. Plus, its design allows a more convenient playing experience. More, the model adorns the perfect style because it is handmade.
Also, the top, sides, and back of this fantastic uke are of Mahogany wood that gives this small-bodied ukulele a full, enriched sound. The 15TM's abalone-style rosette and Ivoroid body and fingerboard binding represent a touch of aesthetics. Beginners and professionals alike will applaud the tool's good looks and easy playability.
6. Cordoba 20CM Concert Uke

It is another inclusion of concert-sized uke that comes at affordable prices. The Cordoba 20CM is not only low in price but also super in proficiency and structural design.
If you find a sustainable model for long-term use, this uke would be a great selection. The natural matte finish transforms it into an attractive material, and its sound creates an incredible atmosphere while playing.
The size and weight of the 20CM ensure comfort while carrying and playing with it. Because of the lightweight, most of the new players choose it with great desire. Also, many professionals choose it for extraordinary crafts as well as for careful construction.
Further, the top, back, and sides of this uke made with mahogany guarantee its durability and wonder tune. The brand utilizes rosewood for building the bridge and fingerboard. It includes Aquila strings.
Furthermore, the natural wood pattern rosette and satin finish turn it into a beautiful instrument. To clarify, it serves as a great instrument that you can get as a companion at a lower cost.
7. Cordoba 25TK Tenor Ukulele

The Cordoba 25K Tenor ukulele is well-suited for players who want to buy a high-class uke for professional and appropriate performances and cheerful tunes. While this model may be a bit more expensive than others, it is well worth spending some money on in terms of construction quality, smooth playability, and high durability.
Fabricated with a sturdy acacia top and back, this marvelous instrument materializes the simple attraction of traditional Portuguese ornamentation. For the use of acacia, it has great resonance, a perfect voice projection, and a lovely tone. As a result, this uke is the most desirable for many professionals.
At 28 x 17.5 x 10 dimensions and weighing 6.4 pounds, the handmade uke appears to be lighter than other similar models. This Cordoba's tenor size gives an ebony fingerboard that makes it enjoyable the experience of play. Likewise, the inclusion of a natural matte finish enhances its beauty.
If you look for an easy-to-tune option, give it a try. Lastly, it gives you a gig bag so you can get around with it.
8. Cordoba 30T Tenor with Polyfoam Case

We are going to review another Cordoba product, 30 Tenor Uke, the first of this brand-new 30 series. From a classical or Spanish guitar-building standpoint, the brand produces all-solid tenor ukuleles. So, you can enjoy this uke like a guitar.
Most importantly, to affix the body and neck of the ukulele, the brand utilizes an integrated neck joint. By using this construction method, this instrument becomes lightweight and stable. On the other hand, it amplifies the resonance and decreases the risk of movement as the ukulele ages.
Comprised of a solid mahogany top, back, and sides, the uke offers a warm and balanced sound. It also features a beautiful fingerboard, binding, and rosewood bridge. It uses abalone for the inlaid rosette and rosewood for the binding. Also, it includes Cordoba's signature headstock.
Further, its handmade polyurethane finish confirms the maximum resonance. This uke has a Cordoba polyfoam case, D'Addario Nyltech strings, a black TUSQ nut and saddle, and chrome Grover tuners.
You can choose it because its wide fretboard delights you in playing this uke.
9. Cordoba 23T Tenor Ukulele

Let's take a look at the amazingly designed tenor-sized uke. Cordoba has shown great aesthetics to craft this instrument. In terms of construction quality, it is the best selection.
However, the top consists of Solid Ovangkol, and the back, and sides are constructed using the same wood. It has an ovangkol headstock veneer. Besides, the bridge and fingerboard are built of rosewood. On the other hand, the neck comprises solid mahogany.
Further, the exterior choice of wood makes sure superior durability as well as the best quality sound. Also, the use of advanced Aquila Nylgut Tenor strings increases its reliability among uke lovers. Attempt to use the Cordoba 23T Uke for more accents and enriched tone. We assure you that it will provide great resonance and a praiseworthy action.
To clarify, the dimensions of 27.5 x 4 x 10 inches and the weight of 1.94 pounds mean that it is a very light device. As a result, you can carry it easily and hold it comfortably. Whatever beginner or professional you are, you can choose because it comes at a reasonable price instrument.
10. Cordoba 24T Tenor Uke

Do you require an instrument that imparts a unique look and a whole new tone? The Tenor Uke is carefully designed to provide superior quality and enhanced durability, as well as a captivating tone.
That's to say that the instrument is wondrous. The Natural Matte Finish combines its simple style. That's why the 24T looks more catching and charming. Apart from the elegant look, the functional ability is also noteworthy.
If you want to get a strong structure and admirable melody at a reasonable price, give it a try, and you will have a great experience.
However, this uke has a robust cedar top that equips the splattered maple back and sides. The result is a ukulele that truly activates its voice, irrespective of its size. Padauk binding, a padauk rosette, and fingerboard binding make their appearance impressive.
In addition to these, the 24T contains a mahogany neck, rosewood bridge and fingerboard, and spalted maple headstock veneer. It has kept the stiff Aquila tenor strings to play it uninterruptedly.
Some talk about Cordoba's Ukuleles
Cordoba is originally a Spanish company, but their ukes are predominantly manufactured in Portugal. They mostly use mahogany or genuine koa to produce ukuleles. However, they also have other options. The brand builds high-quality ukes for beginners, intermediate players, and professionals.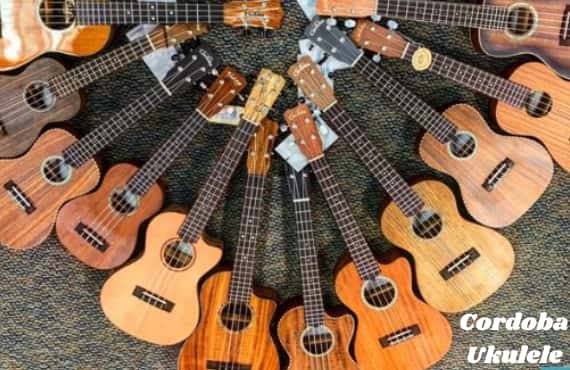 We have reviewed the best Cordoba ukulele to take the right decision by mentioning beauty and authenticity. The brand is competing with other famous brands. Cordoba produces almost all kinds of ukes that are perfect enough to achieve your goals.
Deciding on your choice
Deciding what to choose when buying the best Cordoba uke on the market is not easy. In the meantime, we've reviewed a few products. From the list above, choose your perfect uke now. But from the perspective of popularity, the 15CM Concert Ukulele is the best Cordoba uke.
What is the price?
You may need more than $40 to buy an entry-level uke. However, most ukes cost between $99-$825 with a mix of quality and affordability.
Final Note
In conclusion, we say consider your expertise first and then decide to buy the uke. As a result, learning to play the ukulele or improving your experience will be smooth.