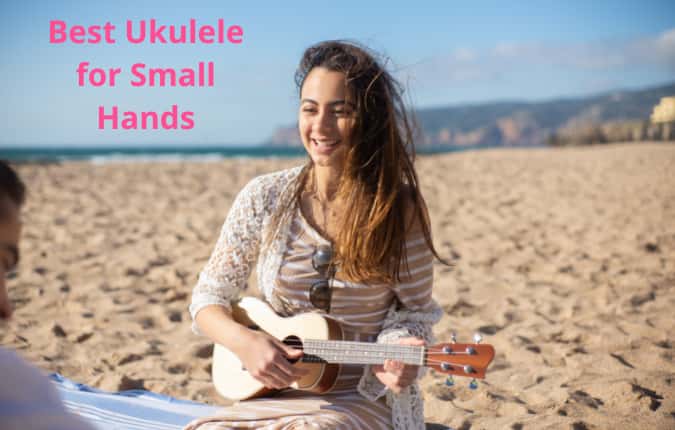 You're thinking of buying a musical instrument, and your preference is the ukulele, in this case. Unfortunately, your hand is a little small, so you are a bit worried about what size uke you would prefer. So to alleviate your worries, we have arranged this article with the best ukulele for small hands.
The point is, choosing the right one among different uke types in today's crowd of thousands of products can be very difficult and risky for anyone. Therefore, we've compiled a shortlist of some small-sized ukuleles here to make your job a little easier. Now, dive into the quick guide to test which one goes with you.
Our priority:
Editor's Choice
Everjoys Soprano Ukulele
Top 6 Best Ukuleles for Small Handed adults & Kids
1. Everjoys Soprano Ukulele for Small hands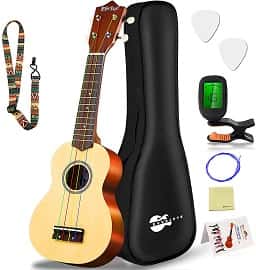 EVERJOYS has become one of the leading brands for supplying the best ukulele for small hands like kids. Rightly, sopranos are suitable starting points for beginners. If it is a learning-friendly solution like this Rainbow model of EVERJOYS, then there is no question of looking at other alternatives.
The brand has adjusted basswood for the body, blackwood for the fingerboard and bridge, and solid wood for the neck. All the arrangements for its construction are eye-catching as it has given it a solid structure.
One of the funniest things is that it has many colored strings. Each color represents an individual note that will help you mind the notes and quicken your learning process. It is to mention that nylon strings are eco-friendly.
In spite of being an affordable price, its sound becomes so beautiful that it would surprise anyone. Honestly, playing this uke is genuinely pleasing. If you prefer keeping a bit of additional endeavor in learning, this model will surprisingly ring while playing.
If you talk about accessories, we will say that they have kept almost everything for new learners. The goodies are a handy digital tuner, a durable and convenient soft bag, and more with a songbook.
2. Kmise Soprano Mahogany 21-Inch Ukelele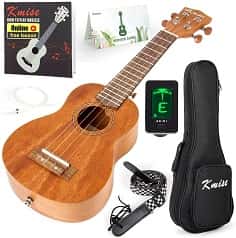 Originated from Hong Kong, Kmise carries quite a bold logo. Their customer support is outstanding, just as they offer the opportunity of lifetime free string replacement for this model. We have no hesitation in saying that its standard will make you amazed, for sure.
Kmise uses Mahogany wood with a satin finish, pompous but straight. Also, there is a beautiful rope design print around the soundhole. It contains two strap buttons too. Further, you'll see a Kmise logo inscribed on the headstock, a superb touch.
Furthermore, this little ukulele has placed the strings beautifully with low action. So, it produces a loud sound with excellent resonation. The company adds a clip-on tuner to keep it in tune for a long time.
We think this could be a first-time instrument because this model comes with everything you need to get started. Besides, it provides a "Quick Start Booklet" with plenty of basics about playing the ukulele.
If you ponder purchasing it, you have finished the job as a starter. In truth, it is a lovely package for the cost.
3. POMAIKAI Soprano Ukulele for Little Hands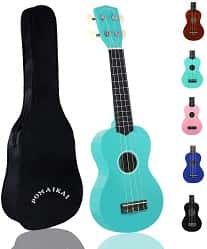 In Hawaiian, "Pomaikai" refers to "good luck". You will possess good fortune in your music journey if you associate with this POMAIKAI model. Many consider this brand one of the most innovative creators in the music world.
Included in this list, like so many other ukes, it does not come as a beginner pack. So, you will only get a uke, yet many recommend it for its expert masterhood.
This 21-inch device features a basswood body with a high gloss finish, creating a clear, crisp, and harmonious sound with stability and durability. The smooth fret wires make your play cozy without harming your fingers.
The hardwood fingerboard is equipped with 12 frets that generate several bright notes and tones and immediately take you to the Hawaiian island. You will find some strong nylon strings that allow you to keep the instrument in tune as long as you want with producing full-body sound.
Finally, if you are a small hand player, it will be a good deal, indisputably. Note that some lessons are available for this definite model for purchasing separately.
4. Martin Smith UK-222-A Soprano Ukulele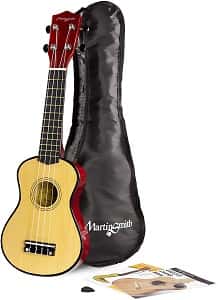 Martin Smith is always manufacturing durable musical instruments without any problem for a long time. The smaller-sized uke gives a better performance than others in this price range. So, it will go with young and old alike as an ideal first instrument.
This UK-222 consists of basswood, including chrome gear heads. It sustains for many days due to the durable and quality materials. Furthermore, it has less probability to have problems with this model in the view of breakage or quality based on this Martin Smith Ukulele review.
This uke from Smith is get-at-able in the color ranges, featuring a high gloss finish. With the generating a warm tone, the Nylon Strings used are soft enough to tolerate in fingers. You have to follow the classic GCEA tuning process to tune it.
If anyone asks what is the most significant aspect of this ukulele. Then we will say that the opportunity to learn the lesson for free for two months after purchase. It is not the end because you get a gig bag to carry it.
All in all, we think this would be a fantastic choice for new learners.
5. Diamond Head DU-100 Rainbow Soprano Ukulele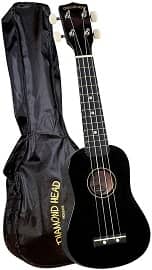 This time our pick is the DU-100 Soprano from Diamond. It might be a low pricey but not less standard that you stay away from the best. So, it becomes an ultimate choice for beginners, having small hands.
This well-built instrument features a body and top crafted from maple, producing a lively sound with exuberant sustain. Further, its hardwood fretboard is suitable to deliver precision to the trebles.
The DU-100 is prepared with geared guitar-style tuners, confirming it to keep in tune perfectly. Diamond utilizes rainbow colors with an attractive high-gloss finish so that players can select according to their choices.
Diamond affixes a comfy-shaped mahogany neck and polished frets to ensure quick and effortless playability. Moreover, there's a simple Tie-On bridge to make the string change effortlessly and reduce breakings.
This Rainbow Series supplies a color-matching gig bag to avoid a hassle in storage and transportation. Above all, the reason for including it in the list is that it works like the best-quality product on such a limited budget.
6. Strong Wind Soprano Ukulele for Small Hands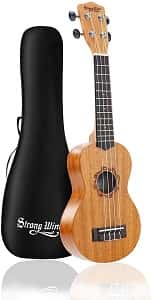 You are searching for a ukulele that is very inexpensive, sturdy and crafted for small-hand people. Well, we recommend taking it to meet your needs.
The Strong Wind has designed it with entirely mahogany material, containing a low density. Hence, it holds a lusty tone, brilliant high pitch, and superb portamento properties with an original wood body structure.
The most preferred thing about this uke is that this model comprises a well-furnished fretboard and bridge, used scientific wood like a traditional ukulele. Beyond, this kit has placed an installed premium Nylon string to assure the highest sound.
The stiff nylon strings can withstand stroke, letting you create a full-bodied sound while ringing it. Moreover, its classy finish gives it a pleasant look and generates a different feel during playing.
Anyway, the company does not offer accessories except a gig bag. However, even if it does not have accessories, you will not be deceived if you judge the qualities.
Tips to choose the right size
You need to follow some considerations that can support you to make the right choice.
The first is your hand size. Perhaps, you have a previous idea of whether your hands are small, medium, or large. Indeed, it will rely much on age and build.
Typically, any of the ukuleles sizes comfortably is available for little hands. But most small-handed players prioritize a soprano or concert model due to the pure bright sound, portability, and playability.
You can measure from the wrist to the tip of your big fingers if you don't know about the actual size of your hands yet. But in general, the average for a man and woman is respectively 7.6 inches and 6.8 inches (source). You might be above, below, or near average.
But the only thing to consider is not hand sizes.
You may want to regard whether you are accustomed to playing the guitar before. You can prefer the models that hold fast DGBE tuning and play your favorite songs in minutes.
The tone ought to be a matter of consideration too. So for conventional uke tone, you can take one of the smaller sizes. But for an acoustic guitar sound, the baritone will become your choice.
Best ukulele for small hands
If you are a beginner and possession of a small hand, the soprano or concert will possibly be the right category for you. But, we think that the soprano uke is the best. They generate a brilliant and crisp sound to most of us linked to the ukulele.
Besides, these smaller sizes remain inexpensive and often come as packs with accessories. We suggest learning in a model with penetrating tuning, and soprano sizes become the most suitable for this, especially for small hands.
Final Thought, Best ukulele for small hands
Here we have attempted to put together some of the best ukuleles for small hands. You can try to go with one from the list. But, if you think any of them are not perfect for your little hands. In this case, you find a music store to go to and then choose one that matches your hand.