Ukulele, the musical instrument with the name itself brings an image of Hawaii to your mind, doesn't it? Although ukuleles are basically from Hawaii, they came into existence only after the Hawaiians met the musical machetes from Portugal in the 19th century. Indeed, Machetes are very similar to ukuleles bearing four strings and they were in existence long before ukuleles. Above all, it is believed Hawaiians after being mesmerized by the sound of machetes brought by the Portuguese immigrants, created the ukulele.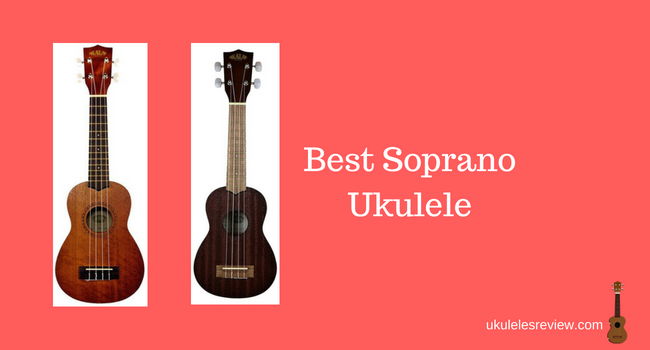 Best Soprano Ukulele
Are you looking for best ukuleles to buy for learning and get a taste of the Hawaiian peace? Surprisingly, they are quite easy to learn and also popular these days. However, choosing them from the myriad of varieties available is, in fact, a daunting task. But, this best soprano ukulele article should help make the task a lot easier.
Best Soprano Ukulele Buying Guide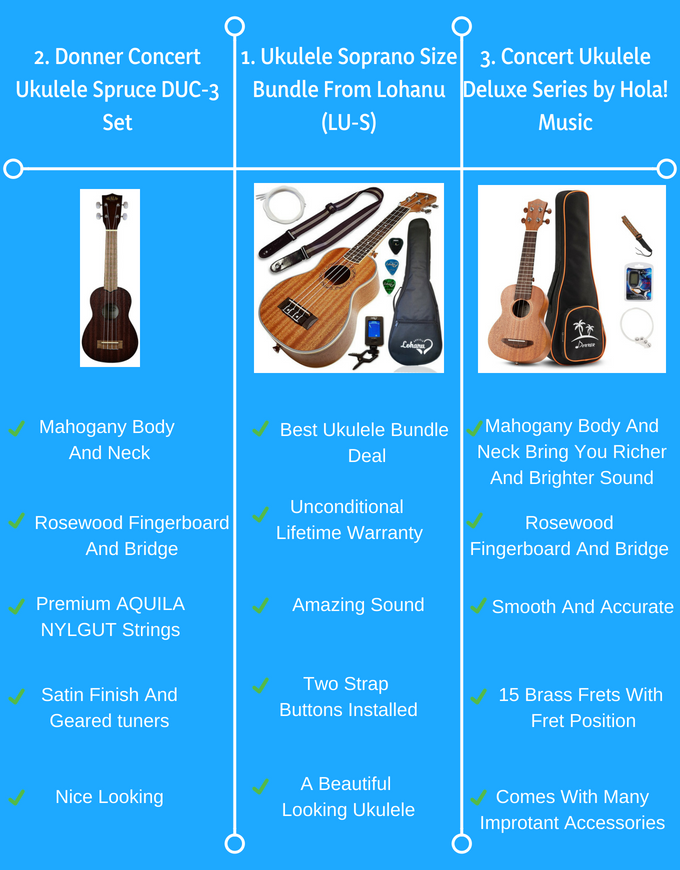 Among the concert, tenor and baritone ukuleles available, Soprano is the first and the smallest kind. These have been in existence since the creation of ukuleles. So, they are more like ukuleles with their small, portable size and features than the other ukuleles. Now, here are some things you might consider while looking for the best soprano ukulele for yourself.
The wood used: The type of wood used really varies the tone of the whole ukulele. Therefore, you should choose a ukulele made of that wood which helps provide the sound that soothes your soul. In most cases, Hawaiian Koa and Mahogany are used to construct ukuleles. Both are of high quality but Koa produces a focused, pleasant mid-range tone whereas Mahogany produces a rich mid-range tone. But, fingerboards and bridges are generally made of rosewood to provide a softer surface for your fingers.
The shape: Ukuleles generally come in three shapes which affects their sound quality. Firstly, the figure 8 shaped ukuleles look more like guitars and produce a balanced, focused tone. Secondly, Pineapple shaped ukuleles produce loud tones with their larger sizes. And finally, Banjo shaped ones produce the loudest sounds with tones similar to banjos. However, most sopranos are of a figure-8 shape and some of pineapple shape.
Acoustic/Electric Features: Acoustic guitar needs their sound to be amplified by an external mic or device. On the other hand, electric ones have onboard electronics that supports plug and play to amplify. If you plan on going big with your ukulele, the electric one should suffice.
Price: When it comes to ukuleles, the higher price you select, the higher the quality it offers. In other words beginners usually go for cheaper ones that offer the necessary ukulele accessories while high-level players focus on the playability.
Our Selected 7 Best Soprano Ukulele For You

After that, here is a list of 7 of the best soprano ukuleles of best ukulele brands that you should know about to stop you from venturing in the wrong direction.
1.Ukulele Soprano Size Bundle From Lohanu (LU-S).
2. Donner Soprano Ukulele Mahogany DUS-1.
3. Donner Soprano Ukulele Spruce DUS-3.
4. Kala KA-15S Mahogany Soprano Ukulele.
5. Soprano Ukulele Bundle by Hola! Music, HM-21PP Color Series.
6. Kala Mahogany KAA-15S Soprano Ukulele.
7. Cordoba 15SM Soprano Ukulele Pack.
Now it's time to check individual Best Soprano Ukulele:
1.Ukulele Soprano Size Bundle From Lohanu (LU-S).
With this Lohanu LU-S ukulele, you do not have to worry about the instrument at hand at all but only focus on how your fingers move. Because, this ukulele is so lightweight you will barely feel its weight and its sound quality is so natural that if you play right, it will sound right. Basically, it's Sapele/Mahogany top, back and sides give it a tone that makes it the best soprano ukulele under 100 dollars. Although the laminated build does not provide the same advantages as solid ones, it does make it indifferent to temperature and humidity. The rosewood fingerboard offers the smoothness you would expect. Moreover, its size is great for small handed players. Apart from that, it comes with Aquila strings and chrome die-cast tuning gears to keep your ukulele's tuning. In addition, the bundle saves you a lot of money by offering everything you think you need.
Pros:
Best ukulele under 100 dollars.
Balanced, rich tone.
Solid ABS binding gives it a great look combined with its body.
Bundle offers strap, tuner, case, 2 picks, pick holder, extra Set of Aquila Strings.
Lightweight.
Cons:
Not for high-end use.
Requires proper set-up.
2. Donner Soprano Ukulele Mahogany DUS-1.
If you are planning to keep playing the ukulele in the future and want the ukulele to be with you as well, Donner with the DUS-1 offers you one of its durable and high-quality ukuleles. In other words, it's not just the durability that matters if the ukulele does not provide the best sound, you won't stay with it, right? In this case, we assure you that you will. Because the DUS-1 features a mahogany body that creates a sound that both beginners and professionals will find appealing. Moreover, the rosewood fretboard will give your fingers a sensation that you will not want to part with. It comes with 15 marked Brass frets that you can work your fingers on. Moreover, offering so much quality, this ukulele does not fail in looks either. It comes with white carbon nylon strings with tuners that keep your ukulele tuned to perfection.
Pros:
Well-built with quality materials.
Great sound and tone.
Offers a lot of extras like the bag, ukulele strap, carbon nylon string and digital clip-on tuner.
Affordable.
Great appearance.
The return policy.
Cons:
Needs frequent tuning.
3. Donner Soprano Ukulele Spruce DUS-3.
With one Donner ukulele review already on our list, you can guess the great quality ukuleles this company offers. And, you can easily consider DUS-3 one of the best ukulele from all those great ukuleles. With its mahogany body, it produces a sound so rich that it will fill your soul up when you play. Moreover, the rosewood fretboard and bridge as it should be provides a smooth physical sensation in your fingers as well. Besides, the chrome plated guitar style tuners should keep the ukulele in tune for you to face no obstructions ever. It also looks great beside sounding and feeling great. On the other hand, you will find auspicious Chinese clouds imprinted on the fretboard with a sun logo. Definitely adds some uniqueness, doesn't it?
Pros:
Traditional Soprano front and build.
Quality materials used in construction.
Great sound and tone quality,
Offers less hassle with pre-installed startup buttons.
Extras like bag, strap, carbon nylon string and digital clip-on tuner that comes with it.
Cons:
A bit heavy.
4. Kala KA-15S Mahogany Soprano Ukulele.
Kala has never been one to disappoint in what they offer at the price they offer. Most importantly, it is said that the KA 12S is also one of the Kala creations that will keep the entry-level players on their feet (hands in this case). Because, KA 12S is also one of the Kala creations that will keep the entry-level players on their feet (hands in this case). It features a mahogany body like most great ukuleles which does not apparently provide the best sound in the ukulele world but a great one for the range.
Moreover, the rosewood fretboard and bridge with 12 marked brass frets on this 22-inch ukulele makes playing easier and smoother for the musician. The Aquila strings that come pre-installed with it are another proof of the quality of this ukulele. Also, the geared tuners keep these strings in tune. To top it all, the satin finish gives it a simple but classic look that anyone would associate a great ukulele with.
Pros:
Well-built for an entry-level ukulele.
Use of right materials.
Appealing look.
Quality parts.
Great value for the price.
Cons:
Requires proper set-up after arrival.
Not the greatest choice for professionals.
5. Soprano Ukulele Bundle by Hola! Music, HM-21PP Color Series.
Hola! Music gives you the opportunity to get a quality ukulele for yourself in your favourite colour. To clarify, the HM21PP colour series gives you 10 different colours to choose from. In fact, the price it comes at and the accessories it offers are certainly making it the best soprano ukulele for beginners. Apparently, it makes its products in a way that even the paint contributes to improving the sound quality. With a maple body and walnut bridge, these ukuleles feature the thin layer of paint so that a rich warm tone is delivered around it. Moreover, the Walnut fingerboard and the Nato neck give you a comfortable surface to place your fingers on. It consists of 12 nickel frets. The Pre-installed Aquila Nylgut strings it comes with, also adds to the overall quality of the sound. Moreover, itt also looks quite appealing with its slotted bridge and colourful combinations.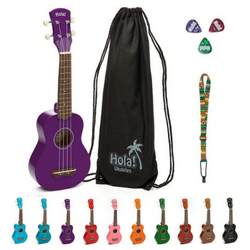 Pros:
Good-quality materials used.
Thoughtful design to maximize efficiency.
Quality sound and tone.
Includes a Canvas tote bag, Ukulele strap and three picks.
Reasonable Price.
Best ukulele for beginners.
Cons:
Requires frequent tuning.
6. Kala Mahogany KAA-15S Soprano Ukulele.
You might get confused with the KA-15S and KAA-15S due to their similar names. But, one look should settle all the confusion. The KAA-15S is a limited edition whereas the KA-15S isn't. Aside from that making the KAA-15S seem special, KAA-15S is better looking than the KA-15S (at least according to me). Just look at the combination of that appealing dark with the light! Certainly, it's mesmerizing! As for the quality, you already know the reputation of Kala ukulele! The KAA-15s features a mahogany body with a rosewood fingerboard, the combination that provides both a great tone and ease of use. It has a rosette design with a satin finish which adds to its already attractive look. To sum up, the geared tuners will make it as less troublesome as possible.
Pros:
Excellent look and design.
The right materials for the right parts.
High quality build.
Great value for the price.
Limited edition making it more precious.
Great sound quality.
Cons:
Does not stay tuned initially.
7. Cordoba 15SM Soprano Ukulele Pack.
If your range is higher than 100 dollars and you want greater value for the greater price, the Cordoba 15SM should fit your needs. Certainly, it is the best soprano ukulele under 200 dollars. If you are worried about the quality at this higher price, the reputation of Cordoba in providing durable and great sounding ukuleles should help you relax. When you are just beginning to play, it's not only the sound that motivates you but the looks as well. This ukulele with its Abalone rosette inlay, solid ivoroid binding and the satin finish is stunning to look at. Moreover, the mahogany body and the rosewood bridge does not just make it sound great but also gives you a smooth surface to work on the chrome.
Pros:
Quality materials used.
Fretboard built to perfection.
Easy to tune and holds tune well.
Comes with Chroma Cast gig bag, stand, and polish cloth.
Lightweight.
Smooth to deal with.
Cons:
Contains no strap button.
Laminated construction.
In conclusion, if you have stayed with us throughout, you should now know the things and features to look at while buying a soprano ukulele. That is to say, a wrong ukulele can deprive you of the satisfying sensation while playing your best. Therefore, choose the best soprano ukulele for yourself and attain satisfaction while playing in the most traditional way. Meanwhile, it's time to say goodbye leaving the path to the best soprano ukulele for you laid out.