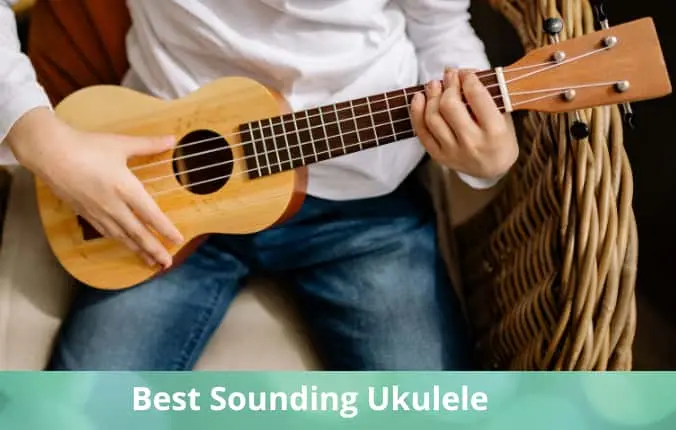 Are you searching for the best-sounding ukulele? It doesn't matter. There are lots of these kinds of ukuleles in the market. Following the development of the ukulele in Portugal in the late 19th Century, the instrument has grown in popularity widely among music lovers day by day. The specialty of this instrument is that everyone can play it easily, whether they are beginners or professionals, but there are many things to consider when buying an instrument. So, we have made a list so that you can sort out the ukulele according to your choice. Let's see what's on our list.
Our Top Pick of the Best Sounding Ukulele
Editor's Choice
Ukulele Concert Size Bundle From Lohanu (LU-C)
Top 7 Best Sounding Ukuleles Within Budget
1. Ukulele Concert Size Bundle From Lohanu (LU-C) – Popular Sounding Ukulele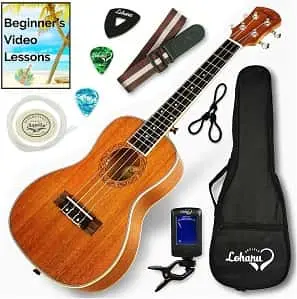 If you want to get a ukulele that is great value for money, the Concert Size Bundle From Lohanu (LU-C) is a superb option. This bundle brings the necessary accessories so that you do not need to spend extra money. That's to say that the bundle is much more affordable than many bundles on the market.
There is no doubt that the Lohanu uke bundle offers entirely great. However, above all, the original ukulele must be good. The brand uses a combination of Sapele/Mahogany to construct the top, back, and sides. The wide neck contains a fingerboard of rosewood that incorporates dots. The laminated wood holds a natural finish that looks more genuine and beautiful.
This exclusive arched-back instrument gives a deep, loud, long-lasting, and full sound compared to a flat-back ukulele. Besides, Lohanu (LU-C) has chrome shiny tuning gears that help to keep it in perfect tuning.
Moreover, the bundle comes with 2-strap buttons installed, a tuner, a padded case, picks, and extra Super Aquila Nylgut strings. It is worth it for both kids and adults. Above all, this Lohanu Bundle is the best-sounding instrument.
Pros:
Pleasant and warm sound
Lovely design and quality craftsmanship
Included all essential accessories
Best unconditional lifetime warranty
Cons:
Big-hand players can feel uncomfortable
2. Tenor Ukulele Ranch Uke – Professional Sounding Ukulele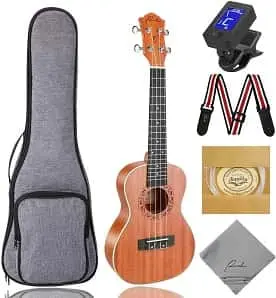 There are players, who have somewhat experience in playing stringed instruments and want to improve their skills, so this best-sounding uke from Ranch is a great option. Due to the high workmanship, the Ranch Tenor Ukulele gives a comfortable experience while playing. Besides, it offers great facilities for players who get started.
However, the UK-26 produces a deep and well-balanced sound as the Ranch has used different types of wood to set up it. It consists of the top and back using Sapele. On the other hand, the head, bridge, neck, and fretboard are of rosewood. The fretboard with nickel frets provides a smooth feeling while touching. The backside is designed with an arched shape to allow the sound to move into the instrument effortlessly and to be durable.
Let's talk about the sound. The Tenor ukulele Arched Back delivers a crisp, warm, full-bodied, longer-lasting, and somewhat deep woody tones sound that is fascinating to hear. The soft and smooth Aquila strings aid in resonating with the sound produced from it.
This 26-inch tenor uke has wide-spaced frets that are befitting for novices, intermediate players, or professionals. Further, this awesome pack offers some essential accessories to add value to your purchase.
Pros:
Eye-catching design
Easy to play for players of all classes
Lightweight and well-built features
Bright and distinctive tone and sound
Cons:
Thin body compared to headstock and neck
3. Kmise Baritone Ukulele 30-inch Uke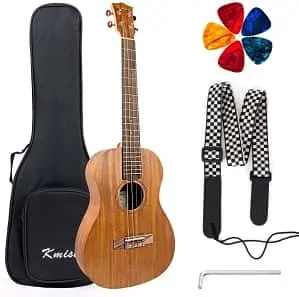 This popular-sounding ukulele of the Kmise comes at a low price that makes your buying reasonable with quality instruments. Also, this pack offers many extra things that you require to buy separately from other models.
The mahogany body and satin Finish figure out the natural beauty of the wood and provide it with a stunning look. The brand makes the smooth fretboard with neat Fret Wire to reduce the action. Consequently, the players will be able to play it safely, but there is no buzzing sound.
Further, to ensure stable tuning, the Kmise KMU30B gives a set of 18:1 high-quality tuners that function well to keep in tune. It is equipped with high-quality strings of premium metallic and nylon, which confirm a fascinating and warm sound. You will get an installed adjustable truss rod to adjust the action as you wish.
This Baritone Uke gives you some replacement strings, some picks, a tuner, and a strap to start playing quickly. We assure you that buying it will never be a waste of money.
Pros:
Quality craftsmanship and use of the best materials
Excellent sound and tone
Great value for a nice ukulele
Cheap price
Cons:
4. Everjoys Soprano Ukulele Pack-21 – Beginner Sounding Uke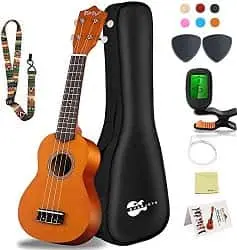 Many music lovers, including children, choose colorful ukuleles. This prominent model is available in many different colors. It is a beginner pack that brings all the necessary accessories. This pack helps novices to start playing quickly.
Everjoys has used beautiful basswood for the body, solid wood for the neck, and blackwood for the fingerboard and bridge to construct the whole instrument. It contains an eco-friendly design. So, this soprano ukulele has become a favorite instrument for many.
The magnificent uke doesn't give the sound like the priced ukulele. But it is worthy enough to continue the music activities. This model includes playable nylon strings that help to keep in tune. Usually, most stringed instruments require time to synthesize to the climate. Therefore, it also needs a while to get in tune.
The noticeable thing is that this kit provides a lot of useful extra equipment such as a handy digital tuner, a fun songbook, two spare picks, a Spare String, a microfiber polishing cloth, a colorful strap, a convenient bag, a printed box, and a message card. Above all, we can say that this model is the best-sounding uke for kids as well as players of all levels.
Pros:
Small and lightweight instrument
Comfortable to play with small hands
Less expensive
Colorful design
Cons:
The sound quality is not great
5. Donner DUC-1 Concert Ukulele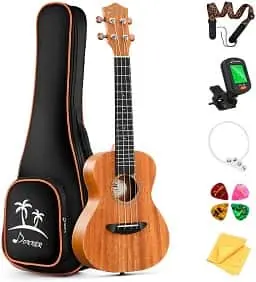 The Donner Uke is wonderfully the best-sounding ukulele in the price range. It is usually a concert-sized ukulele. Its playability, sound, tone, and craftsmanship are like big-budget instruments.
This concert uke features a mahogany body that is known for its superb and enriched melody. Likewise, the neck consists of the same wood. On the other hand, it has rosewood fingerboards and bridges to make it feel comfortable to play.
This model is an appropriate instrument to take the tropical atmosphere behind the rocks somewhere. Whether you are at the sea beach or outdoors, it is able enough to create a good resonance. It's the proper type of ukulele that boosts your ability to play.
The most remarkable thing is that the Aquila Nylon Strings and high-quality tuners come together to stay in tune. With a clear and sweet sound, the soft and smooth strings give you a pleasant feel to touch them. Its stunning design inspires beginners and professionals to enjoy their music sessions.
Pros:
Marvelously well-built and playable
A standard instrument with a lovely sound
Good choice at a low cost
All of the essentials included
Cons:
Some seasoned players don't like it
6. Kala KA-T Tenor Ukulele Bundle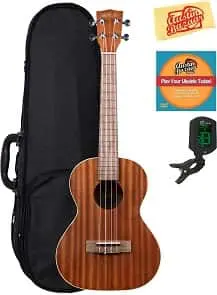 It is an excellent apprentice instrument that brings an entire starter bundle. Kala has designed this best-sounding ukulele for those who want to learn to play the uke. Also, it is a travel ukulele for the more skilled players.
The body of this tenor uke is built with laminated mahogany. The laminated structure is exactly adaptable. It is capable of adjusting to different weather conditions. The outcome is that this model is befitting to travel anywhere and is a fantastic beginner uke due to the lower cost compared to hardwood ukuleles.
The Kala KA-T provides a lovely, warm, and enriched tone. Since it is a tenor uke, it features higher resonance and projection. Besides, it contains a decent, crisp, and sweet sound that is famous.
It has an attractive satin finish and a cream-binding body. The neck is mahogany-constructed like the body, and the fretboard is of walnut. This beautiful uke provides extra glossiness to the gentle warmth of the mahogany body.
This distinguished instrument offers die-cast chrome tuners that work well to maintain stability. It has a rosewood bridge and a plastic saddle.
Further, this bundle includes a few essential extras so that enthusiastic players can start playing immediately after purchase.
Pros:
Well-built ukulele and easy to play
Balanced melody and sound
Lightweight and transportable
Inclusion of free accessories
Cons:
The nut and saddle are of plastic
7. AKLOT AKEC23 Electric Acoustic Concert Ukulele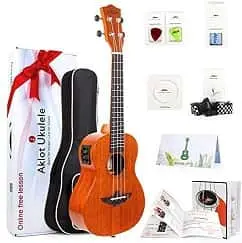 We have included an electric acoustic ukulele to compile a list of the best-sounding ukuleles. Indeed, the AKLOT Electric-Acoustic Concert Ukulele is a beginner kit, which comes full of free online courses and essential accessories to begin practice immediately.
However, the AKLOT AKEC23 is a concert uke, yet it is a bit large in comparison to standard ukuleles. So, it is easy enough to learn for novices. It offers a solid mahogany soundboard, which implies this electric concert uke gives an enriched and vivid tone compared to laminate tops. On the other hand, Mahogany provides better service with age. Consequently, the more you play, the more it gives a good sound and tone.
One important feature is that it has rounded edges that will be helpful for learners. Unlike angled edges in most ukuleles, rounded edges deliver more easement to play and practice for long sessions.
The other features are a bridge piezo pickup, 3-band EQ, and 18:1 open copper gear tuners. This kit offers nine free online lessons to learn everything from chords to fingerpicking and an instructional booklet on how to maintain and use it. Moreover, you will get two picks, a cleaning cloth, a strap, and an extra set of strings as accessories.
Pros:
Sturdy wood soundboard
Stable sound and authentic tone
Low action for easy play without buzzing
Built-in tuner and 3-band EQ
Cons:
2032 button batteries used
Best Sounding Ukulele Buying Guide
Picking a high-quality-sounding ukulele is a bit difficult, especially for beginners. There are several different sizes, types, woods, and best ukulele brands on the market. So, if you are new to playing, it can be a confusing process to find the right instrument. Before choosing the best-sounding uke, you should consider a few things.
The Main Types of Ukuleles
We find the four main types of ukuleles. They are soprano, concert, tenor, and baritone – different in size and tonal scale each. The soprano, concert, and tenor ukuleles are the same in tune (G-C-E-A), which is familiar as the standard tuning. On the other hand, the tuning process of the baritone is D-G-B-E.
Soprano
It is the most popular, well-known, and standard size of all ukulele styles. This size is smaller and thinner than the others. As a result, the players with large fingers feel trouble due to the close frets. But, if your fingers are not large, you don't feel too much problem. It is a fun instrument and the most affordable of the four.
Length: 21 inches
Number of Frets: 12-15
Tuning – GCEA
Concert
It is the next size of the soprano. The concert offers a traditional-sounding tone. It features a crisp and warm sound that is loud. It has wide frets and, therefore, might be a stylish option for players who have big hands. Likewise, this type can be a good option for beginners who are looking for higher sound and larger sizes.
Length: 23 inches
Number of Frets: 15-18
Tuning – GCEA
Tenor
The tenor is a bit big compared to both soprano and concert ukuleles. It gives an enriched, deep, and full sound, which is one of the reasons for its popularity among professional musicians. Its standard tuning is the G-C-E-A, but sometimes, you can do a lower tune like a baritone uke (DGBE).
Length: 26 inches
Number of Frets: 17–19
Tuning – GCEA
Baritone
It is the largest size of the ukulele family. The baritone ukulele is tuned like the highest four strings on a guitar – D-G-B-E. Due to its resemblance to the guitar and the large frets, many guitarists are converted to baritone. It is an ideal option for players who are exploring big ukes with big frets.
Length: 29 inches
Number of Frets: 18-21
Tuning – DGBE
Know the necessary attributes: How to choose the best-sounding ukulele?
Function
First, you should consider when buying a ukulele what you want to do. It could be that you are buying a ukulele for learning, traveling, stage-performing, or any other reason. Each model has its innate features. As a result, you need to determine why you're buying a ukulele.
Size
The size of the ukulele is one of the obvious reasons to pick the correct one. Big ukuleles have a warm, loud tone and contain a spacious finger room. Another factor to take into consideration is the number of frets in a ukulele.
Sound
The sound of a ukulele turns it into its melody. In truth, it is a specific thing that will vary from person to person. The sound has to be buzz-free, with reasonable projection. The note from the highest to the lowest has to be without drops and spikes.
Budget
Buying the best-sounding uke depends on how much money you are capable of spending. But, the good news is that there are plenty of ukuleles available on the market at a reasonable price, including high-quality ones.
The Final Word
It is a fantastic feeling to buy the best-sounding ukulele, although it is only the beginning of the way to becoming a great musician. We recommend taking the time before the final decision. So, make a shortlist of your choices. Then if it is possible, watch videos and read reviews. Don't hasten.
Maybe, you are a beginner or an experienced player. From the list above, we hope that you will find your desired one. Best wishes!