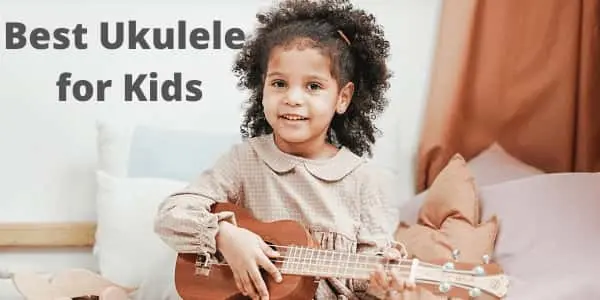 Music helps kids develop talent. So parents get inspired to teach their children to play the best-sounding musical instrument. But when it arises the question of picking, the ukulele becomes the perfect one. But why? Because the uke is smaller in size than the guitar, suitable for little hands, and easy to learn to play. To clarify, kids master it quickly without any frustration. Above all, they are also able to build a strong foundation as a musician in the shortest time. Now, look at the best ukulele for kids below.
Best Ukulele for Kids: Our Top Pick
Editor's Pick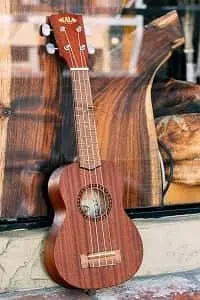 Kala KA-15S Mahogany Soprano Ukulele
We pick the top-rated uke for kids as the Kala KA-15S Mahogany Soprano Uke. Indeed, it comes with a beautiful Walnut Fingerboard and Bridge, Mahogany Neck, and more.
Features
• High-quality instrument
• Perfect for kids
After that, the price of this uke can be lower or higher for someone, and even some better models can cost less than $100. Similarly, some cheap models come in under $50. However, your investment in this is minimal compared to the cost of other instruments.
Meanwhile, considering the cost and other factors, we have made a list of six of the best ukuleles for kids. So be prepared, because the upcoming trip is going to be fun and enjoyable!
Top 6 Best Quality Ukuleles for Kids:
1. Kala KA-15S Soprano Ukulele for Kids
You are willing to pick a soprano uke for your child that is the smallest size.  No matter, the Kala KA-15S can be a decent sorting.
This uke is an excellent and traditional Mahogany Soprano Uke that comes with a satin finish with a bright, warm, and full-bodied sound. In addition to these, it includes a beautiful Walnut fingerboard and bridge, a Mahogany neck, 12 brass frets, and Aquila Super Nylgut strings.
The KA-15S has high-quality tuning machines too. Further, its etched Polynesian-style Shark teeth rosette adds a different dimension.
Pros:
Easy to use
Affordable for purchasing
Attractive design
Magnificent beginner package
Cons:
Requires tuning from time to time
Who Will Pick This Ukulele?
The KA-15S of the Kala brand is very popular with all types of beginner uke players, including children. Moreover, many small-handed uke professionals also use it. Besides, KA-15S is the school's preferred uke because it is quite proper for classroom use, practice, and acoustic performance. That's to say, for just under $ 50, you might get good quality and well-branded uke.
2. ADM Beginner Ukulele 21 Inch Kids Starter Pack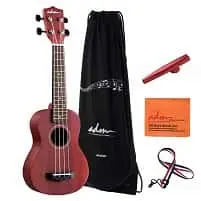 Are you looking for the best uke for kids under $50? So, the ADM Beginner Uke Soprano Kids Starter Pack is the right one for you. It has a wine-red color finish and a basswood body with a high-density fingerboard and bridge.
The pack of this uke offers everything your kid needs to get begun: a clip-on tuner with an LED display, an extra package of Aquila strings, a waterproof nylon gig bag, and a neck strap for pleasant playing. Besides, you'll get a 30-day guarantee and a one-year warranty. Most importantly, due to its eco-friendly design, it will be your favorite instrument.
Pros:
Suitable for children and beginners
A high-quality instrument with accessories
A distinctive tone
Cheap in price
Cons:
Some reports on producing defects
Who will pick this ukulele?
You have a little kid and want to teach him to play the uke. But, you don't want to spend much money at this moment. In this case, the uke might be an excellent choice for you. It comes at an affordable price but gives a real experience of a uke. However, it has some manufacturing defects in the eyes of reviewers. Since the warranty and guarantee have existed, its replacement is available if needed.
3. Honsing Soprano Ukulele for Beginner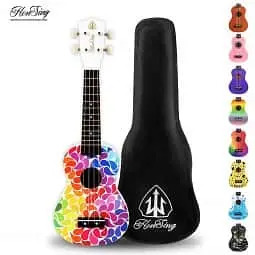 You are interested in getting a uke for your child that is high quality and environmentally friendly. Of course, this Soprano Uke will be the top selection among the best ukuleles for the child.
The design of its body maintains Hawaiian tradition. Above all, made with high-quality basswood, this uke keeps the value precisely. Its great fretboard gives you to enjoy the experience of real music. Moreover, the nylon strings represent a different dimension and simplify the learning process. Also, you will get a carrying bag.
Most importantly, if you choose to buy, your baby will fall in love with this lightweight and colorful uke.
Pros:
Decent sound
Multicolor and fun design
Cheap in price, but the exact function
Pledged for travel
Cons:
No additional accessories included
Who will Pick this uke?
You are exploring a kids' uke that is colorful and suitable for travel but will not be plastic. Then your search may end. Parents of children between 5 and 10 love it very much. However, many older people also like to keep it in their collection.
4. Mahalo Rainbow Series Soprano Ukulele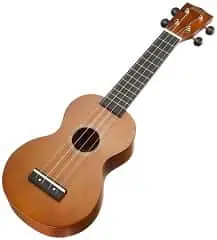 You are thinking of buying a uke, and your child will be happy to receive it. The Mahalo Rainbow Series Soprano Uke will make your kid happy.
However, this uke of Mahalo, suitable for toddlers, appears strung with Italian Aquila Nylgut Strings for pleasing sounds and comfortable playing. The beginner pack contains a digital lesson download and a carrying bag. Furthermore, this pack provides a 45-minute lesson that covers the playing technique, tuning, chord voicing, musical vocabulary, and more. Besides, it keeps dolphin-shaped geared tuners for maintaining its tune.
In short, it will be an excellent collection for your kid.
Pros:
Downloadable video lesson with Ukulele Bartt
Appropriate for the beginners
Inclusion of additional accessories
Excellent sound
Cons:
It takes a while to get the tune
Who will pick this uke?
This uke is suitable for both children and adults who want to start playing uke for the first time. So, if you want a real uke, it'll not be too expensive. Furthermore, beginners can learn to play this uke from the video lesson.
5. Kala MK-SS-BLK Soprano Ukulele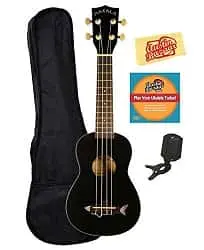 You are finding such a uke so that your child can start to play right away. The Kala MK-SS-BLK Makala Shark Soprano Uke will provide you with everything at once. Its bundle includes a gig bag for safely packing, an easy-to-use clip-on tuner to keep the uke in tune, an Austin Bazaar instructional DVD for tips, and a polishing cloth.
The Makala Shark consists of a rosewood fingerboard, mahogany neck, Agathis top, and Aquila strings. Moreover, it has also a bridge shaped like a shark.
However, the specialty of this uke is that it is not only made for children but full-aged can also play it as well.  Most importantly, it will add value to your purchase.
Pros:
Suitable for both males and female
Great sound and classic tone
 High-quality and necessary accessories
Cons:
No peg for the neck strap
Who will pick this uke?
The Makala Shark Soprano Uke has gained popularity among younger boys and girls. Besides, adults also like it. But, its price is a little over $50. Maybe, its cost is a bit higher than the other options, but an element of extra quality comes to you.
6. Moukey Ukulele Starter Pack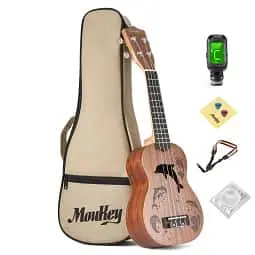 This Beginner Pack is an ideal soprano-sized uke. The dolphin-shaped design on the top of the uke makes it unique and lovely. Because of the use of 4 high-quality nylon strings, the neck of the uke produces a clear sound. Besides, this company uses four close-type pegs to design the back of the neck top. Further, they use a high-quality metal knob to make each peg. On the other hand, this package offers a free high-quality gig bag, strap, digital tuner, medium picks, cleaning cloth, and extra Aquila strings.
Moreover, you get back a full refund within 30 days if you find any quality problems with the product or are unhappy with it for any reason.
Pros:
Great sound
Free Accessories
Excellent for traveling
Appealing design for children
Cons:
Who will Pick this uke?
Children and teenagers enjoy it very much because of the fun look. But it's not a toy. Therefore, parents, teachers, and others choose it very much. In other words, it is affordable despite providing accessories. However, you can find it for under $50.
Tips to Pick the Best Kids Ukulele
The popularity of the uke is increasing day by day. So, children of almost all ages have become interested in learning to play the ukulele. Likewise, your child wants to learn to play the uke. So you're thinking of buying a ukulele and will prioritize the child's pick. That's fine, but there are some other things to consider.
Materials
You might want to consider buying a low-cost uke, but if you are afraid that your baby may break it fast, it is best to choose a real wood ukulele. Plastic ukes are great for children, but they are more fragile than wooden ukes. So you have to be extra careful while playing and transporting them. Moreover, the geared tuners help to play the uke easily and arouse interest by eliminating frustration.
Size
There are four types of ukuleles based on size. They are Soprano, Concert, Tenor, and Baritone. Among them, the soprano is small. Therefore, most kids feel comfortable playing the soprano ukulele.  The size is perfect for small-handed uke players to play with. However, you can choose the uke that is perfect for your child.
Design
It is needless to say that children are always attracted to things of color. So, it is natural that your child can also love the colorful and attractive uke.  There is nothing to worry about because many manufacturing companies produce attractively designed ukes. So choose a good quality uke with a pleasing design so that your child is more likely to practice.
Accessories
Accessories like tuners and gig bags are not needed very much, but children are happy to have them. In other words, if your child is very interested in learning and you don't want to spend any money to teach him/her, find uke with accessories like Online lessons, CDs, or DVDs.
Price
You should look for a beginner ukulele that fits your budget. On the other hand, you may also prefer a bundle option that will be free shipping. Usually, high-quality uke is available for kiddies between $25 and $60. Moreover, if your offspring promises a high level and wants to improve his/her skills, you can buy a relatively better uke, but it's under $100.
Check out the beginner-friendly ukulele
Learning to play ukulele is fairly simple in comparison with other instruments for its size. As a result, people can effortlessly concentrate on learning how to play it. So, your kid will not have to fall into difficulties on how to play it with comfort.
Manufacturers design the best ukulele model for kids as beginner-friendly. In this way, children will become familiar with the fundamental features of the ukulele.
Beginner-friendly ukuleles contain an extended fingerboard. Typically, the extended fingerboard is helpful because it provides more space to keep your kid's fingers while playing with chords. Another way to check beginner-friendly for kids is Fret-location marks on the fretboard.
FAQs of the Best Ukulele for Kids
Q: What is the best starter ukulele for kids?
You can begin with a soprano ukulele if you have not picked an instrument so far. Ukuleles are in four sizes: soprano, concert, tenor, and baritone. But, the soprano is the smallest among them. There are many renowned brands like Kala, Donner, Luna, etc., that offer quality products. We need to consider the colors while buying because we are talking about kids.
Q: At what age can kids begin to play the ukulele?
The right age for a kid to start with any instrument is when they feel interested in learning it. If you attempt to teach kids by force, they may lose their interest in playing.
Many suggest being 6 years old, but I have viewed 3-year-old players perform magically! However, we think that it is best to start at 3 years of age or older.
Q: How can I Teach My kid the Ukulele?
To teach your kids at home, you begin with simple things.
Give a full description of the parts of the instrument.
Teach how to hold the uke.
Teach how to tune the instrument.
Give an idea of the Chords.
Show how to strum.
Final Thoughts
Lastly, it is a challenging task to choose the best ukulele for kids. But, we hope that the lists mentioned above make it easier to pick the best one.