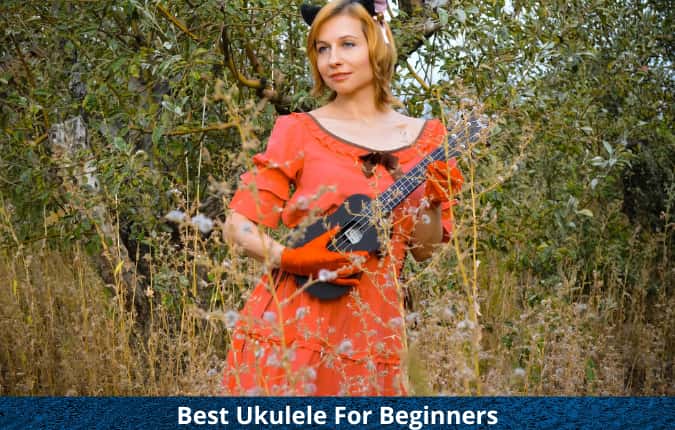 So, you have decided to learn how to play a new musical instrument. To clarify, what musical instrument could be better than the ukulele? It is easier to learn than the guitar but sounds just as charming and can be used to play most kinds of music. Now, we're going to discuss the best ukulele for beginners who learn to play.
Ukuleles have been around since the 19th century after being first adopted in Hawaii, and then gaining popularity around the world. In short, it is one of the most played musical instruments and is treasured by many musicians. There are a lot of manufacturers out there so choosing, which instrument is good as a good-sounding ukulele can be a little overwhelming. These tools come in a variety of sizes and have many features that make them no less than any other musical instrument. Consequently, it is proper for children and adults alike, and for those who want to learn an easy and fun apparatus.
Editor's Choice
OFFICIAL KALA LEARN TO PLAY UKULELE FOR BEGINNERS
Sopranos and concerts are the smallest kinds and are the best ukulele for beginners, but anyone with bigger hands may opt for a tenor or a baritone. To clarify, you need to decide what type of ukulele is most appealing to you. We have put together a list of Ukuleles consisting of different brands, models, sizes, and prices. So read on to find out more about which Ukulele is the best fit for you.
Top 19 the Best Beginner Ukuleles of 2023
It isn't easy picking the top 20 Ukuleles as there are plenty of options available on the market today, but we have made our pick based on the ones that are the best ukuleles for beginners.
1. Official Kala Learn to Play Ukulele Kit for Beginners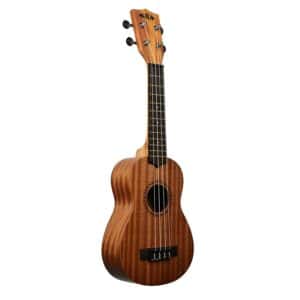 Kala manufactures some of the best high-quality Ukuleles you can get your hands on. However, it designs the Learn to Play Starter Kit, especially for those who have just begun their journey of becoming great artists. The kit consists of a Soprano Ukulele made of light mahogany wood, online lessons, and a tuner app, all for an incredibly small amount! These will help you with very minimal effort from your side, but at the same time, you will get to hone your skills just as much as you would have if you had worked on them by yourself.
Sopranos is the smallest ukulele and are the best ukulele for beginners. The strings on this uke are Aquila Nylguts which are very smooth to touch and delicate enough for first-timers, preferred by most ukulele players, your fingers will thank you for that. The fretwork is praiseworthy with the frets well-placed to ensure there is no discomfort at all, and the playing is precise.
The Tuner App is great to get that perfect tune, and you can easily access it using your computer from home, studio, or any other place. Kala has designed its Tuner App to make the best tuning possible for your instrument. If you need that extra bit of help, you can make great use of the online lessons, which will guide you through the steps and teach you all the various techniques to make your journey harmonious and fun.
Pros:
Affordable. Getting your first uke should not burn a hole in your pocket, and neither will this bundle.
Beautifully built with good quality mahogany wood and a satin finish that provides the optimum elegance that you seek.
AquilaNylgut Strings. These strings are easy on your fingers, making them a popular choice amongst most musicians as they provide fantastic sound and boost an amazing aura.
Free online lessons can prove to be very useful for beginners who have very little knowledge of the different techniques and various notes.
Cons:
No tuner. Its kit comes with an app for tuning but no actual tuner. Maybe, a problem accessing it when nowhere near the computer or any other source of electronics.
2. Donner Concert Ukulele DUC-1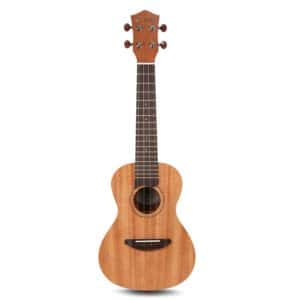 After that, our list is the DUC-1 Concert Ukulele. The ukulele is a superb choice for beginners. Similarly, it is suitable for anyone who is looking for a good instrument. It gives a great sound at a low price. Donner has done a great job with this one!
A traditional Concert ukulele offers more frets than a Soprano, in this case, 18 brass frets with fret position marks at 5th, 7th, 10th, and 12th frets on the neck and top of the rosewood fingerboard. You will enjoy strumming with the smooth carbon nylon strings while the chrome-plated guitar-style tuners will ensure you are never out of tune. If you like traditional ukes, yet one that has a joyful melody that reminds you of being on an island on a warm, sunny day, of course, this is the right choice for you.
This Donner ukulele is easy to carry in a sturdy bag that comes in handy while taking your equipment around. The bag has shoulder straps for hassle-free carrying, so you know that your little instrument is always with you wherever you go and, it protects your uke from getting damaged.
Pros:
Not too expensive but holds the same attractive characteristics as any high-end ukulele.
Great sound. You will be thrilled at how amazing this uke sounds even at such a moderate price.
Made using mahogany wood. Solid construction, not all that looks cheap.
Great size for those looking for something bigger than a Soprano with more frets and range, this works well for those wanting to learn to use more features but still staying on the smaller version of instruments.
Extras: A sturdy bag to carry and protect your ukulele from damage, extra strings in case the original ones lose their durability, and an original tuner for structured tuning.
Cons:
Tuner. Some people found the tuner to be faulty, where it broke off or didn't work well. You might have to get an extra tuner that works well with this ukulele.
3. Cordoba 15CM Concert Ukulele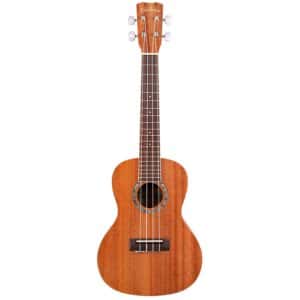 If you are more interested in a concert ukulele that is handmade and carries a traditional look, then you might consider this model from Cordoba.
Made of mahogany on the top, back, and sides, this ukulele is most popular when it comes to creating the perfect body. On the other hand, finished with rosewood, the fingerboard and bridge give it an eminent yet warm sound. Features like silver tuners and pearl buttons help you stay in tune while the premium Aquila strings facilitate strumming. Further, a good set of strings ensures that you don't have to compromise with the sound quality and play offbeat music.
The price of this uke falls in the medium range, but it is a good buy for the amount they are charging.
Pros:
A beautiful traditional look that you will want to flaunt around to your loved ones.
The warm tone gives a positive ring to whatever you are playing.
A smooth Fretboard with the right placement ensures your firm control over whichever notes you want to play.
Intonation. Once you stretch the strings, the tuning commences. By practicing daily, you can produce an ideal type of sound with this adorable ukulele. It's just a matter of time!
Cons:
Medium price range. Not only expensive but also cheap although it carries good value.
It may take some time to get the perfect tuning. Must be tuned continuously for the first few days for the strings to reach a point of straightening out, which can be very frustrating to some not want to waste unnecessary time just tuning it.
4. Hricane Ukulele Soprano for Beginners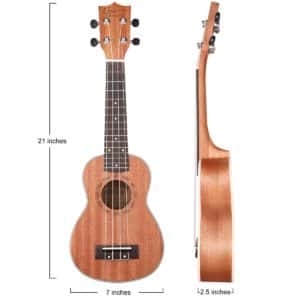 This Soprano's body consists of using Sapele, a sturdy wood that is easy to carve. Sapele is similar to Mahogany, providing a medium-range-heavy tonal feature of the ukulele with delicate overtones, with a tremendous treble, appearance, and complex overtones. Sapele also adds some extra high-end into the mix, which adds to the eminence of this uke.
The Hricane UKS-1 ukulele is small and compact, making it easy for beginners to carry to music classes and play on most occasions. It offers 15 brass frets, which are good enough to play more music, you can practice tuning and attractive music in a short time. Moreover, the four advanced carbon nylon high-class strings and rosewood Fingerboard offer sweet sounds and are great even for professionals who are already familiar with this kind of instrument. Ukuleles must have commendable quality tuning machines or else everything will seem to fall apart, so the tuner on this uke takes care of that and assures perfect tuning.
In addition to these, the extra package accessories consist of a tuner that comes in handy to stay in tune, extra strings to ensure you have flawless strumming, a nice-looking Gigbag, and a strap to hold and make portability easier for you.
Pros:
Inexpensive. This bundle won't rip you off and also comes with great extras.
High-quality wooden outline for that gorgeous traditional look that promotes an excellent visual appearance
Size. It is so lightweight that you can take it around with no difficulty. Consequently, this best ukulele for beginners is an advantage.
Cons:
Needs to be tuned after each song, causing an interruption in between playing.
5. Aklot 23-inch Concert Ukulele Beginner Pack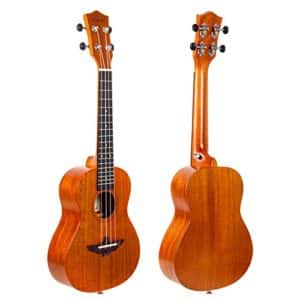 This starter pack comes with so much to look at the front. You get a gorgeous solid mahogany uke with a terrific tone and uphold. The loudest sound is perfect when playing to the crowd, and you can be sure of the great tune every time with the 18:1 Copper Gear Tuner. Besides, notice that they haven't used brass-plated zinc, copper gear with stainless steel shaft tuners provides better modulation and can stay tuned for longer, so you don't have to keep the tune after playing each song. Consequently, it saves time and helps you make smooth and uninterrupted transitions between each song.
It also comes with online lessons to help you understand and play your precious instrument better and more accurately. As a result, you won't fall into confusion or disappointment after purchasing
The fingerboard is smooth to the touch with nicely placed 18 Cupronickel wire frets for a better feel, keeping in mind that rough frets may cause discomfort, especially to first-time players.
Pros:
A great deal. It comes with quite a lot of extras like a bag, tuner, extra string, strap, cleaning cloth, and instruction booklet. The booklet gives you a clear view of how to operate your new ukulele.
Amazing tuner. A song out of tune doesn't sound at all, and this uke has a high-quality tuner that allows many people to handle it with ease.
Body. Made of solid mahogany wood, you can be sure of durability and sustenance. But it needs maintenance because solid wood ukes are prone to damage by climate change. If you can take care of this tool, it will last you for ages and save you the hassle of getting a new one.
Cons:
A few concerns about its frets placement. Some models have shown frets to be sticking out of the sides, which can hurt the fingers, but it is not a common problem. Children, in particular, must be cautious when handling this instrument.
6. ADM Soprano Economic Ukulele Beginner Pack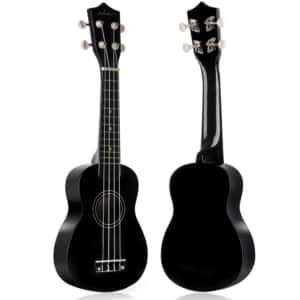 ADM makes their instruments, keeping the novices and professional players in mind, their ukes are made of student-grade material, which makes them playable and of pleasurable worth. They are quite affordable even though they carry high-end features alongside useful extras as a bonus.
Most importantly, the basswood body offers a unique look and sturdiness. Besides, it also comes along with a clip-on tuner. You must give some time for the strings to settle as well as for the wood to get used to the pulling force to get the ideal tune. Most new ukuleles need some time to adapt to the preferred state.
One useful trait is the fingerboard stickers that come along with the extras.
Pros:
Portable. The compact size of the 21-inch Soprano is pretty. It's trouble-free to carry and an excellent gift to present to children.
It's easy to tune in. If your tunes do not hit the correct marks, you will not be happy with the result of the job, so choosing a tool with the right tuner is very important.
The Brass-wood fingerboard and the bridge offer a strong structure and a good grip for the players.
Nylon strings provide a smooth texture while strumming, causing less soreness to your fingers, making it the best ukulele for beginners with delicate skin.
Fingerboard stickers. These serve as a fun and helpful guide for beginners.
Extras: In addition to a great uke, you also get a waterproof bag, the clip-on tuner with an LED display, a hook-in strap to hang your uke while playing in a standing position, and a polishing cloth to keep it spotless at all times.
Cons:
Tuning can be difficult from time to time, which will cause you to hit the wrong note.
Plastic pick. These kinds of picks are not very popular or the preferred type for ukes as they change the original tone.
Amateur visuals. The look of this uke might not appeal to all. But it is okay to start your first lesson.
As this is a standard soprano, its size might not be suitable for people with larger hands, looking for more space between the frets. So, adults wishing to learn the ukulele might face some difficulties in managing this instrument.
7. Luna UKETCMAH Tattoo Concert Ukulele for Beginners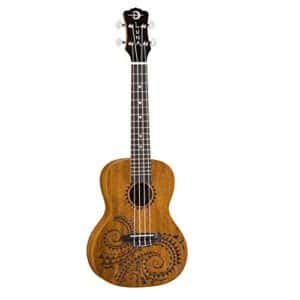 Luna is known for its personalized and unique designs, specifically made as per customer demands. Luna creates their instruments with the most sophisticated and exclusive material, influenced by rich Hawaiian traditions.
The uke appears to be a little smaller than usual Concerts but maintains the same traits of most concerts. It uses the Polynesian tattoo style too. So, its designs are monochromatic and boldly geometrical. The body and the neck are made of mahogany, while the fretboard is of rosewood.
The fret marks will succeed in catching your attention as they are stylized by shark teeth. Likewise, you will love the sound quality of this uke as it delivers a clean, vibrant sound.
Pros:
The Luna UKETCMAH Tattoo Concert has personalized designs that make it a proper choice for those who seek something different.
Interesting. It makes a great gift as it is attractive and unique.
Exceptional fret markers are styled using shark teeth; this is not a very common trait and so differentiates it from other ukes.
Extras: Comes with a gig bag to protect and keep your precious instrument safe and in good condition.
Cons:
This Concert appears to be smaller than a traditional concert, which may not meet the expectations of those looking for larger features. Moreover, the mixed wood is considerably thin, thus questioning its durability.
The finishing of the product is not exceptionally good as some surfaces are rough to the touch.
Some may find this ukulele expensive.
8. Kala MK-C Makala Concert Ukulele for Beginners Bundle

Another notable instrument created by Kala comes with useful extras for the first time when learning how to play the ukulele. On the other hand, Kala Concert ukes are known for their exquisite and warm sound and just about right tuning. Because it is reasonably priced, you won't have to spend much to own this great tool either. This uke lives up to the expectations of most Kala instrument users. Despite its 'proletarian' appearance, it gives a traditional uke sound, made of just the right amount of crispiness and sharpness.
Pros:
Traditional use of sound. Crisp and brighter is more profound than a soprano
AquilaNylgut strings, which go easy on the fingers and make strumming enjoyable.
Budget-friendly for starting on your musical journey.
Sturdy construction that gives it longevity.
Extras: Comes with a digital chromatic tuner to help play music in tune, and a sufficient bag that protects the uke from damage.
Cons:
The finishing is not up to the mark and may display rough edges.
Minor tuning difficulties which might take some time to adjust.
Could appear "toyish" to some due to its small frame.
A few cases report tuning pegs rattling if not handled with care. This might not be the case with all models.
9. Hola! Music Solid Spruce Concert Ukulele for Beginners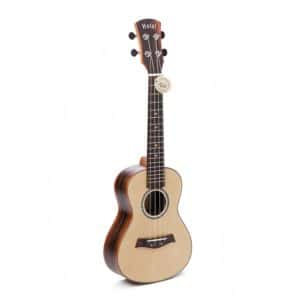 An excellent product by Hola! Music that comes at a moderately high price but with extraordinary features is the Solid Spruce Concert ukulele. This company manufactures well-constructed high-quality and great-sounding musical instruments that you will enjoy playing around with. The Concert ukulele measures 24 inches, recommended for beginners or professionals interested in something bigger than a Soprano.
Made of mixed wood, the top of this uke is of Solid Spruce while the back and sides are Ebonies. The result of this mix is a beautiful tonewood. The fingerboards are rosewood, and NATO has been used to construct the neck. Besides, with 18 silver nickel frets, this ukulele is very comfortable to handle. The nut and saddle, which are in direct contact, with the strings are made of Ox bone, which is an upgrade from normal plastic ones. Moreover, the nut and saddle promote better intonation while the premium Aquila Nylgut strings make strumming a delightful experience.
Pros:
Many reviewers have commented that it is the best ukulele for beginners.
The mixed wood construction gives this uke an exceptional look and tone.
Made of Ox bone, the nut and saddle provide an indispensable texture.
This ukulele uses High-quality Aquila Nylgut strings, which make it soft enough for delicate hands.
It carries a bold and elegant exterior.
Cons:
Moderately high priced.
Although it possesses worthy features, it still needs to be tuned frequently, which many are not keen to experience.
Strings may appear stretchy and cause discomfort while strumming.
10. Oscar Schmidt OU5 Koa Concert Ukulele for Beginners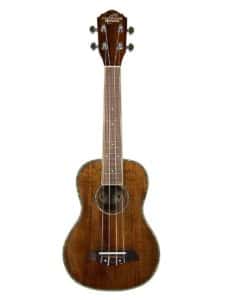 Oscar Schmidt's ukuleles are quickly becoming quite popular and in high demand. The OU5 KOA Concert is a beautiful instrument that you would be proud to own. This uke comes with a hefty price tag and may not be suitable for all, but those looking to invest in a high-quality ukulele may opt for it.
A little larger than a soprano, this carries more warmth in its tone and a noticeably higher pitch. The top, back, and sides are of Hawaiian Koa with Abalone binding and rosette, giving it an exquisite appearance. It is a great-sounding product with a very professional look. The Nyatoh neck has 16 perfectly placed frets, while the clip-on tuner is of Grover chrome. Further, this ukulele has included an instructional DVD to guide you through all the steps and save you a lot of time while enhancing your playing skills.
Pros:
Perfectly tuned instrument. You will find the tune pleasing and easy to accomplish, a notable factor when it comes to experiencing subtle stimulation.
Formidable projection and sound, noticeable loud clearer texture.
The gorgeous overall design makes this uke look very classy.
Koa wood is known for its high durability and stunning visuals.
The number of frets than a soprano, allowing higher notes.
Cons:
It may not suit your budget because it is one of the most expensive ukes in the market.
Sounds "off" to some, although this might differ from one model to another.
11. Kala KA-15S-S Soprano Ukulele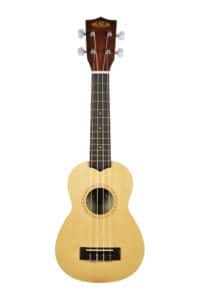 An affordable ukulele from the reputed Kala company, Kala ukes are crafted, especially the best ukulele for beginners who want to practice and play using top-quality instruments that carry the traditional ukulele look and sound. Sopranos are designed for smaller hands and movement, making it a trendy choice among newbies.
Made of mahogany wood in this uke, the company uses the same wood to construct the back, neck, and sides. Although a mahogany uke may look sober, it possesses a lot of hips. It has a spruce top for bright sound and a walnut fretboard for accurate tuning. The Nut is cut, which allows the strings a sliding path into the tuning machine. This feature plays a vital role in promoting correct intonation.
Pros:
Musicians love Kala ukes worldwide, and despite their high demand, they are affordable.
Made using high-quality mahogany wood. Kala swears by this wood because it is an ideal type of wood for better structure and melody.
Traditional ukulele look. Another Kala common trait proves that nothing beats originality.
The crisp, bright sound that you can expect from the usual soprano.
Cons:
You will have to buy an additional tuner as it does not come with a pre-installed tuner.
Tuning is required from time to time.
12. Bondi-Concert Ukulele Starter Kit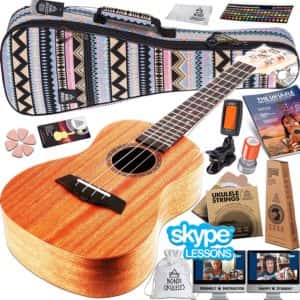 An attractive starter kit that comes with a wide variety of accessories, waiting for the sixteen-piece.
For the number of extras and an outstanding ukulele, the price of this kit is very reasonable. Surprisingly, right? Wait till you find out what more is in store.
Made with mixed wood (apple and mahogany), you can be sure of the durability and longevity that make it worth your money. Online lessons can be a relief if you are not sure how to start playing for the first time, a professional ukulele teacher guides you through your first lessons and teaches you all the necessary techniques, tricks, and rules to follow for a better understanding of the instrument.
The tuner on this uke functions in the dark for easy use, even in low light, you don't have to worry about not being able to get a clear view of the tuner in case you are out of your home. You can even create your music using the Chord Stamp that comes with it. The Chord Stamp protects your fingers at the time of strumming, which is a comfort to delicate users.
Pros:
Traditional bright, warm sound that's pleasing to both the player and the listener.
Constructed beautifully, using mixed wood and a handmade deluxe saddle.
Extras: This kit consists of many useful items such as felt picks, a tuner, a leather strap, fretboard note stickers, a nice-looking bookmark, and much more.
Free online Skype lessons where the professional uke teachers will guide to tutor students of all levels, whether they are just novices or have a bit of knowledge about ukuleles.
Cons:
The tuner may show faults, so it might be a good idea to purchase an additional one beforehand.
Online lessons do not provide clear instructions, and some may not be able to catch on. However, this may vary from person to person.
Medium to high priced. If you're looking for something cheap, then this isn't the exact pick for you.
13. Everjoys-Soprano Ukulele Beginner Pack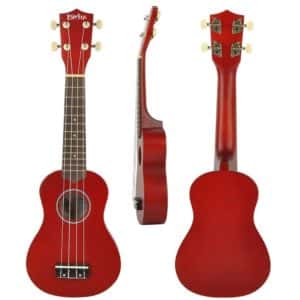 A budget-friendly pack to get you started with your first lesson. How may you ask? Read on to find out!
With a body made of beautiful basswood, hardwood, and blackwood neck, it is used for the fingerboard, making this ukulele durable. The placement of the 12 nickel-silver frets is precise, and the nylon strings stay in tune after playing for a while, which eliminates the need for tuning after every song, so you can keep on playing and displaying your talent to the people around you. Carefully placed frets are one of the main features of a ukulele, and a good ukulele must have accurately placed frets. Having strings that stay in place promotes better control and makes strumming effortless.
The pack of this uke comes with a digital tuner, spare pick, polishing cloth, and a bag.
Pros:
This bundle will go easy on your budget because it is not overpriced.
Decent-looking fretboards with well-placed frets on it.
Nylon Strings have been used on this instrument, acknowledging the fact that they are an excellent choice of strings for ukes.
Lightweight, proper for traveling, and easy to carry. Children will be able to handle and play it effortlessly.
Cons:
Intonation might not be too appealing to those who prefer a deeper sound and a lower pitch.
Amateurs look and structure, not those looking for something more heroic.
The electronic tuner may show some faults.
14. Lohanu Concert Ukulele (LU-C) Bundle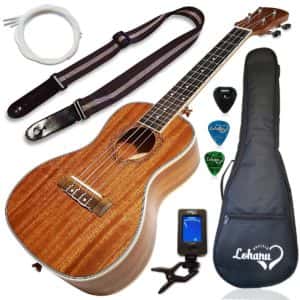 Lohanu, a Canadian company, has designed this bundle that has so much more than just a ukulele. It is perfect for anyone who wishes to play something big other than a soprano with excellent sound quality. You can rely on the valuable video lessons that provide beginner training instructions on tuning and how to play traditional Hawaiian songs. You can learn to play these songs quickly and be a hit among friends.
The ukulele itself uses beautifully mixed wood to create an arch with full sound. It has a Sapele/mahogany top, back, sides, and neck, and a rosewood fingerboard for a good grip.
High-quality Aquila strings make strumming fun while the chrome die-cast tuning gears make sure you are always playing in tune.
Pros:
It is bigger than the soprano with more frets and a wide range.
It offers a lovely sound, especially if you are into warmer, rich hums.
You get two strap buttons that are already installed, thus saving you time and money on installation.
Portable. Enabling you to take it anywhere you go.
Cons:
Depending on your budget, this instrument could exceed your expectations.
The surface may appear rough with an unfinished consistency.
Thin gig bag that doesn't offer much protection for your uke.
You might have to retune your ukulele quite often.
Reviewers have reported some defects in the construction of the neck in a few cases.
15. Hricane Concert Ukulele (UKS-1) Bundle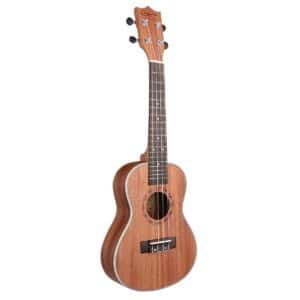 Another superb instrument from Hricane. This concert consists of high-quality Sapele wood. It carries a unique design that makes it attractive so you can show it off to your friends and family. The rosewood fingerboard and bridge have 18 brass frets neatly placed for accurate sound. It also comes with the brand's patented chrome-plated guitar-style tuners, so every song you play is in tune.
A worthy Extra is a capo. It provides you with better control over the frets, and you can be sure of getting the tune, sound, and music you wish to play. It carries a medium-range price tag, so you don't have to worry about spending too much on your first musical equipment.
Pros:
Includes a capo, which is not a very common product that comes along with other bundles.
Four Japanese-made advanced carbon-nylon strings.
Decent for all level players recommended the best ukulele for beginners.
Priced within your means.
Cons:
The distinct smell may cause discomfort in the beginning. However, keeping your instrument in the open air may eliminate the stench.
It needs frequent retuning, causing an interruption in the flow of your music.
Sharp, pointy frets on some models, and so requires caution while handling the uke.
16. Kala KA-C Concert Ukulele Bundle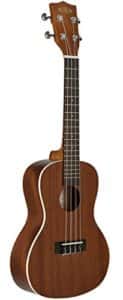 This next Kala uke features a mahogany body and neck and carries a traditional look. It has a typical white binding if you are interested in the classic ukulele design, a trademark of most Kala ukuleles.
The Rosewood Fingerboard placed on 18 Silver Nickel Frets offers a wider range than the soprano. Besides, the Aquila Strings help for effortless strumming. If you want something easy on your fingers, always look for this type of stringed ukulele. You will get a lovely mellow sound and great tone with this ukulele.
You can keep your precious tool clean using the polishing cloth that comes along with a gig bag, a digital clip-on tuner, and an instructional DVD.
Pros:
Just like every typical Kala model ukes, this one also has a beautiful look, which is inspired by Hawaiian traditions.
Good sound, deep than a Soprano.
18 Silver nickel frets for a wide range of notes to play on.
Cons:
Frets may feel rough to touch, not a very suitable selection for smaller children.
Slightly costly if you are on a tight budget.
Maybe out of tune at times.
17. Cordoba 15CM-E Acoustic-Electric Concert Ukulele

It is an electric concert for beginners who prefer to begin their musical journey with something different.
The crisp sound of this ukulele is not the same as you would get from a Soprano; it is loud and clear. The body is made of Mahogany Wood, one of the most preferred woods for ukuleles, while it portrays a beautiful satin finish. It stays in tune for a long time, which is fantastic news for those who find tuning after every song a nuisance. It is the best ukulele for beginners and intermediate players, although it is not a typical traditional ukulele.
Pros:
Good looking, precise satin finish.
It stays in tune for longer than other ordinary concerts.
An appropriate instrument to start learning with before moving on to something big with more range.
Cons:
May sound 'off' to those who enjoy the more traditional Soprano sound.
Fret installation is not remarkable.
Benefits of buying this product:
18. Kala MK-B Makala Baritone Ukulele

We had to include a baritone in this article, because its large frame and guitar-like tuning are different from other standard ukuleles, and it surely deserves a spot on our list.
A ukulele of the popular Makala series, Makala ukuleles are constructed of a Mahogany Neck and Agathis body, alongside a rosewood fingerboard and bridge.
Baritone ukuleles are the best option for large hands in size, compared to all other standard-sized ukuleles. It's tuned down lower to DGBE, which is equivalent to the tuning of the top four strings on a guitar. This instrument will produce a deeper sound, but you can play it like any other ukulele. If you are a guitarist, then it is the best kind for you.
Pros:
Bigger size, providing a larger surface area, and more space between the frets, making this the ultimate type of ukulele for musicians with larger hands.
The deep fuller sound is quite similar to the sound of a classical guitar.
The higher number of frets compared to the smaller versions of ukes.
More tension on the strings for a wide range and unique tone.
It requires less tuning.
Cons:
Not suitable for people with smaller hands or young children.
Not very convenient to carry around due to its bigger frame.
Medium to high priced.
19. Makanu Concert Ukulele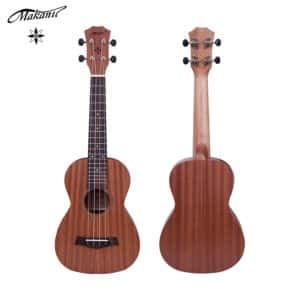 A ukulele with a classical look and build is 23 inches with a Sapele top, back & sides.
A rosewood fingerboard consists of 18 brass frets with fret position marks at the 5th, 7th, 10th, and 12th frets on the neck and top. It provides spanking sound quality and a good grip on the instrument. You can learn to play good music and easily stay in tune with the help of the chrome-geared tuner.
Its sound hole gives this uke an exclusive and beautiful finish due to the use of Fishbones. While concerts do not sound as deep as the tenors or baritones, they do provide a more profound sound. However, people who find sopranos too crisp and bright prefer this Concert ukulele.
Pros:
A beautiful look that will attract a lot of attention, especially the design around the sound hole that is ambushed by fish bones.
Affordable with great features.
Good, Fret positioning for accurate tunes.
A nice size for beginners and people with smaller hands who find the tenor or the baritone too large.
Cons:
Faulty Strings and strings may come undone on some models.
Just about an okay tune. Don't expect exceptional tuning.
Tips to Pick the Best Ukulele for Beginners
When getting a musical tool, it's always a good idea to let the instrument choose you.
Not sure what I mean? Well, Ukuleles are quite similar in terms of common traits, like size, material, strings, and tuners, but the one that feels just right when you play it is the one you should be getting for yourself.
Remember, this is something you need to be in control of, which means it is good to learn to play it or to play it, and to some extent, it should feel comfortable. Your fingers must be able to move from fret to fret and feel good strumming.
Now let's look at some basic things about the best ukulele for beginners that make a Ukulele and what you should look out for when buying one:
Size
Standard Ukuleles come in 4 types/sizes:
1. Soprano
A Soprano is the smallest Ukulele measuring around 20-21 inches. It has 12-15 frets and is the most traditional size. It is suitable for a beginner.
2. Concert
A bit bigger than the Soprano but smaller than a Tenor. A concert ukulele is usually around 23 inches and has 15-20 frets.
3. Tenor
This Ukulele is larger than the Soprano, and the Concert is by 3 inches and is 15-25 frets.
4. Baritone
This is the largest size ukulele. It measures around 30 inches, and its tuning is different from the other three types of Ukuleles.
A lot depends on the type of music you would want to play. A soprano will let you play almost all kinds of music, and if you are not concerned about more frets, then this is an ideal choice for you. However, if you want to play more notes, which frets are for, then you can opt for a Concert or Tenor.
Material
The most general materials used are Solid Wood, Laminate, Laminate and wood, and Plastic.
Anyone interested in playing the ukulele would like to get one made of Sturdy Wood. These are the most expensive kinds and are usually used by professionals. A solid wood Ukulele does, on the other hand, have its cons. It is prone to damage by climate change and humidity. If not taken care of properly, then the neck of the Ukulele tends to bend, which is a drawback for any musician. If, however, you can maintain it well, then it improves and increases its value over time.
Then, Laminates are pressed on plywood and are used to make medium-grade Ukuleles. They are cheaper and do not need as much maintenance, but it is always a good idea to keep your instrument in its outstanding condition. Ukuleles made of Laminate or Laminate and Wood have good tone quality but are not as good as a solid wood Ukulele would.
Next, Plastic-made ukuleles are okay for taking along when traveling, but these types are usually considered used as toys for children. Don't expect much in terms of quality tones and performance.
Names of some of the most common types of wood used in the making of ukuleles are mahogany, koa, spruce, and maple. Mahogany is the most common wood used and offers a proper balance between high-end and bass and a good sound. It isn't an expensive option but gives the instrument a classy visual texture. Koa, another admired type, also produces a balanced tone and is naturally loud. Spruce, an affordable kind of wood, is usually used on the top of a Ukulele as it generates a vibrant sound. One of the most durable and eye-catching woods would be Maple for its striped grain patterns.
Sound
Smaller ukuleles have a crispier or brighter sound, whereas larger ukuleles have an intense sound. The baritone produces a profound volume. Besides, the soprano has a bright sound compared to the other three types.
Also, note that bigger ukuleles have more frets and more room between the frets. The scales are longer with more range. It does not determine the quality of the sound, but it is something you can consider while choosing what suits you the best.
Price
Probably the first thing most of us check out when buying almost anything. It makes total sense that you get something that is your money's worth, and if you are on the best budget ukulele, then the points discussed in this article will hopefully give you an idea of which ukulele is ideal for you. Along with all the essential qualities of a good ukulele, many of the instruments discussed today are reasonably priced. Just compare the products, read the customer reviews, and pick the one that appeals to you most.
Brand
It is not an issue when it comes to ukuleles these days. There are some high-quality products on the market. Those products do not carry a popular brand name but still provide you with decent things. To clarify, the best brand of ukulele has earned a good reputation and is famous for its better service. Some of these brands are Kala, Oscar Schmidt, Lanikai, and Hola! Music, Luna, and A.D.M.
Firstly, Kala is known to be one of the leading names in the business. When in doubt, we would suggest Kala because they have a wide range of models and are probably the perfect ones for any beginner. They have amazing high-quality stuff and excellent customer reviews.
Lanikai ukes are affordable and the best ukulele for beginners. They are well-built and can compete with any other instruments in the market. Likewise, Hola! Music and Oscar Schmidt are two of those lesser-known brands when it comes to ukes, but they are in no way behind popular brands. Both of these brands offer fine instruments without carrying a hefty price tag.
Luna is known for its variety and personalized instruments. Luna's ukes are usually made of solid wood and are more on the expensive side, considering they prefer to use very high-quality material, but their products are worth it. As for A.D.M, they may not be as popular, but the ukes are made to function well and are not too expensive. You can also consider many other brands as long as they meet your requirements and make playing music a happy experience.
Conclusion: Best Ukulele for beginners
It is time to wrap up this article about the best ukulele for beginners with a few final words. Meanwhile, you probably have a clear idea of the different kinds, features, brands, and sizes of ukuleles you can pick from the above list. To clarify, we cannot stress much the fact that every individual has different tastes and requirements when it comes down to a musical instrument. However, your choice of a musical instrument must become a part of you and reflect your real personality because you can reach people through music. The ukulele highlights the culture and the rich traditions of Hawaii, and its distinctive sound has gained popularity throughout the world.
All the ukuleles mentioned in this article carry their own personal traits, and each one appeals to different learners with unique necessities and abilities. Among the top brands, Kala ukuleles are mostly famous for their traditional instruments and "typical" uke sound, but a lot of other companies are worth mentioning because they add a lot of variety and customized features, tending to customer demands.
Meanwhile, we have reviewed many ukuleles from noteworthy manufacturers such as Oscar Schmidt, Lanikai, and Hola! Music, Luna and A.D.M, Makanu, Aklot, Lohanu, Everjoys, Cordoba, Donner, and Bondi, and we can confidently state that each one is different and worthy of being your very first uke.
In conclusion, we hope that you had fun reading our article and are ready to bring home your best ukulele for beginners!