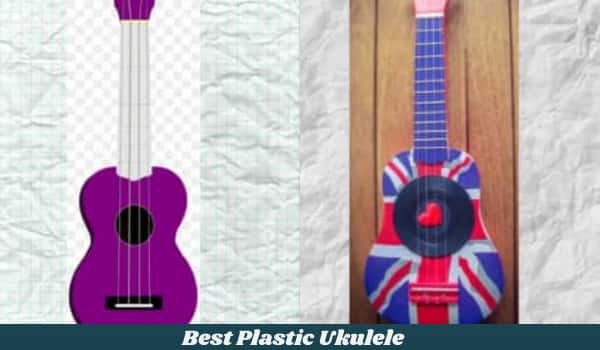 When it comes to plastic ukuleles, many people think that these ukes are toys. But this type of thought was in the past. Currently, there is plenty of the best plastic ukulele that is high-quality and perfect for traveling instrument. The best ukulele brands manufacture plastic ukuleles using high-quality plastic like ABS or polycarbonate plastic. Therefore, there is no way to consider it a toy. Indeed, it is an opportunity for new learners because plastic ukes allow the apprentice to get used to the ukulele without costing much money. Let's take a look at the top-rated plastic ukuleles on the market below.
Here is Our Top Selection:
Editor's Choice
Kala MK-SWT/Clear Makala Waterman Composite Soprano Polycarbonate Ukulele
Top 6 Best Plastic Ukuleles for Backpackers
| Product Name | Price |
| --- | --- |
| 1. Official Kala Learn To Play Plastic Ukulele | Check Price |
| 2. Kala MK-SWT/Clear Waterman Polycarbonate Ukulele | Check Price |
| 3. Bugs Gear RPNS-RD Outdoor Plastic Ukulele | Check Price |
| 4. Vorson AUG24 ABS Concert Plastic Ukulele | Check Price |
| 5. Ukulele Woodi USA 21″ Plastic Soprano Ukulele | Check Price |
| 6. BugsGear Portable Plastic Soprano Uke | Check Price |
1. Official Kala Learn To Play Color Chord Plastic Ukulele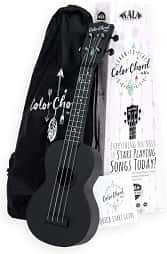 You want a plastic ukulele, which is high-quality and affordable. The Official Kala Learn To Play Color Chord Ukulele is able enough to meet your needs. Besides, Kala Ukulele Brand has already made its reputation in the ukulele market for the production of quality products.
However, Kala uses ABS plastic to make this soprano ukulele. As a result, it ensures durability and an enriched, full sound. This model is even water-resistant. So, you will be able to go to the beach or the pool.
Further, the brand includes the free Tuner App that aids in getting in tune. With this tuner app, you can tune this Kala ukulele on your computer, phone, or tablet wherever you stay. It has a large soundhole that gives you a good sound projection compared to other models in this price range.
Kala has designed it with newcomers in mind so they can start playing as soon as they buy it. Therefore, this kit offers a tote bag, a quick start guide to inform you about the new ukulele, and all the tips to get started.
Finally, the KALA-LTP-SCC is the best plastic ukulele to choose for the ukulele of kids or your backpacking.
Pros:
High-quality composite plastic soprano ukulele
Free Kala app and online lessons
The colorful design and standard craftsmanship
Low cost and suitable for traveling
Cons:
Takes a while to get in tune
2. Kala MK-SWT/Clear Makala Waterman Composite Soprano Polycarbonate Ukulele

Kala Waterman Ukulele gives you tremendous respect and quality for your money. This plastic ukulele of Kala is fabricated from high-grade polycarbonate plastic that guarantees a solid construction. The company has not utilized any shaky material for the design.
As for the synopsis, this Waterman Ukulele characterizes a high-grade design ukulele. Also, it comes with Aquila Super Nylgut strings and nickel-plated open-geared tuners that confirm its outstanding sound. It contains the required quality string for a suitable sound.
Moreover, this Kala MK-SWT/Clear comes in an extensive repository of color, and it is the coldest presentation. If you seek an exceptional instrument, you do not need to find another.
Further, this uke weighs only 12.8 ounces. It is a lightweight instrument. Consequently, you will be to transport it without any hassle and could go anywhere with it. Above all, it is water-resistant and easy to keep clean.
Lastly, it is one of the favorite options on Amazon among plastic ukuleles. We assure you that this will add value to the best plastic ukulele for your money.
Pros:
Polycarbonate plastic Ukulele
Stunning design
Superb tone
Standard tuners
Cons:
The sound quality is not high-standard
3. Bugs Gear RPNS-RD Outdoor Plastic Ukulele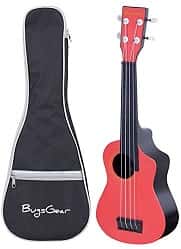 The Bugs Gear RPNS-RD Outdoor Soprano Ukulele is eye-catching in its design. Instead of picking for the look of the traditional uke, it has included a bold color, a cutaway, and a unique offset soundhole. Even though it looks unconventional, its playful feeling is similar to that of a regular soprano ukulele.
A noticeable thing is that the body of this Bugsgear plastic ukulele is slightly more profound compared to the traditional-sized soprano uke. In truth, it is one of the prime reasons for turning into a good-sounding plastic ukulele. Although the ABS plastic does not give a resonant sound like the wooden uke, it helps to compensate for the larger body. But it is right that the best outdoor ukulele of Bugs Gear provides a crisp, loud, and enriched sound in comparison with many wooden ukuleles.
Further, the tuning is outstanding in a word. It is playable enough to get a better playing experience. It contains a high-quality head machine. This BUGS GEAR Ukulele never loses the strings and always stays in tune.
At last, this model is lightweight and easy to transport. As a result, it is worth enough to do outdoor activities like camping, traveling, or simply relaxing at the beach. Considering all the features, it is the best plastic ukulele for kids as well as backpackers.
Pros:
Scientifically crafted for sound resonance
Distinctive appearance
Kids-friendly and proper for traveling
Luxurious feel to play
Cons:
Seasoned players may not prefer
4. Vorson AUG24 ABS Concert Plastic Ukulele

Most ukuleles are soprano-sized. These are the smallest of the other sizes. So, if you desire to get a bit wide space on the fretboard of the best plastic ukulele, the Vorson AUG24 ABS Concert Ukulele is the perfect one.
However, the Vorson plastic ukulele contains a big body that delivers somewhat more volume and resonance. It upholds its individuality in a small jam session. Above all, it gives a beautiful tone, and its projection is also standard.
Further, the Vorson AUG24 is built using ABS plastic, which is competent for impact resistance, strength, and hardness. Also, temperature change and humidity do not affect Vorson ABS. Therefore, you do not need any adjustments to hold the correct neck angle and string height.
Furthermore, Vorson designs this model for enthusiasts who get started playing. It ensures easy playability for beginners like the tone and volume of the wood. A piece of attractive news for color lovers is that the Plastic Concert Ukulele is available in various colors such as red, pink, orange, blue, and black.
Pros:
Super playability and neck stability
Use of quality materials
Durable and waterproof
Great value for the price
Cons:
Takes a while to tune the ukulele
5. Ukulele Woodi USA 21″ Plastic Soprano Ukulele

The Woodi USA brings a ukulele that is fully plastic-made. It comes at a soprano size and is constructed with pleasant satin-soft feel plastic. As a result, it is comfortable enough to hold this uke while playing.
The brand uses a piece of plastic to build the side, back, back of the neck, and back of the headstock. On the other hand, the headstock face, fingerboard, and top are connected as individual pieces.
This model gives a sturdy experience, and the feeling of touch is excellent compared to many other plastic instruments. It is somewhat weighty compared to the others and never seems like a cheap instrument.
The bridge contains an unparalleled design that makes it eye-catching. The fingerboard holds 12 plastic frets, but you don't find any sign to point out the fret numbers. This plastic ukulele includes guitar-style, nickel-plated tuning machines with black buttons. The tuning machines aid in making tuning easy for new students.
In the end, it is another best plastic ukuleles for apprentices and professionals who go traveling.
Pros:
Solid instrument and incomparable design
Enjoyable to play
Comfortable to play
Inexpensive but quality uke
Cons:
No sign to indicate the frets
6. BugsGear Portable Plastic Soprano Uke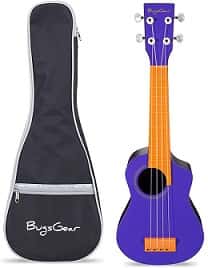 BugsGear includes a stainless steel tuning gear that works well for protection against rust. Since it is a plastic-built ukulele, environmental changes can't affect it at all. Even after being submerged in water, this model stays fit for play.
One thing that makes it more attractive is its large soundhole. The soundhole provides a distinguished volume and projection, and we also acknowledge that it is very enthusiastic. The fretboard offers a fantastic cut that allows you entry to the A string the distance to 18 frets. This facility is something special for the soprano uke.
Above all, its sound is like a real wood-made ukulele, although everything sounds like mourning. Many people think that plastic ukuleles mean a toy uke, yet it is a harmonious instruments. A plastic ukulele does not contain any wood ukulele spirit, but it has extraordinary strength and water protection.
A beautiful gift for this instrument is a free gig bag that arrives with it while buying. Besides, this Portable Soprano uke comes with a carrying handle, zipper stash, and tie.
Pros:
Highly stiff and sustainable
Decent sound and tone
Water-resistant and cost-free gig bag
Unbelievable value for the price
Cons:
What is the reason to choose the best plastic ukulele?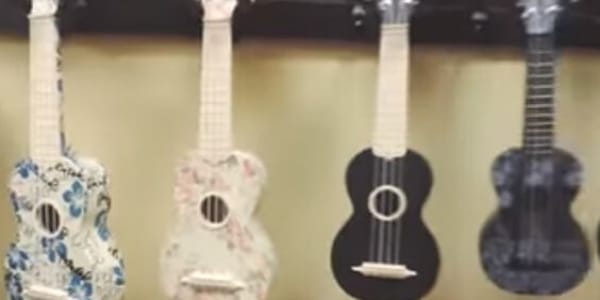 Many people look for the best non-wood ukulele. In this case, they mostly prefer plastic ukuleles.  But why? Let's take a look at the following reasons:
Plastic ukes like wood do not need maintenance. You can use them as long as you keep them clean.
Most plastic ukuleles are affordable, and they are available for under $50. They are mainly soprano-sized, do not take up much space, and are portable and light in weight.
The most significant thing is that they are suitable for adjusting to any environment or weather. Besides, they do not suffer from cold, water, or heat like wooden ukuleles.
Many like music. They don't feel shy to carry the uke and also love to sing a song at the right time. Undoubtedly, plastic ukes are the most preferable for them.
Benefits of Plastic Ukuleles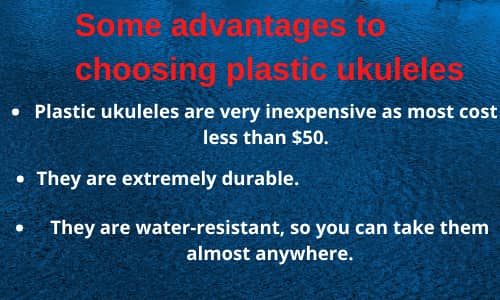 A plastic ukulele is waterproof. As a result, without any fear of its safety, you can travel with it on the beach, on a camping trip, or on a boat.
The wooden ukuleles are likely to become damaged quickly in acute humidity and temperature condition, but plastic ones remain accurate in those circumstances.
Another vital thing is that most people think about the price. Okay, plastic ukuleles come at a reasonable cost and thus are superb options for travelers as well as kids.
Drawbacks of Plastic Ukuleles
For sure, we find some disadvantages in the case of plastic ukuleles.
Some models are ideal for the best sound quality, but they don't sound like solid wooden ukuleles. Likewise, a plastic ukulele can't produce vibration and resonance like wooden ukes.
When a beginner learns to play a musical instrument, it becomes a bit difficult for him, and the learning process in a plastic uke can become more difficult. It may be difficult enough to view frets on the fretboard because they mix with the plastic, and it gets hard to view the fret numbers indicating dots.
The Best Plastic Ukuleles Buying Guide
Brand
Different brands of ukuleles are available on the market. So, picking the perfect one can be difficult. Before buying one, you can try to play the ukulele. It can help you find the best brand that is worthy of you.
If you are unable to make the right decision, you can turn to experienced players for advice. Besides, you can read some articles on the internet or watch videos on YouTube.
Price
The most important thing is the budget when buying any musical instrument. In truth, no one wants to cost much. But, the cheap ones you can seek are not the ones you have to buy because the cheap ones can hurt your motivation to play.
You don't have to think much about the budget because the best plastic ukuleles are available for under $50, which will be durable for a long time.
Final Thought
There are a lot of plastic ukuleles on the market, which are available in different shapes, designs, colors, and styles. Of these, choose the best plastic ukulele, which is suitable for you. Undoubtedly, the ukulele is a fun instrument, and enjoy it.
See Our More Reviews
Read More Articles