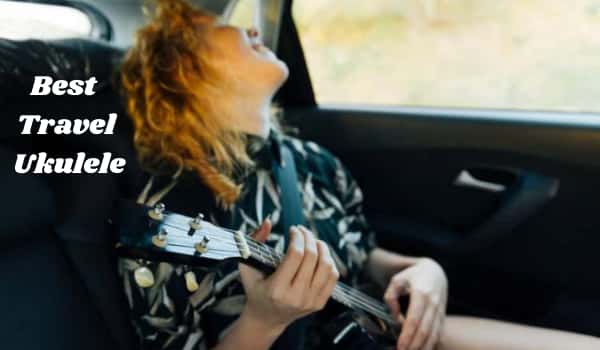 You are a ukulele lover. You are going for adventure or just for traveling and want to enjoy time with your friends. So, the best travel ukulele is needed. We've reviewed some backpacker travel ukuleles with your needs in mind. These ukes not only give pretty sound and melody but are sustainable enough to conduct the harshness of travel. Besides, aircraft, are suitable enough to carry with you. Okay, now let's check out the travel ukes with a buying guide.
Our Top Pick:
Editor's Choice
Enya Nova U 23″ Concert Travel Ukulele
Top 7 Best Travel Ukuleles on Sale for Backpackers
| Product Name | Price |
| --- | --- |
| 1. Enya Nova U 23″ Concert Travel Ukulele | Check Price |
| 2. Kala KA-SSTU-T Tenor Travel Ukulele Bundle | Check Price |
| 3. Kmise Tenor Travel Ukulele | Check Price |
| 4. UBETA UC-031 Travel Concert Ukulele Bundle | Check Price |
| 5. Eddy Finn EF-TRV-C Travel Ukulele | Check Price |
| 6. HRICANE UKSW-02 Tenor Travel Ukulele | Check Price |
| 7. Cordoba Mini O-CE, Small Body, Acoustic-Electric | Check Price |
1. Enya Nova U 23″ Concert Travel Ukulele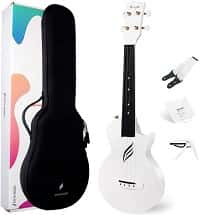 Enya Nova U 23″ is a concert ukulele for a well-known brand. It is a lightweight and small-sized instrument that has become an excellent choice for beginners and professionals because it is simple to practice and carry.
We have included this model in the list as the best travel ukulele because Enya uses carbon fiber composite polycarbonate to make it. The polycarbonate is durable for construction and gives a waterproof and easy-to-clean body. Likewise, it delivers a brighter sound compared to wooden ukuleles and makes sure a better self-resonance while playing.
The brand remembers that the carbon fiber instrument needs to be built in such a way that it becomes travel-friendly. As a result, many consider this superb lightweight instrument as a journey partner. On the other hand, Nova U is worthy enough to ignore temperature and humidity.
Further, this Travel Uke consists of the cutaway body, arched back, and radius fretboard. In addition to these, it provides the necessary accessories matching available different color options. Above all, it will add value to your purchase if you choose for yourself.
Pros:
Standard construction
Nice and smooth design
Light and comfortable to hold
A side sound port included
Cons:
Not suitable for the experienced
2. Kala KA-SSTU-T Tenor Travel Ukulele Bundle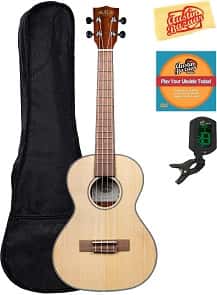 As the best tenor travel ukulele, we have sorted out the Kala KA SSTU-T, which is competent enough to be a journey companion. The stiff spruce top and mahogany back and sides guarantee its durability and deliver a quality sound. On the other hand, the rosewood fretboard and bridge generate clear and resonated notes.
When it comes to the question of travel musical instruments, their weight is a vital matter. Don't worry about it. This travel tenor uke measures only 2.4 pounds, proving it an unbelievably transportable and compact model. In truth, the KA-SSTU is thinner enough to fit on your tour than other tenor models.
Moreover, Kala offers the necessary accessories to add value to your buying. They include a gig bag for packing, an easy-to-use clip-on tuner to keep the instrument tune, an Austin Bazaar instructional DVD to pick up some learning tips, and a polishing cloth to keep your new instrument in mint condition.
After all, this Kala travel ukulele has been designed it beautifully so that apprentices or seasoned players can choose for their music life.
Pros:
Standard craftsmanship
Enriched and warm sound quality
Appropriate for any adventure
Exceptional design
Cons:
Somewhat expensive for many
3. Kmise Tenor Travel Ukulele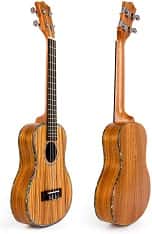 Those who are looking for the best travel ukulele but on a limited budget can pick the Kmise travel ukulele. Although its price is low, the brand has built it with quality a lot, and the whole product range is outstanding. As a result, this uke has become one of the most preferred options for ukulele lovers who want a mahogany uke but do not have enough money.
However, the top, back, and sides built with zebra have made it a good-looking instrument in comparison with other ukes in this price range. Because of the thin body, it is comfortable to carry this uke. Its durable structure helps to avoid damage while traveling.
This zebra uke gives a surprising melody and superior sound, which is possible for a quality setup. The tuning pegs work well for holding gears and stabilizing protection. To change the strings, the brand offers a particular feature bridge design. All the characteristics have made it a perfect uke that sounds good.
Pros:
Thin body and quality construction
Affordable
Stunning finish
Cons:
Not the highest quality strings
4. UBETA UC-031 Travel Concert Ukulele Bundle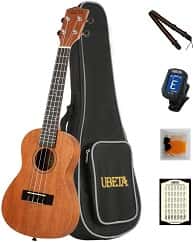 The UBETA UC-031 is a gorgeous apprentice-friendly concert-sized ukulele that comes at a reasonable price. To add value to the purchase, this bundle offers a gig bag, clip-on tuner, picks, strings chord card, and strap.
However, this Concert Travel Ukulele features a rounded back that produces a superior resonance and brilliant, crispy tones. The Aquila Strings maintains the tune and give an excellent sound. It is much lighter than the usual uke, while its design looks nice.
The extra gear is not the highest quality, but you can't expect more at this price point. It is a beautiful instrument and performs well, so anything that comes as an accessory is a superb bonus.
The mahogany neck and body make sure of its sustainability. Likewise, the rosewood bridge and fingerboard provide a pleasant feel to playing it. The UC-031 features somewhat of a high-string action. So, you might need a setup before beginning to play it.
The UBETA UC-031 creates a lovely atmosphere while playing. Above all, as a travel ukulele, it is overall proper for a backpack.
Pros:
Suitable for beginners
Fantastic sound
Plenty of additional gear included
Cons:
It seems to be a bit rough
5. Eddy Finn EF-TRV-C Travel Ukulele

The Eddy Finn EF-TRVC is a thin concert-sized ukulele that brings an extraordinary mix of quality and affordability. Let's say it clearly. Maybe it is not a proper instrument for professional or skilled players, but you can take it as an instrument for traveling and holidays.
The performance rate is very high, and it offers the best sound. Its building makes it durable for a long time. It features a slim body with full sound and an incomparable soundhole, which contributes to making it a recognized ukulele.
The EF-TRV-C gives a crisp and clear sound because the Eddy Finn combines the Aquila Nylgut strings and the bone nut. For sure, its sound is somewhat thinner than the larger ukuleles.
The manufacturer designs this concert travel ukulele beautifully, which does not negatively affect the tone. To produce it, they use spruce wood for the top and mahogany wood for the back and sides.
This compact uke is easy enough to pack up and carry anywhere too. It may be a bit pricey, but it is reasonable for the quality. If you buy this best travel ukulele, it will provide you with a good value for the price.
Pros:
Captivating sound and tone
Made of using quality tonewood
Ideal for backpackers
Satin finish design
Cons:
Tuners can be even better
6. HRICANE UKSW-02 Tenor Travel Ukulele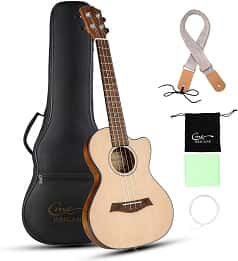 We have included another travel tenor uke in the list of the best travel ukulele. The HRICANE UKSW-02 is quite different in terms of the thickness design compared to other models. Generally, the conventional tenor uke is thicker than this thin one. That's to say that the UKSW-02 produces a crisp sound for the slim structure.
However, this Hricane Uke provides a fuller and brighter sound as it consists of a solid spruce top with an arched back of the cutaway. You'll be amazed at its loud sound for the ukulele's slender body.
The combination of the smooth walnut fingerboard and standard Aquila nylon strings allows you to feel a comfortable experience while playing in this cutaway. Further, the gearheads involved keep the Strings locked rightly and aid in keeping the ukulele in tune.
The thickness of this tenor is only 43mm which does this uke storage handy and makes it easily portable. For more convenient travel, it includes a gig bag. If you experience any problem after the purchase, you have the opportunity to get a 30-day money-back guarantee and a 12-month warranty.
Pros:
A thin-body ukulele
Marvelous sound and tone
Eye-catching design
Great value for the price
Cons:
Needs a while to tune in initially
7. Cordoba Mini O-CE, Small Body, Acoustic-Electric

This time, it is the cross-bred instrument which, is known as Guitalele as the technical term. Now, you can see it as a ukulele with two extra strings in the article below.
Constructed using quality materials, this Guitalele brings a gig bag. To ensure an excellent sound, it offers the custom Aquila Strings, tuned to A. But, if you want, you can get a set for E-tuning based on your request.
It is essential to mention that the beginners and four-stringed accustomed players can get a bit confused by viewing the two extra strings. Don't worry. You can dispel those strings if you wish.
This instrument features a recognized ukulele sound with two extra bass strings that create chords that sound fuller. It gives a loud sound despite being small compared to a standard guitar.
It includes a piezo pickup and preamp to plug it into the amp. As a result, it is worth the stage performance. The other features are the solid mahogany neck and rosewood fretboard. Its size is similar to the size of a baritone ukulele.
Pros:
Thin body but loud sound
A soft cutaway and Cordoba 2Band pickup
Suitable mate for road travel and vacations
Cons:
The Best Travel Ukulele Buying Guide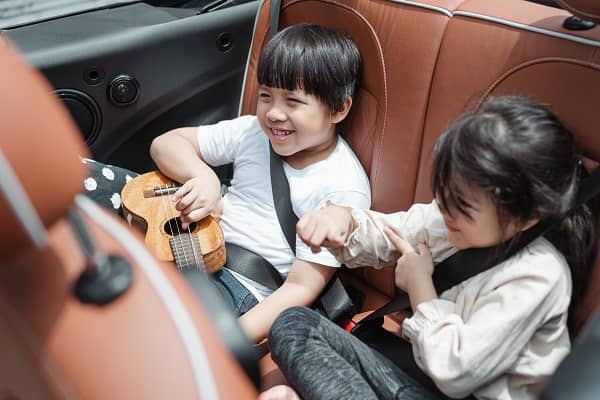 You require to consider several things before buying the best travel ukulele. The things to consider are:
The instrument might be sensory to the atmosphere. Therefore, think first about where you are planning to travel.
If the place is too dry or it can come in contact with water on the beach or poolside, it can cause damage, so you have to pick a plastic model.
If you desire to travel often, the solid wood structure can be more sustainable to accommodate the difficulties of travel.
At last, you should take into consideration how to transport your ukulele. For transportation, it's always a good idea to keep a hard case to protect your uke.
Characteristics need to consider while picking a travel ukulele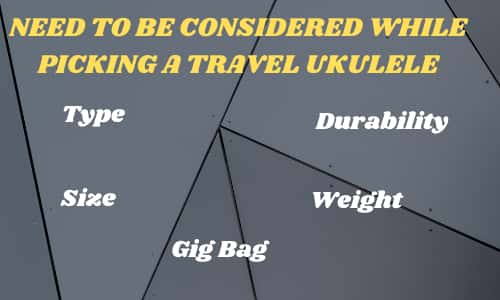 It is difficult to decide to buy because there are so many ukes on the market. But, you can take into consideration some features which can aid in shrinking your options. As a result, you will find the right ukulele for your needs.
Type
You can find different types of ukuleles, but wooden and plastic ones are the most common. The quality of any instrument can vary depending on the materials used. As we have said before, if you desire to go to a dry place, or your uke can come in contact with water on the beach or poolside, a plastic ukulele might be the perfect option. However, if you have no intention of going to those areas, you can opt for a high-quality wood ukulele.
There is another type to consider, and that is the acoustic-electric travel ukulele. You can find acoustic-electric uke on the market that is fit for travel.
Durability
Durability depends on the quality of the used materials to construct the instrument. In truth, you wish to get a ukulele that is capable of handling travel difficulties. Therefore, it is imperative to sort out a model that is sustainable and gives the best quality sound.
Size
The soprano size was the first ukulele. It is still familiar as the standard size today. The popularity of the musical instrument continues to grow over time, and people want a fuller and louder sound. Consequently, the first tenor and concert-sized ukuleles came on the market in the 1920s. On the other hand, the baritone arrived in the market in the 1950s.
The soprano is the smallest size, and the baritone is the largest. Concert and Tenor are third and fourth, respectively.
Weight
Usually, ukuleles are milder than guitars. Moreover, some differences are noticed in weight among the models. The soprano is the lightest, and the baritones are the heaviest. But, the ingredients play a vital role. The hardwood musical instrument becomes heavy. For instance, the ukuleles of mahogany wood are weighty compared to softwood ones.
Gig Bag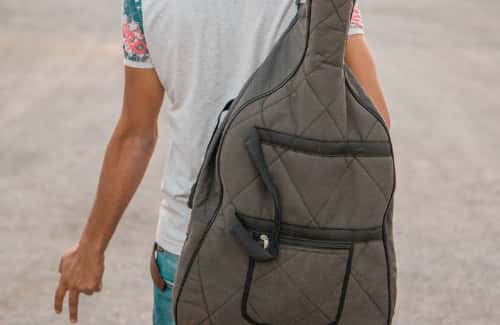 If you plan to take the ukulele while traveling, purchasing a gig bag is a better concept. Just as a standard gig bag will safeguard your ukulele from damage, it will also help you carry it around. Again if you want to do the tour often, then it is good enough to invest in the hard shell.
FAQs
Q: Which differences are between a travel ukulele and a standard ukulele?
With a slender body and durability, traveling ukuleles usually get lightweight. In general, you can buy a travel ukulele at less cost compared to a standard model. But, it relies on how much you want to spend. If you choose a top-line travel ukulele, you have to cost more than a budget standard uke.
Q: Can I carry my ukulele on the plane?
Disclosing your uke to baggage handlers and overlooking potentially detrimental situations on hold is always a better idea. Airlines reveal their guides for the size and weight of carry-on items. These guides influence whether you can carry your ukulele on a plane.
Final Note
It is not arduous to find the best travel ukuleles if you know what you are exploring. Of course, the price becomes a big issue for many. But the best travel ukuleles are available at a reasonable price. So, it will not be a matter of concern. In conclusion, take the desired one and enjoy your travel.