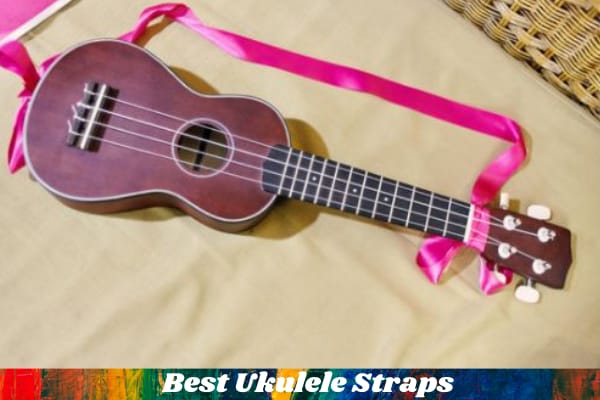 Do you resolve to make mellow music? If you prefer playing the ukulele, you will pass several hours with joy at a time. Anyway, it can be uncomfortable at times when you try to support your ukulele while playing, in the case of a heavy model in particular. Fortunately, you can overcome this problem effortlessly by investing in the best ukulele straps. You will find them in a wide range of styles and sizes to fit various requirements.
So, let's check out a few quality ukulele straps and pick the Strap that is right for you.
Top 7 Best Ukulele Straps for Sale
1. Cloudmusic Colorful Hawaiian Ukulele Strap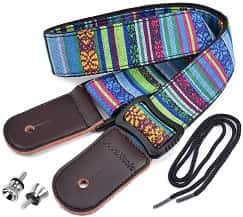 If you are searching for a quality ukulele strap, you can choose this Hawaiian Ukulele Strap from CLOUDMUSIC. The unique and excellent pattern on the front exhibits its fashion style. Likewise, the soft and black cotton webbing on the back makes it comfortable to wear.
This ukulele strap has durable leatherheads. Also, it includes a free strap button, which is easy to drill.
Well-built with a width of 1.5 inches, it is at least 29.5 inches at the shortest, and with the length of leather heads, it is about 51.97 inches at the longest. You can adjust it according to your personal use with its sleek plastic slider.
This Cotton Ukulele Belt assists in keeping your ukulele in balance. Besides, it keeps your hands free when you play the uke while standing.
The CloudMusic uke strap is stylish and functionally comfortable, and suitable enough to suit the soprano, concert, and tenor ukes.
This Hawaiian Ukulele Strap will be a better choice if you want to get a standard strap at a reasonable price.
Pros:
Well-made and attractive
Gives a comfortable feel
Proper for all ukuleles
Cons:
The bottom of the strap is not quite as beautiful as the outside
2. Lohanu Clip-On Ukulele Strap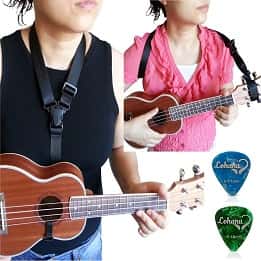 If you are just getting started learning to play the ukulele, it can be tough to have your notch at first. Learning how to play can become a bit of a challenge attempting to hold on tight to your ukulele. Fortunately, the Lohanu Clip-on Ukulele Strap has come to retain your ukulele in one place so that you can concentrate on playing.
This quality ukulele strap has features to suit all types of ukes. If you are searching for a concert ukulele strap as well as a soprano ukulele, a tenor, baritone, pineapple, and even a specially shaped U Bass, then this model will be a perfect option.
This model provides a lifetime warranty. The warranty has absolutely no limits or exceptions. As a result, it is sure that this top-grade ukulele strap will stay with you for a lifetime.
This kit comes with some extras. It offers two ukulele picks to start playing the ukulele immediately. To improve your skills, you will get two video tutorial links. If you want an affordable ukulele strap with quality, it is an excellent option.
Pros:
Made for any ukulele size
A full lifetime warranty
Two ukulele picks included
Adjustable length from 34 to 51.5 inches
Cons:
Not stable enough as expected
3. Rinastore Ukulele Strap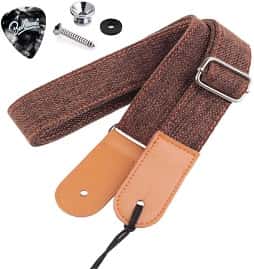 You want a strap that works well with ukuleles of all sizes as well as mandolin, and banjo too. The Rinastore Ukulele Strap is compatible enough to meet your needs. But, this leather ukulele strap becomes ideal for use as a tenor ukulele strap.
The strap comes with a blend of 100% cotton and linen that has made it durable. As a result, it provides a comfortable feel and never slides while playing.
The US-12 Rinastore Ukulele Strap is 1.5 inches wide and is placed with leather tabs at the end. The leather does not seem to be the highest grade, but it is pretty durable in fulfilling its purpose. The whole design is stylish and smart, and anyone feels delighted to see it.
The strap is adjustable from 29.5 inches to 51 inches, making it suitable for both children and adults. Several different players can use it because it needs just a few seconds to adjust the strap.
To install this strap, you need to be ready to drill a hole in the instrument. Luckily, this task will not be difficult because it provides a soft washer and screw along with buttons.
Pros:
Available in four colors
A free ukulele pick included
Consistent with all types of ukuleles
Specially designed to be durable
Cons:
Require to drill the ukulele to be installed
4. Neotech Mandolin/Ukulele Strap
If you are a ukulele player, it will seem a bit heavy at first. While selecting a ukulele strap can assist in lightening the load, it just functions to a certain extent. You will still see that the ukulele is a bit heavier to play with, especially if you choose the larger model.
Anyhow, the Neotech Mandolin/Ukulele Strap is here to alter all that. This strap has a particular weight reduction system designed to lighten the load. It features fully padded which makes it one of the most comfortable straps around.
Also, this model offers several particular features, making it extremely comfortable and versatile. It sits firmly on your shoulder during playing, even if it is a bit narrow. The central part of the strap consists of spacious and spongy neoprene for uninterrupted comfort.
The Neotech uses thin webbing on either side of the neoprene padding to adjust the strap effortlessly. You must praise the extension piece if you see that the Strap has climbed a bit higher. It gives you a total of five extension pieces to get the correct length effortlessly.
In truth, the Neotech Strap is not the best ukulele strap around. But, it becomes tough to beat in the eye of authentic comfort and versatility.
Pros:
Uses a weight reduction system
Placed with soft nylon webbing
Offers a fully adjustable length
Fully padded for comfort
Cons:
5. MUSIC FIRST Soft Cotton & Leather Ukulele Strap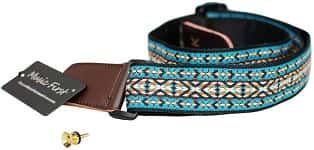 When you choose a ukulele strap, you should consider ingredients, one of the most important things. The MUSIC FIRST Country Style Soft Cotton & Genuine Leather Ukulele Strap assembles the durability of leather ukulele straps with the tranquil style and versatility of ingredient straps.
The prime part of the strap consists of cotton, and it contains a bright and bold pattern. However, the ends are fabricated of leather to give the overall design of straps, including impressive long-lasting.
This model is constructed with an eye-catching knitted pattern. Maybe, it adds a touch of style to any ukulele. It is built to be worn over the shoulder like a guitar strap.
This strap is not only wider and thicker for increased comfort, but adjusting the length is also possible within just a few seconds, according to your requirements. Consequently, each member of the family feels comfortable enough to play the ukulele wearing this strap.
It is to be noted that you have to drill a hole in the ukulele to connect this strap. Although the task is simple to do, you have to go forward with caution. Otherwise, the design of your ukulele may be ruined.
Pros:
Proud of an entirely adjustable design
Includes a strap nail
Durable design
Ideal for both adults and children
Cons:
Need drilling to attach the strap
6. Perri's Leathers Polyester Ukulele Strap
You will probably be conscious that the best ukulele straps give you additional permanency while playing. But you will probably be unwilling to buy one because you think that it can be uncomfortable. Luckily, you can stay stress-free because it won't happen in the case of Perri's Leathers Polyester Ukulele Strap.
The Polyester Ukulele Strap is wide enough to aid in making it more comfortable. Its design is excellently adjustable to get the support you need. This strap can be shortened enough for children. Likewise, adults can also use it.
It has pieces of leather on the edges of the strap to help make it stable. Consequently, the buttons are not likely to slip. This Polyester Ukulele Strap can take a lot of wear and tear while playing the ukulele.
You have to be ready to drill a bit to affix this strap to your ukulele. Luckily, you can do this process effortlessly and quickly because of the design. Its main advantage is that once it is connected, it will remain stable.
The simple black style of this top-quality strap looks gorgeous. But, it is also available in several other colors. You can also pick one from fire engine red, electric blue, and bright white.
Pros:
Comes in four cool colors
Simple to use
Specially designed to be comfortable
Boastful for perfectly adjustable length
Cons:
You will need a drill to attach this strap
7. Makanu Ukulele Strap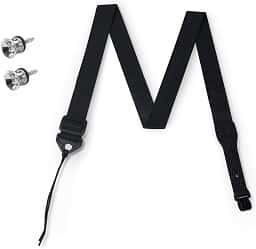 The Makanu Ukulele Strap with its bright and bold design is a distinct type of strap in the crowd. This Strap comes with five various geometric patterns and color choices. As a result, you can find a model that matches your needs.
Its overall design is very high-standard, which means that it will last for a long. The brand designs this strap in such a way that it fits all shapes and sizes of ukuleles. Whether you use a concert uke or pineapple model, it suits them.
If you are worried about the damage to your ukulele, you must praise the design of this strap because you can attach it without the need for drilling. So, your ukulele will remain intact.
The strap is specially made to be easy and comfortable to wear. The design has a head loop that just slides over your head before you clip the other end of your device. But, you will notice that the head loop of this model is a bit smaller.
Luckily, its design is fully adjustable. Indeed, you can adjust it from 56 centimeters to 74 centimeters in all directions. Above all, this easily adjustable strap offers the perfect length for your needs.
Pros:
No need for drilling
Provides a fully adjustable length
Consistent with the size of all ukuleles
Comes in several different patterns
Cons:
Best Ukulele Straps Buying Guide
If you ponder that all ukulele straps are made equally, then you need to think again about the matter. Various models may become widespread in point of length, design, and overall quality. So, you should pay attention to a few factors while choosing the best ukulele straps.
Materials
In general, we can say that a strap is nothing but a piece of material, which retains your instrument in the right place. Many different materials are used for straps, but Nylon, Suede, and Leather are the most common.
Nylon Straps: They are the most popular and inexpensive. If you explore the ukulele's Case of any player, it is likely to get at least one nylon strap in it. The real factor is that they are very reliable. Each player thinks that he can always rely on an excellent old nylon strap. Also, they require little space when rolling up, and these are easy to conserve.
Suede Straps: These are a bit more expensive compared to nylon straps. But these are still available at a reasonable cost. A large number of players prefer Suede Straps, and it maintain their popularity. Basic suede straps are crafted with two pieces of suede sawed together, but some options contain thick padding.
Leather Straps: They come in a variety of styles, colors, and sizes. Nothing seems to feel better than leather, but their price is also a bit high. Leather straps can be long-lasting if you can take care of them properly.
Compatibility
One of the most important things you can consider is buying the best ukulele straps. Then discover if it just suits the instrument. Therefore, you need to confirm that the Strap you select will be consistent with your instrument altogether. The reason is that some straps are made for specific models. On the other hand, other models become compatible with a wide range.
Strap Types
You find four different types of ukulele straps, which are made to fulfill various needs. They are one-button straps, two-button straps, leashes, and hook straps. Every Strap contains advantages and disadvantages. So, you have to consider it carefully.
One button straps: These characterize a strap with an attaching hole on one side combined with a binding mechanism on the other side. The hole is made to attach to the knot at the bottom of the ukulele, while the binding mechanism links to the headstock.
Two-button straps: They offer a feature of the addition button instead of the method of binding. These straps have become especially popular as they provide extended durability. However, some players feel discomfort when drilling a hole in their instrument.
Leash Straps: The solution of drilling a hole is chosen for any Leash Strap. Although ukulele leashes are not usually fascinating, you can rely upon them to do the job. Manufacturers design Leash Straps to attach to the middle of the body for overlaying the soundhole and tightly securing.
Hook Straps: You can wear hook straps around the neck like Leashes. They get connected to the ends of the soundhole using special hooks. Although hook straps do not need drilling, some players feel uncomfortable using them.
So, which is the best ukulele strap?
So, which model should you choose after checking out some of the best ukulele straps for sale? But, our top pick for the best ukulele straps is the Rinastore Ukulele Strap. The reason is that this product comes at a reasonable price. Also, what you achieve is the sturdy and best strap that you explore.
Conclusion: Best Ukulele Straps
The best straps for ukuleles will not generally be expensive for most musicians. But, spending a few dollars is not a bad idea to make the most of the straps affordable and for the high-quality product to be lasting for a long time.