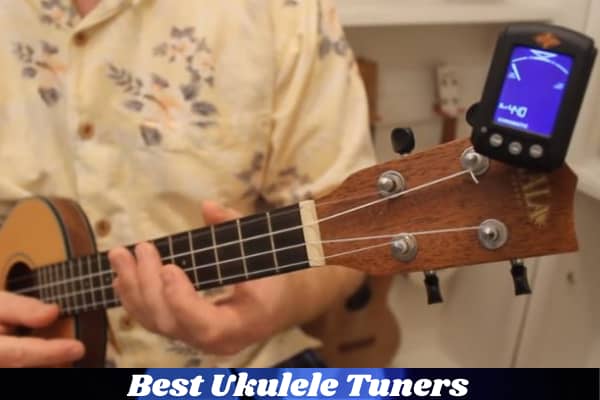 When you play an instrument, it is vital to tune the instrument to get the right sound. If you've ever listened to music, which is out of tune, you know how unappealing it becomes. The same is true of ukuleles. Since excellent sound is one of the reasons, a lot of people prefer to play ukuleles. It is reasonable that you require the best ukulele tuners to get the highest performance above all. We have researched many Amazon reviews so that people can find the best ukulele tuner for beginners or any level players. So, let's start reading.
Our Top Pick of Best Ukulele Tuners
Editor's Choice
D'Addario NS Micro Clip-On Tuner
Top 6 best ukulele tuners
1. KLIQ UberTuner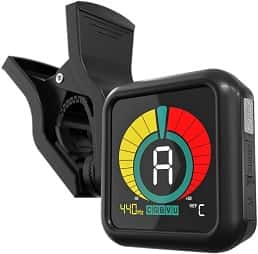 KLIQ UberTuner is a bit expensive compared to other tuners on the list, but it contains a superbly bright and quite big display. It has the most prominent features. It seems to be similar to other clip-on tuners at first look, but you will find the difference after turning it on.
This tuner is shiny, and it tracks out the playing notes quickly compared to most tuners. Of course, it is built for rapid on-stage tuning.
Its note and flat/sharp indicators are simple enough to read, and you can easily use this tuner in any loud environment due to being a clip-on tuner.
By adjusting the head of the tuner, you can set it in three different positions. That means that the screen can be positioned to be suitable not only for the ukulele but also for any stringed instrument.
This Clip-On Tuner is super accurate. If you want to be confirmed, you can compare it with some high-end tuner. It offers five different dedicated modes for guitar, bass, violin, ukulele, and chromatic for all other instruments. It features an adjustable pitch calibration from 430 to 450 Hz.
This elegant design tuner is stiff and durable because of being made of high-quality plastic. Also, it is very convenient to carry because it fits in any gig bag or even pocket.
Pros:
Large and bright display
Quick note detection
Excellent accuracy
Warranty for three years
Cons:
Control buttons are very tiny
2. Snark SN6X Clip-On Ukulele Tuner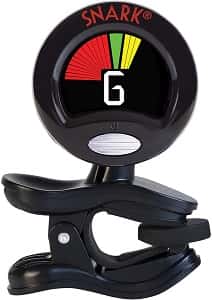 The next is the Snark SN6X Clip-On Tuner for Ukulele. It is another ukulele clip-on tuner, which attaches resolutely to the end of your instrument. The Snark SN6X is user-friendly with a simple design, and simply put, there is no need to look any further.
The display is tremendous, in a word. Its large, clear, and color screen makes it even more attractive. Regardless of the surrounding environment, you can be sure of its perfect clarity. The additional bonus is that it rotates 360 degrees, which acts for right or left-handed players. Also, a quick turn lets you view the display from any angle.
This reliable ukulele tuner includes one large switch instead of several small buttons. Consequently, you will get easy accessibility, even when you are busy or on stage.
The good news is that it has a built-in metronome. It not only gives your ukulele melody but also ensures that your rhythm is kept up-to-date with the right feeling.
This Snark Ukulele Tuner contains a lot of features, but its battery is not so great. Even then, it might be a good option for amateur players. Besides, its metronome can be a good help for beginners or new musicians.
Pros:
New high-definition display
A built-in metronome included
Enhanced accuracy
360 degrees rotated display
Cons:
The battery does not last long
3. Fender Clip-On Tuner FT-004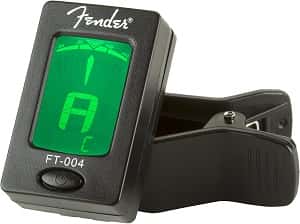 The quality arises to mind first when we discuss the Fender Brand, and we don't find any exception to the Fender Clip-On Tuner FT-004 too. It is a bit fundamental and flexible but unbelievably easy to use and accurate.
This chromatic tuner offers general chromatic settings as well as has modes for ukulele, guitar, and violin.
The FT-004 is a basic, monochromatic, and smallest display. You will view it in mini tuners, but you can easily read them too. The minimalist design tuner includes only one control button, but it is more than enough to continue your activities.
The screen displays a needle-like graph that indicates how far you are from the perfect pitch, and it looks bright enough, even though you stay in the darkest conditions.
This tuner comes with a 3V battery, which is long-lasting. It features a small, compact size one-handed swivel clamp that grips very well.
This small tuner needs less space, so it becomes easy to put it in a small box. As a result, traveling musicians choose it as the best ukulele tuner. Also, it is durable and comes at a reasonable price.
Pros:
Bright display
Sustainable battery
Very accurate and easy to use
Less expensive
Cons:
Changing the battery is a bit difficult
4. D'Addario NS Micro Clip-On Tuner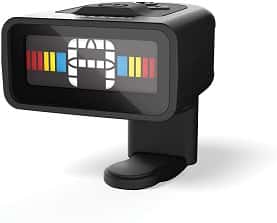 Many have already known that D'Addario builds several reliable music accessories. It is originally a string maker but now supplies musicians with a variety of tools.
This model is suitable for those who emphasize prudence. It is so small to sit on your headstock that the audience cannot even notice it because it is just at 1.25-inches. Again, when you keep your ukulele in the case, it can stay with the ukulele. So, think of how tiny it is.
It provides a metronome mode. Is it a good thing? Yes or no. The sound of a metronome can seem to be quite annoying. But, it sounds good without being distracted by the music.
If you consider the accuracy, it is a good option, no doubt. Its piezo transducer receives vibrations and rapidly shows the note on an easily readable reading screen. It gives us the ability instantly to tune in precisely with our ukuleles.
This tuner is somewhat fundamental, even though the display is clear. However, if it does fast and precise tuning according to your need, then it is probably the best ukulele tuner for you.
Pros:
Small, durable, and light
A metronome included
Super accurate
Reasonable price
Cons:
5. Snark SN6 Clip-On Ukulele Tuner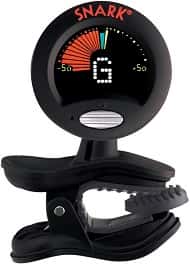 The Snark SN6 Clip-On Ukulele Tuner has become one of the most favorite tuners to musicians among these types. It is somewhat multipurpose compared to most similar tuners. The Snark SN6 has a full-color bright display and is enormously easy to use.
It is entirely rotatable (360 degrees), which means you will be able to clip it, even if you intend it on your ukulele headstock. Whether you're a left-handed or right-handed person, you'll be able to see the display.
Snark offers a variety of tuners with various features, and some most expensive tuners have a metronome and built-in mic.
This specific model is not the most stylish tuner in the world, but it can be said that it is simple to use, and its display is easily readable.
This tuner utilizes wood vibration to identify your play note. Therefore, it is perfect in the noisiest environment too. This tuner will not require much space in your gig bag due to its being small and compact size. There is nothing to be wondered about its popularity.
Moreover, it is one of the cheapest tuners, despite being perfect and precisely made.
Pros:
Completely 360-degree rotation
High sensitivity Vibration Sensor
Accurate and very reliable
Affordable
Cons:
6. KLIQ MetroPitch – Metronome Tuner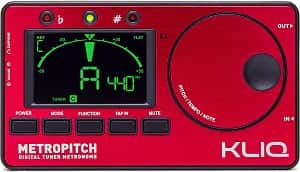 Now, we are going to review the KLIQ MetroPitch – Metronome Tuner. It offers a large number of great features.
The tuner does not utilize vibration to detect a note. Instead, it contains both an input jack and a built-in microphone. The mic is used for acoustic and the jack for electric ukulele.
You can use this A0-C8 chromatic tune for all kinds of instruments. It features preset tuning for most things, including strings, as well as it has transposition settings for brass or woodwind. You can use it even as the best tuner for a trombone!
It is suitable to tune quickly in a noisy environment using a clip-on tuner. Some might not like making to the chaos around plugging it in. With a vibration-based tuner, it allows you to sit on the edge of the ukulele while playing full-time without interference.
This metronome will enhance your time with 30-250 beats per minute in enriched different music styles, tap tempo, and a wide range of different Beats and rhythm types. It is a handy featured instrument and also much easy to use.
Anything else! It gives the tone generator, which helps in making the quick pitch selection, among many other functions.
Pros:
Combination of tuner, metronome, tone generator
Different tuning methods
Accurate and clear display
3-Year Manufacturer Guarantee
Cons:
No vibration-based option
Guide to Buy the Best Ukulele Tuners
Aside from the many various models of tuners, you require to take into consideration some essential things before buying the best ukulele tuner.
Display/Meter
Several models utilize needle-based meters to display how much you are near the pitch. Others include LCD displays with a needle-looking graph or LED lights, which generally turn from red to green while staying on the accurate pitch. Some tuners have various colors to determine how much you are near to the correct pitch. More display segments imply easier tuning. Besides, you choose a large and bright display because you may have to be tuned your uke in the light lighting situation.
Auto Pitch Detection
Improved tuners will identify your playing note and display its relation to the actual pitch note. You need to fix the target pitch for each string for the less advanced tuners.
Tuning Method
Using the tuning method relies on your needs. Do you want to use your plan during a stage performance or while jamming with your friends? Various technologies will become suitable for different musicians.
Clip-on tuners
These are swift and effortlessly useable and are typically small enough and suit both practice and performance. A clip-on tuner utilizes vibration like a good all-rounder.
A concern with clip-on is that they can scratch the headstock if they don't pad well. In this case, a mic-based tuner might be the best. Anyway, in noisy environments like concerts, we may need to struggle to utilize this model type.
Jack connections
It is excellent for reciting tuners with a jack. You can directly connect your pickup or electric ukulele to the device. These can be more obscure than clip-on. You cannot use them with the acoustic-devices that do not have a pickup.
And after that, there are tone generator tuners. If you attempt to prosper your tuning by ear, then they may be excellent. But they can be less accurate because they do not utilize a transponder.
Special Modes
Many digital tuners contain options for different instruments or different tuning. Some even have options for open tunings and drop tunings.
FAQs about the Best ukulele tuners
1. How to tune a ukulele with a tuner?
If it is a clip-on tuner, you connect it to your headstock and turn it on. If you use a microphone tuner, place it near the device, and ensure the room is muted. Select the C mode when different tuning modes are available.
Begin with the G string and then move it downwards. If the tuner shows an arrow display, adjust the ukulele strings until the arrow rises directly to the top, on the note written on display. If you use a green-red style display, you require to adjust the strings till the Note is not in the green zone.
2. How do I tune a ukulele without a tuner?
If you have excellent ears, you can tune the ukulele with other instruments or apps. You need to tune the first String G (4). After that, you have to do the seventh fret down of the second String. You retain the fingers there and finish the String until it looks like a G (4) String.
When tuning the third String, place your finger on the fourth fret of the second String and ensure they are both the same. For the last String, retain your finger on the second fret of the G (4) String and adjust till the last String is not the same.
3. May I utilize a guitar tuner for the ukulele?
There are some guitar tuners, which are a useful option for ukulele players, and they are chromatic tuners. They read vibrations using sensors and report on them. The significant issue is that they require to do the work without a guitar jack.
There are some clip-on models built to accommodate different instruments. They contain both guitars and ukuleles. You have to confirm only that your chosen guitar tuner can adapt guitar notes and ukulele notes together. But, some specific guitar tuners let you to to select the tuning mode on the ukulele's tuning.
4. Should I get the Best Ukulele Tuners with a Built-In Metronome?
Of course, if you don't have before. Unless you already have one, you should take two in one deal. It does not spend much money, but very essential. The reason is that Metronome is a helpful thing for practicing. So, why don't you take both devices within a single gadget?
5. Are there any other types of best ukulele tuners without the clip-on and microphone tuner?
Yes, in addition to clip-on and microphone tuners, other tuners are available rack tuners, pedal tuners, and soundhole tuners. But, they are not as advantageous as clip-on and microphone tuners.
6. Why use a clip-on ukulele tuner?
Many people say that why they need to spend money on clip-on tuners when they have a free app on their phone.
Many of the free apps are excellent, but they have to keep in mind that they utilize their phone's built-in microphone, which means they are more likely to be affected by background noise like music or other players.
Clip-on tuners act by sequestering the vibrations of your ukulele. Therefore, they don't listen to what is going on around them. As a result, the clip-on ukulele tuner becomes ideal for a noisy environment.
Conclusion: Best Ukulele Tuners Reviews
In our opinion, clip-on tuners are the best tuners for the ukulele, and the D'Addario NS Micro Clip-On Tuner is the best clip-on tuner. This tuner contains the essentials that you expect from tuners.
It has a visual metronome, and it is very accurate and easy to use. Also, the price is more important than what is within reach.
Each tuner on our list works well, but the D'Addario NS Micro is a special one.