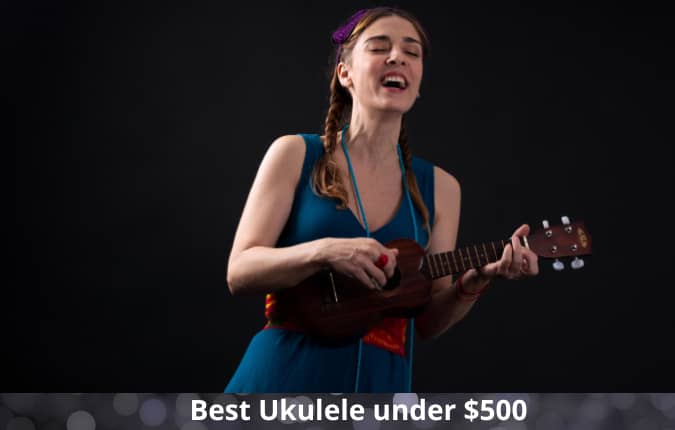 If you browse the internet in the hope of finding the best ukulele under $500 that matches your style of play and sounds great, we would say you come here. After much research, we've put together items that we believe will fit your mind.
It's no exaggeration to mention that the ukulele has many impressive features. Therefore, spending a little more might become a way to open many doors for your music career.
Let's liken the top-rated ukuleles under $500. Maybe, you might find your desired one within your budget.
Our Choice:
Editor's Choice
Lanikai Quilted Maple Tenor Ukulele
Top 7 Best Ukuleles under 500 dollars of professional models
1. Kala KA-SA-B Solid Acacia Baritone Ukulele under $500

For a good reason, Kala has become one of the top brands in producing the famous and popular musical instrument industry for a long time. In that continuity, this Solid Acacia is another version to live up to all our expectations and so on.
Kala has impressed music lovers with the ukulele of Solid Acacia for the top, back, and sides. Indeed, the acacia resembles Koa wood and looks like a fantastic grain pattern.
What's more, a solid wood ukulele generates an incredibly enriched and fulfilled sound that is not possible to replicate with even a beautiful laminate. Also, one of the advantages of solid wood is that the sound and tone become advanced with the age.
Maybe, the brand uses a simple style for its premier design, yet it has figured out the separate form with the herringbone purfling and rosette. Also, this model designs the fretboard in a unique way for each fret inlay.
Kala always places a high standard on the hardware, no doubt. Above all, we think you'll not have any objection to its performance.
Pros:
Solid construction with a simple design
Superb for longevity
Full body sound and tone
Well performance
Cons:
No electronics in the
perspective of price
2. LAVA U Carbon Fiber Ukulele under $500

When all are thinking about improving the ukulele design, the LAVA U has emerged as a completely exceptional device. In short, it is a unique option if you search for something new for the best concert ukulele under 500 dollars.
This LAVA U consists of a special carbon fiber composite, known as AirSonic of the brand language. Also, it stays secure for humidity ranging from 10% to 90% and temperatures from -4 to 140 Deg where a solid wood ukulele will be sensitive to weather changes.
One of the most surprising properties is that you can sum up the effects on your play even without plugging it in. It means that it lets you specify your sound without an amp.
Out of all the properties and breathtaking design alternatives, this Carbon Fiber Ukulele still does its prime job beautifully. Moreover, it produces a deep tone with a balanced sound.
Overall, this item has shown a new aspect considering the inclusion of carbon fiber build. So, if you reside or long for going to rough weather conditions, this product could be an instrument for you in the case of playability and durability.
Pros:
Suitable for travel with it
Risk-free from breaking or damage
Adaptable to any weather
Available in multi-colors to pick
Cons:
Only one strap button installed
3. KIWAYA FS-5G Soprano Ukulele under $500

You have already heard the name of this Japanese Kiwaya (familiar as the brand 'Famous' outside Japan) brand in the past. This company might have globally less familiarity, yet it has marketed a standard musical instrument.
A burning example is the Kiwaya Soprano Ukulele proving how the laminate wood works better than expected. Rightly, its performance changes your previous thought about the laminate instrument, for sure.
This soprano ukulele under $500 contains thinner material, which results in a lighter weight. Further, the laminate uke produces a sound so enriched that you can reset your pre-idea. In truth, quality is more significant than anything.
When high-quality craftsmanship is combined with high material, something beautiful is created. It is to tell that the FS-5G comes with fantastic masterhood, almost faultless finishes, and perfect alignment, making your play cozy.
It may not have electric facilities and also cost more for a laminate. But, when you compare it with others, it will gain more scores than you hope. Above all, the ownership of this Hawaiian ukulele body will make anyone proud.
Pros:
Compatible with beginner to intermediate players
Durable despite being laminated uke
Stable tuning
Padded bag, pitch pipe, and strap included
Cons:
It may seem costly considering the laminate
4. Lanikai Quilted Maple – Best Tenor Ukulele under $500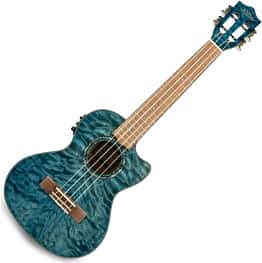 Lanikai introduces its nicely quilted maple tenor. Honestly, this Lanikai Ukulele looks striking and enough to select. But it has not taken its place on our list just for the look.
Lanikai has designed it in combination with dazzling blue seawater. Apart from just the exterior design, it accomplishes its job well. So, the laminate quilted maple body ensures its longevity and produces a well-rounded sound.
This model has set Deluxe Grover tuners and D'Addario EJ 88 strings. Both are famous for shaping good-quality instruments. Besides, they keep the uke in tune for a long time.
Further, this tenor has placed a Fishman Kula preamp system to form an acoustic-electric ukulele, making it completely different compared to the competitors. For this, you can enjoy a clear and crisp sound with a proper reliable system.
Apart from those, the uke puts a NuBone XB nut and saddle, confirming a better tone with longer sustain. It has a wide neck and nut profile with a cutaway, meaning you can play it with ease. Furthermore, it offers a nylon foam case to avoid tension about its safety.
Pros:
Mind-blowing design
Glossy stained quilted Maple added
Conspicuous sound and steady tune
Comfy to play
Cons:
5. Kala KA-SA-T Solid Acacia Tenor Ukulele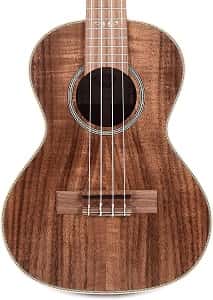 We've enlisted a nice Kala KA-SA-T to our list of the best ukulele under $500. So to say, it is a musical kit that puts a good number of potential customers on their list of favorites.
The reason is that the KA-SA-T brings a very high property level. So, you will be an owner of a solid wood acacia top, contrasting beautifully with other portions. Many explain its overall finishing quality as the best.
Indeed, you can be delighted by its maple bindings, a profound mahogany neck, and an entirely stunning walnut fretboard. In the points of sound, the manufacturer can brag about picking a lot of traditional Hawaiian ukulele players due to the appearance of this astonishingly crafted musical instrument.
The package has attached the Aquila strings with standard, sounding excellent and lasting for many years. After all, it is a stunning one of layout and is capable of placing on the wishlist of players.
Pros:
Fabricated from stiff wood
Undoubtedly durable
Flawless design
Balanced sound and sustainable tone
Cons:
6. Deering Goodtime Banjo Concert Scale Ukulele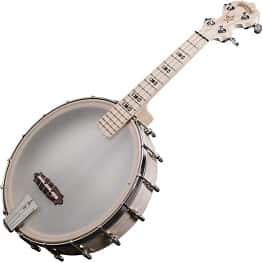 Our list covers some stellar ukuleles. In truth, the Deering Goodtime Banjo Ukulele is one of them in those lineups. We are reviewing the first crossbreed instrument in this article.
This concert-type banjo features professional-standard instruments. It comprises 17 Frets and measures an overall 23.5-inch. Also, this instrument made in the USA is crafted from maple.
The Deering Banjo creates a wondrously warm but significantly loud and full sound throughout the accurately balanced Aquila Super Nylgut string. Besides, the attachment of the patented bridge plate exacerbates the tone by reducing unwanted bass frequencies.
Deering designs this uke by adjusting the conventional shape and esthetic of the old-type banjo structure with a modernized theme. Consequently, it has appeared as a striking formation, looking so eye-catching.
Furthermore, its playable structure has made it an easy instrument for a seasoned ukulele or banjo player or just for finding something new. Sorrowfully, you have to spend a bit extra on a gig bag because it does not come with the package.
Pros:
Versatile instrument
Sturdy all the structure
Buzzing-free sound and tone
Best value for the price
Cons:
7. Gold-Tone Brass Body Resonator Ukulele

Are you craving to diversify in your collection? You can fulfill your hope by adding this resonator ukulele. Mentionable, this resonator ukulele is an all-wood build, and a brass-bodied instrument remains in front of you.
This model does not appear to be a traditional-style instrument when you look at it. Indeed, it has emerged in the form of the 20th-century jazz guitar in its construction. Thus, it will not be unnecessary want after for players looking for something new from the mob of the ukulele.
The Gold Tone puts Aquila strings to this instrument, generating sound accurately over the whole fretboard. It is to mention that there is nothing wrong with this Resonator, and it has a very high-quality finish.
Finally, the Gold Tone Resouke might not be a favorite one for traditionalists. But, this version will win the musician hearts who applaud instruments out of the conventional lineups.
Pros:
Robust brushed finish body
Concert scale length
Loud but charming sound and tone
Aquila strings as high-quality
Cons:
All might not like the design
Things to consider while choosing the best ukulele under $500
Based on your expectations and experience level, you have to emphasize the various features of this article to varying dimensions. Here, we'll highlight closely the ukulele types and the ingredients used while building. Also, we'll talk about some essential parts of the instrument, such as the fretboard and tuner with other helpful properties. In a word, when you are picking, you should know about the necessary things.
Ukulele types
Many types of ukuleles are available, while many seem to be the same at first sight. Based on the sound level of your uke, you might go with tenor or baritone ukuleles for a more profound sound. On the other hand, you can opt for the best soprano ukulele under $500 for the instrument with a high-pitched tone.
At present, hybrid instruments are extensively found. In other words saying, many are looking for a banjolele, offering some advantages to both the banjo and the ukulele – the way the name recommends.
Players who long for using the instrument to practice at home but need to sing in a band or solo can move to the wide range of semi-acoustic ukuleles. Indeed, you can play semi-acoustic instruments with an amplifier or use them as acoustic instruments.
Components
You will observe several wood types and components within our list of the best ukuleles under $500, such as maple, mahogany, bamboo, rosewood, and brass. Some artists insist on natural materials in terms of music and sound. Honestly, you should have your concept about what sounds excellent. After all, sturdy woods serves much durability and strength compared to softwoods.
There's needless to say that even the most dexterously-made instrument will not sustain very long if it is crafted from low-quality materials. So it is emergent to keep your eyes on what the manufacturers have chosen to shape your device fashionable.
Frets
The number of frets plays a vital role in affecting the range of the instrument. The more frets the instrument has, the more a wide range of notes can be found in that instrument. Therefore, advanced players crave to get ukuleles with enough frets to enjoy an extensive range. In terms of frets, materials become significant. Some elements for the frets are walnut, Flame, rosewood, etc.
Tuners
Tuners have a significant role in how much your ukulele sounds good or bad while playing. In truth, you have to stay in tune to hear a lovely sound, and it relies on the effectiveness of the tuner, correctly made. Some manufacturers apply solid tuners. These are more potent and more perfect in the case of adaptation than their competitors, which are made of flimsier or hollow materials.
Colors
If you contemplate showing your device to the public often, the finish and the color can be a matter of consideration. Some manufacturers spend a lot of time designing and finishing, thinking that it will look good on stage. Rightly, colors might massively impact the audience and help you perform memorably.
What other aspects do I need to reckon with?
You need to think of extras and accessories when you're seeking a ukulele for yourself. Several available items are undoubtedly essential for gigging singers, travelers, or even going to a friend's house for practice. So, try to take an instrument with a hard case or gig bag. Further, you'd ponder about quality strings, conspicuously affecting the instrument sound as well.
Final thought, Best ukulele under $500
Finding out the best ukulele under $500 might become stressful or more exciting for someone at the same time. That ukulele is perfect for you may not be perfect for others because of opinion and style.
In the true sense, we've endeavored to put together into the list some of the fantastic ukes for you to sort out the right one.