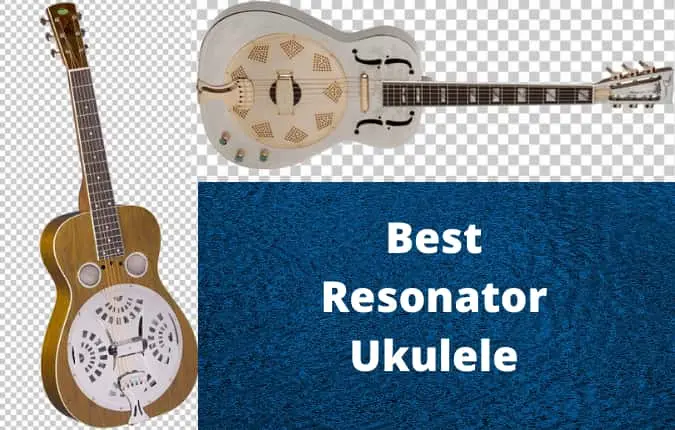 Finding out the best resonator ukulele is a bit challenging task. The reason is that these types of uke are pretty infrequent to find, and their weird melody only functions for particular genres. Despite being tough to find, it is a musical instrument, as attractive as significant.
The most rugged portion for you about resonator ukuleles is to explore where to purchase them. But, we have already mentioned it.
All we have to do now is find the right resonator uke for you. Yes, here we have presented a list of some resonator ukes. From the list, you can pick one. Let's look at a glance now.
Our Top Pick
Editor's Choice
Gretsch G9112 Resonator Ukulele
Top 6 Best Resonator Ukuleles
1. Gretsch G9112 Resonator Ukulele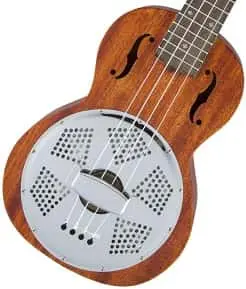 In the musical instrument world, Gretsch has a lot of names and fame. Another addition to their beautiful instrument line is the Gretsch G9112. Indeed, it comes at concert size.
You will get an unparalleled volume from this concert uke. In any acoustic blend, the G9112 gives a pleasing experience with its powerful 6-inch biscuit resonator cone while playing.
Now a question can arise about how durable it is. But we can say that the mahogany top, back, and sides constructed body ensure its durability, including a one-piece mahogany neck with a bone nut.
Moreover, this model brings a rosewood biscuit bridge puck with a maple saddle and a rosewood fingerboard with 16 frets. Gretsch uses the Grover 9B Sta-Tite Geared deluxe tuning pegs to tune it smoothly.
This uke contains the "open pore" semi-gloss finish that is attractive enough to charm uke lovers. Further, it offers a deluxe fitted gig bag to avoid your carrying problem.
Pros:
Mahogany-built body
Loud 6-inch biscuit resonator cone
Warm sound and tone
Well design
Cons:
Too large frets for someone
2. Kala KA-RES-CHR Tenor Resonator Ukulele

Kala is a renowned brand known to everyone in the case of musical instruments. So, this Kala resonator ukulele will be a standard product, no doubt. Pick it if you like loud sounds.
This Cutaway Resonator uke consists of a Mahogany body bracing pattern that results in a distinctive voice and appearance. You will find it in two unique models – a vintage van brass resonator cover or a chrome resonator cover.
Kala redesigned it in 2014 to characterize a lightweight aluminum resonator cone fabricated into a figure. A well-scaled tenor neck gives a loud sound and tone.
Indeed, its grain and finish binding will make you impressed with the action and intonation. When you play it, you will not find any fret sound.
There will be nothing wrong with having this resonator uke tenor in your collection, sure.
Pros:
A super classy Mahogany-build
A chrome-plated resonator cone
Unique sound and tone
Comfortable to play
Cons:
Chrome Sound may not be
appreciated by all
3. Gold Tone, RESOUKE, Brass Body Uke Resonator Ukulele

This time, Gold Tone spending more money for Resonator Uke is not a shy matter. It may be somewhat expensive, but you will get the best possible value.
The Gold Tone Tenor Resonator Ukulele features a reverse-cone resonator and a biscuit bridge, dexterously attached to the resonant steel body.
This steel body resonator ukulele delivers a crisp sound with a much more conclusive and captivating tone. Its performance makes your play effortless. Also, the brass body creates an extra attraction to it.
It has a removable palm rest to make it easy to use. Besides, it is equipped with Kluson-style tuning machine heads, a bone nut, a Canadian hard rock maple saddle, and Aquila Nylgut strings. This brand includes a hardshell case to carry it.
Pros:
Surprising esthetic
Superb sound projection
Excellent mahogany neck
Hard case added
Cons:
Someone can like wood more than it
4. Luna Ukenator Tiki Resonator Concert Ukulele

Although Luna has emerged as a new brand, they have already asserted its competence to manufacture quality products. This ukulele has become a shining example. So, collecting this version will be a surprising dimension to your collection.
This chrome-plated brass concert provides a tone and sound that can seem to be a little warmer yet delivers lovely sound projection. Besides, it has an aesthetic body structure that will inspire you to play, of course.
Luna utilizes a traditional Polynesian tattoo to design its front part, large wood and stone carvings of humanoid forms, available in Polynesia. This type of unparalleled design catches the eye of UKE lovers and inspires them to buy it.
Furthermore, the Rosewood Fingerboard will make your play effortless. There is a set neck in this Luna uke. It can be said that if you use it, you will not be disappointed.
Pros:
Standard instruments in this price range
Quality sound projection
Better for fingerpicking
Shark tooth-looking fretboard inlays
Cons:
Need some time to adjust the
rosewood fingerboard
5. Recording King RU-998 Metal Body Resonator Ukulele

It is a musical instrument for people who are looking for a metal resonator ukulele. This entirely European-made bell brass body is suitable enough to meet your needs.
This Recording King resonator ukulele features a 6-inch hand-spun Continental cone that assembles a unique flavor to the classic Hawaiian instrument. It has a nickel-plated that makes it glow and becomes an absolute option compared to others.
This instrument includes a mahogany neck and rosewood fretboard that guarantees its longevity and lasts for years consequently. This brand utilizes champion-style friction tuners that allow you to tune spontaneously and make your play smooth alongside.
All features have given this rare instrument a gorgeous projection, unusual compared to conventional models but captivating for a uke. Considering all of the above, it is not a bad pick for you.
Pros:
Artistic craftsmanship
Reasonable-priced metal-bodied resonator uke
A classic room-filling resonator sound and tone
Featherweight case included
Cons:
6. Sound Smith Tenor Resonator Ukulele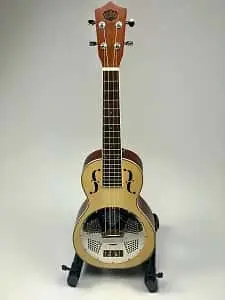 This time we have included a reasonable price and a good-sounding instrument the Sound Smith Tenor Resonator Ukulele. Honestly, its captivating design and finish are irrefutably fantastic enough to capture anyone's attention.
This tenor-size uke is a jewel that consists of a laminated spruce soundboard. Also, Sound Smith uses laminated mahogany wood to construct its arched back and sides. This type of structure is enough to ensure a classy sound and tone.
You will see the acoustic guitar-style headstock made with solid mahogany up to the neck. Besides, the fingerboard marked by pearl dot inlays is built using walnut wood with 18 nickel frets.
Other features are Aquila Nylgut strings, a solid walnut biscuit bridge with maple saddle, a set of closed chrome-plated machine heads, and bone nuts. Those guarantee intonation, tuning, and string action.
Pros:
Stunning look and design
Fantastic craftsmanship
Well performance
A hardshell case attached
Cons:
What is a resonator?
Luthier John Dopyera, the founder of The National Stringed Instrument Corporation, in the 1920s, designed a resonator that works to amplify the sound of an acoustic guitar or ukulele.
Before the electronic amplification, in the early 1920s, a lot of guitarists looked for instruments to hear alongside loud orchestral instruments, like brass and percussion, when Los Angeles was rapidly turning into the entertainment capital of the world.
With their demands in mind, Dopyera invented an acoustic method of amplification that functions to produce sound by one or more spun metal cones in place of a wooden soundboard.
Best Resonator Ukulele Buying Guide
This uke type can be a daunting bunch, so it's no surprise that you have already studied this article to aid in bringing some intelligence to your exploration. Okay, don't worry more and don't look anymore – you will find all the necessary answers here. The following rapid guide might assist if you fall into any problem with all the picks above.
Wood or Metal?
To be fair, in the case of wood or metal, personal preference is a matter. It affects the tone a bit though, moreover, there is no difference here. The reason is that the sound projection and the twang of the strings are the roles of resonators. The wooden body delivers a warmer sound, right, but the metal body is not so bad either.
What type of resonator should I buy?
Three types of resonator cones are installed in resonator ukuleles. They are the Normal biscuit resonator cone, the spider cone, and the Tricone. Rightly, they all are loud. The biscuit has excellent projection but is not too durable. On the other hand, despite being better sustained, the spider cone offers a softer projection. But, the Tricone contains both superb sustain and projection features. All three types are somewhat pricey, no doubt.
Two types of necks are available to take into consideration. One is square, and another is round. In the case of playing the instrument in conditions of straight and natural, players pick the round. When it comes to slide action and musicians like to play the instrument put on their laps, square one is chosen.
Comfort
You choose the one that suits you best, okay? The aesthetics or elements are the options that catch your eye, but in the final judgment, you have to be satisfied with the uke you bought. There is no such thing as a right or wrong ukulele, but the only thing you need to consider when choosing is your comfort while playing.
Final Verdict, best resonator ukulele
After saying and doing everything on our behalf, here are the top 3 picks for this list – the Gretsch G9112 Resonator Uke Natural, the Kala KA-RES-CHR Tenor Resonator Uke, and Gold Tone, 4-String Uke.
The first is the Gretsch G9112 Resonator Uke, confirming that Gretsch deserves its place in the musical instrument industry. Their prowess becomes undeniable. The 9112 offers a great tone and sound projection despite having a wooden body. Besides having accessories, this selection can never be the wrong one.
The next is the Kala KA-RES-CHR Tenor Resonator Uke. The brand wants to make each product at the top of the list. This ukulele brags about the fantastic sound projection with warmth. Indeed, it is a developed version of their 2014 model. This mahogany constructed uke lets a classic ukulele sound and tone.
The bottom of the list is the Gold Resonator Uke which brings a coherent brushed aluminum aesthetic with a contrary cone resonator. This instrument delivers plenty of sound projection with tones, as bright and loud as you desire to get.
Sure, preferring the best resonator ukulele will depend on your needs and preferences. In this case of this type uke, your ability to use it is of paramount importance. So, try and continue.