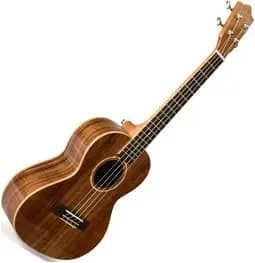 You are trying to pick a musical instrument for your smooth music journey. This article on the best Lanikai ukulele will help you find the best option if you are tired of browsing for the best brand ukulele. However, Lanikai has a reputation in the ukulele market for the production of high-quality, excellent-sounding, and eye-catching design ukuleles. Also, we've presented a buying guide to make sure that you can get the right instrument according to your needs.
See Quickly Our Top Selection:
Editor's Choice
Lanikai, 4-String Ukulele (ACST)
Top 7 Best Lanikai Ukulele for Beginners and Professionals
1. Lanikai LU-11 Soprano Ukulele

As an entry-level ukulele, the Lanikai LU-11 Ukulele is the perfect choice for players going on to start their music life. The brand manufactures this soprano-sized uke that comes with a quality style and a reasonable price.
However, this handcrafted model has Nato wood on its top, back, and sides. This wood produces a crisp and enriched sound. The sound keeps the tradition of this instrument.
Playing the uke is very simple. Besides, to help your learning process, it offers an instruction booklet. This ukulele is one of the most popular models of the brand, and you get ready to enter the world of fun.
Further, the LU-11 contains a Nato fretboard with 12 frets. It has a 14-inch scale length that is well-suited for this type of little instrument. The nylon strings are quite smooth providing you with a better feeling while playing the uke.
Finally, there is no doubt that the Lanikai LU-11 adds a higher value for money. For newcomers, it would be a low-cost investment to immerse yourself in the world of the ukulele and, if well cared for, would probably last for years.
Pros:
Perfectly apprentice ukulele
A decent sound for new players
Easy to play
Affordable
Cons:
Uncomfortable to play for big hand players
2. Lanikai LU-21 Soprano Ukulele Bundle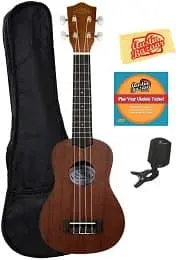 The Lanikai LU-21 is a soprano-size ukulele that is a favorite to users for its low price. Although it is cheaper, Lanikai uses advanced NATO or Eastern Mahogany to make it. It features a rare tonewood that enables this instrument to give a warm, resonant, and soft sound.
Also, the company uses rosewood to build its fretboard with 12 frets. This wood delivers a flavorful tone that makes it a preferred instrument compared to other models in this price range. Overall, its construction is solid.
It is worth noting that keeping the ukulele in tune appears to be a problem for many users. However, many apprentices do not realize that the new Nylon Strings move out of tune quickly, even though it is a high-quality instrument. But the Instrument will stay in tune as the strings expand. It also includes chrome die-cast tuning machines.
After all, this bundle provides lots of essential accessories for a quick start. We assure you that this best Lanikai ukulele will help you increase your music experience.
Pros:
Built using quality materials
Beautiful design
Captivating sound and tone
Essential accessories included
Cons:
Some say about the standard of its included bag
3. Lanikai Ukulele (QMBLCET)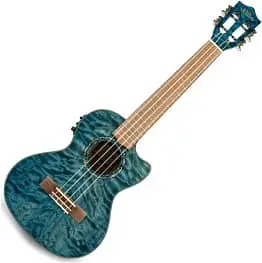 This time we have enlisted an electric-acoustic uke, which is well-suited for the stage performances. The exceptional characteristic of this instrument is a Fishman Kula onboard preamp system that is specially tailored for a ukulele. Consequently, you can enjoy an accurate tone for yourself. Another extra profit is that the preamp system comprises a built-in tuner.
However, we expect to hear louder sounds than other models because it is a tenor-sized uke. It includes the D'Addario strings, which provide a warm, rich, and full-bodied tone that entirely complements the instrument's natural wood. Similarly, the standard-quality nut and saddle help to generate a dynamic sound.
Its weight is 3.3 pounds, which means it's a bit difficult to carry in comparison with other models. Although its size is large, it is comfortable enough to play with. Further, this model has a wide neck that helps you get extra space for your fingers.
At last, we need to say something about the look of this uke. Undoubtedly, its design is striking with its glossy, spotted, and fun maple finishes that make it the best Lanikai ukulele.
Pros:
Electric-acoustic tenor uke
Stunning design
Enriched tenor sound and tune
Preamp system with built-in tuner
Cons:
Somewhat expensive for many
Heavier than other models
4. Lanikai, 4-String Ukulele (ACST)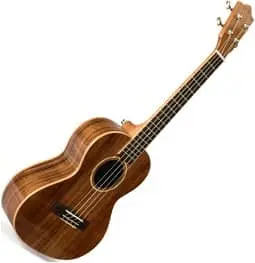 This 4-string ACST model from Lanikai comes with a solid acacia construction to give you a balanced melody that you have been exploring for a long time. It delivers a warm sound that is capable of captivating the listener's mind. Besides, this solid wood uke holds a wide neck, nut, and saddle for your pleasure and ease of playing.
Moreover, for tuning accuracy, the brand gives the Deluxe Grover Chrome open-back tuners. The ACST also contains a light headstock to bestow the players' comfort according to their needs. It brings standard chrome strap buttons that are helpful to adjoin a strap and securely keep it hanging around your neck.
The beautiful gloss finish over the natural wood and maple binding gives it an exceptional look. It offers a full and rich sound compared to the smaller ukuleles. Its dependable D'Addario strings ensure a charming and decent tone.
In the end, you can choose the best Lanikai ukulele to enhance your music skills. We assure you that it will not be a wrong decision.
Pros:
Exquisite look and feel
Completely tenor sound
Sturdy construction structure
Cons:
Solid top but laminated back and sides
5. Lanikai Ukulele (QMBLCEC)

Now, let's look over the electric-acoustic concert ukulele. With 2.93 pounds weight, the Lanikai Ukulele (QMBLCEC) is mild and effortlessly portable. It features a roomy neck and a 37.4 mm nut.
Built with quality components, this instrument takes the shape of an attractive look and aids in displaying your skills. It offers a gorgeous Cutaway electric-acoustic ukulele, which is another product of the Sun, Sand & Surf series. With a Gloss finish, this instrument consists of a laminated Quilt Maple top, back & sides.
Characterizing its classic NuBone nut and saddle, and Grover 97 tuners, they are the ideal pieces. Okay, the melody is marvelous. This instrument invites the sounds of the islands, whether plugged or unplugged. Likewise, it includes the onboard preamp system with 3-bands of EQ. For this reason, without depending on the amp, you will be able to adjust according to your style and taste.
For getting the right note, it has a built-in digital chromatic tuner. To stay accurately in tune, the brand provides Grover open-back tuning pegs.
Pros:
Electric-acoustic concert uke
Fantastic gloss finish
The superb combination of features
Preamp system with 3-bands of EQ
Cons:
6. Lanikai Ukulele (MAC)

Lanikai Ukulele (MAC) has brought all the features that we need. So, this concert ukulele has become one of the best Lanikai ukuleles in its product lines. As a result, many players put it on their list of favorites.
Further, fabricated from the popular mahogany wood, this uke gives a mellow, vivid, and resonant tone. Despite being a concert uke, it consists of a bit wide neck in comparison with other models. Therefore, it becomes easier to manage and deliver a comfortable mood. The frets provide this comfort and are easy on the fingers because they have no sharp edges.
The weight of this instrument is the most noticeable aspect. This model weighs just 1.89 pounds and is easy to transport. Besides, the brand includes standard chrome strap buttons for safety.
The Lanikai Ukulele (MAC) offers an outstanding look, a classy finish, a standard sound, and the highest level of comfort. What else do you hope? Yes, the price. This concert-sized uke is more affordable than many models on the market.
In the end, it is the most suitable for beginners. But, professional or experienced players tend to look for higher quality.
Pros:
Crafted from conventional mahogany wood
Easily portable
Easy to play with and comfortable to hold
Cons:
Experienced players may not like it
7. Lanikai, 4-String Ukulele (FBCETT)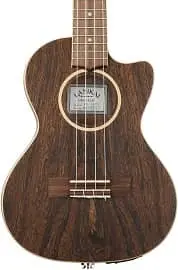 Lanikai, 4-String Ukulele (FBCETT) is such kind of musical instrument that will catch your attention at first sight. But why will it be so? It is made using Bocote wood, which has some interesting patterns of one type of wood. This wood is highly ordained, and it contains a dark granular stripe and gives an excellent projection.
The appearance of this uke is increased by the quality of open-back chrome tuners that are familiar with their melody accuracy. The company produces a very light headstock for the players so that they can retain the instrument easily. Moreover, it comprises the NuBone XB nut and saddle to get the maximum tone.
Now, let's go to the matter of weight. Its weight is 3.14 pounds. Thus, it will not be heavy enough to carry and travel.
Furthermore, its satin finish makes it a different uke compared to others. As a bonus, you will get a padded gig bag while buying. That's to say that you can pick the best Lanikai ukulele for yourself and your loved ones.
Pros:
A figured Bocote thin body tenor ukulele
Active shadow SH-3V pickup
Superior projection
Cons:
The Best Lanikai Ukuleles Buying Guide
Picking which ukulele you desire to purchase depends on your needs. Maybe, you are an apprentice or a skilled player who is going to seek a worthy model. Most importantly, you need to ponder about this before you fix which ukulele to buy.
We think that new enthusiastic players should likely not search for anything too expensive or high-end. The fact is that your eagerness might become a fiery obsession. Rather, you can do the upgrading instead of costing plenty of money to gather dirt in the corners of your instrument.
If you want to play for a while and take it as an entertainment instrument, make a firm decision on whether to buy an electric ukulele. The reason is that buying an electric uke needs a lot of money. So, it is important to consider whether you are willing to spend all this money. On the other hand, if you want to spend less, there are many options on the market to choose the proper ukulele.
That's right! Now, decide which type of uke you need to purchase. So, let's take a look at the four conventional-sized ukuleles.
Soprano
Typical Length: 21 inches
Scale length: 13 inches
Frets: 12-15
It is the most common size and ideal for any level of player, especially for beginners and small hands and fingers.
Concert
Typical Length: 23 inches
Scale length: 15 inches
Frets: 15-18
It is slightly larger than the soprano. It is suitable for any skilled player, but having a bit larger-handed and fingered players feel comfortable playing it.
Tenor
Typical Length: 26 inches
Scale length: 17 inches
Frets: 17-19
It is the next size of the concert. In general, professional and big-hand players prefer this size the most.
Baritone
Typical Length: 29 inches
Scale length: 19 inches
Frets: 18-21
It is the largest ukulele among the sizes. The baritone holds a deep and full sound with a low end that sounds like an acoustic guitar.
After that! How could various kinds of wood make an impact on a ukulele?
To manufacture a ukulele, Mahogany is the most popular and used wood. The reason is that the wood delivers a stunning tone. It is not too hard or soft, yet it is able enough to provide higher service.
Nato is just like Mahogany. However, its sound quality is not as bright as mahogany. Still, it is much more affordable compared to other materials. Further, it seems to be a good-looking instrument.
A complete Cedar-built instrument is not available, but manufacturers use it to produce soundboards. With a honey tone, it gives a warm, decent, and sound.
Now, we talk about the extraordinary Bocote wood. Its outstanding wood crop marks refer to that you are in a crowd, and it looks surprising.
And lastly, we are talking about Acacia wood. The top made of acacia wood helps to create balance and provides a balanced sound.
That's great! You might think this is a lot of information! However, hopefully, we've tried to present an idea so you can understand what factors should be considered while buying the best ukulele.
Do you need more options?
We have reviewed some best Lanikai ukuleles in this article. But naturally, you might have even more likings. If it is so, there is no problem. You may visit our reviews of the best ukulele for beginners, the best soprano ukulele, the best tenor ukulele, the best concert ukulele, and the best baritone ukulele, which are currently available.
Is Lanikai a good ukulele brand?
Lanikai is one of the best ukulele manufacturers, especially for the low-priced segment of them. They provide the instruments according to the needs of the players. Ukuleles made of natural solid wood are available. Along with these, you will find some built with plywood or a mix of both. Moreover, hybrid models are also available, such as Banjo.
Lanikai also includes plenty of accessories with the ukulele packages. It manufactures some exotic models made of premium tonewood as high-end ukuleles. The brand is situated in Hawaii. Meanwhile, their ukuleles have gained popularity and fame among ukulele lovers.
Final Note
In conclusion, good luck to you in the quest to explore the best Lanikai ukulele! Okay, we hope you become a better musician or improve your skills with this instrument.