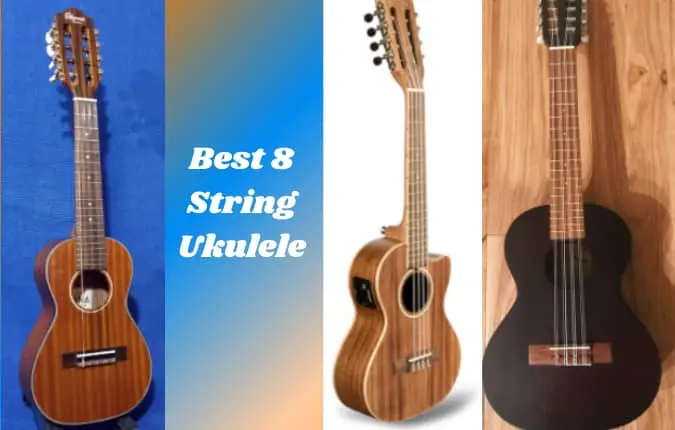 There are four strings in a ukulele. For this reason, this instrument has gained popularity and at the same time proven itself as an easy-playing tool for beginners. But if someone becomes an expert once, a tendency comes to become more adventurous on his ukulele journey. So if exploring something for a new adventure is your plan, the best 8-string ukulele may be an excellent one for you, in this case.
They are not as well-known as the standard four-strings, but the 8-string ukuleles are gaining popularity day by day, of course. Choosing the most suitable model for you can be a crucial task. Rightly, it is natural that everyone will have their own choice.
However, let's see some of the best 8-string ukuleles that might become a perfect one for you.
Read also: Best 6-string ukuleles
Our Top Choice
Editor's Choice
KALA Mahogany KA-8E 8-string Tenor Ukulele
Top 7 Best 8 String Ukulele for advanced players
1. Oscar Schmidt OU28TE 8-String Uke

This 8-string ukulele tenor becomes dependable for its sound and quality. Besides, it comes at an affordable price compared to other models. As a new player in this 8-string ukulele sector, you can experiment with it.
Despite being affordable, the OU28TE never compromises on its features and quality. Although it uses laminate mahogany and does not look like a premium instrument, its sound, and playability make it more appealing.
Maybe, it seems that it has thick wood. For this, the sound is a bit tied up, but it does not have any problem while staying in. You will notice that it has a soft tone in comparison with other 8-string ukes. Nonetheless, it is bright and sweet.
A pickup and UKE-2000 preamp installed are available with this model. In case of dislike this option, you can take the OU28T, although the construction quality is not similar to this model.
This model contains sensitive volume controls and dials that allow you to find your desired levels. Overall, it is one of the best 8-string ukuleles at a case of reasonable price. Hopefully, you consider it by its merits, sound, and construction, regardless of its price.
Pros:
Cheapest 8-string instrument
Handcrafted Quality
Excellent sound
Best value for the price
Cons:
2. KALA Mahogany KA-8E 8-string Tenor Ukulele

This Kala 8-string ukulele comes at a reasonable price compared to other Kala models, yet it gives a superb sound. Its look does not appear to be premium, but its tone will make you pleased, sure.
Kala utilizes laminate mahogany to make its body and neck. As a result, it produces a loud tone and uninterrupted sound, no doubt. Maybe, it has no flashy designs. But when you think of quality sound, you keep it on your choice list, okay?
Its construction structure does not shape it like an acacia ukulele, but the properties make it unique to ensure longevity for years. If you are accustomed to traveling frequently, you can use it as the best travel ukulele without any hesitation.
The dials might not be the most sensitive, yet you will get enough room to handle between treble and bass tones. It will deliver you well in gigs wherever you require it to be plugged in.
Above all, if you want to get a simple and traditional-looking ukulele with a lovely sound, it brings features enough to make you happy. This Kala uke review will help you go with new-type instruments.
Pros:
Durable and well-constructed
Loud tune and sound
Classy finish
Surprisingly reasonable in price
Cons:
Not eye-catching in design
3. Lanikai MA8T 8 string Ukulele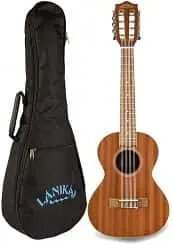 Are you searching for a well-rounded ukulele with reliable sound and flexibility? Well, the Lanikai MA-8T is a suitable one to meet your demand and features a traditional ukulele. One of the significant features is the slotted headstock, making it more different than others.
This Lanikai 8-string ukulele is a combination of a wide nut and neck profile, bone nut and saddle, and a single-ply white ABS fingerboard that ensures its unique construction with an authentic and eternal look and sound. Most importantly, it works well to balance quality and features at an affordable price.
Due to the build of mahogany, there is no doubt of its loud and pleasantly warm tone. It may not look eye-dazzling, but its quality will impress you so much that you will appreciate it.
Necessary to mention that this model comprises strap buttons. Perhaps, many players are not willing to take a strap. But Lanikai Uke always provides the option, essential to playing the ukulele, undoubtedly praiseworthy. Needless to say, you will not be a fool if you buy it.
Pros:
Classic look
High-quality tone and sound
Comfortable to play
Strap buttons included
Cons:
4. Kala KA-ASAC-T8 Tenor Ukulele

Kala KA-ASAC-T8 Solid Acacia 8-String Ukulele brings a feature of astonishment in both visual design and sound quality. Made with acacia, it delivers a pure, resonant acoustic sound and tone. It is suitable for your choice.
The Kala KA-ASAC-T8 generates the loudest acoustic sound that becomes compatible enough to perform jam sessions and live functions. Solid acacia wood functions well with age. So, you may stay tension-free and this uke will be durable in terms of quality and performance.
Surprisingly, this model does not include built-in electronics and does not hold a version with it. So to install a pickup onto it, you need to use an external one. But there is no necessity for it, and we think so. The reason is that its acoustic sound quality is better enough. For amplifying the volume, you can add a microphone to its soundhole.
In addition to being well-built for its sound, it carries an attractive look. Above all, if you intend to get the best possible sound uke, it can be an appropriate selection for you.
Pros:
Stunning design
Sturdy wood
Resonant sound
Durable performance with age
Cons:
5. Luna High Tide Series 8-String Acoustic-Electric Tenor Ukulele

This time Luna High Tide 8-string ukulele review, one of the best uke brands is Luna. It provides good sound with quality performance. If you find an eye-catching and reliable instrument, you can pick it as your companion on the ukulele journey.
This model has a stiff body crafted from mahogany. Like other models of Luna, the thick wood used creates some problems that prevent sound from resonating sleekly.
In contrast to those models, this 8-string ukulele consists of maintaining an ideal thickness that is perfect enough to produce a very full and warm tone.
This acoustic-electric ukulele has a measured volume that is praiseworthy. Its cutaway helps players tend to play toward the higher notes on the fretboard.
In addition to these, it contains a pickup system that does its job accurately to generate a smooth and natural sound from bass to treble.
Due to their sensitivity, this Luna High Tide Series includes the outfitted volume, treble, and bass sliders to deliver flexibility. It permits reasonable control of the tone. As a whole, it has become one of the best 8-string ukuleles on the market to pick.
Pros:
Helpful cutaway
Rhythmic sound and tone
Mahogany construction
Great instrument for the money
Cons:
6. AKLOT 8-Strings Tenor Uke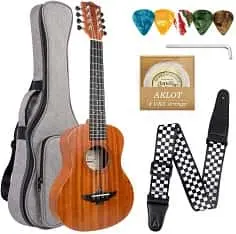 You are an experienced ukulele player. So, you are exploring an instrument that holds 8 strings with a rhythmic sound and offers characteristical chorus affect outcomes. Okay, this AKLOT 8 Strings Tenor Ukulele is for you.
It is recognized that a solid soundboard becomes too durable and produces an authentic and enriched tone compared to laminated ones due to its tight nature of construction. Keeping it in mind, the brand has used solid mahogany to make it.
This Aklot tenor 8-string ukulele gives the best-geared ukulele tuner machine to keep the ukulele remaining in tune more excellent in comparison to 15:1 gear tuning pegs. As a result, you will not fall into trouble tuneless rapidly.
This 26-inch ukulele offers an installed truss rod and an original Allen wrench. Consequently, you can adjust the action of this ukulele to your needs.
For comfort with the arms, the Aklot does round the edge of the ukulele in the process of manufacture. Its gorgeous design will create an extra attraction for ukulele lovers, and we are sure about it. So, try it to improve your skills.
Pros:
Solid top of the Mahogany wood
Adjustable action
A rounded edge
No buzzing sound
Cons:
The frets are a bit sharp
7. Kmise 8-String Tenor Uke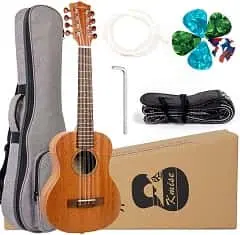 As an experienced musician, you find the best 8-string ukulele, containing better strumming, and a louder and fuller sound. Okay, this 8-string instrument from Kmise has been brought on the market with those performances.
Rightly, Kmise uses the 18:1 gear tuning machine, which works better than the 15:1 gear tuning pegs. Hence, you can tune this uke more precisely, and it will stay tuned without a problem with tunelessness quickly. Moreover, the pure copper-made gear remains stiff and is affected low by rust.
The superior Aquila String from Italy and a high-quality Walnut bridge generate a brilliant, percussive tone. They also give an accurate intonation while staying in tune.
Furthermore, you will get an original Allen wrench that allows you to adapt the action freely, depending on your habit. So, you can pick it for yourself.
Pros:
Excellent craftsmanship
Thick sound
Replacement strings included
Smooth finish and design
Cons:
The size of the gig bag is too small
Final Thoughts On The Best 8 String Ukulele
Hopefully, the list of the best 8 String ukulele has supported you on the way to choosing the correct one. It is one step forward from the traditional ukulele, of course. But, your effort to master this skill will add a new variation to your musical career, no doubt.
Happy about your new endeavor. Best of luck!
Check Out Our Other Reviews