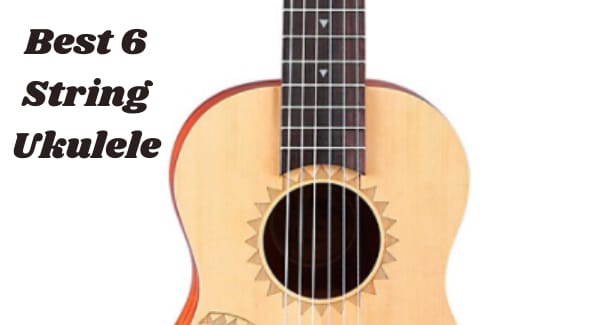 6-string ukuleles – you can understand by the name –conventional ukuleles have four strings, but they consist of six strings. If you are a seasoned or beginner player and want to get a loud sound, you can choose this particular type of ukulele. But before buying the best 6-string ukulele, you have to consider the product features. So, we have reviewed the five best ukuleles to make the right decision.
Our Top Selection:
Editor's Choice
Oscar Schmidt OU26T-A-U Ukulele
Top 4 Best 6 String Ukuleles
1. Oscar Schmidt OU26T-A-U Ukulele

Oscar Schmidt OU26T-A-U comes at an affordable price. As a result, players of all levels, especially beginners, choose it as their musical instrument. The ukulele itself is pretty much basic in the end.
Its top, back, and sides are built with mahogany wood that delivers an enriched tone and sound. Also, it is a satin color ukulele, which makes it an eye-catching instrument.
Although Oscar Schmidt Uke is affordable, this surprising uke welcomes you to the concept of playing the ukulele prominently. The brand uses ebony material to make the fretboard, and the string is steel material.
This model has a Hardtail Bridge, which is the Guitar Bridge System. It weighs 1 pound, and the dimensions of the product are 24 x 2.75 x 8 inches. Consequently, it is easy to carry.
Beginners or experienced players can pick it to enhance their music career. Besides, its lower price will add value to your purchase.
Pros:
Mahogany Body
Enriched and sweet tone
Attractive look
Comes at an affordable price
Cons:
2. Kala 6-String Tenor Ukulele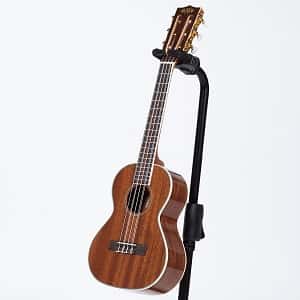 The Kala 6-String Ukulele brings out the size of the tenor. It is a simple, classic design and reasonably priced ukulele, which creates an outstanding appeal for players who desire to get a mix of quality and value.
The Kala KA-6 features a mahogany body, rosewood fingerboard, and bridge. It holds a traditional white binding on the top and back, accenting the enriched satin mahogany finish that gives it a stunning look. Also, it has 19 Silver Nickel Frets and comes with Aquila Super Nylgut strings.
The Kala Mahogany Series uke delivers a full-body melody with lots of sweet highs and mellow lows that come together for a full, enriched sound. It includes chrome die-cast tuners that help the uke stay in tune accurately.
This instrument is fun to play.  If you want to invest in buying a ukulele, you can select it to get a real purchase value.
Pros:
Attractive look
Many traditional features
Bright, crisp sound with fantastic playability
Reasonable price
Cons:
3. Luna Tattoo 6-String Baritone Ukulele

Luna always produces quality musical instruments at an affordable price. You will not find any exceptions in the Luna Tattoo 6 String Baritone Ukulele. It is an excellent instrument, which is similar to a mini-classical guitar and perfect for traveling.
The important thing you will notice is that it is a tattoo ukulele, which got its name from the concept of design. It seems to be a unique look instrument because Luna uses a variety of patterns to be tattooed on its body.
The body consists of mahogany wood. Also, it uses Chrome Hardware that ensures its longevity. It has a spruce top and a rosewood fingerboard. There are stylized shark teeth as the fret markers in this uke.
The Luna UKE TAT 6 provides a clear, enriched, and resonating sound for a relatively inexpensive cost. If you buy this Luna model, you will be able to enjoy your music activities.
Pros:
Captivating design
Excellent travel ukulele
Great construction structure
Cheap price
Cons:
4. Eddy Finn EF-G6 Tenor 6 String Ukulele

The Eddy Finn EF-G6 6-String Tenor Ukulele is built with high quality to keep in mind that it is available at a reasonable price. The basswood uke provides a distinct feel from the typical mahogany build and makes it a unique look.
The top, back, and sides of this six-string tenor ukulele come with basswood. Eddy Finn uses a Vintage Matt Mahogany finish, which produces a surprising amount of resonance and volume. The unconventional shape of the soundhole has added a new dimension to its different looks.
The frets on the neck come with nickel-silver construction to ensure their durability and longevity. Also, it includes pre-installed Aquila strings. The Eddy Finn EF-G6 offers open-geared tuners to keep in tune.
It is necessary to mention that the initial setup may be for left-handed uke players. So, it may need to be set it up correctly for right-handed players. Those players who want to travel with the instrument can choose it because this model is lightweight.
Pros:
Constructed with durable materials
Great resonance and a sweet tone
A lightweight instrument for travelers
Less expensive
Cons:
Things to consider while buying the best 6 string ukulele
It can relatively be easy to play the 6-string ukulele for experienced string instrument players. The reason is that it mimics the usual number of strings in a typical stringed instrument. But before buying the best 6-string ukulele, you should consider some specific things. You need to do it because you don't have to regret it later. Also, you don't certainly want to waste your time and money by buying products that may or may not work for you.
Level of Skill and Knowledge
You should stay away from the 6-string ukulele if you are new to learning the standard 4-string ukulele. You can be confused, frustrated, or both if you are not at least at an intermediate level with the traditional ukulele and move to a six-string ukulele!
Do you have any knowledge about the basics of tuning? Do you feel comfortable with plucking and strumming with a 4-string ukulele? Have you already learned by heart the required chords of the 4-string uke? You should need to reach a skill level first with a 4-string uke before the transition to a six-string ukulele.
Commitment
In general, learning to play a six-string ukulele is a bit difficult compared to a four-string uke. Therefore, you have to be careful of the fretboard, chords, and tuning to increase the full potential of ukulele learning. However, once you learn to play it and feel comfortable playing it, your patience will be rewarded.
Sound Range
The meaning of six-string uke implies more playability, and if you can play them correctly, you will get full-range sound. Honestly, the extra strings help to add more depth and layer to the sound. But, the 4-string ukuleles are a better choice if you want a more basic tone. Moreover, if you desire to enjoy more flavor in your tunes, the 6-string ukuleles are a fantastic option to add to your music journey.
Guitalele vs 6 String Ukulele
Many think that Guitaleles and 6-string ukuleles are the same. Both have six strings, and their shape and size are also the same. But the real difference is that the two are tuned separately.
Guitaleles are tuned to A-D-G-C-E-A. On the other hand, the 6-string ukulele standard tuning is G-C-C-E-A-A.
Size
There are indeed available several options in the size of the ukulele. But, their playing method is almost the same. The sound of concert-sized ukuleles is usually somewhat richer than that of small sopranos.
Anyway, the strategy of playing them stays the same. Buying performance-sized ukuleles requires more money. In general, most beginners begin with a soprano. If you have no intention of performing, the size won't matter too much.
Electric
The players can use an amplifier for the ukulele. Indeed, it is another considering thing that may be essential for the performers. However, you need to spend some extra money to buy an amplifier.
Price
The noticeable thing is that the ukulele is an instrument, which does not require much money to buy. You can find a high-quality ukulele for under $100 if you want. It is a bit rare in the world of instruments.
If you are a seasoned player, you can think of considering spending a little more money on the purchase. If you are a beginner, you might want to consider investing in a medium budget. But, it is good news every budget has something for buyers.
Conclusion
If you can select the right product, you will find that the best 6-string ukulele will produce better sound than the 4-string ukulele. Although the manufacturing process is the same, no instrument is flawless. This is why there are some flaws that some buyers can find after buying these items. However, you should not refrain from buying products for this reason.
Check Out Our More Reviews
Related Article: