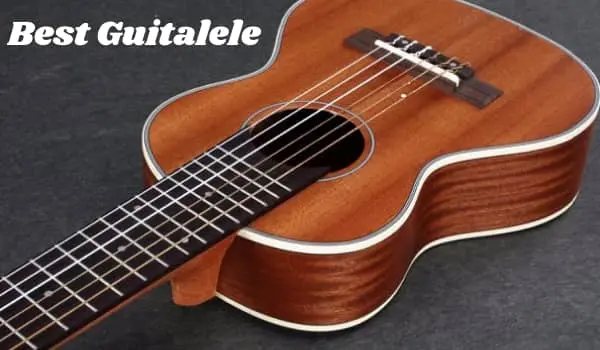 Enormous musicians are not acquainted with the Guitalele, even though it is one of the most appealing musical instruments. It is a six-stringed instrument and is called a hybrid of guitar and ukulele. Its size is about one-fourth of a guitar. The best Guitalele is magnificent for classical guitarists who feel uncomfortable carrying guitars. Besides, it is a superb choice for seasoned ukulele players who desire to get a spacious room for experimenting. In this review, we are going to discuss some best Guitaleles, which are available at present.
Our Top Pick among the Best Guitaleles
Editor's Choice
Kmise Guitalele 31 Inches
Top 7 Best Guitaleles of the Best Brands in 2021
1. Kmise Guitalele 31 Inches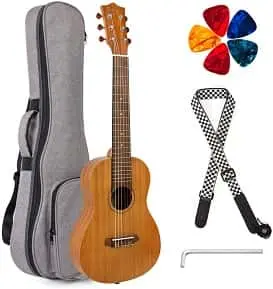 For the first time, for players who are looking for the best Guitalele, which is beginner-friendly, the Kmise Guitalele is the right option. This model is a full learning kit, which brings a lot of accessories.
However, the body consists of natural Mahogany wood with a well-finish and delivers a fantastic quality sound. This Kmise Guitalele helps you learn new chords because it includes a fluid finger glide on the frets. Its mahogany headstock gives a decent touch with brown and round tuners.
The pure copper-made gear is hard and less rusting. The Guitalele string aids in tuning more precisely, and it keeps the ukulele stay in tune in comparison with 15:1 gear tuning pegs. The Kmise uses rosewood to fabricate the fingerboard and bridge.
In addition to a ukulele, the set offers a set of strings, a high-quality strap, a carrying case, a tuner, and online ukulele lessons for beginners. As a result, this model adds value to money for the novice.
Whether you are a guitarist or an experienced ukulele player, you can feel more comfortable playing this model. Considering its aesthetic aspect, it is a decent model, even though its price is low.
Pros:
Wonderful Mahogany finish
Adjustable action
Sealed 18:1 gear tuner
Protective 31-inch gig bag
Cons:
Need time for strings to settle in tune
2. Yamaha GL1 Guitalele

The Yamaha GL1 has become one of the best Guitalele in the family of string instruments. Although it is a mini instrument, it does pride a unique mini 6-string nylon design that thoroughly does the job.
The brand has built this Yamaha Guitalele in the shape of a baritone ukulele – performing compactly. Despite the scale measuring 17 inches, this instrument is made in such a way that players can play it like a guitar.
Yamaha is a familiar brand in the world of instruments. On this basis, the GL1 Guitalele is hoped to give enjoyable fun, and it does just that. Further, you can play it like a standard tuned guitar. In addition to these, it brings a tuning that reaches the range of A.
The Yamaha GL1 Guitalele contains a whole-length fretboard, which accomplishes gorgeously and successively, with clear accents. Its sound is comparatively higher than other more pricey models. Moreover, its price is so low in terms of construction standards that it would seem that the manufacturers have made a mistake in determining its price. Also, it offers a soft case bag.
Lastly, this model can be your utmost consideration if you want a cheap Guitalele.
Pros:
Good construction accuracy
Beautiful little instrument
Well-balanced sound and melody
Inexpensive reasonably priced
Cons:
3. Caramel CB402G Guitalele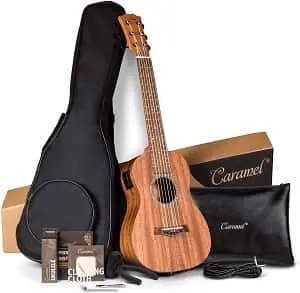 If you are searching for the best Guitalele that looks nice in design, the Caramel CB402G Guitalele is the perfect one. This musical instrument is simple to play and proper for both beginners and professionals. It includes a microphone that you can use when connecting it to a nearby amplifier or just as an acoustic guitar.
The brand uses solid mahogany to build it. This Caramel Guitalele provides an enriched and full sound that is much louder compared to a 4-string ukulele. It has an excellent fretboard and a bridge of rosewood. Also, it gives soft nylon strings that are wonderful for beginners because they are easy to use.
Its size is transport-friendly. Thus, it becomes easier to carry for travel, stage performances, concerts, or any group learning. This kit includes a guitar bag to protect it from damage during transport. In truth, it is a real instrument that makes easy your musical activities.
The package offers the necessary accessories to facilitate learning and save money. It includes the electric Guitalele, a built-in microphone, three guitar picks, one wall hanger, two bridge pins, one strap including pegs, a 12mm padded gig bag, one cleaning cloth, one EQ cable, and an extra set string.
Pros:
Surprising mahogany finish
Better sustain, stable sound, and pure tone
More comfortable for larger hands
Money-Back Guarantee
Cons:
4. Donner DGL-1 Guitalele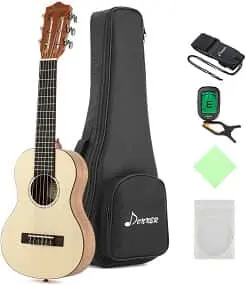 The Donner DGL-1 is another super Guitalele that is worthy enough to buy as an instrument. It characterizes a close-fitting size of a baritone ukulele. Also, the tuning machines and quality construction help you play like a guitar.
The GL-1 Guitalele is a portable and lightweight instrument, which makes it pleasant for players. It holds steel tuning pegs that help you keep the strings in the perfect position while tuning.
An important issue is craftsmanship. The Donor-stringed instruments are famous for this. This Guitalele has a spruce top and mahogany back and sides that ensure its durability. It has a spruce top and mahogany back and sides that confirm its durability. No doubt, this type of construction produces a bright, sweet, and enriched sound. Indeed, the brand blends the classic guitar-building style into this model.
The DGL-1 comprises surprisingly 17 brass frets, which are spread across the fretboard. Its eye-catching design makes it more appealing than other models in this price range. Besides, its weight is just 4.24 pounds that are easy to handle.
At last, the Package brings a good quality carrying bag that is helpful to take this best Guitalele to desired places. Furthermore, to add value to your purchase, it provides more accessories.
Pros:
Versatile instrument
Magnificent tone, volume, and action
Light, portable, and comfortable to play
Many accessories included
Cons:
Some say the fret edges are sharp
5. Gretsch G9126 Guitalele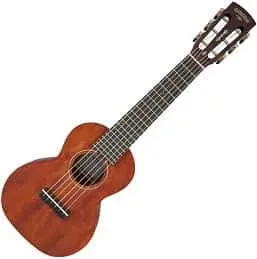 Gretsch comes with their supremacy to the ukulele world with the G9126 Guitar-ukulele that is a Guitalele. Due to the stiff construction of mahogany wood, it has become a unique instrument compared to other Guitaleles on the market.
The G9126 Gretsch features a solid quarter-sawn mahogany top and laminated mahogany body which means it will last for a long time. The fingerboard is built using the ovangkol. As a result, this beautiful uke of the 6-string gives a warm sound and a good feel.
This guitar ukulele contains an ovangkol bridge and genuine bone nut and saddle, which create even more resonance. It has a 17-inch scale length, which lets you play this instrument with great fun.
This Guitalele brings a die-cast tuner, which assists the players who feel trouble tuning the instrument. It is needed to say that the model gives a deluxe gig bag, which aids in carrying the Guitalele from one place to another.
The Gretsch G9126 is the best Guitalele for musicians who wish to go into a new branch of music and inquire into more ukulele tones. On the other hand, it is a compatible option for the persons who get started learning how to play the guitar.
Pros:
Fabricated from sturdy mahogany wood
Offers a die-cast tuner
Better action and playability
Included a deluxe gig bag
Cons:
There are no electrical facilities
6. Vorson EGL-ST S-Style Guitalele

The Vorson EGL-ST is an outstanding Guitalele that is similar to the mini-classic electric guitar. The players can tune it A-D-G-C-E-A and, it delivers a much big tone and wide range.
The body consists of basswood with a cutaway body. It contains a 19-fret maple fingerboard that is comfortable enough to move your fingers on top of it. This tenor-sized Guitalele is available in different colors such as Gloss Black, Metallic Red, and Metallic Blue.
The EGL-ST has two SY-2 single-coil pickups, a three-way pickup selector switch, and Vorson's SMD-1 Active Electronics so that the players can control the tone and get high output.
The good news is that it offers a carrying gig bag for players who want to travel with it. Also, the brand supplies a cable. To enjoy the best possible sound of the Guitalele, you need to purchase an amplifier or collect one.
Overall, we consider this model to be the best electric Guitalele for its ease of playing.
Pros:
Lovely electric Guitalele
Louder tone and a wide range
Includes a gig bag and a cable
Cons:
There is no amplifier
Only worthy of electric play
7. Caramel CB204G Guitalele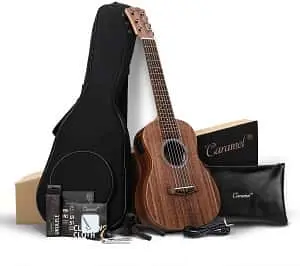 You desire to get the best ukulele. But the ukulele will be high-quality, and you don't need to spend much money. We have included the Caramel 6-String Ukulele, which is fit enough to meet your needs.
The Caramel CB204G consists of all solid Acacia Wood that provides better durability, better resonance, and a pure tone. Also, The Acacia Wood is perfect for producing a sweet, warm, and mellow sound.
This uke has 18 frets, and the strings give EADGBE (E to E) tuning. The fretboard and bridge are constructed with walnut, and the nut and saddle are fabricated with real buffalo bone.
Since this model is an electric Guitalele, it has a 3-band built-in tuner, complete with an equalizer, which is ready to connect to an amp and play.
This starter bundle offers all the necessary accessories so that you don't have to buy them. They are extra set strings, a gig bag, three guitar picks, a cleaning cloth, a wall hanger, a strap, two bridge pins, a metal nail drawer, an EQ cable, and instructions.
Pros:
All solid Acacia wood
High quality at low prices
Stable sound and authentic tone
Essential accessories included
Cons:
Not suitable for small-hand players
What is a Guitalele?
According to its name, Guitalele is a hybrid of a guitar-ukulele. It is much smaller than a standard acoustic guitar and bigger than a standard ukulele. It has six strings.
Although the name Guitalele is new, many players are currently buying it as a substitution for a travel guitar for its easy portability. You can consider it a ukulele-sized guitar as well.
The Reasons to Buy a Guitalele
The fact is that many guitar players prefer to play a Guitalele because its sound is like a ukulele, and the size is small as well. Also, it holds six strings the same as a standard guitar.
Many guitarists want to travel with their guitars. It is easy enough to move around with the Guitalele compared to the guitars. Therefore, they like it.
Further, there are many kids who are interested in learning to play the guitar, but they are not able to because of their small hands and fingers. So, they can choose a Guitalele instead of a heavy guitar.
Follow these 3 rules of pitch precision
Intonation becomes a complex issue, also for the best Guitaleles. It implies how much the same note sounds out of melody in various positions on the fretboard. Let's abide by the three methods to verify the accuracy of your instrument.
Method A: Utilize a Tuner
Grabbing a tuner and kicking the Guitalele back in tune is a hard-and-fast solution to determine the accuracy of your intonation. After that, you play the open strings separately. Next, verify how precise the open positions are with the 12th fret for each string.
Method B: Verify the Action
According to the fingerboard, action means the height of the string. If the saddle and nut fail to hold each string to the proper height, then you will fall into an intonation issue. Consequently, the notes will be flat or sharp. However, you can make the action optimized by sanding the saddle or bridge.
Method C: Adjustment of Truss Rod
The truss rod remains stretching along with the guts of the neck. It is an element used to customize the stiffness of the neck for the string tension. You can utilize a wrench so that you can adjust the truss rod to get a remedy for the twisted neck, a straight culprit in faulty intonation.
The Best Guitalele Buying Guide
There are some specific things to consider while buying the best Guitalele.
Size
You want to buy a Guitalele because of the small size. Indeed, there is not much diversity in the size of Guitalele. Most Guitaleles range in size from 27 to 28 inches in length.
It is actually like a large-sized ukulele and is suitable for players interested in traveling. Truly, size is not a problem.
Wood Type
Guitaleles are made using different types of wood. Each type of wood provides specific properties and sound qualities.
1. Mahogany
Mahogany is a well-known wood for making various musical instruments, not just for making Guitalele. Now, it is a question of why different manufacturers use mahogany wood. The reason is that they want to maintain a balance between quality and affordability.
Mahogany makes the instrument sturdy and potent because it contains medium to heavy density. Also, it maintains an excellent balance between sound and tone.
2. Cedar
Cedar is one kind of wood that is used to make the instruments for a warm and controlled volume with a deeper melody. Although the Guitalele made with Cedar does not give a sound as crisp as the sound of instruments made like spruce, the Cedar is an excellent choice for Guitalele finger stylists.
3. Rosewood
Rosewood is a widely used wood to construct musical instruments. The Guitalele of rosewood generates a clear tonal sound. A clear tonal sound produces in the Guitalele of the rosewood. It permits you to pronounce high and low sounds. So, if you seek a bright tonal Guitalele, the rosewood Guitele will be the best one.
4. Spruce
Spruce Guitalele produces the pronunciation of crisp notes. Players interested in bass notes can choose Spruce Guitalele because it is proper for enabling an enriched and incursive low-note sound quality.
5. Koa
Koa wood uke produces a warm sound, and it sounds sweet but is less sturdy. The Guitalele of the Koa holds a distinctive sound quality that stays in a range of medium quality.
6. Ovangkol
There are a lot of similarities between Ovangkol and Rosewood, for example, the quality of a midrange sound. Ovangkol Guitalele is a perfect option for music artists who are willing to play stylish instruments.
Fretboard and Frets
The fingerboard is an important part of musical instruments. It is a long strip of wood, which is attached to the neck and held behind the strings. The longer the length of the Guitalele, the more the number of frets on the fretboard will be. You will get more notes to play if the number of frets in a Guitalele is more.
Usually, the number of frets is quite the same in different Guitaleles. But there are some variations that you should keep in mind.
Strings
Usually, Guitaleles bring nylon strings that sound like guitar-style sounds. Now, you're thinking about whether it's possible to use guitar strings on a Guitalele. The answer is yes, it is possible.
If you use steel strings on a Guitalele, the steel strings make the Guitalele from a mini classical guitar to a mini acoustic guitar. Undoubtedly, the nylon strings are most suitable to generate the sound of the best quality for Guitaleles.
Finding the best strings of nylon for Guitalele is not too difficult. Go to the local music shop or search online.
Accessories
Accessories add extra convenience to the purchase of your musical instruments. Many Guitaleles offer an electronic tuner as it is built-in, which helps you speed up the process of tuning. Some Guitaleles include a case or gig bag to carry the instrument. Again, some Guitaleles give a port to connect to an amplifier.
Warranty
You will find Guitaleles with different warranty offers from one-year to lifetime agreements. As a buyer, it is a significant matter for the protection of your instrument if the manufacturers provide a long-term warranty agreement for the products.
Price
In general, Guitaleles are available at reasonable prices. The price range of most Guitaleles is between $75-$300. It's beautiful for people who are interested in getting a small instrument or inspiring kids to learn the guitar.
Frequently Asked Questions:
1. How long is a Guitalele?
Guitaleles are available in different sizes. But, this difference is not enormous. Most Guitaleles are between 27 and 28 inches.
2. How Can I tune a Guitalele?
You will be able to tune the Guitalele using the ADGCEA notes. The following short video will help you.
Final Word
It can be a bit cumbersome and confusing process to choose the best Guitalele. However, after reading the article, we think that finding the best one can be a bit helpful for you. We recommend that you should take the time and try to make the perfect one.
Read More Reviews