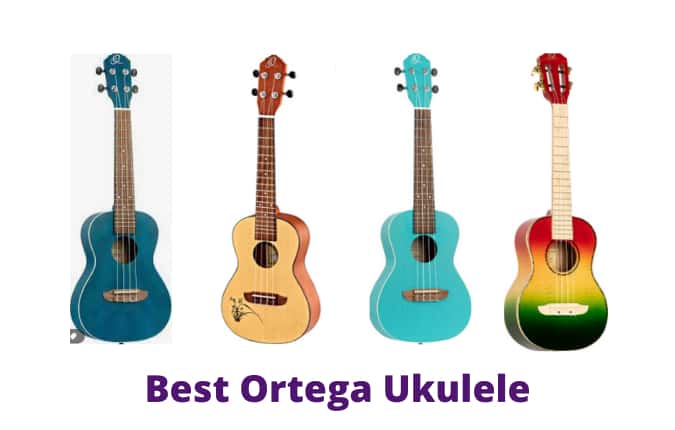 Founded in 1994, Ortega Guitars introduced German design originally and conventionally of manufacturing instruments. Devoted to novelty and high standards, the brand strives to improve every acoustic instrument at each level, as mentioned earlier. Today we'll discuss the best Ortega ukulele in this article.
The brand has added exceptionally designed instruments for left-handers to its product lineups on the occasion of the 44th International Left-handed Day.
We inform you that here are some of the best models of the brand. To make your selection easy, we've enlisted some models. Therefore, move forward to read carefully.
Our top preference:
Editor's Choice
Ortega Prism Series Tenor Ukulele (RUPR-IVY)
Top 7 Best Ortega Ukuleles for Sale
| Product Name | Price |
| --- | --- |
| 1. Ortega Prism Series Tenor Uke (RUPR-IVY) | Check Price |
| 2. Ortega Eclipse Series 8 String Tenor Uke (ECLIPSE-TE8) | Check Price |
| 3. Ortega Timber Series Baritone Uke (RUACA-BA) | Check Price |
| 4. ORTEGA Bonfire Series Concert Uke Lefty (RU5CE-L) | Check Price |
| 5. Ortega Keiki Designer Series Soprano Uke (K2-EM) | Check Price |
| 6. Ortega Custom Built Series Double Neck Uke (Hydra) | Check Price |
| 7. Ortega RU5 Concert Uke | Check Price |
1. Ortega Prism Series Tenor Ukulele (RUPR-IVY)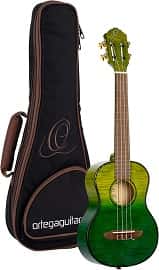 We'll first discuss the Ortega prism ukulele review. Its color will fascinate you in addition to easy playability. Also, you can play for a long time due to its stiff construction.
The Prism series comes with a blow of flame and color to a classy design, identified as an exceptional model compared to others. The top, back, and sides of this 4-String instrument are the Flamed Maple, promising to ensure its longevity.
The RUPR-IVY has a maple neck, giving a comfortable feel to play apart from producing an enriched sound. Besides, a gorgeous color fade gloss finish will make it appealing to beauty lovers, no doubt.
The Slotted Headstock with Flamed Maple Veneer keeps it in tune consistently. Plus, it will give you a free deluxe gig bag to confirm your instrument safety. A beginner, enthusiast, and professional player can buy it to enhance his musical skills.
Pros:
Strong body structure
Eye-dazzling color and design
Balanced sound and tone
Highest-standard performance
Cons:
Sharp fret edges on the fretboard
2. Ortega Eclipse Series 8 String Tenor Ukulele (ECLIPSE-TE8)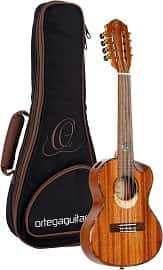 It is the Ortega 8-string ukulele of the Eclipse Series. The Eclipse-TE8 consists of a completely mahogany and gloss-lacquered body. Besides, it is prepared with a walnut fretboard and African Okoume wood neck resounded by walnut binding along with the body enclosure.
The red tuning pegs pronounce the heads of the gold-plated machines, where a novel Eclipse inlay just below the soundhole finishes the upper part. Moreover, the subtle cutaway promises a comfortable way to play.
This 8-string uke generates a sound similar to the mandolin for the double-string format, seeming to be intense loud, and full-bodied. Further to reduce the safety worry, it offers a personal gig bag.
This instrument looks beautiful due to its ergonomic cutaway and built-in armrest, absolutely as like as boasts. It has 8 strings, meaning you can enjoy a loud and full-bodied sound with no hesitation.
Pros:
All solid mahogany build
Double soundhole for a punchy sound
Glossy finish with smooth design
Consistently staying in tune
Cons:
No additional accessories
3. Ortega Timber Series Baritone Ukulele (RUACA-BA)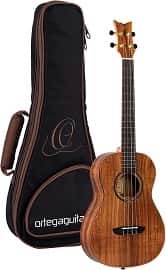 You're longing for the best tonewood instrument for many days. Well, this Ortega baritone uke from Timber Series is on the market to meet up your dream.
This RUACA-BA will arrive at you with a solid Acacia top, back, and sides. Essentially, the Acacia wood is prominent for giving the best sound and melody, including durability. Besides, the natural open pore finish is beautiful enough to create an extra attraction.
The Techwood fretboard and bridge allow you to play it with comfort apart from delivering a sweet voice. Further, it has a padouk binding and a white pearl rosette. All the arrangements are a hint of the quality instrument.
There are diecast tuning machines with black buttons to keep it in tune. Honestly, this exceptional ukulele is carefully constructed to uphold its unique tonal and visual properties. Hopefully, this Ortega baritone ukulele review will be helpful to fulfill your need for selecting the right one.
Pros:
Acacia wood construction
Well tonal qualities
Suitable to use for a long time
A compatible neck to perform
Cons:
4. ORTEGA Bonfire Series Concert Ukulele Lefty (RU5CE-L)

The manufacturer has designed this acoustic-electric concert uke for left-handed players. This item from Bonfire Series will be an appropriate pick for newcomers in the music arena.
This Ortega left-handed ukulele is reliable for its high-standard craftsmanship with guaranteed work. Plus, this 4-string has placed laser-engraved decorative elements to decorate its entrance plate.
This wonderful instrument has consisted of selected satin spruce and Sapele and assembled a cutaway to play at the neck top with viable die-cast tuning pegs. Further, it is obtainable in a simple natural satin edge.
Furthermore, the electric instrument utilizes Ortega Guitars Concert UWNY-4-CC white nylon strings, cozy to run your fingers with and provide a fantastic sound and tone with high volume.
A fashionable lefty can sort out it for its marvelous construction, tuners hold, electronic tuner, and perfect setup. So, we think it will not be a bad pick considering the price ranges.
Pros:
Crafted for the long time use
Fantastic sound and action
Looking good for less money
Less string tensions
Cons:
Not very smooth frets edges
5. Ortega Keiki Designer Series Soprano Ukulele (K2-EM)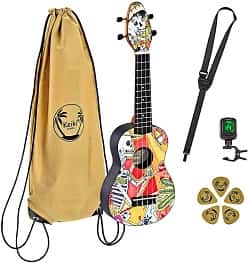 The Ortega Keiki holds the youngest instrument feature in the ukulele family, a brand new product lineup. In the Hawaiian language, the word "Keiki" implies child, expressly referring to the listeners of the newish instrument of the German model.
Still, you will not be deceived by its small size because the K2-EM can get a superb travel partner. This Keiki Ukulele Ortega measures 284mm, which means it can effortlessly abide by any airline hand luggage standard.
The newish Keiki item uses the K2 symbol to identify it, varying from the basic lineup in the sense of design and craftsmanship. Also, the Keiki K2 incorporates a mild-weight, small sopranino body crafted from Agathis plywood on the upper plate and has ABS plastic on the back and sides.
Its sound is lighter and shallower than the soprano uke and contains its characteristics. All in all, we recommend this Ortega soprano Uke as the starting instrument for the new.
Pros:
Worthy for younger players
Colorful design
Simple to play
Adequate accessories included
Cons:
Professionals might not prefer it
6. Ortega Custom Built Series Double Neck Ukulele (Hydra)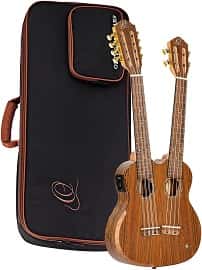 You intend to get a custom-built instrument so that you can customize it according to your wish. Well, this Ortega Double Neck Ukulele is obtainable on the market to quench your expectation.
This model takes musical instruments to new heights by constructing them with new thoughts. Honestly, unconventional design and captivating functionality only begin when thinking about these creatively conceived ukuleles.
The brand has assimilated the Ovangkol top, back & sides to shape it as a double-neck instrument. Further, the Mahogany necks, Walnut fretboard, and bridge confirm its hardness in addition to enchanting sound and tone. Plus, the tortoise-style binding makes this version more appealing to musicians.
The Hydra comprises the double neck, meaning it has two Necks with 4-string and 8-string. Indeed, it is an acoustic-electric featured uke. That means it comes with a preamp/pickup system with a built-in tuner & 3-way switch.
Pros:
A highly robust body with customizable feature
An acoustic-electric instrument with a dual neck
Well-balanced sound with the harmonic tone
Easy playability despite being double neck
Cons:
Beginners might feel uneasy
7. Ortega RU5 Concert Ukulele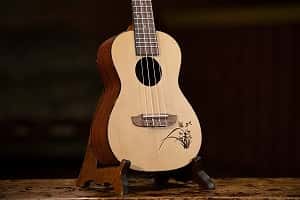 You are exploring a highly-functional instrument. Okay, it is for you. We will explain why it is best for you with the Ortega ru5 ukulele review.
In truth, it is the size of a concert that fits players of all classes. In terms of design, it is unparalleled because it has tortoise-style ABS binding with laser engraving Butterfly and Grass.
The RU5 has a spruce top, Sapele back/sides, and mahogany neck, and, the company has done the job using the natural satin finish. Furthermore, it incorporates walnut for the fretboard and bridge, adding a high-end appearance with a sleek feel.
This Ortega concert ukulele affixes Chrome-plated die-cast tuning machines with synthetic black buttons and keeps the gears sealed from the external components for added durability. Also, its tuners let you re-stringing, precise tuning adjustments rapidly.
Moreover, this 4-String instrument has put four Ortega concert UWNY-4-CC strings to deliver a warm, crisp, and sweet tone. Therefore, you can go with it, unquestionably.
Pros:
Constructed maintaining quality
Classic sound and tone
Easy to tune
Shiny and modern look
Cons:
Some common features of the Ortega ukulele
Open-pore finish
Ortega has selected Okoume wood to manufacture the body, neck, and headstock of the Earth Series Ukuleles. This wood is suitable enough to create a warm, profound, resonant, and evident sound.
Again, the company has put the top-grade walnut on its choice list to build the fretboard and bridge for enjoying an incredible tone. The impressive color end creates a contrast wonderfully with the authentic wood grain, carrying significance for the Earth Series Ukuleles.
Ortega headstock design
The headstock design has become a trademark for the Ortega's guitars and ukuleles. You can effortlessly ascertain the ukes with the sharp brand symbol on the instrument. Usually, the G C E A is used to tune the ukes.
Die-cast tuning machines
Chrome-plated die-cast tuners with synthetic black buttons get simple to use and give the uke a tidy, stylish appearance. This development holds the sealed gears out of the setting for more firmness. These machines let quick string coordination and pure tuning alter apart from a pleasant feel while rotating buttons.
Previously installed strap pin
You can attach your dear uke strap without having to mount the pin first because of the pre-installed strap pins. You might find the white ABS binding, safeguarding the wood ends from influence and wetness damage, especially where the upper grain becomes visible.
Final note, Ortega ukulele reviews
In addition to accessories and ukuleles from Ortega, you can choose guitars, banjos, and more. We have enlisted only uke versions. Surprisingly, the Ortega ukulele price is not very high either. So, you can opt for one depending on your needs.
Check out other reviews