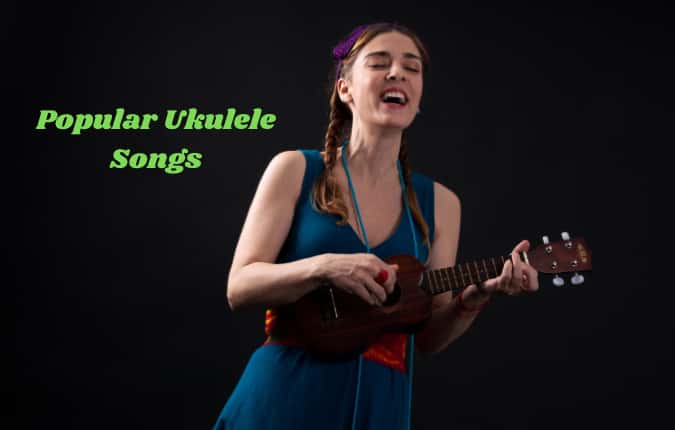 This time we've come up with several of the most popular ukulele songs for playing. Some of these melodies have remained in people's mouths at the top of popularity for years, and some are recent hits.
We consider it highly significant to play songs that are simple to play while learning the ukulele. Also, we recommend that you should learn to play with apprentice tunes like the songs of Vance Joy, Leonard Cohen, or Jason Mraz so that your friends can perform along with them.
As a result, you will inspire to learn other chords, songs, and strumming patterns. Otherwise, you may be disappointed.
To get the most out of the article, we've below put together a few of the popular and famous ukulele songs for you.
Top 12 Most Popular Songs to Play on Ukulele
1. "No Woman, No Cry" by Bob Marley
Chords for This Song: C, G, Am, F
"No Woman, No Cry" features a good ukulele song. It's perfect to hear on a ukulele. Also, it mostly runs on the same four chords over and over. The chords usually become simple in that genre.
You can only play it in the open or move the fretboard upwards as he does in the video. These same cords have higher pitches and maybe a different sequence of chord notes.
Singing the song is pretty straightforward, and almost everyone is aware of this song. Music lovers prefer Bob Marley, and many tracks by this artist function excellent on the uke.
Indeed, reggae music becomes conceivably well-suited for a small island instrument. The ukulele may have evolved in Hawaii but is just as beautiful in the Caribbean style!
Tutorial

2. "Hey, Soul Sister" by Train
Chords for This Song: C, G, Am, F
This song holds such an amusing riff and pop vibe, making it a funny and preferable ukulele tune. Both the chorus and the verse contain just four chords, but the key to the song lies in the E. The E major chord becomes a little trouble for many players because of the finger stretcher.
The main chord progression remains the E-B-C#M-A, which matches 1-5-6-4 or I-V-vi-IV based on your liking. As all these cords get complex for some people, it assists them to move to a simple key!
Irrespective of the key you choose, ensure it suits your voice. Also, don't forget to continue a highly upbeat strum of "Hey, Soul Sister" along with the song, and it will be excellent to hear.
Tutorial

3. "Can't Help Falling In Love" by Elvis Presley
Chords for This Song: A, Bm, B7, Db7, D, Em, Gbm, G
Essentially, Elvis recorded this song on his album Blue Hawaii in 1961, and it was never played by him on the ukulele. But in that same movie, he played the uke for another tune.
But now, it has gained status as one of the most popular songs lately played on ukulele for the band Twenty-One Pilots. And there's no surprise that they have made it a hit as it's a lovely song.
This song has several chords, but their changes are easy enough. If you are not accustomed to playing the ukulele for hours, you should take it slow, a fantastic pace for a love melody.
Due to having it in the key of C, this song will hopefully stay within the range of most voices.
Tutorial

4. "Riptide" by Vance Joy
Chords for This Song: Am, C, G, F
It's one of the most recent and popular songs played on the ukulele. Honestly, you'll find a perfect passionate pop feeling in it. Although the key of Db is essentially used to write it, many prefer to move it to the simple C key.
Whatever the key, it progresses the same four chords throughout the song, effortlessly sung and jammed. Its strum remains the same at most times. As a result, beginners and intermediate players might choose for themselves.
Lyrically, the enthusiastic song is mentioned as "the advent of the love story of the age" and is also familiar for its metaphoric and pop culture references.
Tutorial

5. "Here Comes The Sun" by the Beatles
Chords for This Song: G, C, Edim, D, Am6, Am
George Harrison was fond of playing the ukulele. So, it will not be a perfect list of popular ukulele songs if we drop his tunes. Paul McCartney aided renewed zeal by playing "Something" to show respect to George.
One of the ideal songs to play on the ukulele is "Here Comes The Sun," but it is the easiest, unquestionably. The A was the real used key, but you'll find a commonly played key G in the song. The reason is the G is the easy ukulele key.
The little riffs you can play in between the chords are one of the best aspects of this tune. To play this tune on the ukulele, the Beatles and their solo work always become great music.
Tutorial

More The Beatles Songs
6. 8 (Eight) by Billie Eilish
Chords for This Song: C, Cmaj7, F, G
An instance of a recent fun ukulele melody is the song by Billie Eilish. We applaud Billie Eilish's love for the ukulele because she has inspired many new players to prefer this instrument. Also, there are Fender ukuleles Eilish-signed for sale.
Despite having many of Eilish's ukulele songs, we have picked it because of using the Capo. Indeed, string players use a capo to alter the song key fast while singing.
Using familiar chord shapes might be the best way to at least change the key with Capo. But it is essential to ensure that the sound of your chords is okay whenever you shake your neck.
It is difficult to find the best intonation from cheap ukuleles. In this case, your ears will always work as a guide.
Anyway, her songs are relatively straightforward enough to learn, as most of its hits too. It is a matter of seeing whether Eilish's famous ukulele songs pass the test of time, but at least she has impacted many new players, no doubt.
Tutorial

7. "I'm Yours" by Jason Mraz
Chords for This Song: Am, C, D7, F, G
Jason Mraz is one of the best musicians that everyone knows. The music seems complex, but his singing always becomes beautiful to hear as one of his songs, I'm yours. Usually, Mraz performs quickly on the lyrics like a half rap, yet hearing his song seems very enjoyable.
Its lyrics are also too quick to sing, somewhat like rap. So, this song might get tough to sing without memorizing the song well. In the beginning, the music sounds like Hawaiian songs.
The lyrics express how a boy feels toward a girl and say to her that he pertains to her. More saying to her, let's dance and sing together as it is very amusing.
Tutorial

8. "Hallelujah" by Leonard Cohen
Chords for This Song: Am, C, Em, F, G
Not only is it a popular ukulele song, but whether you play the guitar, the mandolin, the autoharp, or any placard string, it is an ideal acoustic hit!
In this song, Leonard Cohen has disintegrated the chord movement! When he sings, "Well, that's how the fourth, the fifth." That's what your chords are doing! In truth, you can consider this fantastic song a good music theory study.
In general, newcomers play the chords of the first position, but it's prudent to master various places along the fretboard when you go forward. Besides, this song will seem better to hear in the fingerstyle in contrast to the strum pattern.
Having a good voice is suitable to play for "Hallelujah." Many of your listeners will sing along with you and know about this famous uke tone.
Tutorial

9. "Somewhere Over The Rainbow" by Israel Kamakawiwoʻole
Chords for This Song: C, Em, F, G, Am
Incredibly, Israel Kamakawiwoʻole is no more in the music world to create another impeccable song like "Somewhere Over The Rainbow." Many regard it as another popular ukulele song to learn and hear.
You might have likely heard of its version because it has been used in modern movie soundtracks. One of the leading musicians is Kamakawiwoʻole, who has a role in the recent revival of the "jumping flea" instrument.
Another aspect of this musician's popularity is the use of the low G string on his tenor ukulele. Typically, there is a high G followed by a low C in your ukulele. But in this tune, he sang using a particular wound low G string, producing an unparalleled sound with a little more bass.
Tutorial

10. "Tiptoe Through The Tulips" by Tiny Tim
Chords for This Song: G, G7, C, C7, F, Fm, Em, A7, D7
If you look for what the most famous ukulele song is in the 60s, you will possibly find it. It can seem to be somewhat a silly innovation hit, but you will see this song has kept an immense impact on the ukulele world.
Despite being a large man, Tiny Tim had a falsetto voice and a tiny soprano uke. Indeed, it was this awkward pairing that caught the attention of the audience and then captured her great talent either.
A 20's jazz hit with a ragtime-like chord progression is the original version of Tulips. That means there are plenty of 7th chords in this song. Typically, chords might not be so hard, but singing could be loud!
Tutorial

11. "Old Town Road" by Lil Nas X
Chords for This Song: Am, C, G, D
Right now, is there anyone who hasn't heard this song? But the fact is different from just two years ago. This song has become one of the most popular ukulele songs right now.
Indeed, its lyrics describe the way to success, fortune, wealth, and all the good deeds the singer is experiencing right now.
Publishers refer to the song as a pop, trap, country rap, rock Southern hip hop, country, or country trap song. Also, this song is written using the key of G♯ minor, including a chord progression of G♯-Badd9-F♯-C♯m7.
Moreover, you can sing this song using Am, C, G, and D chords. So, it will not be hard for beginners and intermediate players.
Tutorial

12. Tonight You Belong To Me
Chords for This Song: G, G7, C, Cm, D, E7, A7, D7
It is on the list of the most popular ukulele songs because of its position in film history. In the Carl Reiner Classic, Jerk Steve Martin performed this pop standard on a soprano uke when he sang with Bernadette Peters.
Although it's not very beginner-friendly, it is not as troublesome as playing a tune. Some cords might not appear familiar, yet any chord will not become cumbersome. It would be an excellent exercise for knowing when you use the smaller 7th and 6th chords.
When you become skilled at playing your ukulele, desiring to use more extended chords will be natural for you. Keep in mind that if you create a cover for this melody, other singers can be benefitted from it.
Tutorial

Final Thought, Best Popular ukulele songs
Now, there are the 12 best ukulele songs around you. If you intend to ring more excellent tunes on your ukulele, begin to look for more music from the artists mentioned above.
Try to know about more chords and utilize your ears to feel what the sound is correct to hear. Hopefully, you will become a great ukulele player. Just continue your practice.