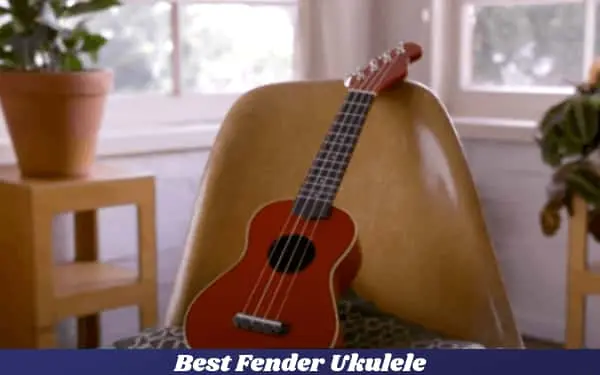 If you want to get stunning, great beginner, professional, and intermediate ukuleles, then you should consider the Fender brand. That is to say that Fender is renowned in the uke industry. And it has become one of the best Fender ukulele brands for its quality product. In the meantime, this brand has manufactured some quality products that the industry has beheld.
However, winning your heart requires more than a stunning masterpiece, right? Therefore, you want to find out if Fender ukuleles are just the too cute face or worth the money. Right, to know this matter, you should read it on. However, one thing we can assure you is that if you choose the Fender Ukulele, it can rarely go wrong.
Now, stay with us while you visit the Fender brand
Top 10 Best Fender Ukulele: Our Pick
1. Fender Venice Uke – Lake Placid Blue

The Fender Venice soprano uke is created using the blue color of Lake Placid to refer to a summary of the ocean around California. It is suitable for beginners because it is affordable and small in size.
Features
The body size is compact and comfortable. Thus, it is easily transportable.
It's easy to change the strings with the no-tie bridge.
This uke uses the slim "C"-shaped neck feature. Consequently, playing the Venice Ukulele becomes easier.
The No-tie String on the Signature of Fender 4 does it easy to adjust the strings.
The iconic Telecaster style headstock makes it unique compared to other ukes.
2. Fender Seaside Ukulele – Natural

If you find a mahogany-made ukulele, the Fender Seaside Soprano Natural Uke is a great one. This uke provides a warm, bell-like tone. However, it's easy to carry and suitable for beginners.
Features
The slim "C" shaped neck makes playing the uke easy. Likewise, the Seaside's open-pore finish makes it a unique look.
The bindings on the top, back, and fingerboard make it look elegant uke.
Made with Mahogany, this uke creates a warm, bell-like tone.
It also has a no-tie bridge that helps to change the strings easily.
3. Fender Grace VanderWaal Signature Ukulele – Walnut

We include one of our favorite ukes in the list, and it is the Fender Grace Vanderwall Signature Ukulele. Most importantly, it is an electronic-acoustic concert ukulele that comes with great beauty and is affordable.
Features
Made from Sapele, this cute uke is finished in gloss walnut.
It also comes with gold hardware and cream binding. Moreover, it includes the Fishman preamp system that amplifies the instrument without breaking its pure, enriched, and resonant tone.
This best concert ukulele features the gold sparkle rosette, a custom floral soundhole label.
The Tele-style headstock is another superb feature of this uke.
Its distinctive sound quality attracts anyone.
Grace's signature is a reflection of the quality of the best electric ukuleles.
4. Fender Montecito Tenor Ukulele – Koa

Does anyone make a list of the best Fender ukulele? It is difficult to ignore the Fender Montecito Tenor Uke. So, we've included this delightfully best tenor uke with the line-up.
This ukulele gives a deep, lively tune that fits in with its aesthetic. However, Montecito's construction, tone, and playability are completely a ukulele.
Features
Built with a full-sized body Koa uke, this tenor uke features a nato neck, a rosewood fretboard, and 19 frets.
It has no pickup, but the sound is very balanced.
It features vintage-style tuners and the 4-in-line Tele headstock.
The Montecito has a bone nut and saddle for superior intonation.
5. Fender Zuma Concert Uke, Walnut Fingerboard, Burgundy Mist

Do you want a uke that has a glossy finish of high quality? Well, the Fender Zuma Concert Uke comes with great design and superb playing ability.
However, this best Fender concert uke has a full-bodied and musical sound. It is suitable for beginners and professionals.
Features
With the Sapele body, this concert-sized uke looks unique.
The convenient pull-through bridge makes it easy to change the strings.
It also features painted tops and natural sides and back.
This well-constructed uke has a no-tie bridge and 4-in-line Tele headstock.
6. Fender Venice Ukulele – Cherry

Are you going to learn to play uke as a beginner? If this is the case, then you should get a uke that is high-quality featured but small in size. On the other hand, as a parent, you are looking for a uke for your child. For both cases, the Fender Venice Soprano Uke-Cherry is undoubtedly a perfect choice.
Above all, this ukulele produces a clear sound and is only essential for beginners.
Features
The neck of this model is not the same as the traditional uke and is C-shaped. As a result, holding and playing the ukulele becomes easier than other ukuleles.
Its no-tie Bridge builds changing strings a breeze.
The iconic Telecaster style headstock affixes a unique dash of fender style.
The small compact size uke has become a superb ukulele for children who need a uke to learn or play. It is also easy to carry for children as well as for people who want to travel with the uke.
7. Fender Venice Ukulele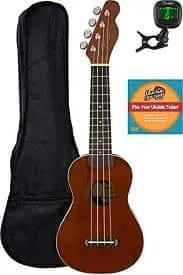 The Fender Venice Soprano Uke is an instrument that is easy to play for beginners and proper for a travel ukulele. It makes the uke original soprano-shaped sound that sets it apart from other ukuleles. So, playing it is always enjoyable for you.
Features
This uke produces a classy and light sound due to its comfortable shape.
This Fender uke is very easy to hold and play with because it has a C-shaped slim neck.
Most of the ukes have knotted bridges. But this model includes the no-tie bridge. Consequently, changing the strings becomes easier.
The small body of this uke makes it perfect for beginners and professionals.
The headstock of this uke creates a replica of Telecaster's iconic headstock shape for authentic Fender Vibe dashes.
In addition to those, the bundle offers a Fender Clip-on Chromatic Tuner, Soft Gig Bag, Fender Play Trial, Ukulele Instructional DVD, Aquila Ukulele Strings, and Ukulele Instructional DVD.
8. Fender Grace Vanderwaal Moonlight Ukulele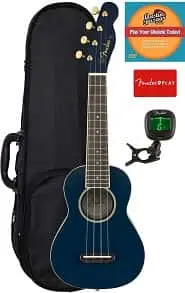 The Fender has made this soprano uke inspired by Grace Vanderwaal, America's Got Talent winner. The Grace VanderWaal Moonlight Soprano Ukulele is an easy-to-play instrument that is a fabulous introduction for all level uke players.
This soprano uke is the perfect partner for stage performers due to its cozy little body and enticing sound. Besides, this classy uke arrives with a gold sparkle rosette and navy blue satin finish. Further, the headstock has Grace's signature on the back, which creates inspiration for kids learning the ukulele.
Features
This soprano ukulele has a pull-through bridge that helps to change the strings easily.
It includes an easy-to-use clip-on tuner. As a result, a uke player can keep his instrument in tune.
Its neck is a slim "C" shape that makes the uke comfortable to hold and play.
The modern 4-in-line Tele headstock makes it stand out as a Fender product.
In addition to those, this bundle provides the necessary accessories to add value to your purchase.
9. Fender Seaside Ukulele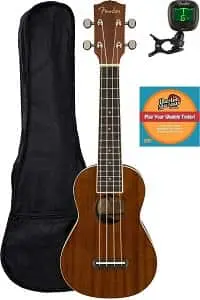 When it comes to reducing fatigue and relaxing on the beach, the Fender Soprano Ukulele is the perfect pick. In short, this comfortable and easy-to-carry soprano uke is a supermodel for beginners or anyone who wants to add a light and spirited sound to their music.
Features
Made of Mahogany, this uke generates a warm, bell-like tone.
The Seaside's open-pore finish offers the ukulele a unique look.
The top, back, and fingerboard bindings sum up a touch of elegance.
The inclusion of a no-tie bridge makes it easy to change strings.
For holding and playing easily, it uses a slim C-shaped neck.
The Seaside uke also has a 2×2 headstock and free accessories – a soft ukulele gig bag, instructional DVD, and a chromatic clip-on tuner.
10. Fender Venice Ukulele – Cherry Bundle with Gig Bag, Tuner, and Austin Bazaar Instructional DVD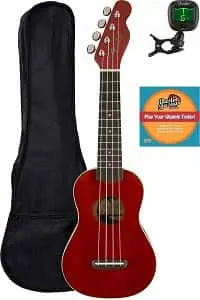 Are you searching for a small hand uke that is perfect for beginners? No doubt, this Fender Venice Soprano Uke can choose. In truth, the Fender has made it for beginners.
Features
The slim "C" shaped neck helps you to hold and play the uke comfortably.
It is easy to carry due to its compact size.
It includes the no-tie bridge. So, changing the strings is very easy.
This Soprano Ukulele has Chrome hardware, 4-in-line Tele headstock, and Open-back geared tuning pegs.
This bundle also offers a gig bag, clip-on chromatic tuner, and Instructional DVD at the time of purchase.
Final Note
Purchasing a ukulele is an exciting feeling. But, being a skilled uke player, is the first step.
You should take the time to choose what is affordable for you. Moreover, read reviews online and watch product review videos. In short, don't hasten into this big decision.
It is not a considerable matter whether you are a skilled or beginner ukulele player. In conclusion, the best Fender ukulele review above will help you pick the right ukulele.