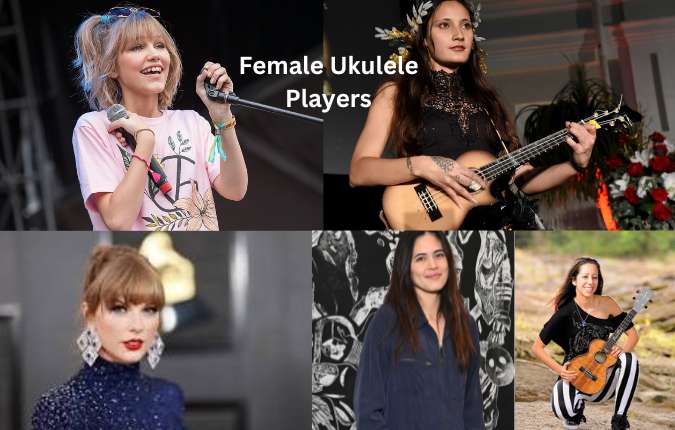 Many think of the ukulele as a toy instrument for kids or beginners. It becomes anything but a toy in the right person's hands. After introducing to Hawaii by Portuguese musicians in the 1870s, it has spawned many artists to date, including female ukulele players.
In this article, we are about to discuss some of the best and most famous female ukulele players to motivate you to continue practicing. So keep reading to know about them.
17 Most Famous Female Ukulele Players
1. Grace VanderWaal
First, let's go with a ukulele prodigy, and that is Grace VanderWaal, who was born on January 15, 2004. Conquering the 11th season of America's Got Talent turned her most known.
VanderWaal started learning to strum the ukulele at a young age when she watched videos of artists playing on YouTube. In a short time, she began to play cover songs on the instrument and released them on YouTube.
VanderWaal kept on her journey to sing on the ukulele. She displays her skills at best in her most popular single, "Moonlight."
In a short time, she has won many awards for her albums and solo songs, including America's Got Talent (2016), Radio Disney Music Awards (2017), Teen Choice Awards (2017), Billboard Women in Music (2017), MTV Europe Music Awards (2018), and 32nd Japan Gold Disc Awards (2018).
2. Taimane Gardner
When we speak of female ukulele players, the list remains incomplete without mentioning Taimane Gardner. She's a talented Hawaiian ukulele virtuoso and composer who captures the audience's hearts with his captivating music.
Taimen is of Samoan descent, and her name refers to "diamond." Honestly, her skills on the ukulele are as brilliant as her name. Either a classical piece or a hard rock cover, she can choose her way through the song with the four-string ukulele.
Throughout her career, Taimane has revealed five albums and conquered an Nā Hōkū Hanohano Favorite Entertainer of the Year award in 2019. The following year on March 13, 2020, she partook in an NPR Tiny Desk concert, receiving over a million views.
3. Taylor Swift
American pop singer-songwriter Taylor Swift is a singer that almost we all know. Indeed, one of the best-selling artists of all time is Taylor Swift, and she has sold over 200 million records worldwide.
Although Taylor is well-familiar with her astonishing singing ability, she is proficient on most stringed instruments, such as the piano, guitar, and banjo, in addition to the ukulele.
Swift is not seen playing the instrument on any of her records but is known for playing the ukulele in his live performances, for example, on the Fearless Tour in 2009 and the Speak Now World Tour in 2011.
4. Amanda Palmer
Amanda Palmer is one of the astonishing female ukulele artists who can seize your mind the first time you hear her music. She comes from the musical duo Dresden Dolls and achieves to play the piano, keyboard, harmonica, and drums in addition to the ukulele.
While Amanda is well-familiar with Dresden Dolls, her work cannot be dismissed as a solo artist. She has revealed three studio albums, all of that are charted.
Palmer's usual instrument is not the ukulele. Indeed, she plays it for fun during live performances.
Lastly, although it became her repertoire part, and with the ukulele called "Amanda Palmer Performs the Popular Hits of Radiohead on Her Magical Ukulele," she released an EP of cover songs.
5. Kate Micucci
Kate Micucci, musician, actress, and comedian, is the 2nd half of the comedy folk duo show Garfunkel and Oates, where she performs the latter.
In Hawaii, while working at a pineapple farm there, Micucci mastered how to play the ukulele. She met Riki Lindhome, the other half of the duo, after which they started producing comedy songs simultaneously and started the show in 2007. In the series, Micucci performs the ukulele, while Lindhome performs the guitar.
Besides Garfunkel and Oates, this female ukulele player herself has revealed two EPs and assisted other artists such as Johnny Blu, Grant-Lee Phillips, and Sara Watkins. Even she has kept an excellent contribution to the soundtrack of the animated musical TV series "Steven Universe."
6. mxmtoon
Mxmtoon (real name Maia) from Oakland, California, passed a musical childhood. In his early years, she accepted violin lessons and performed the guitar. When she was in his teens, she transferred to playing the ukulele.
Mxmtoon began secretly uploading his songs to YouTube before she came out in 2017 to create "Falling for You" and eventually co-operated with Peachy, who accompanied her on her ukulele. She followed it with "Prom Dress," considered her signature song.
Although Mxmtoon already contains a few followers on YouTube, The Masquerade, her debut studio album, brought him more fame in 2019. Then, she traveled to the United States and the United Kingdom and even published a graphic novel named The Adventures of Mxmtoon: The Masquerade.
7. Ingrid Michaelson
If you look for one word to narrate Ingrid Michaelson's song, it might be "cure" for you. Her songs create nostalgic feelings in listeners and make them seem relaxed while listening.
Michaelson is from an artistic family. Her father is a composer, and her mother is a sculptor. She was a student at a music school and learned piano as a child.
Michelson has sung many of his songs accompanied by his ukulele. Her compilation album is Be OK, reaching #35 on the Billboard 200 chart and featuring the best of, so listen to it.
8. Colbie Caillat
Those interested in the ukulele must have heard of famous pop singer and songwriter Colbie Caillat.
The advent of Colbie was in 2007, and she took place in the hearts of fans with the fantastic album "Coco," with the hit singles "Realize," "Bubbly," and "The Little Things."
Then, Colbie collaborated with Jason Mraz to create a duet – "Lucky" in 2008, revealing her 2nd album "Breakthrough" in 2009, her 3rd album "All of You" in 2010, and his fourth album "Christmas in the Sand" in 2011.
Her songs have been viral and gained many achievements because of their stunning melodies and heart-touching lyrics.
9. May Singhi Breen
May Singhi Breen, born in 1891, created a name for herself with her ukulele and gained the title "The Original Ukulele Lady." Indeed, what began as a simple Christmas gift turned into a decades-long career and fondness for the ukulele.
Breen constituted a band named The Syncopators and afterward, for 16 years, hosted a radio show, the "Sweethearts of Air," with Peter DeRose for sixteen years.
Also, she is accountable for composing the ukulele arrangements for numerous Tin Pan Alley songs revealed by top sheet music companies.
Breen was inducted into the Ukulele Hall of Fame as the 1st woman in 2000. Besides, she is credited as a pioneer in the ukulele acceptance as an excellent instrument by the American Federation of Musicians.
10. Priscilla Ahn
Priscilla Ahn becomes well known due to her beautiful melody and angelic voice. She has familiarity as a singer, songwriter, and multi-instrumentalist.
Throughout her career, Priscilla Ahn has released several beautiful albums, which take you into nostalgic feelings, for example, "A Good Day" (2008), "When You Grow Up" (2011), "Home ~ My Song Diary" (2012), and more.
Furthermore, Priscilla is a singer and songwriter for "Dream" in "Bride Wars" (2009), "Moon River" in "American Pastoral" (2016), "Find My Way Back Home" in "My Sister's Keeper" and so on.
11. Samantha Brown
Let's go to Stratford, London, and discuss Samantha Brown. In the late 1980s and part of the 1990s, one of the faces of blues and jazz was this singer-songwriter and musician, including UK singles such as "Stop" and "Kissing Get."
Brown revealed an EP titled Ukulele and Voice in 2005, featuring just that 5-songs he sang playing the ukulele.
Unfortunately, there was a cyst on her vocal cords in 2007, although it was removed, making it difficult for Brown to sing. She wishes to pursue a musical career, so she begins a few uke clubs in the UK where she instructs others on how to master the instrument.
12. Brittni Paiva
Brittni Paiva, Multi-instrumentalist and songwriter, comes from Hilo, Hawaii. At 11, she started playing the uke when her grandfather supplied one and carried on rising until becoming a renowned ukulele player.
In 2004, Brittni x 3, her debut album, achieved the first Nā Hōkū Award, similar to a Hawaiian Grammy. She has since then revealed four more studio albums and earned two more Nā Hōkū awards for her works.
Also, she has staged live with other popular artists, such as Carlos Santana, while touring Hawaii and Jasmine Crowe. In addition to the ukulele, Paiva is proficient in piano, guitar, and bass.
13. Molly Lewis
Molly Lewis, another famous female ukulele player, catches your mind with her stunning performance. She earned popularity by posting original pieces and ukulele covers of songs such as "Poker Face" (Lady Gaga), "Toxic" (Britney Spears), and so on.
In 2007, a cover song of Lewis produced by folk singer Jonathan Coulton's "Tom Cruise Crazy" won her Ukulele Video of the Year from Ukulele Hunt. It attracted the attention of Coulton, and he invited her to play with him.
Lewis has since revealed three EPs. Also, she regularly performs at w00tstock, a music variety show. A few of her audible songs are "Our American Cousin," "Road Trip," and "Pantsuit Sasquatch."
14. Ayano Tsuji
We've included in our list most American and British ukulele players. But this time, we will discuss Ayano Tsuji, one of the Japanese female ukulele players.
Debuted in 1998 with the album Uraraka (Balmy), the Japanese pop singer-songwriter is well-known for her light singing style and ukulele play. Her most notable work is the ending song of The Cat Returns, "Kaze ni Naru" (Becoming the Wind), in 2002.
Over her career, Tsuji has produced music for films and commercials in Japan. Also, she has released 15 more albums, including the latest album Hello Woman in 2022.
15. Julia Nunes
Julia Nunes, singer, and multi-instrumentalist began playing the ukulele in 2005. She has since become known for playing it in cover song videos uploaded to YouTube.
But it isn't just cover songs that got her a following. She also posts original works such as "Balloons" and "Into the Sunshine." She garnered over a million views on his YouTube channel.
Nunes has reached a long way since her beginnings in the mid-2000s. Plenty of her original pieces have been revealed as EPs or studio albums.
She has worked with other artists and conquered uke competitions, such as the Bushman World Ukulele Video Contest.
16. Genoa Keawe
Genoa Keawe, a ukulele legend, was born on October 31, 1918, and died on February 25, 2008. In Hawaiian music, she is an idol.
Whenever Keawe has done her job, she wins over native and international audiences. Due to the uniqueness of her music, today, she has become an inspiration to many players.
In recognition of his contributions to Hawaiian music, in 2005, the University of Hawaii awarded Genoa Keawe an honorary doctorate (Doctor of Humane Letters).
17. Sophie Madeleine
We are about to end our female ukulele player article with YouTube sensation Sophie Madeleine, called The Queen of Ukulele by Finger magazine when she posted many ukulele covers of pop music like "Bob Dylan's "Don't Think Twice," "It's All Right" and more.
The Brighton native has written several ukulele songs and has a master's degree in songwriting. Her first work remained "Take Your Love with Me" and peaked at #4 on the iTunes New Zealand Singer-Songwriter Chart.
Unfortunately, Madeleine has gone the music off after years of touring and releasing four albums for ill health.
Wrapping Up: Best Female Ukulele Players
Plenty of female artists have been choosing the ukulele, which is not astonishing for the past few decades because the ukulele contains its uniqueness, complimenting the female voice.
The ukulele keeps on gain popularity among female artists, and more modern musicians are gripping it. So it'll keep on being one of the most wanted-after instruments of our generation, hopefully.