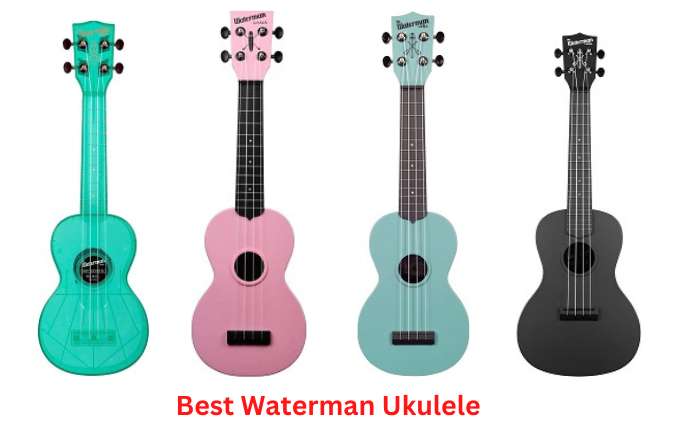 Kala always brings a wide range of ukuleles. One of the industry leaders in reasonable-priced instruments is Kala. The best Waterman ukulele, a plastic ukulele, is another addition to the brand's product lines.
The Kala Waterman uke features particular versatility and has been introduced in homage to the 1950s Maccaferri ukulele. In reality, Kala initially launched this model as a take-everywhere instrument. But it becomes excellent for the classroom due to its durable and effortlessly cleanable properties.
The creative Waterman has the characteristics of a plastic, water-resistant, and reasonable-priced instrument found in various colors and patterns.
Best Waterman Plastic Ukulele Reviews
The ABS composite plastic body of Waterman is imperishable. As a result, it becomes a fantastic option for players searching for arduous, weather-resistant instruments for the beach or travel.
A one-piece internal bracing system has in each Waterman ukulele. Also, every model brings Super Nylgut Aquila strings and a small backpack bag to take your instrument with your go.
The Waterman ukulele offers an injection-molded body and a fingerboard with molded frets favored by the Maccaferri ukulele. Indeed, it is to create a more even tone between fretted notes and open strings.
Geared tuners from Waterman uke remain similar to other entry-level kala ukuleles. Also, Waterman has a plain neck, inwardly braced. Although the plastic ones might appear to be a toy to more professionals, the tuners and molded frets aid it in staying in tune effortlessly.
These come in 13 varieties, a few with deep-colored tops and others featuring beautiful, swirled backs and sides. Also, availability is some all-clear see-through versions and glow-in-the-dark models.
Kala gives a one-year warranty on their Waterman ukes function, materials, and workmanship.
Before delving deeper into the Waterman's ukulele world, this review highlights several unparalleled models that have caught our attention.
Although the one you're interested in has yet to be mentioned, don't worry. We are about to review the Waterman ukulele in the next section. But now it goes without saying that this ukulele by Kala provides nothing but the best.
Top 5 Best Kala Waterman Ukulele
| Product Name | Price |
| --- | --- |
| Kala Brand Music Co. Waterman Soprano Uke (KA-SWT) | Check Price |
| 2. Makala Waterman Soprano Uke Aqua Blue | Check Price |
| 3. Kala Waterman Soprano Uke Fluorescent Blue | Check Price |
| 4. Kala KA-SWB Waterman Soprano Uke Soft Pink | Check Price |
| 5. Kala Waterman Concert Uke – Black | Check Price |
1. Kala Brand Music Co. Waterman Soprano Ukulele (KA-SWT)

Kala never manufactured any bones about this ukulele being anything other compared to a 'nod' or homage to the authentic and unparalleled Maccaferri plastic ukulele, hugely popular in the 1950s.
Indeed, the plastic ukulele history is penned on the box these things bring. Additionally, the Waterman even looks like a real plastic ukulele.
The finish remains glossy plastic, much like the Korala Explorer, and too bright compared to the Bugsgear and Woodi alternatives.
You'll find a plastic slotted bridge on the top (for the comfort of string alters), including an integrally molded saddle. Further, the top part remains unadorned, except for a strong ring around the soundhole.
A lovely profile has on the neck, much more playable compared to Woody or Outdoor. In truth, it's a very depiction soprano neck. The deal is done with a set of Aquila New Nylguts and an excellent carry bag.
At the moment, it's undoubtedly one of the best-looking plastic ukes found on the market for us. It'll become meaningless if it performs poorly, but luckily, it does the job well.
Features:
Waterproof and simple to keep clean.
High-quality polycarbonate construction, durable.
Nickel-plated open-gear tuners.
Lightweight and transportable anywhere.
2. Makala Waterman Soprano Ukulele Aqua Blue

KALA Ukulele, avowed by many brands for its top-of-the-range yet affordable instruments, has produced a brand new ukulele through a deal with outdoor enthusiasts.
The Waterman comes with a ukulele for all but shows a special homage to players who are accustomed to residing in outdoor lifestyles.
This Aqua Blue contains a composite neck, fingerboard, and nut & saddle. Moreover, it has Aquila strings, which are comfortable to play, and open geared Black knob tuners, suitable to keep it in tune.
This model offers a surprisingly warm and enriched sound. Rightly, its paint sparks off the molded fretboard but can't affect the sound quality.
Like other ukuleles, new strings need time and frequent adjustment to stay tuned. Therefore, give it time a bit, and the Strings will expand like other ukes.
As a whole, it holds a fun little ukulele feature that's capable of going where others might not go so well. If you wish to take it to the beach, boating, and hiking, you can take it.
Features:
Water-resistant.
Cheap and effortless to carry.
Effortless to maintain cleanliness.
ABS plastic building.
3. Kala Waterman Soprano Ukulele Fluorescent Blue

You are looking for an instrument that's compatible with the outdoor environment. Don't worry. You can take Waterman Fluorescent from Kala without hesitation because it's suitable enough to meet your needs.
Its sound is much more than what you hope from a plastic ukulele. Also, the Fluorescent is sturdy and well-constructed, perhaps more enriched in tone than your thought.
The KA-SWF-BL comes with Aquila Super Nylgut strings, so it's a bonus. Besides, it's effortless to tune, although it takes somewhat time to be stretched. But after its stretching, it stays in tune for a long time.
Kala supplies quality instruments, and their Watermen's ukes feature low-expensive, suitable for going anywhere. Further, this model is a waterproof, beach, and camping ukulele that will let you leave your finer wood ukes at home.
Features:
Lovely tone.
Robust construction.
Superb performance.
Lasting considering cost.
4. Kala KA-SWB Waterman Soprano Ukulele Soft Pink

Yes, we are about to review a cheap plastic, which looks like a real wooden uke. Being a plastic one, this Waterman from Kala will surprise you with its performance quality.
The KA-SWB is an elegant, mellow-sounding ukulele that is striking and durable. Rightly, you can't do anything more about setup or intonation, but fantastic for playing initial tunes, especially for backpackers and kids.
Its action might seem a bit high, and you can file the bridge and the nut even so slightly in this case. The slight filing can solve the action issue and be helpful for small hands.
The body, neck, frets, bridge, head, and tuners are all constructed with solid plastic. Moreover, the strings made by Aquila of the KA-SWB are of high quality. As a result, the instrument stays in tune much better with a brighter sound.
Features:
Available in different colors.
High-quality nickel-plated open-gear tuners.
Tote carrying bag included.
Affordable ukulele, which sounds excellent.
5. Kala Waterman Concert Ukulele – Black

This Waterman Concert Uke is sturdy compared to what you expect, with several small plastic flanges. The tuners might feel cheap, but you remember the cost.
The sound is punchy but dim. In this price range, this uke is profound compared to other wooden ones, which aid in fuller-sounding low notes. The higher notes may create a dull sound, but you can solve it using different strings.
The neck might appear thick to someone, and the action can feel a bit high too. So, it'll become a hurdle for newbies with smaller hands. If you use various strings, you can lower the action.
All in all, seasoned and beginner players can prefer it as their travel uke.
Features:
Indestructible instrumental.
Lightweight to carry.
Eye-catching appearance.
Robust and worthy for outdoors.
Features of the Best Waterman Ukulele in the Kala Brand
Construction and Build Quality
There is all plastic in Waterman except for tuners and strings. Therefore, what we can say is Waterman contains only 4-pieces:
Headstock overlay
Fingerboard
Top and bridge
Back, sides, and neck
Plastic Type
Polycarbonate clear plastic has been used to make transparent models, while ABS plastic is for colored models. Indeed, ABS plastic seems a little low flexible compared to Polycarbonate, but both are similar.
Bracing
The upper part remains an integrated brace on the inner side, but the back and sides are left unbraced.
Durability and Quality
These ukes seem very robust and rigid. Also, they can withstand a severe hit, but we chose not to prove this theory.
The curves remain sleek throughout, and the angles will be sharp and crisp. You'll don't find any visible mold without the heel end. As a whole, these are beautiful and clean construction.
The colored models contain a satin finish to the plastic, looking excellent.
Weight
The Waterman may appear a bit heavy compared to soprano-sized wooden ones. We think it's not such a difference to bother anyone.
On the other hand, their necks might feel a little bulky, but it's nothing to bother players.
Colors
Color lovers may become fans of the color options supplied on this model, particularly the deep colors. Supposedly, these all appear to be motivated by vintage cars from the 50s and 60s, too cool.
Also, several transparent models are available in clear, green, pink, purple, and orange.
Hardware
Tuners
Waterman's geared tuners remain consistent with other beginner-level Kala instruments. So to say, they've done the job and are suitable to play. Thinking of the cost point, we don't have any objection to them.
Frets
We can't exactly call the frets "hardware" because the Waterman places plastic frets molded into the fretboard.
These are somewhat thin and low compared to typical metal frets, so we suppose we don't find as much positive contact while pushing on the strings. It's not a deal-breaker but just a little bit of caution.
Tone Quality
Waterman ukes produce a pretty sound. They won't blow you away, but they create a fantastic sound compared to what you expect from a plastic ukulele.
We'll acknowledge the tone as loud and surprisingly warm but somewhat alluring. The higher notes might seem to create a thin sound but enough better than others in this price range.
Differences Between Models
One thing where we've observed a distinction between the Pale Yellow model and the Transparent Ice clear ukulele is the tone. Indeed, it is a subtle distinction, but the transparent model produced a warm and full sound compared to the yellow one.
The two ukuleles are built using different plastic types, which are likely liable for the tone distinction. The plastic used on the transparent model is somewhat soft compared to the yellow model.
Playability
Playability is our big concern about Waterman. Professionals might not choose it for them.
High Action
We've found that the ukuleles we've used have somewhat high action from the nut up to the 12th fret. The neck had a lot of forward bows that appeared to be the prime reason for the high Action.
Lack of Adjustability
These plastic ukuleles are produced using a method that makes it very difficult to shorten the strings. The fretboard contains a zero-fret, making it impossible to drop the nut slots. Further, the bridge and saddle get integrated into the top of the ukulele, and the saddle remains too minimal to have no room for it to file.
Verdict of Playability
That being said, Waterman is tough to play. We can move around the fretboard beautifully and can become capable of playing most chords with no real problems.
Rightly, Waterman can become an automatic choice in case of travel, although it's not like professional instruments. But the price is low, and it should have in mind.
Accessories and Extras
The Waterman does not comprise many accessories like tuners, extra strings, etc.
It brings a nominal uke case, which is not too quality. But we consider that It's better to get something than nothing.
Is the Waterman Ukulele the best choice?
Of course, the tone is elegant, and its plastic body becomes almost indestructible under general conditions. Also, Waterman is supported by the renowned and esteemed Kala brand. Furthermore, since its arrival in the market, its popularity has increased day by day.
Remember that they don't feature high-end wooden ukes with attractive tones, but these are not attempting to become that. In effect, they become lovely ukes for a newbie, unwilling to cost a lot of money, or even for players, expecting a uke to carry to the beach to travel with or jam with their buddies.
If you're searching for a well-built, rugged, and water-resistant instrument, you won't get one at this price range, not a plastic toy. Besides, they're obtainable in various colors and plastic finishes too.