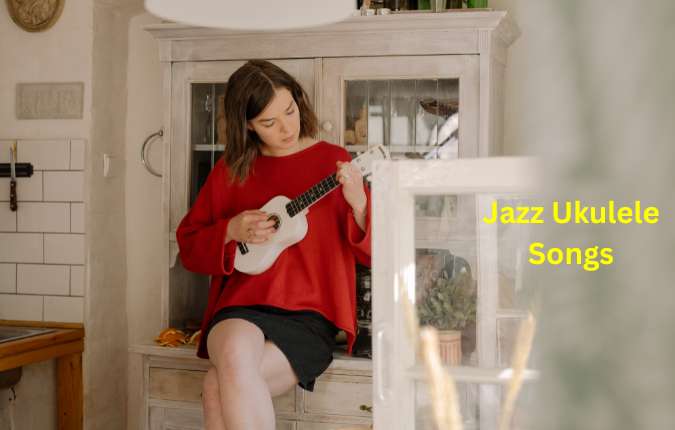 What is a jazz song?
Originating in the United States in the late 19th and early 20th centuries, jazz implies a genre of music. The use of improvisation, syncopated rhythms, and various musical styles such as blues, swing, bebop, and fusion characterize this genre of music.
A piece of music performed in the jazz style is the jazz song. It usually characterizes a lead melody and playing by a group of musicians. Also, the players often improvise on the tune or produce their solos.
Jazz songs might change extensively in their style, instrumentation, and tempo. Some jazz songs feature fast and upbeat, while others are slow and melodic.
So what is a jazz ukulele song?
A jazz ukulele song refers to a musical composition featuring the ukulele as the initial instrument and incorporating elements of jazz music. Also, the use of jazz chords and progressions, swing rhythms, and improvisation typically characterize jazz ukulele songs.
In jazz ukulele songs, players can produce melodic and rhythmic foundations using fingerpicking or strumming techniques, as well as include melody lines and solos.
The accompaniment might incorporate instruments like bass, guitar, and drums to create a fuller sound and assist the ukulele's role as the lead instrument.
Top 7Jazz Ukulele Songs for All Players
Here are some jazz ukulele songs with a brief description, chords, and learning tutorials to help those who intend to learn this song genre.
1. Somethin' Stupid by Frank Sinatra and Nancy Sinatra
Parks and his wife, Gaile Foote, essentially recorded "Somethin' Stupid," written by C. Carson Parks. But in 1967, Frank Sinatra and his daughter Nancy Sinatra again recorded the song, which is the most famous version of this song.
The lyrics talk about a dialogue between two persons who fall in love but are hesitant to express their sentiments for fear of getting hurt.
This song has since featured a classic love song, and over the years, many artists have covered the song.
Chords: Am, D, D7, G, G7, C, Cm, C9, A, A7, D#
Tutorial

2. I Put a Spell on You by Nina Simone
In 1956, blues and R&B singer Screamin' Jay Hawkins originally wrote and sang "I Put a Spell on You." However, Nina Simone recorded this song in 1965, one of the most famous and iconic versions of this song.
The slower and more haunting arrangement is the feature of Simone's version, highlighting her powerful voice and emotional depth.
This song mentions the artist's muse with a lover and her resolve to retain him under her spell through her voice use as a metaphoric tool of seduction.
One of Nina Simone's signature songs is "I Put a Spell on You," which shows her unparalleled style and capability of impacting a song with profound passion and intensity.
Chords: Em, Em/D, C7, B7, Am, Am/G, Edim7, E7, Am7
3. Take the A Train by Duke Ellington
"Take the A Train," penned by Billy Strayhorn, is a jazz standard. In the 1940s, Duke Ellington and his orchestra made it exoteric. The song title indicates a New York City subway line traveling from Brooklyn to Harlem.
This song commences with an upbeat, distinctive tune performed by the horns, reiterated a few times throughout the piece. Also, the rhythm segment delivers a dangling, danceable beat, and the solo artists improve in turn over the chord alters.
The song words, later included by Strayhorn, talk about the experience of riding the train from one edge of Manhattan to the other.
"Take the A Train" stands in a favorite jazz standard. Over time, countless artists recorded this song in various styles. Its captivating tune, contagious rhythms, and stimulating lyrics speak the cognition of New York City and the golden age of jazz.
Chords: Am7, D7, G6, D9, Gmaj7, A9
4. Summertime by George Gershwin
"Summertime" by American composer George Gershwin comes from the opera "Porgy and Bess." In 1934, the song was penned with lyrics by DuBose Heyward and additional lyrics by Ira Gershwin.
The opera character Clara sings the song to her baby, and actually, it's a lullaby. This song reveals idle, fuzzy summer days and talks about the beauty of nature and the pledge of a happy life.
The tune of "Summertime" is familiar for its spooky and excellent quality, and countless artists have performed this song in various genres, such as jazz, pop, and classical.
"Summertime" is a favorite standard of American music and an eternal message of summertime delight and the human spirit.
Chords: Am, E7, Dm, C
Tutorial

5. All of Me by Billie Holiday
Essentially composed by Gerald Marks and Seymour Simmons in 1931, "All of Me" has been a popular jazz standard. Over the years, many singers performed this song, including Billie Holiday recorded a version of it in 1941.
Billie Holiday's representation of "All of Me" has the signature sleek and soulful vocal style accompanied by instruments. The song commences with a soft piano intro before Holliday's voice goes into the opening line:

The lyrics show a longing for complete love and devoutness from a romantic companion, for which the singer gives her all in return. The performance of Holliday remains full of emotion and desire, her voice falling and rising with the song's melody.
One of the most renowned and enduring presentations of the song is the Holiday version of "All of Me," which has supported him in making his legacy cemented as one of the greatest jazz singers of all time.
Chords: F, A, D, GM, DM, G7, C7, B#, B#M, AM, D7
Tutorial

6. Take Five by Dave Brubeck
A jazz writing by pianist and composer Dave Brubeck is "Take Five." Essentially in 1959, Dave Brubeck Quartet recorded this song for their album "Time Out."
Indeed, a distinct 5/4 time signature remains in this song that was rare for jazz at that time because most jazz tunes were composed in 4/4 time.
The credit for this composition goes towards saxophonist Paul Desmond who performed with Brubeck in the quartet. Desmond's saxophone tune for "Take Five" is immediately recognized and has been a classic jazz standard.
Since then, many artists inside and outside the jazz genre have covered this song. Over the years, the song's popularity has lasted and contributed to turning it into one of the most noted and iconic jazz melodies of all time.
Chords: Bbm, Ebm, Abm7, Bbm7, Ebm7, Db7, Gbmaj7, F7, Bb7, Em, Am, Fmaj7, Dm7, Em7, Am7, G7, Cmaj7, B7, E7
Tutorial

7. In a Sentimental Mood by Duke Ellington
A jazz standard penned by Duke Ellington is "In a Sentimental Mood" in 1935. The songwriter is Manny Kurtz and Irving Mills. Its melancholy and romantic melodies have made it more popular among jazz musicians and singers.
The slow tempo and easy yet beautiful melody remain in this song. The lyrics speak of desire and nostalgia for past loves.
Also, the singer highlights the memories they apportioned and the sentiments that remain.
Tutorial

Tips on how to play jazz songs on the ukulele
It might become challenging to play jazz songs on the ukulele. But it can be fruitful with some practice and guidance. Below are some tips to aid you in getting started.
Learning the fundamentals: Before beginning to play jazz on the ukulele, you should require a robust base of uke basics. These are learning scales, chords, and fingering techniques.
Listening to jazz music: Including the ukulele, you listen to jazz song recordings played on various instruments. Most importantly, concentrate profoundly on melody, rhythm, and chord progressions.
Studying Jazz Theory: It'll help you better realize the music you are about to play if you understand jazz theory. Try to master the modes, scales, chord progressions, and other jazz music elements.
Practicing improvisation: The prime element of jazz music is improvisation. Begin with simple improvisations over a chord progression by practicing. The more you feel comfortable, the more you include complicated chords and scales.
Learning jazz standards: Jazz standards characterize classic songs frequently played in jazz circles. Master several of these songs and go practicing them on the uke.
Experimenting with different techniques: Begin to test with techniques like fingerpicking, strumming, and tapping to produce different sounds and textures.
Playing with others: Playing with others becomes a fantastic approach to improving your jazz skills. So, it's better to join a local jazz group or look for other uke players to jam with them.
Conclusion: Jazz Ukulele Songs
Finally, keep in mind jazz is all about improvisation and experimentation. So, never feel fear to attempt new things. Hopefully, the above jazz ukulele songs will be helpful for you on the way to becoming a proficient jazz player.