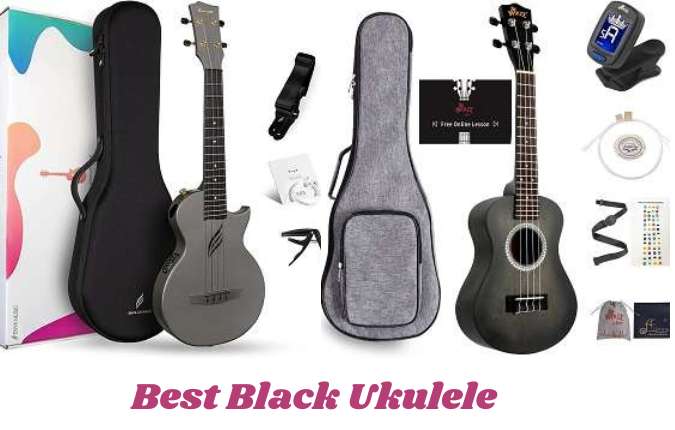 Yes, you are desperately searching around for a ukulele. But, you don't want to be happy with anything ordinary with strings. So, you wish to get anything that is more classy, smooth, and eye-captivating. For this, we're presenting the best black ukulele, which might be similar to your choice.
Then might we suggest this black ukulele? Of course, black ukuleles are not wrong to match with natural finishes (or other finishes), but they become authentic and enhance your beauty, in particular, coinciding with the proper outfit.
After reading this guide, you can choose one according to your needs from our list. So, let's start reading without delay.
Top 8 Best Black Ukuleles Reviews for players
| Product Name | Price |
| --- | --- |
| 1. LAVA U Carbon Fiber Black Concert Uke | Check Price |
| 2. Lanikai QM-BKCET Tenor Uke with Cutaway | Check Price |
| 3. Enya Tenor Carbon Fiber Cutaway Travel Uke | Check Price |
| 4. Fender Venice Black Soprano Uke | Check Price |
| 5. Luna Uke Artist Vintage Concert Uke Bundle | Check Price |
| 6. Fender Fullerton Tele Black Concert Uke | Check Price |
| 7. WINZZ Black Concert Vintage Hawaiian Uke | Check Price |
| 8. Luna Vintage Black Soprano Uke | Check Price |
1. LAVA U Carbon Fiber Black Concert Ukulele

Be ready to be surprised if it first happens your introduction to LAVA MUSIC instruments. The reason is that it is entirely different from the conventional instruments in the market.
This LAVA U Carbon Fiber Uke has an unparalleled body structure crafted from carbon fiber composite, which is not similar to wooden ones. That means you are about to play something different compared to traditional ukes.
This distinctive model will produce a different kind of sound. Not only this, it lets you strum with effects, but you won't need to plug it into an amp or sound system.
The new type might not seem better to all players. But it's a superb option for the player type who always craves to go with the latest innovations and advances in ukulele technology.
We consider it a quality uke with attention to detail. The sound effects seem to be excellent, as also the tone. Surprisingly, it even comes with a one-of-a-kind space case too.
Pros:
A new version of modern technology
Exceptional design
Worthy for travel
Immensely adapted to the weather
Cons:
It may appear to be somewhat pricey for many
2. Lanikai QM-BKCET Tenor Ukulele with Cutaway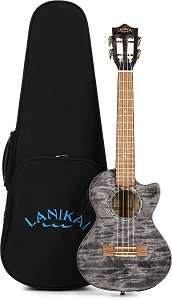 It's a gem that we're reviewing now. Indeed, the Lanikai QM-BKCEC may appear to be a sign of beauty. From the aspect of design, we've not found anything to object against it, honestly.
Although it's not just completely black, we think it'd be shameful to keep it under the covering of such marvelous wood grain with a pitch-black finish.
This splendid model has a quilted maple top, back, and sides. Also, it contains a satin finish, NuBone XB nut and saddle, deluxe Grover open-back tuners, wide Nut and neck profile, cutaway, a Fishman Kula preamp, chrome strap buttons, and tuner.
It may not be top-of-the-line but has premium features. Yet stylish, it's perfect enough to be a fantastic instrument for recording, jamming, practicing, and live performance.
Overall, this Lanikai uke comes with a brilliant tone, a nice-looking appearance, and the ability of good performance to meet your needs.
Pros:
Quality craftsmanship
Captivating design
Bright sound with good sustain
Polyfoam soft case included
Cons:
No sufficient accessories
3. Enya Tenor Carbon Fiber Cutaway Travel Ukelele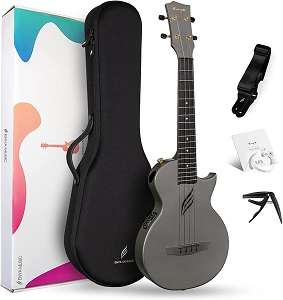 We've come up with another carbon fiber ukulele to our list of best black ukes. In truth, it is not perfectly black, but its color appears closer to dark gray.
Once glare at the item, how can we push it back without including it in our article?
Its rounded-edge body gives a comfortable feel to hold it effortlessly. Also, the cutaway of this uke has more cozy access to those higher notes.
The reality is that it's fabricated from carbon fiber composite, meaning it is pretty elastic to the materials. For this, it becomes ideal for newbies generally and travelers more particularly.
If you look for smoothness with attractiveness, this Enya uke is an example of that. But, not only the smoothness but its sound and tone will be impressed you, of course.
For those on a limited budget and still wanting a nice-sounding travel ukulele like the LAVA U, this model from Enya is still available to meet their needs.
Pros:
Round-edged body
Hand-installed Semi-Hemi frets end
Impervious to temperature & humidity changes
Acoustic Plus pickup system
Cons:
Professionals might not like it
4. Fender Venice Black Soprano Ukulele

You prefer the concept of a Fender uke, but you crave something somewhat smaller. You look no further and can take this Fender Venice Soprano Uke to continue your musical pursuits.
Virtually, it has a simple body, which is not anything too fancy. It features a basswood top, back, and sides, a 4-in-line painted Tele headstock, and a no-tie bridge. The most distinctive part about it is possibly the headstock.
Its sound is too enriched and rounded, and it's pompous. Above all, it'll make your play funny. Its neck seems to be a bit thick, making your song playing easy.
Although we've reviewed black ukuleles, this model has other colors to pick from them. Sometimes, the Fender items might reach you with flaws, unfortunately, so keep noticing the matter. If it happens, try to refund or exchange the item.
Pros:
Basswood construction
Lightweight to carry
Effortless play
Affordable
Cons:
Some comment on going out of tune too quickly
5. Luna Uke Artist Vintage Concert Ukulele Bundle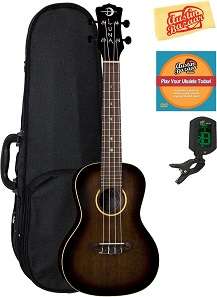 We acknowledge that the Luna Uke Artist Vintage Concert Uke does not look pitch black. Indeed, it holds a somewhat "burst" design, including a gradient from dark brown in the middle to black at the outer ends. Nevertheless, we could not forsake it alone.
The vintage uke is considered ideal, and it arrives with a Tuner, Case, polishing cloth, and Austin Bazaar Instructional DVD.
Its spruce top and mahogany back make it durable, while its single-ply cream binding with beautiful pearl moon phase inlays adds to its beauty. Also, Luna uses a Mahogany neck to give it a sturdy structure.
So, players searching for bundles and good deals can choose it as an attractive option. Maybe, it's not the priciest model on our list, yet it's still a standard instrument with attention to detail.
Pros:
Robust construction
Eye-captivating look
Distinct visually appealing features
A reasonable price
Cons:
Not too many accessories included
6. Fender Fullerton Tele Black Concert Ukulele

The Fender Fullerton Telecaster is an unparalleled alternate. If you're speculating, Fender also contains a Stratocaster model, and you crave to reveal your interior music monster for those times.
It seems to be a straightforward but distinctively constructed ukulele with a Tele body shape. The top consists of spruce, making it durable and producing a balanced sound and tone.
Fender incorporates a color screen digital tuner built into the side, which is superbly accurate. Besides, it has an excellent finish, held tune right out of the box, and pick-up works beautifully.
Other features are the Fender-designed preamp system, 4-in-line Tele headstock, no-tie bridge, and Nickel hardware. Rightly, the brand doesn't add a gig bag but offers a Fender FU610 Concert Ukulele Gig Bag.
As a whole, it's a varied type of ukulele and is not suitable for all. It produces a delightful, crisp sound, and its overall design is enough fun to enjoy. But, this model can seem to be somewhat flimsy-sounding and body-bulky for some.
Pros:
Telecaster body shape
Fender-designed preamp system
Held tune in the right way
Well-performance
Cons:
7. WINZZ Black Concert Vintage Hawaiian Ukulele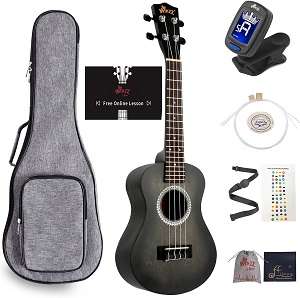 This time we've kept a ukulele on our list, which is worthy for musicians from children to adults.
It has a hand-rubbed finish, which is silky smooth, cozy to the touch, and offers a nice feel. Also, to build it, the manufacturer uses Linden wood known as tonal wood, allowing the instrument to provide a brilliant and distinctive melody.
This model is simple to play. The reason is that the technical wood fingerboard and bridge let you roll over the frets easefully when playing a single note or chords.
This conventional handcrafted uke has sleek body lines and a stable machine head, which confirms that the ukulele will remain in tune for longer.
Thinking of saving your cost, the company has added a lot of extras to the bundle. Honestly, this uke from WINZZ is marvelously lovely but considering anything without a beginner's instrument is not a wise decision.
Pros:
Linden handcrafted ukulele
One-month online lessons with 25 videos
Maple neck
Essential accessories
Cons:
Best-suitable for beginners
8. Luna Vintage Black Soprano Ukulele

Many agree that Luna's product offers the best value for the money. Also, the soprano has gained the most popularity among musicians Luna knows. So, the brand has introduced an all-mahogany and full-featured uke at a stunningly low price.
Characterizing a mahogany top and body, this black-colored uke looks as fantastic as it sounds. Besides, this type of top and body produces a warm sound and higher pitched tone, recognized by all.
This model incorporates a laser-etched rosette and beautiful triangle inlays around the soundhole, looking lovely without any doubt.
Further, its used walnut fingerboard, open-style tuners, and walnut bridge are superb enough to make it an excellent playing and sounding instrument.
Some reviewers remarked that the Mahogany Soprano Ukulele had problems with performance, including tuning. But, how much more can you expect from a budget instrument?
Pros:
Stunning structure with Mahogany
Suitable for all skill levels
Full-bodied soprano sound
Better performance considering the cost
Cons:
Tuning issue, according to some
What should you consider for the Best Black Ukulele?
Yes, you've decided to move forward with a black uke. Therefore, you've already compressed your choices enough.
The wonderful and amusing thing about your choice is that you'll find fun items available to pick from, in the case of designs, in particular.
Man's first instinct in the case of picking is how a thing looks, but it's not everything. Indeed, a few more topics will be best to remember to confirm the highest experience feasible.
Therefore, in this segment, we will highlight several criteria so that it can become helpful to fix which ukulele you buy.
Body Size
Tone and playability
Price
Let's dive into it.
Body Size
From the smallest to largest, the most usual sizes of ukes are below:
Soprano
Concert
Tenor
Baritone
Bass
The three standard sizes are reviewed in our article above.
The tenor over the other two is our preference, simply as the tenor remains a bit large body. But, the soprano might become compatible with absolute starters, and nothing is a problem with a quality concert.
Essentially, the thing you should stay careful about while picking an instrument is the size considering your hands.
Tone and playability
Usually, we frequently refer to tone and playability as two different things, but in this regard, we think it's pertinent to discuss them together as a package deal.
The reason is if you, in particular, pick a black ukulele, it will ultimately limit the tone and playability options somewhat if you try to go for a broader search as either.
Tones essentially refer to the sound of an instrument. Would it be profound, enriched, warm, brilliant, poke, or another thing? When they express themselves through ukuleles, everything does not imply through them. It depends on how you realize the tone or whether you prefer it.
In the case of professionalism, we agree that tone creates enough distinction. Indeed, it can provide more confidence while performing live or recording in the studio. Overall, you can show a fantastic feeling of professionalism.
For beginners and intermediate players, an excellent tone is beautiful. But it may be a minor consideration simply as new players can't always understand how a toy uke offers a different sound from a premium one.
The key for all musicians is playability. Yet, it relies on personal preference. However, the overall balance of the instrument, low action, and a cozy neck play a significant role in contributing to accurate playability.
Price
This guide conspicuously has a wide range of options to choose from, ranging from about $60 to $400. Mostly, you receive what you spend. But sometimes, you can spend less or more. It depends on your affordability.
We want to recommend buying with your budget in mind as this will help you ensure the ideal pick for you.
At all costs, try to avoid getting into debt. If necessary, either shop at low prices or save your money.
Final Thoughts, Top Black Ukulele
Finally, you're thrilled to pick the best black ukulele, we're sure. So, we're leaving it for you now.
Get pleasure in the purchasing process. The reason is it's enjoyable to see the items and compare the different options available.