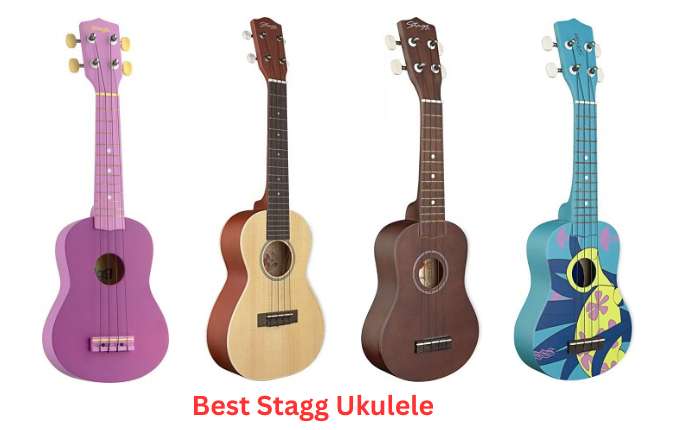 Best Stagg Ukulele!
Stagg, a musical instrument brand, manufactures instruments such as guitars, basses, drums, keyboards, orchestras, ukuleles, and more. The company was launched in Belgium in 1995 and has been well-familiar in the music industry since then.
Renowned for quality, affordability, and innovative designs, Stagg supplies a wide range of products. Those items suit players of all skill levels and musical styles, from newbies to professionals.
Apart from instruments, the brand produces various accessories like cases, stands, and cables. Also, Stagg always remains committed to delivering users reliable and high-quality products at reasonable prices.
The brand's ukuleles appear in various sizes, including soprano, concert, tenor, and baritone. Also, it supplies different colors, designs, and materials like mahogany, acacia, and spruce.
Above all, Stagg ukes can be considered a solid option for players searching for a reputable and reasonably priced instrument. However, as with any brand, researching and reading reviews is significant to ensure you can find the right uke.
So to make your efforts easy, we have presented the best stag ukulele in this review. Let's dive into the article.
Top 6 Best Stagg Ukuleles for All with Beginners
1. Stagg US-VIOLET Soprano Ukulele

The US-VIOLET Soprano Ukulele, a musical instrument, belongs to the family of small, guitar-like-instrument known as ukes. This model becomes suitable for starters and experienced players alike.
This US-VIOLET contains a purple linden wood body and a neck crafted from Nato. Also, the fingerboard and bridge consist of black-stained maple wood. It includes machined heads to tune the strings.
Its total length is around 21 inches, including a scale length of about 13 inches. It creates a brilliant and vivid sound like traditional Hawaiian music.
This soprano uke is light. Its ingredients might not seem better quality, but it is fantastic if you get started. Tuning may be a little troublesome at first. But once settled, the problem will gradually subside.
But, all in all, it's not a bad one for players who are about to start.
Features:
Eye-captivating and colorful design.
Lightweight.
Well-performance considering the price.
Very affordable.
2. Stagg US-RED Soprano Ukulele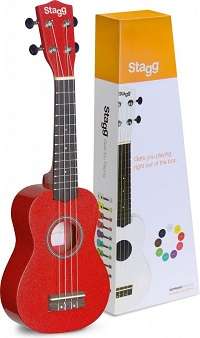 It's another model that comes in a colorful design with the characteristics of a professional uke. You will be amazed when you compare it with the qualities considering its price without a doubt.
The body of the US-RED consists of basswood, a lightweight and resonant wood generally used in uke construction. Also, its nato wood neck has made it durable, alongside the rosewood fingerboard and bridge have turned it into a comfortable instrument.
The design of the US-RED is remarkable for its deep red color, sure to capture your eyes. Moreover, it contains a classic, relentless appearance, assured to create an appeal to a wide range of players.
The US-RED includes a gig bag crafted from too-thick polyester and a zipper. The big seems robust enough and lasts a long in use. Moreover, the bright embroidery on the bag looks exceptional.
Above all, this model becomes a fantastic choice for those seeking a high-quality, reasonably-priced uke with a distinctive design. Due to its compact size and bright sound, new and experienced players can use it.
Features:
A vintage feel with an authentic tone.
Basswood top, back, and sides.
Classical machine heads with plastic knobs.
Nylon Gig Bag included.
3. Stagg UC60-S Concert Ukulele

This time we've included the concert uke from Stagg. Those looking for a high-quality mid-size from the ukulele family at an affordable price can pick it up.
Visually, the UC60-S looks simple but very beautiful. Its mahogany back with the contrast binding has made it much more captivating than its image. Also, the brand has used a matte finish.
The used spruce wood makes it durable and produces a bright sound and tone. Also, its dot-marked fingerboard turns it into an easy-playing instrument.
The UC60-S Concert Uke incorporates silver open-gear tuners with brass gears and off-white pearly knobs which match the strings. Further, it places Aquila Super Nylgut strings, renowned and popular with ukulele players.
Furthermore, intonation and action are well, no doubt. But the sharp fret ends are the only issue. All in all, this model generates a balanced sound and looks stylish. So, you can try to go with it.
Features:
Dimensions: 25 x 19 x 6 inches.
Weight: 1 pound.
Solid Spruce Top.
Natural Matte finish.
4. Stagg US Soprano Ukulele – White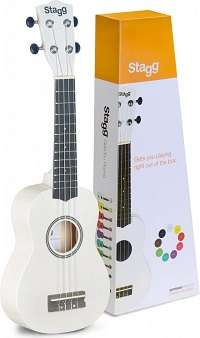 Stagg US Soprano Uke usually offers a bright, punchy sound, suitable for beginners or players preferring a smaller instrument. Also, its solid basswood top, back, and sides provide a warm and resonant tone.
The Stagg US comprises the fingerboard and bridge built with maple wood, giving you a sleek playing surface and bright tone. Further, the 12 frets and a 346 mm scale length turn the instrument easy to play and ideal for small hands.
The US Soprano Uke has a white finish eye-dazzling and gorgeous. Indeed, this finish helps make it an excellent choice for musicians who intend to get an instrument that looks as fantastic as it produces the sound.
The added gig bag lets you transport the uke effortlessly to performances, practices, or anywhere else you carry it. Apart from these, it includes classical machine heads with plastic knobs to do your job straightforwardly.
Features:
Finely crafted instrument.
Affordable for tight-budget players.
Exceptional design.
A balanced sound and tone.
5. Stagg US10 Soprano Ukulele

The Stagg US10 has been a popular entry-level uke with a lovely sound and reasonable cost. With a rosewood fingerboard and bridge, it characterizes a conventional design, including Basswood's back and sides. Also, the neck consists of nato wood, including 12 frets.
The US10 creates a brilliant, warm tone, typical of most soprano ukes. Besides, it becomes straightforward and suitable enough to master playing the uke.
The US10 features lightweight and compact, turning it easy to carry and play wherever you move. Moreover, its affordable price helps make it an ideal choice for those just starting.
The company incorporates a black nylon gig bag, protecting the uke while you are on the move. Plus, like extra strings and picks, the bag can contain a zippered pocket for storing accessories.
Overall, it will not be the wrong option for those who expect a quality instrument but are unwill to spend more.
Features:
Price in reach.
Soprano-sized performance.
Colorful design.
Suitable for learners.
6. Stagg US-MA Turtle Graphic Top Soprano Ukulele

Many look for a unique design uke but do not always find one. They can choose it due to its eye-catching design without hesitating.
Its top characterizes a turtle graphic, adding an unparalleled and fun visual component to the instrument. Besides, the back and sides come from Basswood, which is capable of producing a warm and resonant sound than what you expect.
The US-MA comprises a nato fingerboard and bridge that are comfortable to play. Furthermore, the fingerboard is marked with dots to make your playing effortless.
Reviewers say it brings a small black gig bag, which aids you in carrying your uke. Honestly, what more can you expect from a uke under $50?
Features:
Exceptional turtle graphic top.
Stunning design with a lovely finish.
Worthy of getting started to play.
White dot markers.
Why Do you Use the Stagg Ukulele?
We consider Stagg ukuleles excellent for a variety of reasons. Below are a few:
Quality Materials: Stagg ukes come from high-quality ingredients, including solid wood tops, backs, and sides. The company confirms that the instrument creates a warm, enriched tone.
Reasonable Price: Stagg brings relatively affordable ukuleles, which makes them a fantastic choice for newbies or players unwilling to spend much money on a ukulele.
Widespread range of models: The brand introduces various uke models to adapt to different preferences and playing styles, from conventional soprano and concert sizes to large tenor and baritone ukes.
Well-playability: These ukuleles get usually well-made and contain cozy necks and fingerboards that turn them simple and pleasant to play.
Gorgeous Design: Stagg ukuleles appear in a range of captivating designs with natural wood finishes and colorful, eye-catching patterns. These turn them into a popular choice among musicians desiring an instrument that looks as excellent as it sounds.
Final Note
We've compiled a few of the best Stagg ukuleles, which are cheap but standard compared to the price. But the brand always supplies a lovely combination of quality, affordability, and style.