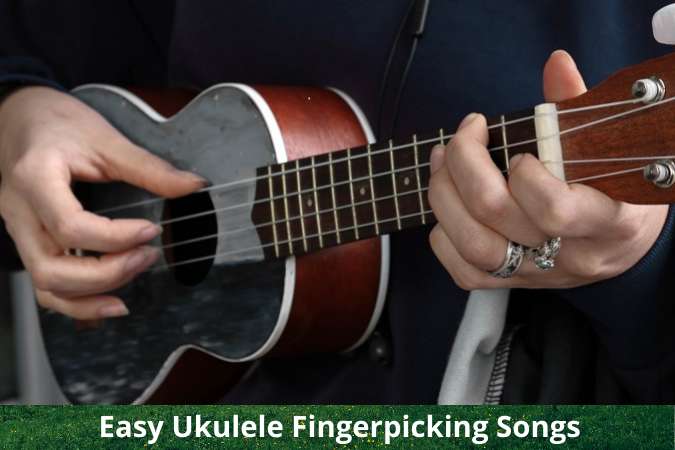 After learning several basic chords, you are looking for some easy ukulele fingerpicking songs. Yes, that's what we are going to present to you today.
Rightly, to become a skillful ukulele player, you need to master fingerpicking (called fingerstyle too). However, for beginners, we think simple finger-picking songs for ukuleles should be the first choice. To be honest, it is not as difficult as it may appear.
Let's take a look at a few of the easy fingerpicking songs on the ukulele without further ado.
1. "Sound of Silence" by Paul Simon
Chords in this song: Am, C, F, G
You are looking for a folk-rock song that is simple enough to adapt your ukulele fingerstyle. No problem, this song can pick without hesitation.
At the capability of playing this song in ukes, you will be entirely amazed. Yes, it has five chords, yet it sounds well.
Since it is a slow song, you can combine all the notes and adjust yourself with the "Sound of Silence" ukulele fingerpicking.
2. "Don't Worry, Be Happy" by Bobby McFerrin
Chords in this song: C, Dm, F
The songwriter wrote "Don't Worry, Be Happy" inspired by the Indian mystic Meher Baba who utilized this title while cabling his followers in the West.
On the first three frets, all the action of this song happens. With three chords, it is one of the easy ukulele fingerpicking songs, no doubt. It becomes pretty simple to hit all the notes of the song to keep pace with the rhythm.
3. "Let Her Go" by Passenger
Chords in this song: F, C, G, Am, Em
Don't become frightened to master the "Let Her Go" ukulele fingerstyle. Perhaps, you might need some time to get used to, yet possible, in case you come in this arena for the first time as well, even then.
Starting slow is key to success. Master a few notes at first and continue to play frequently, step-by-step add a few more notes.
Once you have brought under control this song, you will be surprised at how it sounds – and so will the people around!
4. "Here Comes the Sun" by The Beatles
Chords in this song: G, C, Edim, D, Am6, Am
"Here Comes the Sun" by The Beatles talks about the lyricist's relief with the arrival of spring and the feelings of the temporary respite from the band's business dealings.
Undoubtedly it is an old song, but there is no shortage of popularity so far. With some chords, this version does assemble plenty of fingerpicking, supporting the lyrics.
5. "My Girl" by The Temptations
Chords in this song: C, F, Dm, G, G7
Robinson composed "My Girl" inspired by his wife, Miracles member, Claudette Rogers Robinson.
It is another suitable one for easy ukulele fingerpicking songs, making a superb combination of known chords and fingerpicking together.
6. "Can't Help Falling in Love" by Elvis Presley
Chords in this song: A, Bm, B7, Db7, D, Em, Gbm, G
The tune of this song originates from a popular French love song "Plaisir d'amour," written by Jean-Paul-Égide Martini in 1784. The song was first composed of the aspect of a woman.
"Can't Help Falling in Love" ukulele fingerpicking is as simple as its melody. Alongside, its slow tempo allows it to make a harmonious sound.
7. "Hey There Delilah," by The Plain White Ts
Chords in this song: C, Em, Am, G, F
"Hey There Delilah" fun version consolidates chords and fingerpicking to make a surprisingly fulfilled, tuneful sound. Before adding your vocals, you buzz. See, this song will support you assemble everything.
To be fair, this song might be somewhat complex compared to other easy fingerpicking ukulele songs included here. But, if you practice with patience over a few days, you will become compatible with it, sure.
8. "Happy Birthday" – Traditional song
Chords in this song: G, D, C
People who seek easy ukulele fingerpicking songs for singing at birthday parties can keep this song in their repertoire.
With three chords, it is a super simple song, no doubt. If you have familiarity with chords, you will possibly master them within just several practice sessions.
9. "Puff the Magic Dragon" by Peter, Paul, and Mary
Chords in this song: A, B7, Dbm, D, E7, Gbm
Depending on a 1959 poem by Leonard Lipton, the lyrics of the "Puff the Magic Dragon" appear.
Learning how to play this song on the ukulele is your first job. Then, we suggest you study the chords and the basic strumming pattern. Once you can acquire the basics, flourish your ukulele fingerstyle.
10. "E Ku'u Morning Dew" by Eddie Kamae
Chords in this song: A, Bm7, Em7
"E Ku'u Morning Dew" is one of the best Hawaiian songs, composed by Eddie Kamae.
Different chords have been utilized in the video tutorial for this song. So, we advise using them and studying along with the music link!
Indeed, both are regarded as correct. It is an instance of different artists explaining ukulele fingerpicking songs and making their personal arrangements. So, you can try.
11. "Island Style" by John Cruz
Chords in this song: C, G, F, C7
You need just three basic chords to fingerpick "Island Style" on the ukulele. So, gradually begin and be familiar with necessary things.
If you attain the basics down once, you will play to keep pace with "Island Style," of course. Need to be mentioned, that the tutorial with John Cruz blends with various chords. Yet, this presentation will provide you with an additional experience.
12. "The Leaving of Liverpool" Irish Traditional song
Chords in this song: C, F, G, G7
"The Leaving of Liverpool" is a song where the narrator bewails his long voyage to California and the thinking of departing from his beloved ones, promising to return to her one day.
This song is one of the easy ukulele fingerstyle songs with three chords only. Nevertheless, you should need to adapt yourself to the melody by hearing in various arrangements.
13. "Moon River" by Henry Mancini
Chords in this song: C, Am, F, Dm, G7, C7, Caug, E7, F7
There are nine chords in this song. Yet, you should not worry about "Moon River" ukulele fingerpicking. Besides, its tempo appears to be beautiful and slow.
Once you are acquainted with this tune, you will realize that a bit of practice will become enough to make your fingerpicking simple. So, carry on with your study and give your special touch to it.
Ukulele fingerpicking is easy, but not instantaneous
Well, it is not too hard to fingerpick, but no success comes effortlessly. To bring the fingers into a regular pattern, you need to do a few weeks of steady and daily practice.
At the same time, fingerpicking and singing could be somewhat troublesome. So, first, learn to fingerpick and then do both the same together.
When to begin fingerpicking
Before trying to fingerpick, we suggest you complete a ukulele beginner course. For this, you can take the help of online or Youtube or professionals.
You have already learned the basic chord shapes. After that, if you can make the ability to play most of them without looking at the chord chart and to alter chords in time without stopping, being ready to learn fingerpicking is the perfect time for you.
How many fingers to use?
Indeed, various teachers will suggest different techniques for fingerpicking, like everything else about ukuleles.
Some teachers recommend utilizing the thumb, the first, second, and third finger.
For two strings, other players and teachers utilize the thumb. For the other two strings, they use the first and second fingers.
Using the thumb for two strings is my tendency. The reason is that it can make a strong rhythm, I think.
Anyway, practicing by using more fingers is my personal opinion. It is a type of case, so do it what I say the matter is not so. It may not be helpful if you want to play more complex songs in the future.
Different types of fingerpicking
Three common types of fingerpicking are below (you will find more, but it is the beginning time).
Choose one chord pattern across a song.
It is a part of the group arrangement to play an instrumental riff at specific places in the song. Some will sort, and some will strum.
You require a strong rhythm for this type-picking. So, I recommend utilizing the thumb than fingers, in the case of a single note riff.
To combine fingerpicking/ strumming patterns, you sort out some parts of the song, and others can strum.
Easy Ukulele Fingerpicking Songs, Final Thought
You need to start with easy anything if you are a beginner. You might know that anything never comes easily. So, you might get frustrated if you start with solid songs.
Here are some easy ukulele fingerpicking songs that are suitable for beginners. Therefore, choose a tune that becomes perfect for you. Have fun.