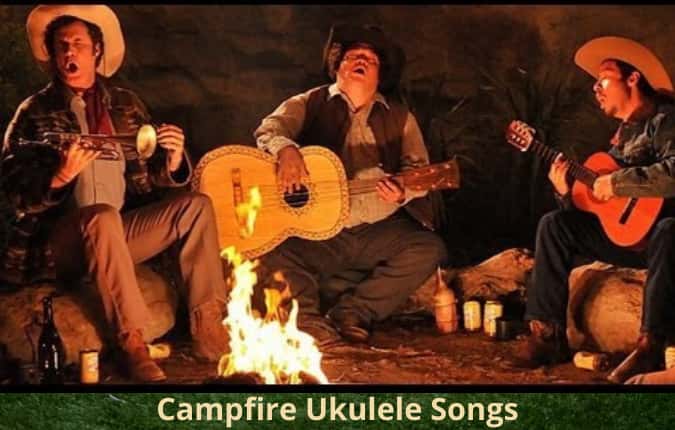 You're thinking of going on a camping trip with family or friends. So, you're looking for a way of entertainment. Some campfire ukulele songs will be better than any other something for the entertainment, unquestionably.
Anyway, here's a comprehensive list of the best campfire ukulele songs with some descriptions below. These melodies will be a better collection of picks for your tour.
Top 13 Best Campfire Songs for Ukulele
1. "Don't Worry Be Happy" by Bobby McFerrin
Chords Used: C, Dm, F
The song "Don't Worry Be Happy," first revealed in 1988, has a sweet, straightforward, and mild feature, bringing a pleasant mood whenever you play it.
Everyone wishes to feel comfortable when they are sitting around the campfire. Of course, this track will fully meet the demand. It's an excellent track to play after passionate music, and by using it, you can reign your audience before playing another impassioned song.
It is a 3-chord ukulele song. So, before taking something more challenging, this tone is one of the easy ukulele campfire songs for beginners.
Tutorial

2. "The Lion Sleeps Tonight" by The Tokens
Chords Used: C, D, G
First revealed in 1961, "The Lion Sleeps Tonight" has remained an impeccable piece of music that is recognized by all. So, nobody feels any serious problem even singing along to it.
Three chords are necessary for playing this tune. So, it becomes a super-easy song for new players. Besides, it's a mild song to go with it effortlessly if you have some tendency to learn.
Many pop and folk revival artists adapted and covered it internationally in the 1950s and 1960s. Therefore, you should have it in your campfire tracklists. Moreover, it is adjustable enough to adapt to the campfire environment as one of the ukulele camp songs.
Tutorial

3. "The House of the Rising Sun" by The Animals
Chords Used: Am, C, D, F, E7
It would not be the worst to include a traditional folk song in your campfire song collections. In truth, folk songs speak of life in simple language, making the campfire atmosphere enjoyable.
"The House of the Rising Sun," sometimes named "Rising Sun Blues," would be a better choice that says a person's life has gone wrong in New Orleans.
Maybe, it's a 5-chords tune. But, proper practice and patience will make it simple for new players. Besides, there's no doubt that middle and advanced players will be able to play effortlessly.
Tutorial

4. "Lean On Me" by Bill Withers
Chords Used: C, F, G7
Lean On Me, first published in 1972, seems to be much like Ben E. King's Stand By Me, especially in the case the central theme of both songs is that People become supporting each other in times of need.
In contrast to Stand By Me, Lean On Me has remained a highly distinctive tune, even louder to the ear. It's more exciting and dramatic in the end, making it significantly different from Stand By Me.
This song also contains a rhythm, easy to understand, becoming another gorgeous pick for players, still comparatively new to playing uke! Using three chords to sing it bears its testimony.
Tutorial

5. "Brown Eyed Girl" by Van Morrison
Chords Used: G, C, D, D7, Em
"Brown Eyed Girl," revealed in 1967 first, talks about a former love. Whatever the content, this song becomes an excellent campfire song because it creates those warm moods that perfectly are coincided with the warmth of a campfire.
This song runs neither too speedy nor too slow. The steady tempo, including simple lyrics, shapes it into a simple tune for everyone to sing.
Due to the five chords, many think that it is too difficult. But, systematic practice will reduce your hassle, hopefully.
Tutorial

6. "Take Me Home, Country Roads" by John Denver
Chords Used: A, D, E, E7, Gbm, G
A country uke song by a famous artist like John Denver would be the best choice as a tune for a campfire. "Take Me Home, Country Roads," is considered a symbol of West Virginia, described as "Almost Heaven."
The idea for the song's title came when Nivert and Dan Off, married, were traveling by car along Clopper Road in Montgomery County, Maryland, to a Nivert family assemblage in Gaithersburg while Danf was playing his guitar.
Although there are 6-chords in this song to play, careful learning will make it simple.
Tutorial

7. "Stand By Me" by Ben E. King
Chords Used: C, Am, F, G
"Stand By Me," sung by Ben E. King, was first revealed to the audience in 1961. Essentially, it conveys a soothing tune that you cannot make a mistake while playing around a campfire.
Assemble it with the themes of camaraderie and unity coming in the lyrics, and you'll find it is a song that is created for campfires.
This song has the feature that it is possible to play it at any time without having to think about what is coming before or after any song. Also, it contains a steady rhythm, which does not become complex to learn.
Tutorial

8. "Edelweiss" by Richard Rodgers
Chords Used: G, D, C, Em, Am7, D7, A7
A show melody from the Rodgers and Hammerstein musical The Sound of Music is "Edelweiss" in 1959. It is given the name the Edelweiss, which is a white flower available high in the Alps.
Rightly, it's one kind of a track, appropriately adapted to the campfire atmosphere. If you sing this song around the campfire, nobody will distract from the tune for a single moment while singing it.
Many people may be scared when they see the chord number used in this song. But for learning, a proper technique and step-by-step practicing process will solve this issue, sure.
Tutorial

9. The Campfire Song Song
Chords Used: C, F, A, E, G, D7
In 2009, the Campfire Song Song came through the Spongebob Squarepants album. Indeed, this tune is a complete change of tempo considering the rest of the songs on this list.
Yet, it can become a fantastic track if you crave anything high vigor for your campfire listeners, especially if there are young kids around the campfire in your presence.
There are six chords in this track, which are not hard to learn. But one thing for this song that can be challenging for you to master is to change the cord quickly. In truth, if you try to sing it slowly, you will not enjoy the song's full effect.
Tutorial

10. "I Walk the Line" by Johnny Cash
Chords Used:  C, G7, C7, F, G
I Walk the Line, written and recorded by Johnny Cash in 1956, is one of the best campfire songs on the ukulele. The reason is that you'll find all the vibes in this song to make the campfire enjoyable.
The lyrics mention marital loyalty, personal responsibility, and overlooking the temptation of her first marriage to Vivian Liberto. The song features very simple and seems to be like most Cash songs. Also, the lyrics talk more about stories than songs.
You may need 5-chords to study it. One of the most noticeable things about the track is that a prime change happens in each of the five verses.
Tutorial

11. "Drift Away" by Dobie Gray
Chords Used: F, C, Dm, G
"Drift Away" is a track by Dobie Gray, first revealed in 1973. This song speaks of being independent, well-associated with the feeling of freedom sitting around the campfire.
The lyrics seem to be interested in places where it's improbable not to perform, and the exuberant melody only affixes to the attraction.
After performing a song or two, you can request your listeners to ask for more, and then Drift Away will become a fantastic song to sing.
The used four chords for this song are not cumbersome irrespective of the players. So, try to go with it.
Tutorial

12. "Let It Be" by The Beatles
Chords Used: C, Am, F, G
"Let It Be" essentially came out in 1970. Honestly, it holds a feature of the family classic, and almost everyone more or less recognizes it.
Like "Drift Away", it highlights the theme of being independent and realizing both small and big things in life. So it's excellent for adjusting to the enthusiastic nature of the campfire.
Although it is not a very straightforward song for learning on the ukulele, beginners can also master it if they're attentive. But if you desire to learn, you need to be more attentive to it than other songs on this list.
Tutorial

13. "Puff, the Magic Dragon" by Peter, Paul, and Mary
Chords Used: G, Bm, C, Em, A7, D7
"Puff, the Magic Dragon" is essentially a poem by Leonard Lipton. Later, Peter Yarrow of Peter, Paul, and Mary changed it into a song, released in January 1963.
The lyrics describe the story of the ageless dragon Puff and his playmate, Jackie Paper. So, this song will be appreciated more, especially if younger listeners stay around the campfire.
Due to the 6-chords song, many may find it troublesome to study it as a campfire song on the ukulele. But of course, enough practice can alleviate your difficulty. If required, you can follow the tutorial below.
Tutorial

Conclusion, Top Campfire Ukulele Songs
You'll find every campfire song in this list reasonably simple. Anyway, don't be a fool to say that simplicity is negative because its simplicity makes them such a favorite part of music for many people.
Maybe, we don't include the best campfire ukulele songs on this list, rightly. But the songs we've compiled are the best for beginners and seasoned ukulele players.