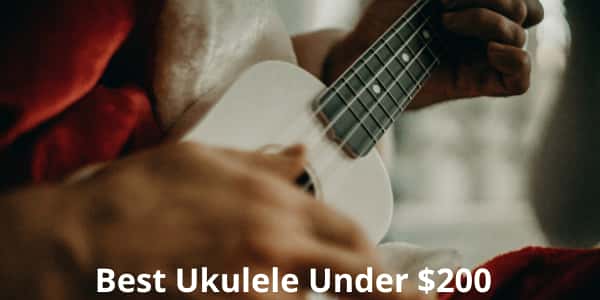 If you plan to buy the best ukulele under $200, you will find the quality uke on the market. As the price goes up, we are not completely clear about the entry-level instruments, so we use different and also good quality ukuleles.
Whether you explore a beginner or a professional ukulele, this sub-200 range will give you a highly satisfying instrument. To help you save through every single model in every online/physical store, we've compiled a shortlist of one of the most popular ukuleles on the market today. Of course, a wide range is available here, but the following nine will provide a better taste. Let's try to find your choice.
Check out Our Top Picks Under $200
Editor's Choice
Bondi Starter Kit (15-FREE-Bonuses)
Top 9 Best Ukuleles Under $200: Our Picks
1. Bondi Starter Kit (15-FREE-Bonuses)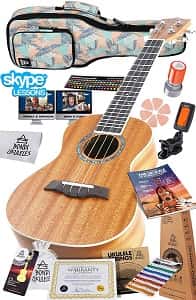 You always think of learning to play the ukulele. But don't know which ukulele is right for you. Well, Bondi has created the perfect solution for you by making this starter kit. To clarify, this Concert Ukulele itself has become quite standard due to its aesthetic construction.
However, this starter kit comes with an all-mahogany body designed like a traditional ukulele. So, the mahogany wood ensures the durability of the instrument and delivers an accurate tone. On the other hand, the fingerboards and frets are made of black ebony, which makes ukulele play easy and comfortable.
Further, at the time of buying this kit, they will give you a handcrafted deluxe saddle, a compression sponge case to confirm your uke safe, Aquila strings for excellent sounds, felt picks, a tuner that acts in the dark, a chord stamp, a chord chart, a rainbow design leather strap. In addition to these, you will have the opportunity to take an online ukulele course to get started.
Finally, you can add this best ukulele for under 200 dollars to your collection. We think this Starter Kit will help you learn smoothly.
Pros:
Super beginner bundle
All essential accessories included
Charming sound
Easily portable
Cons:
Some have reported that the case they provide looks a bit different than the picture
2. Luna Tattoo Concert Ukulele Bundle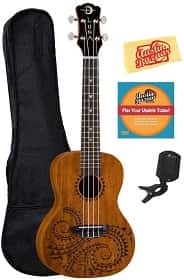 We are going to review the Luna Tattoo Mahogany Concert Ukulele Bundle. In truth, we are impressed by seeing its quality and craftsmanship. Their tattooed aesthetics make the design different compared to other models.
In one of those, we liked most the features of centered segmented triangles that spiral in a beautiful pattern on the soundboard, and the triangle motif is tattooed around the sound hole. The shark tooth model is aptly named after the offset against its burnt orange all-mahogany body with a dark tattoo.
The important thing in the bundle is a simple rosewood fingerboard that has compatible fret spacing. It has an easy-to-use clip-on tuner that helps keep the instrument in tune. Also, the Satin Natural Finish makes it eye-catching.
Most importantly, a beginner player can start his musical journey with the necessary accessories. On the other hand, these accessories add value to your purchase as well as save you from the hassle.
In the end, this best concert ukulele under $200 will have a profound effect on the way you improve your playing skills.
Pros:
Hawaiian body ornamentation
Exceptional design
Captivating tone
Necessary things to start playing immediately
Cons:
Some buyers have objections to the string
3. Hola HM-424SSR+ Concert Ukulele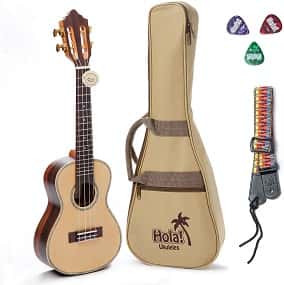 The Hola HM-424SSR+ goes one step further, providing a musical instrument with a sturdy spruce top and outstanding features that surpass the standard entry-level ukuleles. It offers a bright and balanced tone. The tone becomes more resonant with age.
However, Hola always chooses high-quality materials to build the instrument. So, they used solid spruce to make the top of the ukulele, and the back and sides are of Ebony. Also, the fingerboard and bridge are constructed with walnut which is a popular wood used in many musical instruments, including guitars. Its neck is of Nato. Besides, it includes a headstock that is similar to classical guitars.
Moreover, this Professional Series features bone nut and saddle, inlaid abalone bindings and rosette, and 18 silver nickel frets. It has Aquila Nylgut Strings Installed. In addition to these, the bundle comes with an extra gig bag, strap, and picks.
Lastly, the reviewers describe it as a beautiful-looking and outstanding instrument in terms of constructed aesthetics. We strongly recommend for beginners as well as professionals choose the best ukulele for under 200 dollars.
Pros:
Crafted to perfection using the best materials
Guarantee of standard and affordability
Full, warm, and clear sound
Two months of free live classes
Cons:
A few are not too pleased with the quality of its fretwork
4. Cordoba 20TM-CE Tenor Ukulele

Cordoba has ample knowledge of making stunning classical guitars. Applying this knowledge, they are producing affordable ukuleles. In particular, the Cordoba 20TM-CE is a versatile instrument that is helpful for those players who want to expand their musical horizons. With its mellow and enriched sound, this tenor ukulele is perfect to become a companion, for both beginners and gigging musicians alike.
This acoustic-electronic uke is made entirely of mahogany, which is solid on top and layered on the back and sides. As a result, it is very durable and gives a charming tone. It offers a soft cutaway and Córdoba electronics so that you can play it easily.
Further, the uke of Cordoba has a sleek satin-finished mahogany neck that includes a total of 18 frets. The other features included are a rosewood fingerboard and bridge, 35mm nut width, 432mm scale length, Cordoba 2Band EQ pickup, and Aquila Nylgut strings.
After all, it contains the charm of conventional Portuguese ornamentation and exterior wood. Consequently, the 20TM-CE has become the most popular among music lovers who find the best ukulele under 200 dollars.
Pros:
Light-weight instrument
Soft cutaway with 2-Band EQ
Appealing tone and sound
Natural design and extraordinary craftsmanship
Cons:
The tuners are slightly loose
5. Epiphone Electro-Acoustic Concert Ukulele

You hunt for a guitar-shaped ukulele. Well, the Epiphone Les Paul Electro-Acoustic Concert Ukulele is fit to meet your needs. To clarify, it looks like a guitar but works like the ukulele that comes at under $200. That's to say that it is a special package for anyone who desires to affix a ukulele to their setup with some classic rock trends.
Undoubtedly, the first thing to consider for uke is body-building. In this sense, Epiphone uses mahogany for the construction of the body. The top of it is of laminated AAA flame. On the other hand, the cherry or vintage sunburst finish gives it a unique look to other models.
Further, this Electric Ukulele has a solid mahogany neck with a 19-fret granadillo fretboard and a headstock. It has also included a piezo pickup. A unique feature of this uke is the granadillo fretboard, which acts like rosewood.
In short, the EULPVSNH3 is a superb instrument due to its high level of construction, finish, and workmanship.
Pros:
Beautifully flawless finish
Perfect action
Quality tone and sound
A sturdy Epiphone gig bag included
Cons:
Quitely expensive for someone
6. Cordoba 20SM Soprano Ukulele

We have included the soprano-sized ukulele for the first time on the list. The Cordoba 20SM is a handmade ukulele that comes at a reasonable price. There is a guarantee of the best buy for the money. This product has already received numerous satisfactory ratings. As a result, the Cordoba 20SM has become a top-choice device among beginners.
However, this Soprano Ukulele has a solid mahogany top body with laminated mahogany back and sides. This model includes a stiff mahogany neck with a tapered C-profile that helps the instrument play comfortably. It is noteworthy that the mahogany neck is ideal for optimizing the transfer of vibrations. Also, it consists of a rosewood bridge and fingerboard with 16 frets.
Moreover, the beautiful details of the 20SM, made from wooden herringbone creek in chrome tuners with pearl buttons, will make you love it forever. This tool provides a warm and eye-catching melody for its mahogany build.
At last, you can choose the best ukulele for under 200 dollars for premium playability and craftsmanship.
Pros:
Marvelous sound and tone
Beautiful design and pleasing shape
Completely handmade
Ideal for beginners
Cons:
7. Kala KA-B Mahogany Baritone Ukulele

Maybe, you are a beginner, and this is your first attempt at the world of ukuleles, or maybe, you have a few years of experience. In both cases, you have probably heard of Kala because they manufacture, perhaps, the largest range of ukuleles on the market. If you want to get a ukulele that is not regarded as a selling point, but it has your comfort and convenience, the Kala KA-B Mahogany Baritone Ukulele is one of the best ukuleles under 200 dollars.
The KA-B features a mahogany body with a satin finish and white binding. The mahogany neck with a walnut fingerboard is quite soft and polished so that there are no sharp edges. Also, it includes quality geared tuners that assist you to get in tune and stay in tune. This baritone uke provides a very pleasing, deep, and gentle tone with plenty of projection.
Moreover, the other features are a set of sealed, chrome die-cast tuners, a saddle, and nut made of GraphTech's NuBone material, and a set of Aquila Super Nylgut strings.
Above all, it looks attractive and feels excellent to play. It is generally difficult to go wrong with the Kala brand, and this affordable KA-B takes one more step to prove it.
Pros:
Easeful for someone with larger hands
Works well
Elegant appearance
Keeps in tune
Cons:
Quite expensive for beginner players
8. Luna Tattoo Tenor Ukulele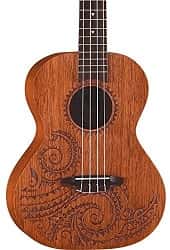 Luna has gained a worldwide reputation for its high-quality instrument and age-appropriate design. There is no exception in terms of this Tattoo Tenor ukulele creation. This tenor-sized contains the traditional Hawaiian uke design. The patterns and layout are geometric. Also, the shapes and symbols represent the natural island world. Now let's see what makes this ukulele one of the best ukuleles under $200.
The Mahogany top, back, sides, and neck does it look classy and smooth uke. Also, this uke is proud of its clean, resonant sound due to its tenor body and mahogany construction. The smooth satin finish holds the original design and keeps up the natural color and feel of the wood.
Moreover, the 19-fret fingerboard is crafted with walnut, and the top is with shark tooth inlay. Across the neck, the headstocks have a graphite nut and chrome Pearloid open-gear tuner.
In short, the UKE TTN MAH features a fascinating tone with a comfortable size at a reasonable price. It is proper for entry-level and advanced players and anyone seeking tenor at this price.
Pros:
Spaced strings for easily fingerpicking
Eye-catching design
Decent and stiff tenor uke
Easy to play
Cons:
Some objections about the durability of the strings
9. Fender Zuma Concert Ukulele

The Fender Ukulele brings a concert body style that gives a first-class playing experience for outstretched hand players. It features a bound top, striking abalone rosette, back, and fingerboard.
The no-tie bridge encourages you to change strings quickly while its 16-freight neck stretches your range. The four inline Tele headstocks with surprising vintage-style tuners are suitable for home and studio use.
This gloss finish uke delivers a warm and delightful sound that mingles completely with other instruments. Some buyers become frustrated because it does not come with the casing.
Most players liked its gloss finish and even noted that the Tele headstock sounds excellent at the time of playing on the 5th fret. Other players became frustrated that the lower frets seemed too small and sometimes went out of tune.
Pros:
Comfortable for large hands
Enriched sound
Natural design
Cons:
The sound of the lower frets is too tiny
What to expect from Best Ukulele Under $200
Whatever size of the ukulele you desire to play, we think you should always attempt to finish with a standard instrument.
Some inexpensive devices may have rough fret or adhesive stains. That does not mean that buying a ukulele for under $200 makes up for such flaws. But in truth, a $200 ukulele will have better features than a 100 dollar ukulele.
How to Choose a Ukulele under $200
Size
Ukuleles are available in four standard sizes:  soprano, concert, tenor, and baritone.
Depending on the size of your hands and the sound of the instrument, you need to choose the right size for you.
Sopranos produce a lot of sound like the traditional ukuleles, and players with larger hands feel a bit difficult to play them because of their small size.
On the other hand, baritones give plenty of sound like guitars, and players with big hands feel comfortable enough to play them due to their larger size.
Type
Acoustic, Bass, and Acoustic-electric are the main three types of ukuleles. Picking the correct one relies on your music tastes and the kind of music you play. Therefore, there's no question of what is right or wrong. But, remember that when you pick your first ukulele.
Wood Type
Wood type impacts the sound and durability of the instrument. For a reasonable price, most ukuleles are crafted from mahogany because it gives a high-quality sound as well as is light, durable, and affordable. However, solid wood ukes are usually better compared to laminated ones.
Action
Action means an indicator of the quantity of endeavor required for pressing the strings and forming the chords. If it becomes too high, you are consuming plenty of energy.
Again, if it is too low, it can listen to some fret buzz.
Fortunately, most manufacturers direct for the middle ground. You can adjust the action if you feel dissatisfied with it right out of the box. It is significant, but it ought not to be a breach of contract.
Final Note
In conclusion, choosing the best ukulele under $200 is not an easy task. But there are many options for making decisions based on what you need. We have mentioned the models that have the best reviews on Amazon, and numerous musicians utilize them daily. So, pick the ukulele under $200 from the list.