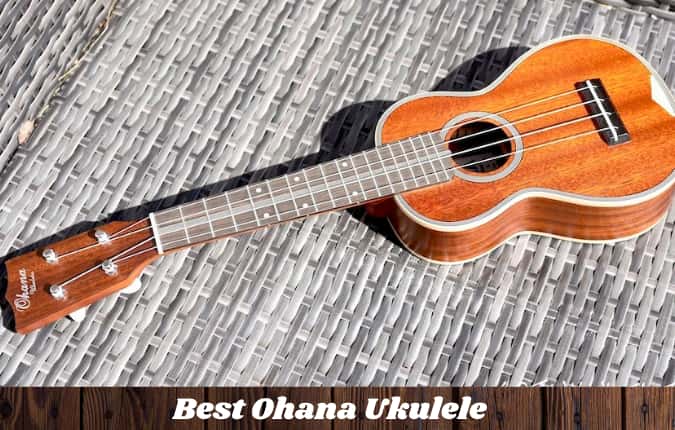 Engineer Louis Woo, the founder of Ohana, started their journey with some ukuleles for players in 2006. Since then, the brand has been making quality instruments. Anyway, today we'll talk about the best Ohana ukulele review.
It may come as a surprise that Louis started working from his garage, but today Ohana has a 6,000-square-foot warehouse to store instruments in Long Beach, California.
Ohana ukuleles come with exquisite tonewoods, apart from standard features and stylish finishes.
Before delivery to customers, each instrument is checked and set up by experts to ensure the best playing experience, even for ukuleles under $100.
Choosing the perfect one among many ukuleles is not an easy task. Yet, in our Ohana ukulele review, we've assembled such items, which are stunning in performance and price ranges.
So don't delay, check out some of the best-sounding instruments and choose the one you like.
Read also:
Best Hawaiian uke
Top 7 Best Ohana Ukulele Reviews by Ohana Brand
1. Ohana Tk-10 Tenor Ukulele Review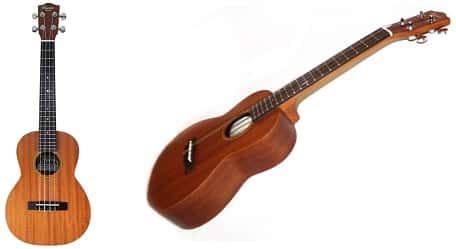 This Ohana tenor ukulele is suitable for those who want a reasonably priced model. It consolidates affordability and high quality, resulting in a resonant and natural sound.
The structure is simple. Also, the tone seems to be clear and potent. Everything becomes an ideal option to learn and know the notes and sounds.
The Tk-10 provides the expectation you usually hope from an instrument in this price range. Moreover, you won't find hidden surprises in this model.
This model tends to have a loose fit of frets, which can be annoying for you to send for repair. Apart from this, it's pretty ordinary and empty compared to other models in the same price range.
Its satin finish wears well with mahogany. Due to the solid build, it does not look cheap. More, the bone nut and saddle support well to give a firm, clear tone with smooth and beautiful tuners.
Overall, it's a beginner-friendly, secure, and dependable option that supports beginners to confidently improve and practice their skills without spending a large of money during the early stages of learning the instrument.
Pros:
Easy access for new learners
Brilliant sound with intonation
Budget-friendly
Hardwood fretboard
Cons:
Frets might become loosened within a short period.
2. Ohana SK-21 Sopranino Ukulele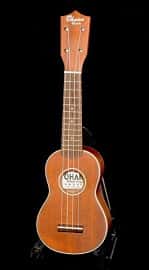 The SK-21 Sopranino Ukulele from Ohana has fantastic features in our consideration to include our Ohana ukulele review. Besides, many think that it works well considering the price range indicated.
Strong mahogany is famous for creating a dazzling finish, and its design is no exception. In addition to being strong, it gives a stunning rich sound that appears to be premium.
Stiff mahogany has played a vital role in creating a tangible difference in the question of both looks and generates a lively and sweet sound, the equivalent of expensive models.
Their regard for detail remains compatible. Top of all, you will find a feeling of love and care for building this model. Due to the portability, going with it is very comfortable.
Rightly, its size is soprano-type but arrives a little smaller compared to conventional soprano ones. Although there is no influence on the sound, players accustomed to bigger soprano ukuleles might feel somewhat discomfort.
Considering all, it will be a superb option for players looking for pocket-size ukuleles with an enriched sound to carry effortlessly.
Pros:
Sturdy body for Mahogany wood
Quality performance considering the price
Suitable for somewhat small-hand players
Easily carriable
Cons:
Small compared to the typical soprano
3. Ohana SK-10S Soprano Ukulele

The SK-10 soprano uke has come for persons who are learners but is not unsuitable for other players too. Also, you will need the lowest cost for it and, perhaps, the least price among the brand's offers.
Most of it consists of laminated mahogany, but rosewood is incorporated to make the fingerboard. You can't do plug-in due to being a strictly acoustic instrument. For the price, it looks excellent and performs well.
Professionals might feel discomfort playing, but it is suitable for simply learners to get the basics. Although it's not the most solid uke, it will be durable for a long time as long as you use it carefully.
Its sound will not become like premium ones, but it'll sound fantastic enough. Remember that you're purchasing the cheapest one of all among their offers. Still, it's a super option for cheap-budget players.
You want an instrument that will help you enter the music world for the first time without spending a lot of money. No doubt, this instrument will be an ideal pick.
Pros:
Stiff body structure considering laminate
Slotted bridge
Simple design but well-performance
Best for the price
Cons:
4. Ohana TK-20 Tenor Ukulele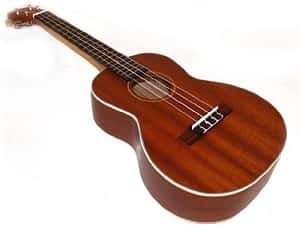 This time we have included another tenor in our Ohana ukulele review. The TK-20 Tenor Ukulele is a little costlier than others on our lists. However, the question of price is not an issue for many in the case of quality.
The soundboard of your instrument lifts heavily in the point of sound tone and wood. Originally, almost 80% of your tone springs from the top part or soundboard.
The solid mahogany top attached to this model is a fantastic addition to this price range. The sturdy top resonates with a translucent and powerful sound. Moreover, it will become harder with age and sound better every year.
The used Aquila strings help you hear the sound of each note. Moreover, it has a natural look that is enough to attract anyone.
The TK-20 has a tidy and well-dimensioned neck, which is not too slim or not too fat but just the ideal width to play cozily. But, many prefer the spacious neck, no doubt.
After all, it will be an expensive investment, but it will pay you back in full with the performance of your instrument.
Pros:
Solid construction with Mahogany
Enriched sound and tone with a clear accent
Natural finish with good binding
Compatible neck
Cons:
5. Ohana SK-14 Soprano Ukulele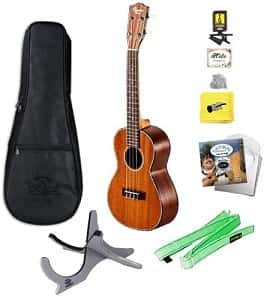 This SK-14 model features an all-laminate soprano in a standard size and shape. Therefore, we have brought a laminate mahogany body with edge binding and black-white purfling at the top and black edges on the back.
The same black-and-white detail around the soundhole is visible. In both cases, it is not shiftable because the binding edge remains inlaid. All in all, it has become a classy-looking model.
There is a slotted bridge in the design to change strings effortlessly. It seems to be an orderly construction whenever you look inside. Furthermore, the laminate ukulele woods do not appear to be too thick.
The SK-14 contains a rosewood fingerboard, which is well-state. Also, there are 12 nickel silver frets on the body, but a total of 15. Honestly, extra frets are well-received, and they bring Aquila strings.
Of course, this item comes at a low cost. Indeed, we expect the newcomers to make it their first choice, and hopefully, the players who are going to start playing ukuleles will keep an eye on this kind of price.
Pros:
Standard build with a good finish
Loud sound with astonishing sustain
Eye-catching look with consistent design
15-frets as an extra benefit
Cons:
Absence of side fret markers
6. Ohana CK-14 Concert Ukulele Review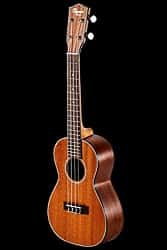 The CK-14 Concert Ukulele is considered worldwide a popular and advanced model.
So, schools and various communities worldwide use it for its high quality, sound, consistency, and easy playability.
The CK-14 consists of mahogany, and the brand has built it like its other high-finish models.
Ohana gives a carrying uke bag that has solid stitching and high-standard hardware. Further, you will get a backpack-style strap to carry it on your back or shoulder.
Waterproof and stiff, the provided carrying bag protects this concert uke from pressure and water. Consequently, you can move around with it wherever you like securely.
There is a clip-on tuner with a high-sensitivity vibration sensor and two tuning modes for chromatic and ukulele.
You can swirl its display 360 degrees and adjust it at any angle for effortless viewing and visibility day or night. While tuning, the display board changes to green to keep your pitch correct.
Pros:
Standard instrument
Mahogany constructed body
Aquila Strings
Smooth frets
Cons:
The strap button is not available
7. Ohana Tk-70-6 Tenor Ukulele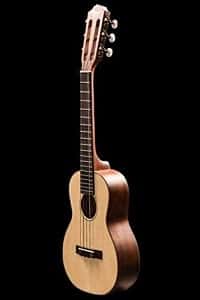 The Ohana TK-70-6 six-string ukulele has a stiff spruce top, contrasting beautifully with the back and sides of sturdy mahogany.
Also, the used rosewood bindings prove a beautiful touch, which gives a reflection of a similar color to the rosewood bridge and fingerboard.
The six-string ukulele holds a mahogany neck, which ends in an open headstock with a geared tuner and white buttons.
There are the bone nut and saddle that are nicely upgraded. Further, the satin finish makes it look natural.
The Tk-70-6 produces a fantastic sound similar to other ukuleles with spruce tops, making it a new feeling to play.
Intermediate or advanced players wishing to leap into the world of multi-string ukuleles pick this model as a different taste.
Pros:
Solid construction
The sweet tone for the spruce top
Pre-installed 6-string
Stunning design
Cons:
Troublesome to play for beginners
About Brand
We've researched a lot to write the best Ohana ukulele review. At large, our preferred items are the best. But, you try to find out from the text below why the brand's items are recommended to buy.
As we implied earlier, the Ohana brand summons its home in Long Beach, CA, and intends to highlight the area with a free spirit in each item they disseminate and vend.
They focus on rich-toned wood and construction with the goal of creating the best sound for each player to cross their path.
The brand's subtle attention to everything is remarkable. Before delivery, each product is tested separately and set up.
Whatever your skill level or experience, this brand trusts that each player deserves a high-quality instrument, fully effective and playable from the start.
Ohana Warehouse employees get trained to deliver only the highest quality products and aim to inspect each product carefully and thoroughly before leaving the world. That means you won't need to spend time setting up or testing your instrument.
You'll often notice that the company keeps reflecting on new designs and styles in its latest creations. In reality, the reason is that they take inspiration from the past to manufacture something better for the future.
There's a large community of people of Ohana who serve and offer their communities on a local and international scale to enjoy the music with instruments.
There is a sense that Ohana wishes to become a portion of it wherever creativity streams, and they actively inspire this process with their instruments.
Final Thoughts
It's a challenge to sort out the perfect ukulele and therefore needs to be diligently regarded and experimented with before making a purchase.
Hopefully, these best Ohana ukulele reviews, and our shopping guidelines will assist you in your search.